Culemborg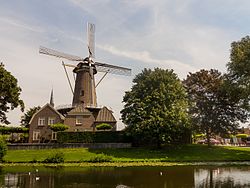 Culemborg
is a historic town in the
Gelderland
region of the
Netherlands
. The city is just south of the river Lek and thereby on the border between Gelderland and
Utrecht
. The city counts roughly 27,500 inhabitants. The cities of
Utrecht
and
's-Hertogenbosch
can easily be reached by train.
Get in
By train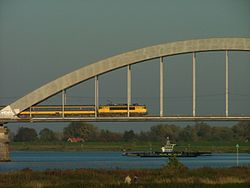 Culemborg StationConnects the city with Utrecht and Tiel. Trains on this line service the Culemborg station every fifteen minutes. Travel to Culemborg from Amersfoort and Schiphol both cost around €10.
By car
When travelling to Culemborg by car, head for either
Utrecht
or
's-Hertogenbosch
- whichever one is closer. Use the A2/E25 to head for the other city. Half-way down the highway you will find exit 13 (Culemborg), where you should follow the signs directing you to Culemborg.
Get around
Bike rental is available in the centre of the town and is the best way to get around the city. But a bike is not necessary, you can see and reach everything easily by foot.

See
Culemborg is an historical city, and got it's city rights in 1315. There are two churches on the main square, also known as 'the market'.
Holy Barbarachurch

address: Markt 50, NL-4101 BZ Culemborg

address: Voorburg 1, NL-4101 Culemborg

Korenmolen de Hoop

phone: +31 343 575 684

address: Het Jach 3, NL-4101 Culemborg

phone: +31 614 251 923

address: Noodweg 2, NL-4121 KK Everdingen

Fort Everdingen is one of the many forts and castles that make up the "Nieuwe Hollandse Waterlinie". It is named after the nearby town of Everdingen.
Eat
There are several good restaurants around the Market in the center of the city. In the Tollenstraat and the surrounding streets are also many good restaurants.
phone: +31 345 534 645

address: Havendijk 6, NL-4101 AB Culemborg

phone: +31 345 510 324

address: Helling 7, NL-4101 AE Culemborg

phone: +31 345 521 055

address: Herenstraat 44, NL-4101 BV Culemborg

Greek restaurant.

Stadscafé De Verleiding

address: Tollenstraat 26, NL-4101 BE Culemborg

phone: +31 345 549 339

address: Markt 30, NL-4101 BX Culemborg

phone: +31 345 513 627

address: Everwijnstraat 27, NL-4101 CE Culemborg
Drink
Bars
Café Den Tollesteghe

phone: +31 345 534 203

address: Tollenstraat 20, NL-4101 BE Culemborg

phone: +31 345 532 154

address: Markt 31, NL-4101 BW Culemborg
Nightclubs
phone: +31 345 682 002

address: Homburg 26, NL-4153 BS Beesd

Quality nightclub in the nearby town of Beesd

address: Beesdseweg 1A, 4104 AW Culemborg
Sleep
Go next