Culver City
Culver City
is a city on the
Westside
of
Los Angeles County
. It was given the moniker the "Heart of Screenland" during the 1930s and 1940s when it was responsible for half of America's motion picture production; today it remains home to Sony Studios (formerly MGM Studios) and Culver Studios. In addition to its role in the film and television industry the city has a reputation as a great food destination due to the huge number of trendy restaurants found in the downtown and elsewhere.
Understand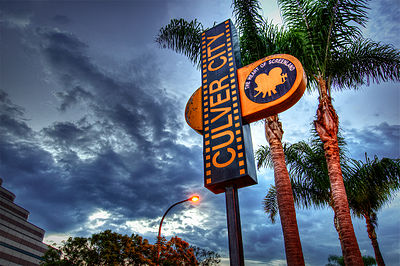 Harry Culver, a real estate developer, founded the city in 1913. Located along the roads and rail line that connected the beach resort city of
Venice
with downtown
Los Angeles
, the town grew fairly quickly. Culver attracted migrants from the Midwest by offering homes that included furniture and even appliances in exchange for a monthly mortgage payment.
In the 1920s the film industry arrived, with silent film comedy producer Hal Roach and Metro Goldwyn Mayer (MGM) building studios. From the 1930s through the 1940s Culver City was home to half of America's motion picture production and was dubbed the "Heart of Screenland." Today entertainment companies that call Culver City home include Sony Studios (formerly MGM), Culver Studios (future home of Amazon Studios), National Public Radio's "NPR West" facility, the NFL Network, and a handful of smaller media companies. In 2021 HBO will move its West Coast headquarters to Culver City, followed in 2022 by the opening of a new facility housing 1,000 employees working on Apple's entertainment offerings.
Movies that have been produced in Culver City include classics such as
Citizen Kane
, the original
King Kong
, and
Gone With the Wind
.
The Wizard of Oz
was filmed at MGM studios, and the original yellow brick road is still inside the lot on Stage 27 of Sony Studios. In addition to being the home of classic films, the television show
I Love Lucy
was produced at Desilu Studios. More recent productions include
Grease
,
Raging Bull
,
E.T. the Extra-Terrestrial
,
City Slickers
,
Men in Black
,
Air Force One
and
Spider-Man
. In addition to
I Love Lucy
, television shows made on Culver City sets include
Lassie
,
Batman
,
The Andy Griffith Show
,
Jeopardy!
and
Wheel of Fortune
.
The city has other ties to the entertainment industry beyond the movies and television shows created at its studios. The iconic Culver Hotel was once owned by Charlie Chaplin and was later sold to John Wayne, allegedly for the price of $1 after a high-stakes poker game. The town's streets also reflect Culver City's entertainment history, with names such as (Mary) Pickford and (Douglas) Fairbanks.
Culver City was in a state of decline in the 1990s, but since that time has undergone a tremendous revival. The downtown area is now a bustling district that is home to dozens of restaurants and multiple theaters, while other districts throughout the city are gaining reputations for the culinary and artistic businesses that have set up shop.
Climate
Get in
The
Metro
light rail Expo Line stops in Culver City on its way between
Santa Monica
to the west and
Exposition Park
and
Downtown LA
to the east. The Culver City station is at the northern end of downtown Culver City, off National Blvd between Washington and Venice Blvds, approximately a five-minute walk from downtown Culver City. Metro bus lines 33/Rapid 733 run frequently along Venice Blvd past downtown Culver City, with service to Downtown LA and Venice Beach.
Culver CityBus
has several bus lines that link Culver City and surrounding communities. Routes of particular use to visitors include
Line 1
to
Venice Beach
via Washington Blvd and Fairfax Ave, with a stop at the Expo Line Culver City station;
Line 3
between the Westfield Shopping Center and
Century City
, with stops at West LA College, the Westside Pavilion, and the Expo Line Westwood/Rancho Park station along the way; and
Line 6
between
Westwood/UCLA
and the
LAX
City Bus Center via Sepulveda Blvd, with stops at the Westfield Shopping Center and the Expo Line Sepulveda station. Service on these three lines is daily and tends to run every 15-20 minutes for most of the day. Fare is $1, with transfers to another Culver CityBus costing $0.25 and inter-agency transfers $0.40, with
TAP
cards accepted.
Get around
Culver CityBus operates buses in and around Culver City.
There are red light cameras throughout Culver City, and at $490 per violation the fines are some of the highest in the country.

See
Despite having two movie studios and several television production facilities within the city limits, the only public tour is at Sony Studios, which offers a tour rather than a theme park attraction like
Universal City
. In addition, a handful of museums are scattered throughout the city, each one small and focused on a particular subject - those looking for large museums geared towards a general audience might want to take the Expo line to
Exposition Park
, but those with special interests will find Culver City's offerings to be excellent. Two highlights include the Wende Museum, which is highly regarded for its Cold War collection, and the Museum of Jurassic Technology, which has somewhat of a cult following for its general weirdness and for its willingness to mix truth and fiction.
Culver City Historical Society

phone: +1-310-253-6941

address: 4117 Overland Ave

An archives and resource center preserves local history, and aims to serve everyone from young children to senior citizens.
address: 9336 W Washington Blvd

Located in downtown Culver City, Culver Studios was founded in 1919. Fans of classic motion pictures will immediately recognize the studio's colonial mansion from the opening credits of the David O. Selznick International productions such as Gone With the Wind and Duel in the Sun. Unfortunately public tours are not available.

phone: +1-310-836-6131

address: 9341 Venice Blvd

This museum is a truly unique experience, as it is an artistic mixture of fact and fiction, featuring weird and wonderful displays of things that never happened, next to strange but true practices of bygone years; it can be hard to distinguish between the two, and it's best not to try. Exhibits include micro-sculptures that fit within the eye of a needle, portraits of the canine astronauts of the early Soviet space program, and artwork made from the scales of butterfly wings that can be viewed under microscopes. An enjoyable afternoon's visit and a tribute to the weirdness of the world. The Tula Tea Room is located upstairs and serves complimentary tea and cookies, while the Borzoi Kabinet Theater has free movie screenings hourly; both open one hour after the museum, closing one hour before the museum. Photography and cell phone use (including texting and pictures) is not allowed in the museum. This attraction is actually in the Palms district of Los Angeles, although it has a Culver City address.

Center for Land Use Interpretation

phone: +1-310-839-5722

address: 9331 Venice Blvd

A unique organization, the CLUI is devoted to researching and illustrating how land is used and perceived. The exhibits hosted in their minuscule gallery space are small, but are usually very intriguing and often draw attention to features of the landscape you would normally overlook. The tiny bookstore (more of a bookshelf, really) is a real treat, selling some excellent texts as well as humorous postcards.

phone: +1-310-842-8060

address: 10101 Jefferson Blvd

An exotic environmental science & wildlife rescue center that is in a nondescript building, the Eco Station is a hidden attraction offering hands-on experiences with rescued tropical birds, mammals, reptiles and other critters. Most of the facility's animals are illegal shipments seized by US customs that needed a home. Hands-on tours lasting 45-60 minutes leave every hour on the hour from 10AM-3PM on weekends. Hands-on opportunities as part of the tour. Special community events throughout the year. If you are in the area for Earth Day they hold a massive celebration including hands-on experiences and special events.

phone: +1-310-216-1600

address: 10808 Culver Blvd

The mission of the Wende Museum is to preserve Cold War history. The museum's exhibits and artifacts include artwork, films and personal histories from the fall of Communist Europe in the late 1980s. Much of the collection is about the German Democratic Republic (DDR). Also has materials from Eastern Europe and the Soviet Union.
Public art
The city has a wide array of sculpture, murals, and other installations that will be of interest to art lovers.
Game Show Building

address: 10185 Culver Blvd

From the sidewalk, you can see Terry Allen's sculpture "Golden Time", a humorous comment on work after overtime. Michael Hayden's sculpture uses cutting edge materials (holographs) producing a rainbow spectrum on the sidewalk and surrounding areas of the Game Show Building. Hayden collaborated with Game Show Building architect, Steven Ehrlich, AIA, who won a National AIA Design Award for the project.

Hobbit House

address: 3819-3827 Dunn Dr

The Lawrence and Martha Joseph Residence and Apartments have been aptly called the "Hobbit House," and people live in these unusual apartments. Los Angeles city historic-cultural landmark No. 624.

Jim Heimann's sculptures

address: 9336 W Washington Blvd

Jim Heimann's sculptures "Studio Pass I", "Studio Pass II", and "King Kong Gone" (1995-6), celebrate the history of Culver Studios and Sony Pictures

Plato's Cup

address: 9412 W Washington Blvd

Jim Heimann's sculpture "Plato's Cup" (1995) is a riff on a weathervane, which pays homage to the film industry, a former cafe at the location, and the initials of the building's owner.

Primordial Reflections

address: 9050 W Washington Blvd

Albert Paley's entrance gates "Primordial Reflections" (1996) provide a monumental entry to architect Jaquelin T. Robertson's Media Building.

Scan

address: 9050 W Washington Blvd

Jud Fine's courtyard installation "Scan" traces the history of television.

Sony Pictures Child Care Center

address: 3861 Clarington Ave

From the sidewalk, you can see sculptural gates and fencing, created by artist John Okulick, using the colors of "My First Sony" (red, yellow, blue). Also, Margaret Nielsen designed a mural maquette .

Wading Pool

address: 10202 W Washington Blvd

R. M. Fisher designed "Wading Pool" (2000), the plaza fountain, which celebrates Sony's history of filmmaking and references the set of "Lost Horizon."
Do
phone: +1-310-559-2416

address: 9500 Culver Blvd

The Culver City ArcLight is the fifth LA location of the popular movie chain that opened its doors in Hollywood in 2002. The chain has made a name for itself with excellent service, clean theaters, reserved seating in comfortable chairs, excellent picture and sound quality, onsite bar and cafe, no advertising before the movie, and a distraction-free theater in which cell phone use and late arrivals are strictly forbidden once a movie has started (seriously, don't be late). The chain is also famous for special presentations, some of which include Q&As with actors, writers and directors (sign up on their email list for notifications). Prices are a bit higher than at other venues, but if you want to be able to choose your seat in advance and be certain that your movie experience will be pleasant, the extra couple of dollars will be worth it.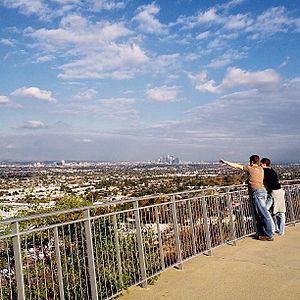 address: 6300 Hetzler Rd

Over three hundred feet above the surrounding neighborhoods, this overlook provides tremendous views of the LA basin, as well as some short nature trails for those interested in native plants and animals. A self-pay parking lot is available at the top of the hill, but hearty souls can park for free along Jefferson Blvd and then walk up 315 vertical feet of switchbacks and steps (note: no dogs allowed on the trails). There's also a shuttle that operates on weekends and holidays from the La Cienga/Jefferson Metro Expo Line station. The visitor center features exhibits on area history and nature. Special events including twilight walks, junior ranger programs, and bird-watching are scheduled regularly.

phone: +1-310-253-6680

address: 4175 Overland Ave

The Culver City Municipal Pool, affectionately known as "The Plunge", is a heated, Olympic-sized swimming pool that was first opened in 1949. It is open to the public (resident and non-resident) for recreation swimming, lap swimming, water aerobics, swimming lessons, and diving (1-m and 3-m springboards). Lockers and showers are available on-site. Schedules vary, so call or check the web site before visiting to ensure that the pool is available for your desired activity.

phone: +1-213-628-2772

address: 9820 W Washington Blvd

This performing arts center was built in 1947 as a movie theater with over 1,000 seats, and today the original marquee and tower are still in place, creating a striking presence in downtown Culver City. It underwent an $8-million renovation in the 1990s that created two playhouse stages, one with 350 seats and the other with 100 seats. The theater is owned by the Center Theatre Group, which also operates the Ahmanson Theatre and the Mark Taper Forum in downtown LA. There are regular performances several nights a week.

phone: +1-310-244-8687

address: 10202 W Washington Blvd

Formerly the MGM studios, the two-hour guided tour leads through stages that have seen the filming of such productions as the Wizard of Oz, Men in Black, and Spider-Man. Visitors may also see the homes of the game shows Jeopardy! and Wheel of Fortune. Tours are offered M-F at 9:30AM, 10:30AM, 1:30PM and 2:30PM. Reservations are recommended, and the tour is only available for visitors age twelve years and older.
Events
Cruisin' Back to Culver City Car Show

phone: +1-310-499-4840

This car show features hundreds of classic cars, food, and entertainment, with proceeds benefiting local charities. The streets of downtown are closed and filled with stalls and classic cars, with owners competing for awards in dozens of categories such as "Best of the 20s", "Best of the 70s", "Best Paint", "Most Different", "Best Hearse", etc. The first car show was held in 2005, and it has since become a yearly event.

address: Main St

Held every Tuesday, rain or shine. The market offers fresh foods, flowers, crafts, and other fare. Two hours of free parking are available in downtown garages. When you walk across the alley, you are actually moving from Los Angeles to Culver City (or vice versa).

address: 4117 Overland Ave

This annual festival is held at the end of the summer and generally lasts from Friday through Sunday. The festival features a beer & wine garden, carnival rides, petting zoo, food trucks, a farmers' market, 100 booths selling artisan wares, and live music.
Buy
Culver City offers a bit of everything when it comes to shopping. The Westfield Malls, located just off of I-405 at Sepulveda, is a 200 store mega-mall. The district near the intersection of Washington Blvd and La Cienaga Blvd is a major art destination, featuring dozens of galleries. The downtown area is home to several smaller and more upscale shops, as well as the old Helms Bakery complex, now home to a variety of furniture stores. And for those looking for familiar shopping establishments, major chain stores such as Target, Bed Bath & Beyond, Best Buy and Toys 'R Us are also represented within the city limits.
Shopping centers
Culver CenterCulver Center was one of Southern California's first shopping centers when it opened in 1950. Today it is anchored by a Best Buy electronics store, a Ralph's Grocery store, and an LA Fitness club. Numerous dining options as well as a Rite-Aid drug store, several boutiques, and numerous smaller stores make this is a useful destination for those that need to pick up basic necessities. Parking can be difficult: spaces that are often overlooked can be found by following the ramp onto the Best Buy roof.

Westfield Culver City Shopping Center

phone: +1-310-390-5073

address: 6000 Sepulveda Blvd

With nearly 200 stores, Westfield Culver City is a major shopping center close to the 405 and 90 freeways. The complex underwent a major expansion in 2010 and now features a Target, Best Buy, Gold's Gym and BJ's Restaurant in addition to the many smaller stores.
Notable stores
phone: +1-310-845-6259

address: 12469 W Washington Blvd

Choco Vivo is a unique chocolate shop that makes chocolate from scratch, starting with beans imported from a grower in Mexico and using a stone grinding technique dating back to the Mayans and Aztecs. Their chocolate contains no dairy, so the end result is a dark chocolate that is very different from what most people are used to. Bars are sold at $6 each that include different amounts of cacao and flavorings such as sea salt or almond. A "tasting" option is also available in the store, as well as flavored chocolate drinks, organic tamales, and chocolate-inspired gifts. Events are held frequently that range from chocolate & tequila pairings to speed dating.

phone: +1-310-839-8900

address: 11113 W Washington Blvd

Don't be fooled by the relatively small selection - if you show up to a party with a box of flaky Danish pastries from this bakery, you're going home a hero. The pastries are made fresh throughout the day using traditional Danish recipes, and samples are available if you are unsure of what to buy. The Kringle lines and Copenhagen lines - flaky pastries made with almond paste or custard - are the specialties. They also have wholegrain rye bread, small cakes, and other items that are worth the visit to the gym that it will take to burn off the extra calories.

phone: +1-310-391-7654

address: 5518 Sepulveda Blvd

Established by the former mayor (and councilman) of Culver City, this market has a reputation as the place to go for authentic Italian grocery items on the West Side. The deli offers amazing sandwiches and the friendly family owners are more than willing to help with everything from selecting a wine to choosing a dessert.
Eat
Since the late 1990s Culver City has been undergoing a transformation and today is known as a destination for food lovers, with a huge number of unique and well-reviewed restaurants setting up shop in the city. The downtown area is home to dozens of restaurants opened by famous chefs or aspiring restaurateurs, while other foodie hotspots include the Helm's Bakery complex and the Culver West neighborhood along Washington Boulevard. For those who just need a quick bite, the standard chains are well-represented including Pei Wei, Denny's, Coco's, Chipotle, and dozens of other fast food restaurants. On a historical note, the steakhouse chain Sizzler, which today has hundreds of locations across the country, got its start in Culver City in 1958 as Del's Sizzler Family Steak House.
Budget
Mid-range
Splurge
phone: +1-310-845-1700

address: 9543 Culver Blvd

Opened in 2008, Akasha features New American food, meaning that everything is delicious, organic, seasonal and local. You'll never feel trendier but welcomed. Good for dates and business meetings. There is also a well-stocked bar. Happy hour is daily from 2:30-7PM and features significant discounts on drinks and appetizers. Bonus trivia: the owner, Akasha Richmond, was formerly the personal chef to pop star Michael Jackson and actors Barbara Streisand and Billy Bob Thorton.

phone: +1-310-202-8890

address: 9240 Culver Blvd

Another restaurant born of Culver City's downtown renaissance, K-Zo is a sushi bar and "Japanese tapas" restaurant, offering various hot and cold bites in addition to the more standard Japanese fare. Prices are a bit higher than some other restaurants, but the food is generally excellent, service is friendly, and the atmosphere is great. For those seeking to maximize their eating dollar, happy hour is daily from 5:30-7PM.
Drink
Bars
Most of the downtown restaurants also have a lively bar scene. Other bars located throughout the city include:
Coffee & Teas
Conservatory for Coffee, Tea and Cocoa

phone: +1-310-558-0436

address: 10117 W Washington Blvd

Family-run coffee shop that roasts their own beans daily and makes one of the best macchiato's this side of the Big Pond. They are known for their "latte art" - you have to order one in a china cup to appreciate it. A local favorite, they also have a huge variety of teas from around the world and make a wonderful Mexican hot chocolate.
Sleep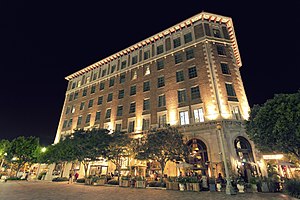 Culver City has a handful of large hotels located near the intersection of I-405 and Sepulveda Blvd, with several cheaper but more rundown options located on Sepulveda near the intersection with Venice Blvd, and also along Washington Blvd. The historic Culver Hotel is located downtown and offers a more unique lodging option. Neighboring cities such as
Santa Monica
,
Venice
,
Marina del Rey
and
El Segundo
have numerous options within a 10-15 minute drive of Culver City.
Connect
Culver City offers free internet access in several areas.
Culver City WiFiFree wireless internet access is provided in downtown Culver City, but connectivity varies greatly depending on your location. Login is required using any web browser to activate access.

Culver City Julian Dixon Library

phone: +1-310-559-1676

address: 4975 Overland Ave

The Culver City library offers free internet connections (wired and wireless) as well as an extensive book collection. The library underwent extensive renovation in 2015.
Go next
The cities and neighborhoods that border Culver City include the following: