Cumberland (Maryland)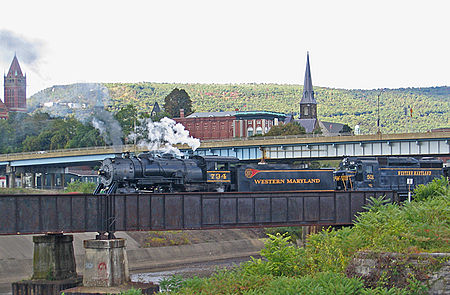 Cumberland
is a city in
Western Maryland
. It is on the banks of the Potomac River and Wills Creek in
Allegany County
.
Get in
The easiest and most accessible way to travel to and around Cumberland is by car. Main thoroughfares coming into Cumberland are US 220, US 40, Interstate 68, MD 36, and WV 28. Also,
Amtrak
serves the city with its once-daily
Capital Limited
train. Eastbound trains towards
Washington, D.C.
leaves midmorning while westbound trains to
Chicago
departs early evening. The small is located at 201 E Harrison St, close to downtown.
Get around
Walking is not only the best method, but also the only method for exploring the downtown area. The Baltimore Street commercial district is closed to traffic and is a pedestrian-only mall. Within a few blocks of this area, one can easily walk to the Canal Place Heritage Area, the Western Maryland Scenic Railroad, the Washington Street Historic District, as well as a variety of other shops and restaurants. It is important to note that while it is possible to walk from the train station to the only downtown hotel, the Holiday Inn, one has to cross a high-traffic section of railroad tracks to access the hotel as well as the rest of the downtown area.
In order to explore the rest of the city and region, however, having a car is advised. Be aware that in the downtown area, parking can sometimes be difficult to find. One public parking garage is available: the Center City Garage on the corner of Pershing and George Streets. There is also a small parking lot accessible from Liberty Street, but the parking garage at this location is now by permit only. There is visitor parking at the Western Maryland Station on Mechanic street, and metered parking under the Crosstown Bridge (I-68), and along many side streets.
By bus
Allegany County Transit
provides bus service in and around Cumberland. Their phone number is: +1 301 722-6360, hours are Monday - Friday 8:00 am - 12:0 0pm and 1:00pm - 4:00pm.. Fare is $2. A pass is available for $27.50 that is good for $30 worth of rides. Buy passes at the transit office at 1000 LaFayette Ave. The main transfer station is Roses in the Cumberland Shopping Center. The blue and red line buses serve Cumberland and run between 7:30 AM and 4:00 PM, Monday through Friday. Other routes are primarily for commuters traveling to and from Cumberland and the other cities and towns.
See
Washington Street Historic District is an approximately 35-acre (140,000 m2) residential area to the west of downtown Cumberland and contains large-scale 19th- and 20th-century houses.
address: 30 Washington St

The city's most prominent building, which looms over the Cumberland skyline, is fortunately very pretty.

phone: +1 301 777-7782

address: 632 Washington St

Brooke Whiting, a wealthy world traveler from Cumberland, bequeathed his house and large art collection to the city as a museum. The collection focuses on decorative arts from East Asia, Europe, and America.

Canal PlaceA National Historic Park at the center of Cumberland in the very attractive Downtown Historic District (along Baltimore St), including the historic Western Maryland Railway Station, a canal boat, festival grounds, an ice-skating rink, and Washington's Headquarters

address: 16 Washington St

An impressive Gothic church in the historic downtown, which was built upon the former site of Fort Cumberland, where George Washington began his military career.

Washington Street LibraryGreek Revival style building constructed between 1849 and 1850
Do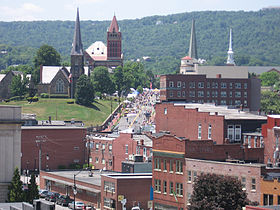 Shows
phone: +1 301 722-4692

address: 49 Baltimore St

A restored Art Deco movie palace from the old days of the Queen City, now functioning as a downtown performance theater in a lovely setting.
Outdoors
Allegheny Highlands TrailA twenty mile section of the Great Allegheny Passage, a trail leading from Pittsburgh to Washington, D.C. and paralleling the Western Maryland Scenic Road. The hike to Frostburg is about 10.5 miles. The hike to Pittsburgh or D.C. is considerably longer!

Western Maryland Scenic Railroad

address: Western Maryland Station

A restored steam powered train runs through the mountains between Cumberland and Frostburg—it's a great way to see the countryside. The train usually runs in the mornings on most weekends starting around 10AM. It's a 3.5 hour round trip.
Events
Summer Heritage Festival

address: Canal Place

This is the major festival in the city, with historical exhibits, lots of live performances, and a lot of people milling about.

Friday after Five

phone: +1 301 777-2800

address: 12 Liberty Street

Another Canal Place staple, with free outdoor movie screenings and live performances. It's a great time to come to the historic downtown, get some good food, and enjoy the shows.
Buy
The Country Club Mall is the only indoor shopping mall in at least a 70-mile radius of Cumberland. It is in suburban La Vale, which is about 5 minutes driving time from downtown. Anchor stores include JC Penney, Sears, The Bon-Ton, and Walmart Supercenter.

Baltimore Street and its cross streets have several boutiques and specialty stores of interest, including Monkey Business (trendy ladies' clothing), The Book Center (quality books for all ages, as well as a wide selection of magazines, newspapers and cigars), and the Emporium (independent vendors of antiques, art and collectibles).
Eat
Most dining in the city itself is in the downtown area. Ethnic restaurants (Chinese) and American cuisine are widely available. Be aware that most restaurants on the downtown mall can be pricey, especially for dinner. For the more budget-conscious traveler, five fast food establishments are also located close to downtown, and the Culinary Cafe, a unique educational restaurant for students at Allegany College of Maryland, is also not costly, and is on the downtown mall. Many other common chain restaurants are located in LaVale.
phone: +1 301 722-0052

address: 25 N Centre St

Fine Italian dining in the downtown historic district.
Drink
Many pubs and bars are located downtown and throughout the city. However, for the family and those who prefer non-alcoholic beverages, try Mark's Daily Grind or the Queen City Creamery for coffee.
K Bar

phone: +1 301 777-9748

address: 1118 Virginia Ave

Cumberland's diviest dive bar is a great, if rough-around-the-edges, place to hang out and have a beer and a cheeseburger.
LGBT nightlife
The New Embassy Theatre offers drag shows every month for $10, which includes one free drink. Nearest LGBTA clubs are the Mariner in Martinsburg, WV and Vice Versa in Morgantown, WV.
Sleep
As stated above, the only downtown hotel is the Cumberland Holiday Inn. All other hotels are located in the surrounding area. Best Western, Comfort Inn, Super 8, Slumberland Motel, and the Red Roof Inn all offer great accommodations in LaVale, about five minutes driving time from downtown. Days Inn and Hampton Inn are located in
Frostburg
, about 15 minutes away. In addition, the Rocky Gap Lodge & Golf Resort in Flintstone offers luxury accommodations.
Go next
Rocky Gap State Park 12500 Pleasant Valley Rd. +1 301 722-1480 is just seven miles east of the city on I-68, and offers a couple nice 4-5 mile hikes. Fishing is another great activity here, on Lake Habeeb.
Cumberland Narrows. The narrows are a tight pass through the Wills Mountains, just to the west of Cumberland on US-40. Great views over Cumberland and the surrounding countryside from the overlook there.