Cuyahoga Valley National Park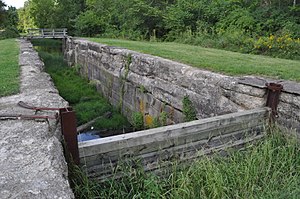 Cuyahoga Valley National Park
is a
United States National Park
in
Cuyahoga County
and
Summit County
,
Northeast Ohio
.
Understand
It is the only national park in Ohio. According to the US National Park Service, the Cuyahoga Valley is the 5th most frequently visited park (3,217,935 recreational visits in 2002) in the National Park System.
Though it is a short distance from urban environments, the park is worlds away. The winding Cuyahoga—the "Crooked River"-was named by Mohawk (Native American tribe)—gives way to rolling floodplain, steep valley walls and ravines, and lush upland forests. Cuyahoga Valley National Park is a refuge for flora and fauna, and provides both recreation and solitude for
Northeast Ohio
's residents and visitors.
History
The park has a rich cultural legacy as well. Exhibiting a historical view of the heart of the industrial revolution, visitor centers provide background on the remains of the Ohio & Erie Canal, which traveled through the valley connecting the St. Lawrence Seaway and the East Coast to the Gulf of Mexico (via the Ohio and Mississippi Rivers) in the 19th and early 20th centuries.
Sustainable farming ventures help preserve the valley's agricultural heritage. The park offers an array of displays of 19th and early 20th century sustainable farming while catering to contemporary interests with art exhibits, outdoor concerts and scenic railroad tours. It includes compatible use sites not owned by the federal government, including several Metroparks in Cuyahoga and Summit Counties, Blossom Music Center, and the Hale Farm & Village. In the mid 1980s, the park hosted the National Folk Festival.
The park is even connected to sports history—a meadow next to Ohio Route 303 is the former site of the Richfield Coliseum, which had been the Cleveland area's main indoor sports venue before the 1994 opening of what is now Rocket Mortgage FieldHouse in downtown Cleveland. The Coliseum was torn down shortly before the national park was established, and the only hint today of the arena's former location is a widened section of Route 303.
Landscape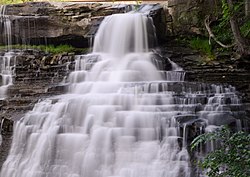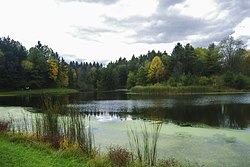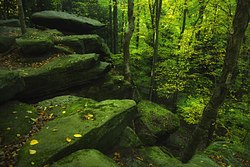 The park encompasses 51 mi² (134 km² and 33,000 acres) along the banks of the Cuyahoga River, spanning from the major metropolitan areas of
Cleveland
and
Akron
and into the hills of the Allegheny Mountain range. The diverse landscape, including sandstone ledges, 70 waterfalls (most notably Brandywine Falls), rolling hills and river gorges, can be viewed from of trails.
Flora and fauna
More than 3,000 species of plants are known to occur in Ohio. Among many other flora, the park boasts maple, oak, birch, beech and hemlock trees. In the autumn, the vibrant colors of the changing leaves are breathtaking, even when viewed from interstate highways. Native wildflowers are abundant and provide a colorful milieu, especially in the spring. Look for Ohio spiderwort, wild hyacinth, trillium, showy orchid, pink lady's-slipper, purple wood-sorrel, violets, wild blue phlox and Indian paintbrush among more than 250 species that grow in Ohio. The park is also home to a variety of wildlife, such as beaver, deer and dozens of bird species including wood duck and heron.
Climate
Enjoy the park any time of year. When the spring blossoms appear, Northeast Ohio temperatures typically range from 40 to 60°F. The warmer summers tend to be sunny and somewhat humid with temperatures in the 70s and 80s fahrenheit (occasionally into the 90s). Northeast Ohio autumns provide breathtaking landscapes of the changing color of leaves and temperatures from the 40s to the 60s. During the winter months, downhill ski the slopes or cross-country ski the trails, but dress for temperatures below with windchill factors occasionally driving the experience below . Average precipitation is fairly steady year round from 2.5 to 3.5 inches per month.
Get in
By plane
Cleveland Hopkins International Airport, CLE

. Cleveland's main airport is located on the west side of the city. The airport is served by most of the major domestic airlines, and it is a hub for United Airlines as well.

Akron-Canton Regional Airport, CAK

. Visitors could also use this airport which is a 45-minute drive from Cleveland.
By car
Highways providing access to the Park include I-77, I-271, I-80 (Ohio Turnpike), and State Route 8. Park signs are visible from each of these freeways as you get close to the valley.
By train
By Amtrak Lake Shore Limited, it gets in early morning both directions to Cleveland. There is no train service between Cleveland and the miles to Rockside Road.
Fees and permits
Entry into the park is free, but scheduled events, concerts and other activities may be subject to a fee.

Get around
By car
Drive the scenic CanalWay, which is clearly marked by signage throughout.
By foot
Walk, bike or run the Ohio & Erie Canal Towpath, the soft, fine gravel path provided the course for mules to pull the boats along the canal. Hike the trails.
By train
Ride the
Cuyahoga Valley Scenic Railroad
, stations are in Independence, Peninsula and Akron. Additional intermediate stations are located in Brecksville, Boston Mill, Indigo Lake and Botzum.
See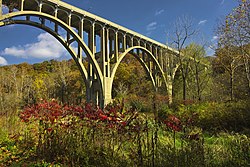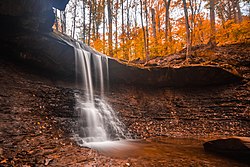 CanalWay Center

address: 4269 East 49 St

Cuyahoga Heights. 5.5-mile stretch of land that encompasses 320 acres from the backyards of six major industries.

Mill Creek Falls

address: Newburgh Heights

waterfall spawned early lumber and grain mills, vibrant during the Canal Era.

Thornburg Station

address: 8111 Rockside Rd

Valley View. Set between the Cuyahoga River and the Ohio & Erie Canal, Thornburg Station is a mixed-use complex with fine and casual dining, retail and offices.
Canal Visitor Center, Canal Road, Valley View. operating lock demonstrations

Frazee House

address: Valley View Road

The 1826 Frazee House depicts early settlement in the Western Reserve.

Village of PeninsulaLocated in the heart of the Cuyahoga Valley, this historic canal village and artists community contains several galleries, shops, restaurants, a bike shop with rentals, and outstanding examples of 19th century architecture. A featured attraction is the 1886 Stick Style Boston Township Hall. Originally the community's High School, today this historic landmark houses the Cuyahoga Valley Museum, which is operated by the Peninsula Library & Historical Society. Open weekends noon-5PM. The hall is also available for rentals.

Boston Store. Museum devoted to the history of canal boat building.

phone: +1 330 666-3711

address: 2686 Oak Hill Rd

Bath. Western Reserve township, a la 1848, with artisans providing demonstrations of glass blowing, candle making, pottery and blacksmiths.

Lock 29

Deep Lock Quarry

Hunt Farm Visitor Center. Exhibits about Cuyahoga Valley's agricultural past.

Stan Hywet Hall and Gardens

address: 714 Portage Path, Akron

English Tudor Revival Mansion, 65 rooms and 70 acres, built by Goodyear co-founder Frank Seiberling between 1911 and 1915. Warren Manning landscaped grounds, featuring the Birch alley and Japanese gardens, are nationally renowned. Grounds open to visitors 9AM—6PM; House tours 10AM-4:30PM.

Perkins Mansion Museum & John Brown House

address: 550 Copley Rd

Akron. Greek Revival Mansion Museum, built in 1837, was home of the famous abolitionist John Brown includes displays that trace Brown's life utilizing photographs, firearms from the period and a reconstruction of a canal boat captain's quarters.

Mustill Store

Village of Canal Fulton. Quaint village known for antiques shops and Amish crafts.

Lock 4 Park

Bridgeport Quarry Trailhead

Downtown Massillon

Fort Laurens State Memorial, Bolivar.

Historic Zoar Village

New Philadelphia/Dover Area Birthplace of Cy Young, namesake of Major League Baseball pitching award.
Do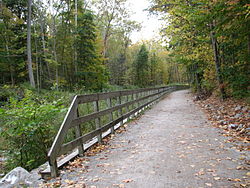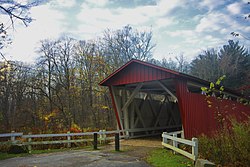 Park trails offer a variety of activities, from rugged backcountry hiking trails to the Ohio & Erie Canal Towpath Trail, a graded biking and hiking trail with the crushed limestone along portions of the 20-mile (30 km) trail, a former stretch of the 308 mile (496 km) canal.
address: 1145 W. Steels Corners Rd

Serving as the summer home of the world-renowned Cleveland Orchestra, Blossom also provides a full schedule of rock concerts and other events. The outdoor amphitheater sits on 800 acres and has pavilion capacity of 5,000 seats and lawn seating for 13,500.

Cuyahoga Valley Scenic RailroadVintage engines and coaches built in the 1940s and 1950s. Northern terminal near Thornburg Station at 8111 Rockside Road, Valley View. Stops at Village of Peninsula, Hale Farm & Village, Inventure Place (National Inventors Hall of Fame), Stan Hywett Hall & Gardens, Akron Zoo, Canal Visitor Center.

Ohio & Erie Canal Towpath TrailThe Cuyahoga Valley National Park is 8 miles south of Downtown Cleveland and stretches for miles down to Akron. The Towpath extends from Lake Erie in Downtown Cleveland through the southern suburbs past Akron, Canton, New Philadelphia and into rural Historic Zoar.

phone: +1 330 666-3711

address: 2686 Oak Hill Rd, Bath

A village where the Connecticut Western Reserve of the 1800s is brought to life.
Ski at Brandywine Ski Slopes and Boston Mills Ski Slopes, 7100 Riverview Road, Peninsula. Over 34.1 ha slopes . Ski in the winter and enjoy the Annual Boston Mills Art Festival in the summer.

Brandywine Falls Carriage and Sleigh Rides

phone: +1 330 467-9000
Buy
Canal Visitor Center, Canal Road, Valley View. Souvenir and Gift Shop.
Antique shopping in Canal Fulton.
Eat

There are numerous picnic sites throughout the park, but the park itself contains no restaurants or cafeterias. Nearby cities and towns offer numerous dining options.

Drink

Drinking water is available throughout the park. Nearby towns and cities offer numerous coffee houses, breweries, and other drinking options.

Sleep
There are some campsites and inns throughout the park.
Lodging
The Inn at Brandywine Falls (see the
Sagamore Hills
article) is located within the park boundaries. Additional lodging options can be found in nearby towns and cities.
Shady Oaks Farm Bed and Breakfast

address: 241 W. Highland Rd

Shady Oaks Farm is a federal period building furnished in antiques, on a 25-acre horse farm, with English gardens, views of horses grazing. They have stables for people trail riding on the parks 86 miles of bridle trails.
Camping
The National Park Service offers one primitive campground (no drive-in access):
Stanford House Primitive Campsites

address: 6093 Stanford Rd

Five primitive campsites are available for distance hikers and bicyclists using the Towpath Trail. Drive-up use is not permitted. There is a maximum of two tents and six people per site. Water and chemical toilets are available. Camping is by reservation only. Reservations must be made at least three days in advance by contacting the Cuyahoga Valley National Park Association Reservation Coordinator's Office at +1 330 657-2909, ext. 119, Monday to Friday, 9AM-4PM Walk-up campers can reserve unoccupied sites by visiting the Trail Mix store between 10AM, and 5PM on weekends only.
There are also several State Park campgrounds are nearby:
Findlay Lake State Park, 25381 State Route 58, Wellington, +1 440 647-4490, camping and cottages

phone: +1 330 644-2220

address: 5031 Manchester Rd

Camping only
Punderson State Park, Newbury, +1 440 564-2279, camping, cottages and lodge

phone: +1 330 296-3239

address: 5708 Esworthy Rd

A park located in Ravenna, offers camping, boating, hunting, and fishing
Backcountry
The backcountry in this unusual National Park takes you into the surrounding cities and towns.
Stay safe
Do not drink water from the streams and ponds. The Cuyahoga River has navigational hazards and highly variable water quality. Swimming, wading, canoeing and kayaking are not advised.

Go next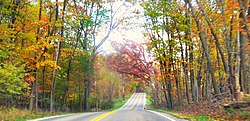 The park is surrounded by one of the most culturally endowed regions in the US, including the cities of Cleveland, Akron and
Canton
. Visit New England style towns of the Connecticut Western Reserve, such as Hudson and Medina. Amish communities are of substantial size in nearby Holmes (south and west of the park) and Geauga (north and east of the park) Counties. Head northwest to the
Lake Erie Islands
,
North Coast Beaches
and Ohio Wine Country or south to the
Wayne National Forest
.