Cyclades
The
Cyclades
are a group of
Greek Islands
, located in the southern part of the
Aegean Sea
(south of
Athens
and north of
Crete
). The archipelago contains some 2,200 islands, islets and rocks; just 33 islands are inhabited. The Cyclades are best known for the islands of
Santorini
and
Mykonos
.
Regions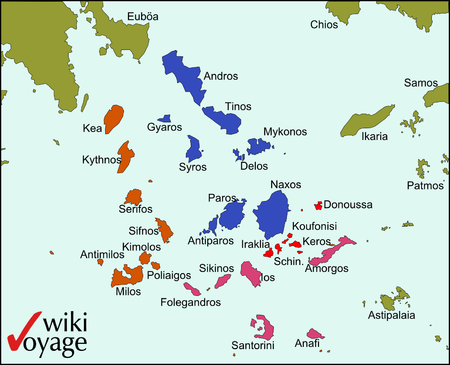 Western Cyclades
A group of islands:
Eastern Cyclades
This group includes the most famous destinations, Mykonos, Paros and Naxos:
Southern Cyclades
A group of islands:
Cities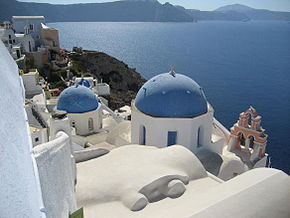 Ermoupolis (
Syros
) is the capital of the Cyclades.
Most of the Cyclades have one main town which has the same name as the island. Some larger towns which have names of their own include:
— on Santorini island
(Oia) — on Santorini island
— large port city on Syros
— port of Sifnos
— medieval town of Sifnos
Understand
The Cyclades are the Greece of the travel posters: bare rocky islands adorned with brilliantly white cubistic villages soaring on hills above the wine-dark sea, and fringed with terrific beaches. Since all the world has discovered this, they tend to be very crowded with visitors, especially in high summer. But most visitors feel the islands' attractions are worth putting up with the crowds.
Kyklos
is the Greek word for
circle
. Because the islands are set up in a circle around
Delos
the islands are named Cyclades. The best time to visit the Cyclades is May through June (early season, accommodation is much cheaper and it's not that hot), or September through mid-October (post season). In high summer (July and August), though it's the most popular season, these islands for that reason get extremely crowded and hotel prices are at their highest; furthermore, the weather then can be very hot, and some islands may suffer water shortages. In the whole period mid-May through mid-October it's usually warm enough to enjoy the beaches, but in some years you risk unseasonably chilly weather at the beginning or end of this period. In October the weather changes and rain starts to fall. Ferry schedules are reduced out of season. The Cyclades are also famous for the constant wind (called
meltemi
) in July and August that mitigates the heat a bit.
Get in
By plane
Regular (mostly daily) flights from
Athens
to
Mykonos
,
Paros
,
Naxos
,
Santorini
,
Milos
and
Syros
operated by Olympic Air and Aegean Airlines .
In high season there are also less frequent flights from
Rhodes
,
Crete
(
Heraklion
) and
Volos
by Sky Express .
From May till October charter airlines fly directly to
Santorini
and
Mykonos
from many European airports.
By ferry
From the Greek mainland ferries and highspeed catamaran services run daily from
Piraeus
,
Rafina
and
Lavrio
. Ferrys operate to all the islands in the Cyclades, some of the larger islands also have a highspeed catamaran service. Ferry trips are four to five hours to the closest islands (
Kythnos
,
Syros
,
Tinos
,
Mykonos
and
Sifnos
) and from eight to ten hours to the furthest (
Santorini
) depending on the number of stops. The highspeeds take half the time but cost twice as much. There are daily ferries from Piraeus to all of these islands, with the exception of
Kea
and
Kythnos
which you get to from
Lavrio
and
Andros
which you get to from
Rafina
.
Many travelers probably consider
Rafina
not a possible departure port if they are heading to one of the Cyclades, but if you are arriving at the airport of Athens, you are often better off taking a ferry from Rafina than traveling to Athens and get a ferry from Piraeus.
Many boat services stop working by end of October and resume by April. Check with the operator before making departure plans as the services are subject to delays and cancellations in adverse weather.
Hellenic Seaways. There are two fast car ferries (Nissos Mykonos and Nissos Rodos) in addition to the high speed catamarans Highspeed 1, Highspeed 4, Highspeed 5, Highspeed 6, Flyingcat 3 and Flyingcat 4 " . "Deck class" is a cheapest way to go around the Cyclades, you can sleep outside, on the deck.
Hellenic Seaways Express Apollon. Really old-fleet boats. Consider flying instead, even if it costs times more. Distinguished Class: first few cabins are really shaky (and hard-to-sleep in); too intensive conditioner in saloon. Take your tickets if you go to DC-saloon, other-class passengers are not allowed there. In Piraeus, the boat is ready for boarding 2 hrs before departure time. While in the port of Piraeus, you may leave luggage in your cabin in the port.
Hellenic Seaways Highspeed. Bright red Vodafone-logo boats; most popular and recommended sea transport, at least to Santorini.
Blu Star Ferries. They operate BlueStar 1 & 2, Blue Star Paros, Naxos and Ithaki from Piraeus plus Superferry I from Rafina
Aegean speed lines. The 3 Speed Runners are high speed ferries operating from Piraeus to most of the Cyclades islands.
Seajets. SuperJet departs from Piraeus: Milos, Folegandros, Syros, Santorini, Koufonissi, Amorgos. SeaJet 2 departs from Rafina: Tinos, Mykonos, Paros.
Get around
Travel by ferry. They are safe, regular, cheap and fun. The biggest ferry hub within the Cyclades is in
Paros
which has links to many islands.
Be prepared that travelling by ferry can be tedious in high season when ferries are really crowded. Usually there are two types of ferries: The ordinary ones and the speedboats (hydrofoils, which are much more expensive).
Also, ferries may be cancelled due to sea and weather conditions so don't leave on the last ferry before your flight, especially if it is windy. Seas are calmer at night, so the late evening and early morning ferries are the most likely to operate.
Tickets for ferries can be usually bought from travel agencies which are located around the local port.
See
Do
Island hopping - this is very popular within the Cyclades. If you have more than one week, this might be an option for you since ferry schedules are excellent and every island has its own charm.
Eat
See
Greece#Eat
for more information on Greek cuisine.
Drink
If visiting in winter season, try Ρακόμελο (pronounced rakomelo). The local people drink this hot drink to warm them up on a cold day. Ingredients are raki, honey and hot water. Recommended that you only drink one or at most two. Drink three and you will be ready for bed!

Stay safe

The Cyclades are very safe. Travelers should exercise usual precautions.
Be aware of rental scams, especially with agencies working only with motorbikes and ATVs. Using these types of vehicles is very common on Cyclades and there are a lot of rental agencies. Some of them are ready to cheat. They will offer faulty motorbikes or ATVs for a lower price, but in case of accident they will demand that the customer pay for the whole cost of damage. They are offering only basic insurance but will present it like full insurance. Also, there is a big possibility of serious injuries.
It is possible to recognize these rental agencies by observing them aggressively attracting tourists and offering lower prices than others. Employees in front of these type of agencies will be loud and ready to promise everything until the contract is signed. It is necessary to check the vehicle before making any decision. Their vehicles are in most of the cases dusty, dirty and look old.

Go next
Head on down to
Crete
when you are done with the Cyclades. If you have plenty of time you might want to go to other Greek islands belonging to the
Dodecanese
, the
Ionian Islands
or the
Sporades
as well.