Cypress Hills Interprovincial Park
Cypress Hills Interprovincial Park
is a provincial park
Canada
straddling the
Alberta
-
Saskatchewan
boundary. It is jointly administered by the two provinces.
Understand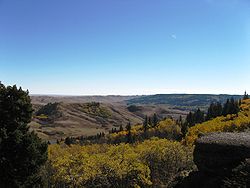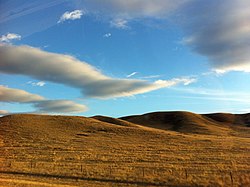 Cypress Hills Interprovincial Park consists of three areas - the Centre Block and West Block in Saskatchewan, and the Alberta Block.
Centre Block
is a protected area which has fully developed year-round tourist facilities and is south of Maple Creek on Highway 21. The
West Block
wilderness area offers rustic camping and provides access to Fort Walsh National Historic Site adjacent to the park boundary. The West Block is southwest of Maple Creek on Highway 271. The
Alberta Block
contains the tourist destination of Elkwater, a community with campground facilities on the southern shore of Elkwater Lake; the townsite is mainly made up of summer cabins. Elkwater is about southeast of Medicine Hat on Highway 41. The West Block and Alberta Block are contiguous with a combined of protected area.
There is also an east block of the Cypress Hills, near Eastend, Saskatchewan; however, it is not a park or protected area.
History
1931 - Cypress Hills Provincial Park was established in Saskatchewan.
1951 - Cypress Hills Provincial Park was established in Alberta.
1989 - On August 25, the governments of Alberta and Saskatchewan signed an agreement committing themselves to cooperation on ecosystem management, education and park promotion.
2000 - Fort Walsh National Historic Site (on the Saskatchewan side of the West Block) joined the collective. Together, these three partner agencies make up the park. The Alberta and Saskatchewan provincial governments signed the Cypress Hills Interprovincial Park agreement, establishing the first interprovincial park in Canada.
2004 - On September 28, Saskatchewan Parks, Alberta Community Development, Parks Canada and the Royal Astronomical Society of Canada signed an agreement that declared the park a dark-sky preserve.
Landscape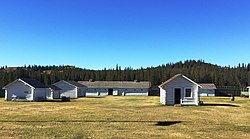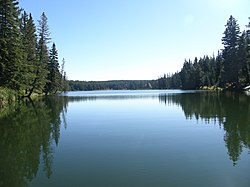 The Cypress Hills plateau rises up to above the surrounding prairie, to a maximum elevation of at "Head of the Mountain" at the west end in Alberta, making it Canada's highest point between the
Canadian Rockies
and the
Labrador
peninsula. Eastward across the boundary is the highest point in Saskatchewan, at . The "West Block" of the Cypress Hills spans the provincial boundary. Battle Creek runs through the central part of the park. Although the hills seem relatively low, in a larger geographic context the plateau does rise gradually from many kilometres away so that the total elevation gain from Medicine Hat is approximately .
Flora and fauna
The park protects the majority of the Cypress Hills landscape, which consists of three separate elevated blocks of lush forest and fescue grassland surrounded by dry mixed-grass prairie. Approximately 700 species of plants and animals thrive in the park, including 14 species of orchids.
The hills, because of the higher precipitation they receive, support extensive forest and also some rare fescue grassland. Most of the flora is shared with the mountains in states such as Montana and Wyoming rather than with the rest of Canada. The altitude of the hills, which is similar to the altitude of Banff also shares some similar flora and fauna with the Alberta mountain parks. Southern facing slopes tend to support prairie, northern slopes are covered with forest.
The hills host cougars. Cattle graze throughout the Cypress Hills Provincial Park, especially on the prairie on the flat tops of the Hills, though stream bank damage in the spruce/lodgepole pine/aspen forest indicates their presence everywhere in the Hills. There are 5 species of large hoofed mammals found in the park: Wapiti, Mule Deer, White-tailed Deer, Pronghorn, and Bison.
Climate
The climate of the area is generally temperate. Because the Cypress Hills area of the same elevation as the Banff townsite, it receives more precipitation than the surround areas.
Get in
Cypress Hills Interprovincial Park is easily accessible from the Trans-Canada Highway, which passes north of the area. The Centre and West Blocks can be accessed from Saskatchewan Highway 21 south for to Maple Creek, where travellers can either continue south on Highway 21 to Center Block or southwest for on Highway 271 to West Block. The Alberta Block can be accessed from the Trans-Canada Highway by following Alberta Highway 41 south near the community of Irvine ( east of Medicine Hat) south for . The nearest airport is located in Medicine Hat.

Fees and permits
There are no fees required for entry into the park, but there are fees for camping.

Get around

The blocks offer road access within their respective blocks; however, road travel between the blocks is limited. There are gravel roads which connect the blocks, but it is recommend to inquire locally before travelling, especially during the winter. Alberta Highway 515/Saskatchewan Grid 274 connect Maple Creek with Alberta Highway 41, but it is also a gravel road. Travellers desiring to travel all-pavement between the blocks will have to utilise the Trans-Canada Highway.

See
Fort Walsh National Historic Site

phone: +1-306-662-3590

address: Highway 271

A North-West Mounted Police (NWMP) fort and the site of the Cypress Hills Massacre. Administered by Parks Canada, it forms a constituent part of Cypress Hills Interprovincial Park. Tourists can tour the fort's buildings, the former townsite, cemeteries and the whiskey trading post. On September 28, 2004, Fort Walsh became part of the Cypress Hills Dark-sky Preserve.
Do
phone: +1-306-662-4422

Enjoy lush, irrigated grass greens at this golf course in the towering plateau of Cypress Hills. Wide fairways, grass bunkers and trees will test any golfer's accuracy. Total yardage is 3,350 yards. Golfers of all levels and ages welcome. Children must be accompanied by an adult.

phone: +1-403-893-2167

9 hole golf course. No tee times - simply drop in and go golfing!
Hiking, numerous hiking options in all three blocks

address: Highway 41
Eat
phone: +1-403-893-3811

address: 401 4 St, Elkwater, AB

Camp Cookhouse And General Store

phone: +1-403-893-3930

address: 40 Lakeview Drive, Elkwater, AB

phone: +1-306-662-4477

address: 5 Pine Avenue, Cypress Hills Interprovincial Park, SK
Drink
phone: +1-403-488-2920

address: 301 6 Ave, Elkwater, AB
Sleep
Lodging
phone: +1-306-662-4477

Hotel rooms, cabins and townhouses.

phone: +1-403-893-3811

address: 401 4 St, Elkwater, AB

Set within the Alberta Block, this laid-back lodge hotel is a 5-minute walk from Elkwater Lake and a 2.7-km drive from Hidden Valley Ski Resort.

phone: +1-306-662-3498

Fifth generation (founded in 1904)​ working ranch located in the Cypress Hills. Offers Cypress Hills Adventure Packages with seasonal ranch activities on horseback. Cattle drives, round-ups, touring, hiking and birdwatching. 'Cowboy Comfort with Atmosphere and Western Hospitality.'
Camping
phone: +1-403-893-3777

Over 400 individual campsites, located near Elkwater, AB

phone: +1-306-662-5411

Over 600 individual campsites in 5 main camgrounds. Campsite services range from basic to full hookup. Group campgrounds also exist for private functions and family gatherings.
Backcountry
phone: +1-306-662-5411

Horse enthusiasts visiting Cypress Hills Interprovincial Park will enjoy the West Block Wilderness Area. This summer equestrian campground features corrals available on a first-come basis. Cubed and processed feed only permitted. Two quiet, rustic campgrounds without power, available on a first-come basis for those wanting to camp with few amenities.

phone: +1-403-893-3777

3 backcountry campgrounds east of Elkwater.
Stay safe
Cypress Hills Interprovincial Park is a wilderness area with limited cell coverage. The nearest hospital is located in Medicine Hat.

Trail safety
Check the Cypress Hills Interprovincial Park website for trail and road reports. Trails are multi-use. Be prepared, weather can change quickly so bring clothing for all weather conditions.
Take a map and a basic survival kit, pack extra food and water, travel in a group, make noise to let wildlife know you're in the area. Winter conditions can change rapidly in the Cypress Hills. Most backcountry roads in Cypress Hills Interprovincial Park are closed in the winter.

Wildlife safety
Do not approach, harass or attempt to feed wildlife or livestock. Moose, deer and other wildlife may appear docile. However, wildlife can be quite dangerous to humans and pets if they feel threatened. A pet's actions can provoke an attack. Always keep pets on a short leash. Cougars were historically found in the Cypress Hills. Today, occasional sightings of cougars are reported in the region, including in the park. Parks Division staff work to protect this species while minimizing risk to campers and area residents. Leave the area immediately if you see a cougar or evidence of cougar activity. The chance of seeing a cougar in the Cypress Hills is small.

Go next