Częstochowa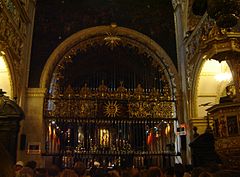 Częstochowa
is a city in the
Silesian Voivodeship
in south
Poland
.
Understand
Częstochowa, and the monastery of Jasna Góra is holy place for Polish and foreign Roman Catholics.

Get in
By plane
Katowice-Pyrzowice Airport
(
KTW
) is the nearest airport, served by many LOT, Wizzair, and Ryanair flights. As it's about 60 km from the airport to the city taxis will be expensive (for Taxi Pyrzowice price around 260 PLN). Another option is minibus by Pyrzowice Express - there are 4 scheduled services per day (with ticket price 60 PLN), but they also offer on demand service (requires online reservation; about 160 PLN). The main stop of Pyrzowice Express in Częstochowa is near main train and bus station.

By train
Częstochowa have good train connections with most of the Polish cities from Częstochowa main station, which is located at Stanisława Orzechowskiego street. There are trains to nearby Katowice every hour, new fast connection with Warsaw and Wrocław a few times a day. Note that some trains to Wrocław and Warsaw don't stop in main train station (Częstochowa Osobowa), but on which is about 2 km away. Trains departing from Częstochowa Stradom are faster, but might be more expensive.

By bus
Polski Bus offers connections between Częstochowa and Gdańsk, Katowice, Kraków, Łódź, Opole, Piotrków Trybunalski, Rzeszów, Toruń, Warsaw and also international connections to Bratislava and Vienna.

Other
Many Polish Catholics take an annual pilgrimage to actually walk to Częstochowa in the summer months.

Get around
On foot
City centre is rather small and you can easily walk between all tourist attraction.

By bus and tram
Most of tourist attractions are in the city centre on east-west axis (along Aleje Najświętszej Maryi Panny (Avenues of the Holy Virgin Mary)) and buses and trams are not the most convenient way of travelling between them as most of the routes are along north-south axis, but they are pretty good if you want to go outside of city centre.

Tickets
There are few types of tickets: single ride (3 PLN), single ride outside city limits, 45 minutes (city limits only), and 60 minutes (also outside city limits). Also 24 hours pass is available (10 PLN). 50% discounted tickets are available for students and kids. Detailed tariff can be found here:

Timetables
There are 3 day tram lines (1, 2, and 3) and one night tram line (N0) that runs every 30 mins every night of the week. Night bus lines runs only during weekends and are marked as N1-N4.
Timetables can be found at here: and maps of the network here: .

See
phone: +48 34 377 77 77

address: ul. o. A. Kordeckiego 2

The most important pilgrimage site of Poland housing the painting of the Black Madonna of Częstochowa which for religious Poles is one of the most important paintings.

Staszic ParkPark very near to the Jasna Góra Monastery.
Churches
Saint James church

phone: +48 343241187

address: ul. Kilińskiego 8

Roman Catholic church converted from Orthodox church from 1870.
Museums
phone: +48 343605631

Czestochowa Museum manages few sites (listed below).
address: ul. Pułaskiego 100/120

Small railway museum run by volunteers.
phone: +48 343241210

address: ul. Ogrodowa 68

Museum in old matches factory includes old (but still working) machines. Guided tours showing full production cycle.
Do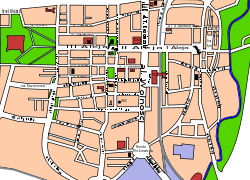 Drink
Sleep
Częstochowa is rather small, and accommodations are easy to find. The monastery has a large guesthouse built to accommodate the immense amount of pilgrims who walk here annually from all over Poland. The only time of year you're likely to have a problem finding a place to stay is immediately before and after 15 August, the Feast of the Assumption - a Marian holiday which draws thousands to the monastery for special devotionals.

Cope
English speakers are easy to find near Jasna Góra - many nuns and priests on the grounds are multilingual. In other parts of the town it may be harder to find someone who speaks English.
Please be warned that in the area around Jasna Góra you can be approached by some shady individuals that will want to trick you into buying something. Don't be fooled, your money will definitely not go towards costs of Jasna Góra renovation or charitable cause. It will be probably spent on cheap booze.

Go next
Head east in the direction of Jedrzejów to visit two architectural gems of in the neoclassical style. These are the Palace at Nakło, and the Palace at Szczekociny, both designed by the Enlightenment era economist, engineer and architect Jan Ferdynand Nax in the late 18th century. The Szczekociny Palace is not open to the public and seems to be in a state of limbo at present. But you can get onto the grounds to see it from the outside. The Palace at Nakło is open to the public for tours and lodging and has Polish-American hosts . There are also several interesting manor houses in this area. And just beyond Szczekociny is the museum of Mikołaj Rej, a leading Polish writer of the 16th century, and considered to be to be one of the founders of Polish literary language. On the way, take in the ruins of the castle at Olsztyn (Silesia), a huge medieval fortification about 16 kilometers from the Częstochowa city limits.