Dénia
Dénia
(Spanish:
Denia
; "Dénia" is Valencian) is a small tourist city on the southeastern coast of
Spain
, to the north of Alicante province. It has a population of around 40,000, although this can be more than doubled by tourism during the summer months.
Understand
Dénia is right on the coastline of the Costa Blanca - the White Coast. On one side is the Mediterranean sea and to the other distant mountains. The town has had a very long history predating the Romans (when it was called
Hemeroscopeion
) and continuing through the Moorish period until the present. Almost everywhere in the town you can find ruins dating back to its historic past.
phone: +34 966 422 367

address: C/ Manuel Lattur, 1

Staff members speak English, French, and German.
Get in
By plane
Dénia is equidistant to Alicante and Valencia and both airports are very well serviced by numerous major and low-cost international airlines, so arriving and departing is really easy and because of the competition is not expensive. Both airports are approximately 60 minutes travelling time straight down the A7/E15 autopista.
By train
phone: +34 900 720 472

address: Passeig del Saladar

Tram Alicante (el Trenet) operates a light rail train connecting all major settlements along the coast between Dénia and Alicante, with the exception of Xábia. From Alicante the travel time is about 2½ hours. Guide dogs and small pets in carriers are permitted. For travelers with smartphones, there is a helpful official app (iPhone and Android) with a route planner and timetables.
By bus
Estación de Autobuses

address: Plaza del Archiduque Carlos, 4

Within the region, Alsa operates a route connecting all major coastal settlements between Valencia and Alicante, including Cullera, Gandía, Oliva, Calpe, Altea, Benidorm, and Villajoyosa. There are also daily buses going to and coming from Madrid, Algeciras, Barcelona, Seville, and Almeria.
By boat
address: Estación Marítima, Moll de la Pansa, s/n

Has a taxi stand, bus service, restaurants, and Wi-Fi.
phone: +34 902 160 180 (call centre)

Operates ferries to the Balearic Islands, including Ibiza, Palma de Mallorca, Sant Antoni de Portmany, and Formentera. For ticketed passengers the company offers free transportation from downtown Dénia to the ferry terminal.

phone: +34 966 423 066

address: Avinguda Joan Fuster, 2

Operates a ferry route to Jávea (Xàbia); hours vary by season. A round-trip ticket costs €18, and the journey lasts 50 minutes.
Get around
By bus
DeniBus
(tel. +34 966 421 408) operates five routes in Dénia, four of which depart from on the Esplanade Cervantes. A single journey costs €1.50, payable directly to the bus driver on entry. Route maps and timetables can be viewed
here
.
See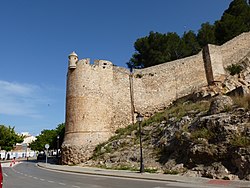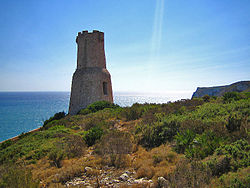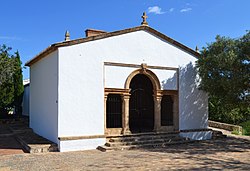 Historic town
This is the original town settlement of Dénia and spreads from the harbour and old marina to the other side of the castle – the castle being the center which offered protection to the inhabitants. Today you can walk on cobblestone pedestrian streets, pausing for tapas and a drink at one of the many typical bars. It is very interesting to walk around the old fisherman neighborhood, the old marina and harbour or the main street (
Carrer Marqués de Campos
) which now has wonderful and elegant shops. The new marina is sited to the south side of town and you can walk, dine and drink whilst looking out over some wonderful yachts, both sail and motor.
Castell de DéniaThe 12th-century castle has been sympathetically restored and forms the center of the town and of the historical center of Dénia. It is in good condition and retains the main wall which encircles the castle.
Museu Arqueològic

address: Palau del Governador

This 17th-century palace now houses archeological finds from Dénia and the surrounding area.
Museu Etnològic

address: Carrer Cavallers, 1

In the ethnological museum you will find all the information about the ancient and most recent history, when Dénia was a big raisin exporter and had a big toy industry.
Museu del Joguet

phone: +34 965 788 741

address: Carrer Calderón, 2

The museum showcases a collection of toys produced from the early 20th century until the 1960s, when Dénia was a centre of toy manufacturing.
phone: +34 965 788 741

address: Carrer Calderón, 4

A venue for temporary art exhibitions.
Església Parroquial de l'Assumpció

phone: +34 965 780 176

address: Plaça de la Constitució

The 18th-century parish church has a couple of interesting Barroque altarpieces.
Further afield
Torre del Gerro

address: Carrer de la Via Lactea

This well-preserved watchtower was built in the 16th century as part of a coastal defensive network against pirates. The tower itself is not generally open to the public, but there are great views to be had from the site.

Ermita de Sant Joan

address: Cami Nou de l'Ermita, s/n

This is one of the first churches built immediately following the Christian reconquista, between the 14th and 15th centuries. Between the 16th and 17th centuries the facade was expanded with an atrium.

Ermita de Santa Paula

address: Cami de Biserot a Santa Paula, s/n

Also built in the 134th century in the so-called 'reconquista style'.

Ermita de Santa Llúcia

address: Partida Santa Llúcia B

A Gothic hermitage also of the reconquista style, built in the first half of the 15th century.
Do
Festivals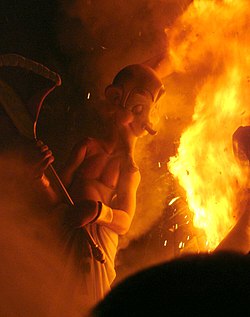 FallesAs in Valencia, Dénia celebrates Falles with the plantà (assembly of the satirical falla monuments to be eventually burnt), l'Ofrena (offering of flowers to the Virgen de los Desamparados), the mascletà (gunpowder demonstrations), fireworks, and finally the cremà (burning of the fallas).

Moros i CristiansThis annual event commemorates the liberation of the town from the Moors by Jaime I of Aragon. On the 13th there is a reenactment of the sea landing of Moorish forces, on the 14th and 15th there are children's and adults' parades, respectively, and on the 16th the Christian landing is reenacted, including a mock battle, surrender, and retreat of the Moorish troops, finished with a show of fireworks.
Beaches and water sport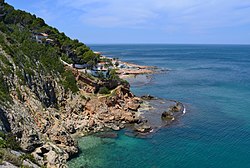 One of the main attractions of Dénia are the beaches, which stretch for around 26 kilometres of coast and are divided into three sections: sandy beaches, the marinas and the rocky coastline. Many of the beaches are 'blue flag' and from June until mid-October most are equipped with foot showers, first aid stations, lifeguards, and toilets. Along some stretches there are
chiringuitos
or beach bars which are open from May through September.
The sandy beaches of
Las Marinas
towards the northern side of Dénia are good for relaxing and sunbathing, and are suitable for children. has disabled access, and dogs are permitted on (near the port area).
The southeastern rocky end of Dénia is known as
Les Rotes
. If you like diving or just snorkeling this stretch is more interesting, where you can see all kinds of Mediterranean fishes, squids, octopuses, sea urchins, etc. , , and (near the cliffs), are very popular with divers; a prior permit, available from the tourist office, is required. has disabled access and a boardwalk, is and easy stroll from the centre of Dénia.
Hiking and biking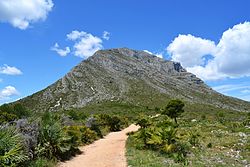 Parc Natural del MontgóThe Montgó (753 m) is now considered a nature reserve thanks to its Mediterranean flora and fauna. It has also some interesting caves like (Cueva del Agua). The drive over the mountain from Dénia to Javea on highway CV-736 is stunning with amazing views, and there are some great hiking and mountain bike trails. A brochure with route maps and descriptions (in Spanish) can be downloaded here .
phone: +34 966 467 155

address: Camí San Joan, 1

Has exhibits on the ecosystem, audioguides, and trail information.
Buy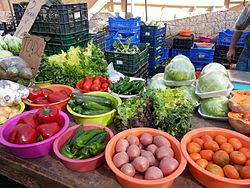 phone: +34 966 420 146

address: Carrer Magallanes, 16

The traditional market is a good place to find fresh produce, local meat and fish, and baked goods.

phone: +34 965 780 006

address: Puerto Pesquero

You can watch the small fishing vessels bring the daily catch into the port where it is boxed and sold at auction – the freshest fish you'll eat anywhere! You can even buy it and take it back to your apartment to cook on the barbecue. Fishing boats arrive from 15:30 until 18:00, and sale begins at 17:30.

Mercat Ambulant Setmanal

address: Carrer Germans Maristes, 13-23

A good place to pick up local produce.

Rastro Antigüedades

address: Carrer Germans Maristes, 13-23

Good for secondhand items and antiques.
Eat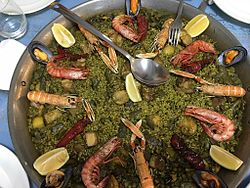 Dénia is famous for its restaurants which serve fresh fish and wonderful meat dishes. There are so many and so varied including a 3-starred Michelin-rated gastronomic wonder. In 2015 the city was designated a
UNESCO Creative City of Gastronomy
. It is most well known for the Dénia
gamba roja
(red prawn), a deep-sea prawn which lives in a trench between Cap de Sant Antoni (Cabo de San Antonio) and
Ibiza
, and fetches upwards of €100/kg at the market. Other well-known and popular dishes include
arrós a banda
, which is the focus of an annual national cooking competition,
suquet de peix
, a type of seafood stew, and numerous other rice-based dishes.
Budget
phone: +34 966 426 880

address: C/ de Bellavista, 3

Mainly Italian cuisine. Outdoor terrace. Reasonable prices.
Midrange
phone: +34 965 780 943

address: Ctra Provincial del Barranc del Monyo km 5

phone: +34 965 785 040

address: Carrer Bellavista, 7

Has a classic interior, and serves Mediterranean cuisine with food directly from the market, with a creative twist. Specializes in rice and locally-caught seafood.
Splurge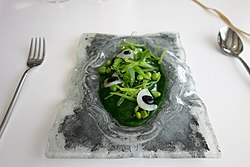 phone: +34 965 766 606

address: Partida Pamis, 7-30

The Michelin-starred restaurant has fantastic food in a nice setting amidst orange groves. Great menu and food, and excellent wine list. Pricey but worth it.

phone: +34 965 784 179

address: C/ Rascassa, 1

This restaurant is owned and operated by star chef Quique Dacosta, known for his avant-garde cuisine using only locally-sourced ingredients. It is widely considered to be one of the best restaurants not only in Spain but in Europe, and has been awarded three Michelin stars. Reservations can be made online, and require a €50 non-refundable deposit.
Drink
phone: +34 609 269 489

address: Moll de la Pansa
Sleep
There are many apartments and penthouses which can be rented as well as small hotels.

Budget
Mid-range
Splurge
Camping
Go next