Dürnstein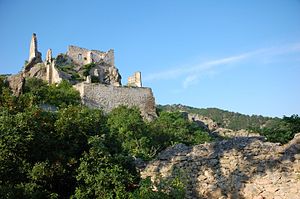 Dürnstein
is a small town in the
Wachau
in
Austria
, on the river
Danube
. Together with the neighbouring villages of Oberloiben and Unterloiben it is one of the main wine-producing centres of the region, and attracts nearly 1.7 million visitors annually.
Understand
Dürnstein derives its name from the ruined castle overlooking the town. The earliest historic records of the settlement date to the late 12th century, when Richard I of England was imprisoned in the castle by Leopold V, Duke of Austria, following the Third Crusade. Today the town is known primarily for its wine production and, along with the Wachau, as a popular tourist destination.
phone: +43 2711 219

address: Dürnstein 25
Get in
By car
Dürnstein is just a few kilometres west of Krems and can be reached on the
B3
regional highway, which follows the Danube River on its northern bank.
By train
The NÖVOG Wachaubahn narrow-gauge railway line passes through on its way from
Krems
to Emmersdorf. It operates only on weekends and public holidays from April to October and daily in July, August and September. See the
Wachaubahn website
to look up train information online.
By boat
From mid-April through October Dürnstein can be reached by river boats which ply the route between
Krems
and
Melk
, also making stops in Spitz and Emmersdorf.
DDSG Blue Danube Schiffahrt GmbH

phone: +43 1 588 80

Operates several times daily; timetables and fares (listed at the bottom of the page) can be found here. Tickets can be purchased at any of the docking points, in Vienna, or online. Bicycles (€2) and dogs (free) permitted on board.

phone: +43 7433 2590 21

Operates twice daily, also making a stop in Weißenkirchen. Timetables and fares can bee seen here. Tickets can be purchased online. Bicycles (€2) and dogs (free, muzzle and leash required) permitted on board.

phone: +43 660 7637480

address: Donaulände 27

On Sundays from June through September the smaller company operates between Tulln and Dürnstein. Timetables can be found here.
By bus
VOR bus route WL1 operates roughly hourly between Krems and Melk via Dürnstein, with stops at each end of the road tunnel beneath the village. See the
VOR website
for timetables. A Wachau Ticket is available on buses for ten euros (five for children) and offers unlimited travel on buses in the region for one day.
Get around
The best way to get around Dürnstein proper is undoubtedly by foot. To go to the neighbouring villages of Ober- or Unterloiben though you may want to have a pair of wheels.
Only residents with a special permit may park on the street in the centre of Dürnstein; visitors may park in private areas (for hotels and pensions) or at four car parks outside the centre: , , , and . Paid parking is required from 08:00-19:00: €1.50 (1 hr), €3 (2 hrs), €4 (entire day).
By bicycle
phone: +43 2742 22 99 01 (hotline)

After registration (online or by mobile), pick up a bicycle at any Nextbike location, and drop it off at the same or any other Nextbike spot. A map of pickup and drop-off points can be found here (click 'Wachau' for Dürnstein); a brochure for the Wachau region is available for download.
See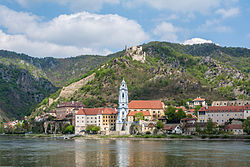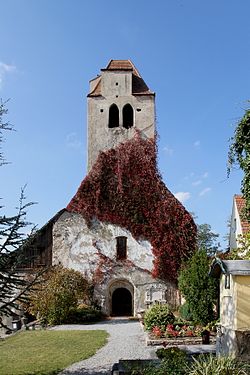 Burgruine DürnsteinBuilt in the 12th century, the castle is best known for being the prison of King Richard the Lionhearted of England from December 1192 to March 1193, after he was captured by Austrian Duke Leopold V while returning from the Third Crusade. In 1635, toward the end of the Thirty Years' War, the Swedes captured the castle and later destroyed the outer gate. After serving as a refuge during the Austro-Turkish War a couple decades later, it was ultimately abandoned and fell into disrepair. In the late 17th century the castle was purchased by an Austrian noble family, which still owns it today.

phone: +43 2711 227

address: Dürnstein 1

The former monastery was founded in 1410, and forcibly closed in 1788 by order of Emperor Joseph II. It is today managed by a consortium of several Augustine monastic orders, and its distinctive blue and white bell tower is considered to be an icon of the Wachau region. Independent visitors can access the courtyard, church, and main terrace. Guided tours (in German, English, and French) also allow access to the crypt and the cloister; tours take place every Sunday at 12:00 or at other times if booked in advance, and last about an hour.

KunigundenkircheThe former parish church is the oldest church in Dürnstein and dates from 1200. In 1783 most of the church was rebuilt, but the original tower and sacristy remain.
Do
phone: +43 2711 320

address: Donaulände 36

The outdoor natural swimming pool is fully maintained with biological means only and no chemicals. There is a children's section and an adult section, as well as a lawn for relaxing and sporting facilities.
Eat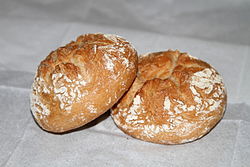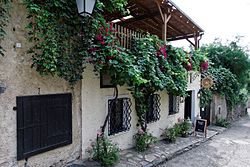 Sleep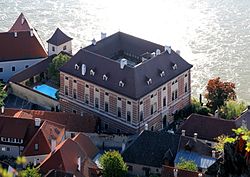 Dürnstein has an abundance of accommodation available. Along with a number of holiday apartments and smaller pensions, there are also four hotels. The city maintains a helpful online
directory
, which also allows reservations.