Děčín
Děčín
is a city in
North Bohemia
. It lies on the river Elbe in a beautiful and diverse landscape, surrounded by the
Central Bohemian Uplands
,
Elbe Sandstone Mountains
and
Bohemian Switzerland National Park
.
Understand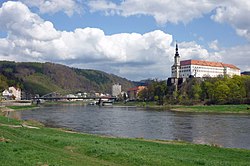 Děčín is a nice city in the valley of the Elbe, close to the main railway connecting
Saxony
and
Prague
. Before World War II, most of the inhabitants were ethnic Germans. After the war most of the German population was driven out, fled or was resettled and the new communist government redesigned the city destroying many historic buildings and building panel blocks in the process. Because of that, these days there is more than one city center in Děčín, which might be confusing. The main railway and bus station as well as the town hall are all located on the opposite bank of the Elbe than the castle and historical
old town
. With a population of 50,000 Decin is the 19th largest city in the country. The old German name for the town "Tetschen" most likely has the same root as the Czech name, which becomes obvious when you hear it pronounced in a Saxon accent.
Get in
By train
Děčin main stationDěčín is on the main railway corridor connecting Prague with Germany. From Prague It takes 1hr 30min. by train to get there. From Dresden you can take the direct Eurocity which takes 46 minutes for the very picturesque ride through the Elbe valley and Saxon Switzerland.

Děčín východThe other railway station
By car
By car it takes around 1hr 25min from Prague.
By bus
There is no direct bus connection and it takes 3hr with several changes of bus.
Get around

Děčín is served by 17 bus lines. It is also possible and reasonable to use train, there is 15 train station within whole Decin.

See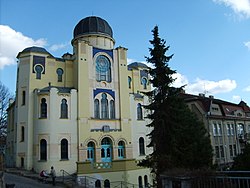 phone: +420 412 518 905

address: Dlouhá jízda 1254

Iconic landmark of region, history of Děčín Castle is very interesting and varied. Castle was reconstructed in both renaissance and then baroque style. Frédéric Chopin stayed and composed here a while.

Old Town BridgeGothic bridge from 16th century with baroque sculptures of Czech saints.

phone: +420 412 531 095

address: Žižkova 4

Synagogue in Art Deco style from 1907. If you want to see interior, you have to ring the bell and wait for a synagogue employee to unlock the building.

phone: +420 412 531 164

address: Žižkova 1286/15

Very small zoo. Mainly animals inhabiting the Czech Republic and a few exotic species, including anteater and tapir.

Sheep's BridgeSmall stone bridge from 1561.

Holy Rood Church
Do
phone: +420 412 704 211

Both indoor and summer swimming pool. Some other sport activities also possible.

phone: +420 777 037 379

address: Kamenická 692/199

Boat trips on Elbe (through Elbe Sandstones protected landscape area) to Hrensko (last town on Elbe in the Czech Republic) and Bad Schandau (Germany) or return trips from Děčín to Dresden (with tour in the city) or to Meißen.

Hiking aroundDěčín is a great starting point for hiking in Central Bohemian Uplands, Elbe Sandstone Mountains and Bohemian Switzerland National Park. Hiking trails are well marked and go through the city.
Buy
phone: +420 412 535 455

address: Sofijská 2/3

Normal shopping centre with many shops, department store and cinema.
Eat
Drink
address: U Plovárny

Local craft beer. Various types brewed at various places, but the recipes are local.

phone: +420 702 234 076

address: Pohraniční 462/3

Cozy café with tons of books to leaf through. Coffee roasted locally. Soy milk available. Snacks include meat, vegetarian and vegan sandwiches.
Sleep
phone: +420 412 516 104

address: Masarykovo náměstí 60

Hotel with restaurant.
Go next