Dakar
Dakar
is the capital and largest city of
Senegal
and is often regarded as the cultural and commercial center of French-speaking West Africa. The metropolitan area is home to about 2.4 million people and lies on the end of the Cap Verte peninsula, which marks the westernmost point on the African mainland.
Dakar is often the first stop in exploring French-speaking West Africa because it has good flight connections with Western Europe, whereas the other main French-speaking West African city,
Abidjan
, does not.
Understand
The Senegalese are very proud of their reputation for "teranga"—hospitality. Locals are extremely friendly and helpful, but as you would anywhere else, watch out for scams and
pickpockets
. Petty crime here is relatively high, be cautious.
History
The peninsula was settled by the Lebou people, closely related to the Wolof people, when the Portuguese first reached it in 1444. The original villages: Ouakam, Ngor, Yoff and Hann, still constitute distinctively Lebou neighborhoods of the city today. The Portuguese were repulsed by the locals initially (the first Portuguese ships were slave-raiders), but peaceful contact was made in 1456. The bay was an important stop for the Portuguese India armadas of the early 15th century and Portuguese armadas en route to Brazil. It is believed that during a stop here in 1501, when an armada returning from India and one heading to Brazil met, an explorer with the latter—Amerigo Vespucci—compared notes with explorers returning from East Asia and realized that Asia & the New World couldn't be the same continent (it was a letter published upon his return that is heralded as the first postulation of America as a separate continent).
The Portuguese established a settlement on the island of Gorée in the early 16th century and, on the mainland, the Lebou established the town of Ndakaaru to service the needs of the Portuguese. It would be captured by the Dutch in 1588 and switch hands several times between them until the British captured the island in 1664 and the French gained control in 1677. The settlement would mostly support the slave trade. The infamous House of Slaves was completed in 1796.
In 1795, the Lebou revolted against Cayor rule and established the Lebou Republic with Ndakaaru as its capital. In 1857, the French established a military post on the peninsula and annexed the Lebou Republic. With slavery outlawed, the French supported peanut cultivation. Gorée island proved ineffective as a port, and so with the booming peanut trade, the French supported the growth of Dakar and its port. Dakar replaced
Saint-Louis
as the capital of French West Africa in 1902. During this heyday, the city was one of the most important cities in the French empire (comparable to
Beirut
or
Hanoi
).
In 1959, Dakar became the capital of the Mali Federation and, upon its breakup, became the capital of Senegal in 1960. The city still maintains strong ties to France and boasts a large French expatriate population and hosts offices for many French businesses involved in West Africa.
Climate
Dakar is warm and humid year-round with a rainy season that lasts from July–October. Temperatures are warm, but moderated by cool sea-breezes and not as hot as inland cities in the region (like
Bamako
or
Ouagadougou
). The warmest months are Jul–Oct with highs of 30 to 31°C (86 to 87°F) and lows of 24.5°C (76°F). Jan–Mar are the coolest months, with highs around 25°C (77°F) and lows around 17 to 18°C (63°F).
Average yearly rainfall is 495 mm (19.5 in), of which just 19 mm (0.75 in)) falls outside the rainy season! During the rainy season, roads around the city can turn into rushing rivers and without proper sewers in some parts of the city, standing water is contaminated and not safe to walk through.
| Jan | Feb | Mar | Apr | May | Jun | Jul | Aug | Sep | Oct | Nov | Dec |
| --- | --- | --- | --- | --- | --- | --- | --- | --- | --- | --- | --- |
| 21 °C (70 °F) | 20 °C (68 °F) | 20 °C (68 °F) | 21 °C (70 °F) | 22 °C (72 °F) | 25 °C (77 °F) | 27 °C (81 °F) | 28 °C (82 °F) | 28 °C (82 °F) | 28 °C (82 °F) | 27 °C (81 °F) | 24 °C (75 °F) |
Get in
By plane
Aéroport international Blaise-DiagneOpened in December 2017. The airport is about 50km from Dakar near the village of Diass. Dakar is a major West African hub, so there are lots of flights coming from and going to Europe and other African cities. South African Airline's Johannesburg-Washington and Johannesburg-New York (JFK) flights stop in Dakar and allowing passengers to leave or join the flight. Be prepared to arrive and leave at any time of the night or day - many flights arrive and depart in the middle of the night.
Taxi rides from the airport to the centre of Dakar are around CFA20,000, negotiated with taxi drivers. Insist on using the toll motorway (autoroute a payage) even if you pay yourself; it will save a lot of time during the day, and the local roads are unsafe at night.
There is probably a bus to Gare Routiere de les Beax Mariniers.
Be prepared to refuse touts and taxi drivers. See
Stay safe
for details.
By rail
A commuter rail line —
Petit train de banlieue (PTB)
—connects the Dakar railway station with
Thies
, to the east.
The Dakar-Niger Railway connecting Dakar and
Koulikoro
,
Mali
(near
Bamako
) has not operated since around 2009/2010. The line operated sporadically in the 2000s decade, with services at times running on a regular schedule and at other times operating on an erratic schedule (2–4 weeks between trains, delays of several days between scheduled/actual departure). The tracks in some places are so bad that trains on the line were limited to 20 km/h! The ride from Dakar to Koulikoro took over 36 hours. In 2009, four passenger cars derailed, killing 5 people. Even if the line reopens, unless there is a
major
overhaul, traveling by road is a much better experience.
By road
The main method of travel around the country is by
sept places
(French for "seven seats"), questionable station wagons in which they will pack seven people so that you are basically sitting on the next person's lap throughout the journey. You can also come with a group and rent out an entire
sept place
, but this will be expensive. If you are obviously a tourist, they WILL try to rip you off, so make sure to set a price before you agree to a driver. There are set prices to often-travelled locations. Watch out for
pickpockets
!
All minicar and sept-place arrivals and departures have moved to Dakar's new Gare Routiere Beaux Maraicheres, which is in Pikine on the outskirts of Dakar. To get to the city centre you will have to take a taxi for between 4,000 and 6,000 CFA. There may also be Dakar Dem Dikk busses passing by (possibly number 218). DDD bus number 15 passes near-ish going to Place de l'Independance.
By boat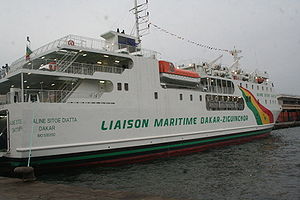 A state-owned ferry runs between Dakar and
Ziguinchor
in Senegal's
Casamance
region (below The Gambia). The
Joola
, one of the former ferries on this route, capsized in a storm while overloaded in 2002, regarded as the second deadliest maritime disaster in recent history. 1800-1900 people are believe to have died while only 64 survived (the ship was built to carry 580 people!) and the disaster remains on the minds of many Senegalese. The
Aline Sitoé Diatta
, built in 2008, is the current ferry. Changes have been made to ensure a disaster such as the Joola never happens again, so travellers shouldn't feel too worried boarding the ferry.
The ferry runs overnight and takes around 16 hours in each direction. A seat costs CFA15,000. Cabins are available with 2-8 beds, but are more expensive (around €100) and are fully booked in advance, especially during tourist season. Departures from Dakar are Tuesdays & Fridays. Departures from Ziguinchor are Thursdays and Sundays (arriving in Dakar on Fridays & Mondays, respectively).
Get around
By bus
The Dakar bus system, known as Dakar Demm Dikk (Dakar coming and going), is fairly dependable. Fares are CFA150 and there are no free transfers permissible with each ticket. There's not much in the way of a map of the bus system, so you'll have to figure it out on your own. The number 10 bus runs along the Corniche de l'Ouest and turns into the suburbs at Rue Aime Cesaire. The number 1 bus runs along the VDN.
Cars Rapides. These are the usually blue, yellow or white mini-buses that careen through Dakar and some of Senegal's other cities. There are somewhat fixed rates for certain distances, but you need to check with a Senegalese beforehand. As of 2011 CFA150 would cover most destinations. To find out where one is going, flag it down and shout out your destination at the apprenti, the boy in charge of collecting fares who hangs out the back. If she shouts back at you the destination you want, signal it to stop and hop aboard. To stop, bang loudly on the side of the bus, on the roof or signal to the apprenti you want off. Apprenti's don't always speak French, so be prepared to communicate otherwise if you do not speak Wolof. Be careful about asking for your destination, as the apprenti will often tell you it is going there just to get you on the bus, no matter its actual destination. If possible, ask where it is going rather than if it is going to your destination.

By taxi
Cheap and safe and everywhere. Just don't mind the broken windshields. All taxi fares are negotiated beforehand and will require bargaining. If you're not from Senegal, you will probably have an outrageous price proposed, so check with locals before to get an idea of what they pay, in order to know what you will be able to get. Even if you have negotiated a price, once you arrive your taxi driver will pretend he has no change on him, even if he previously assured you he had.

See
Paris - Dakar Rally
For many years Dakar was the end point of the most important off-road rally in the world. The competition had three classes: motorcycle, car and truck. It began in 1979 and ran to Dakar until 2007. The 2008 Dakar rally was cancelled due to terror threats by Islamists. The unstable situation in
Mauritania
and
Mali
led to a move to South America; since 2009 the rally has taken place annually there.
Attempting to follow the rally route today is definitely not recommended.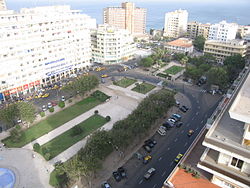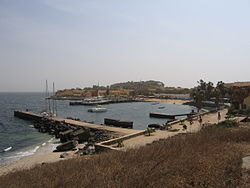 African Renaissance MonumentThis colossal monument opened in 2010 and is dedicated to Africa's emergence from the oppressive European regimes that once ruled the continent and the end of slavery. It is also meant as a display of African pride to counter foreign perceptions of Africans as inferior people. The monument is rather controversial, with some Africans feeling the sense of pride it is meant to evoke while others criticizing it as a foreign (it was made by North Korea), completely un-African Stalinist statue. From base to the top, it reaches taller than the Statue of Liberty.

address: Rue Emile Zola

Ile de GoreeGoree Island in English, it was named by the Dutch after taking over the island from the Portuguese in the late 1600s. Today it's listed as a UNESCO World Heritage site. Goree was a minor location used for the transport of slaves headed to the Americas, though its prominence is often overplayed. The island has interesting colonial architecture, mostly in ruins, including the landmark "House of Slaves" museum. Ferries can be taken from the terminal north of Place de l'Independence and cost CFA5000. The trip takes 10-20 minutes. There are many small restaurants and a handful of places offering lodging. This is a place with a great atmosphere, because it gives you kind of an pirate-island (with friendly folks all-over kind of feeling). Just walk around and explore. It's a small island, so you can easily stroll around it in an hour. You can buy cheap beer and lounge on the beach when you're done, or stroll some more and buy art-work from the locals.

Les AlmadiesThe Western tip of the African continent where plenty of seafood restaurants are located.

Dakar Grand Mosque

address: Av. Pape Gueye Fall

Built in 1964 by French and Moroccan architects. Due to the Moroccan influence, there are strong similarities with the Grand Mosque in Casablanca.

Dakar Cathedral

Hann Park and Zoo

phone: +221 33 832 38 75

The public gardens were built in 1903 and the arboretum was built in 1947. The gardens feature a wide variety of Senegalese plant life and the zoo contains over 130 animals.

Léopold Sédar Senghor national stadium

address: Route de Yoff

Football is as important as music! When the biggest team ASC Jeanne D'Arc plays, the stadium is packed with more than 60,000 fans. Expect passion, insane noise and African football at its best.
Do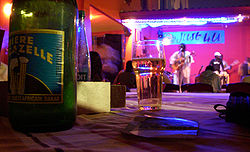 Dakar has a vibrant music scene and is very popular with young people. Check out the incredibly rich and variant styles. Places like Club Thiossane, Just 4 U are a must for World Music fans.

Lake RetbaAlso called the "Pink Lake", the high concentration of cyanobacteria indeed gives the lake a pink tone. During the dry season and when the sun is brightest the color is said to be especially vivid. The lake has a high concentration of salt, so while you admire the beauty of the lake, you can also observe the salt harvesters who still gather salt in the traditional way.

BirdwatchingSenegal is a great country for birdwatching, and Dakar is no exception. Les Almadies is a good place to see seabirds, and the Iles de la Madeleine is the only African nesting site of the red-billed tropicbird.
Buy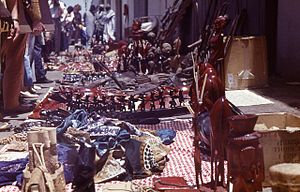 Islam Couture/ Embroidery Dakar has some amazing (and amazingly expensive) stores specialised in haute-couture, embroidered traditional west African Muslim clothes.

Marche Sandaga

address: cnr Rue Sandinieri and Ave du President Lamine Gueye

Madness. A decrepit concrete structure that has - despite appearance - three levels of activity: meat and vegetable stalls on the main floor, fish in the basement dungeon and - surprise - restaurant stalls on the roof. You will need to brave the crumpled stairs and step around guys cleaning dead chicken to make it up. Around the market building a sprawling network of stalls offer everything from copied music CDs, Manchester United shirts, electronic gadgets and Islamic books. The hawkers can be very aggressive. The place is also famous for pickpockets, so take only the amount of money you need and keep it in a safe place.
Marche HLM A smaller market geared primarily towards fabric vendors, Marche HLM is slightly less crazy than Sandaga. Hundreds of options for fabric that you can buy and then get tailored into perfectly fitting traditional Senegalese wear (if you will be in Dakar for awhile, ask a Senegalese person who his or her tailor is, and go there. A little less convenient for travellers who will only be staying a week). Most vendors won't sell less than 3 to 6 metres of fabric. A reasonable price is CFA1,000 per metre.
Marche Kermel, near the city centre.
Soumbedioune, a popular evening fish market. There is also a "Village Artisanal" nearby where especially tourists can buy hand-made African jewellery, wooden decoration elements and many other handicrafts. Be prepared to bargain.
Eat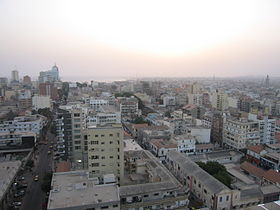 Peanuts: The roasted peanuts you can buy on the street or get with your order of beer in any bar are delicious. These nuts are not greasy at all and have just the right amount of salt - and sometimes they are still slightly warm from being roasted.
Ali Baba: Greasy Spoon where you can get cheap Lebanese food. Good falafel sandwiches with French fries and lots of tahina sauce, shwarma, kebab and all sorts of other delicious (also western) snacks. Find it halfway up Ave. Pompidou.

Centre Culturel FrançaisAsk for the local food they serve for lunch (not on the menu) during the week. On weekends you must ask nicely to convince them to let you try what they prepare for the staff.

Café de RomeAuthentic French food (you feel like you're in France), from oysters to steak tartar, and the famous Sole Meuniere. It is pricey by Dakar standards, but the food is great

Chez Ndeye/Ker Ndeye (on a street parallel to Ponty) Overpriced (CFA4,000 per meal, CFA2,000 for a bissap drink). Mediocre Senegalese food. Besides the lovely Thiebou Dien, the place features home-made Tamarind juice. Try to catch the excellent Kora player. For that price, there are much better options in Dakar.
Hotel de l'Indépendance Eat here for the magnificent views from the restaurant on 16th floor.
Hotel Farid/Lebanese Restaurant Drink a gigantic Arrak (made from anis) as an aperitif and then order the 20 Mezze.
La Fourchette Stylish place serving international cuisine (Mexican, Japanese, Moroccan, etc.) at moderate prices. Next to Marche Kermel.
Lalibela Little Ethiopian restaurant with a fantastic rooftop dining area. The ambiance alone would be worth coming here, but luckily the food is great too. A little difficult to find—between the VDN and Avenue Cheikh Anta Diop at the intersection with the Mobil-On-The-Run and la Poste Fann.

Le Jardin Thailandais

phone: +221 33 825 58 33

Huge menu of delicious Thai food, great atmosphere. A little pricey, but worth it. Across the street from UCAD (Université Cheikh Anta Diop) off of Avenue Cheikh Anta Diop/Rue de Ouakam. There is a jazz club across the street.
L'OzioItalian cuisine. 33 823 87 87
Patisserie Laetitia It's along the street of Cafe du Rome towards La Corniche (the sea) - away from the centre - two blocks up on your right hand side. Serves fresh, warm croissants, pain au chocolate and pain ain au raisins. The coffee is good and the fruit juices freshly squeezed. You will be surrounded by locals in beautiful Muslim outfits, reading the paper and discussing the latest news.

Chez Loutcha

phone: +221 33 8210302

address: 101 rue Moussé Diop

Chez Lutcha is a Cape Verdian restaurant that serves huge portions of excellent food. Cape Verdian (Portuguese inspired) dishes, Senegalese food and international cuisine. Cosy courtyard or AC dining room. Excellent service.
Zaika It's on Cornish road and serves good Indian food. Reasonable price. Sea View from terrace is excellent
Indiana It's near Place de Independence offer Indian food. Monday to Friday they offer buffet lunch just at CFA4,500. Food not very good but good for change.

Le N'GorA brightly painted open-air restaurant overlooking the sea. Several terraced patios give it a good feel. Portions are small, but the food is delicious. Expect to pay CFA10,000 for a full meal with beer and dessert. It is located in Les Almadies past the Hotel de Almadies from the new US embassy, set back from the road behind an often empty parking lot. Look for poorly lit painted signs for "Ile de Le N'Gor".
Drink
Gazelle
is the local favourite beer - it comes in serious bottles, or Flag, which is stronger and more expensive.
Le Hanoi You can't go wrong with a bar that has palm trees painted on one wall, a French military guy (opinions differ if he was secret service or just a regular drunk) behind the bar who insists the black waitress is his "little sister".

Le Seoul II

phone: +221 33 822 90 00

address: Rue Amadou Assane Ndoye (between Rue J.Gomis and Ave du President Lamine)

Open-air sports bar. Wood-fired barbecue food. Packed during popular international games (football!) and relatively relaxed in the inner city madness

Le VikingOn the Ponty, in the midst of Sandaga madness, it is a popular spot for expats and tourists. Pricey drinks, but great atmosphere. Live music on weekend nights!
Sleep
There is a wide selection of hotels, from the basic to the best 4 star chains. Many first time visitors stay at the expensive Meridien. There are, however, some good and reasonably priced places to stay.
Budget
phone: +221 3384240

address: Route de la petite corniche Est

Environmentally friendly hostel/diving center, the Oceanium is also home for the Senegalese Ecologists Federation (FEDES). This very well located hostel works like a family and will give you many chances to meet the local culture. The fisherman's village Terrou Bye Sogui is next to the hostel so you can easily have a nice and affordable grilled fish for dinner.

address: Route de l'Aéroport

Very useful for people that have to catch very early morning planes to other places. It is not uncommon that your flight to say Europe or Nigeria leaves at 03:00! You can book on line and their advertised rate is CFA30,000.

phone: +221 33 860 30 00

address: 36 cité Magistrats Les Mamelles

The Phare hotel, named after the landmark Lighthouse is in "Les Mamelles", a quiet residential beach district, 15 minutes from the city, 10 minutes from Leopold Sedar Senghor airport and close to "Les Almadies", "Ouakam", "N'Gor". Has 10 rooms surrounding an open air Flower Patio and rooms vary from sgl to quad each with ceiling fan and/or air con.

phone: +221 8202347

Yoff Tonghor Plage. Le Poulagou is a small hotel, 2 km from the airport and right on the coast. Ideal for the first days to escape the madness of Dakar. Free Internet access.

phone: +221 33 860 40 19

address: Villa 10504 Sacré-Cœur 3, VDN Extension

Close to the airport, Kingz Plaza. Staff are friendly, the rooms are decent. The restaurant serves decent dinner and breakfast and a nearby café has good coffee and food. There is also a small grocery store 5 min by foot along the VDN.

phone: +221 822-2044

address: 9, rue de Thann

Océanic is a budget option for around €30 (room rate). Centrally located. Rooms and beds are (a bit) run down but the bathroom is OK. Good breakfast at neighbouring self-service restaurant.

Hotel Farid

phone: +221 33 823 6123

address: 51, rue Vincens

Central location. Rooms with air-con, TV, mini-bar, safe and free internet access
Mid-range
Al Afifa Hotel, (city centre), Clean air-con rooms. Wi-Fi works most of the time and is free. Small outdoor pool, the main restaurant/bar alongside it. Food is good and the breakfast excellent with fresh croissants. Ask a waiter to prepare a mango or other fruit at the buffet. Expect to pay around CFA45,000 for a single room plus CFA3,600 for a breakfast. This hotel also has an "American bar" and a nightclub attached. Walking distance to the main attractions in Dakar and the best restaurants such as Café de Rome and Chez Loutcha.
Sofitel Teranga - Between Independent Square and the Atlantic Ocean (City centre). Very good setting. It is a good (although not cheap!) starter for medium budget travellers to acclimatize in Senegal. Comfortable rooms, cosy atmosphere. Room rate round €100. Breakfast is €15 and splendid!

phone: +221 33 820 12 33

address: Les Almadies

Comfortable guesthouse run by an enthusiastic Belgian lady. Wi-Fi access, swimming pool and, important in Dakar, a backup generator. Very clean and very well kept.
Splurge
phone: +221 33889 2200

address: 10, Rue Colbert

Best Accor hotel in town. Offers good views over the Atlantic from the rooftop. Island in the madness. Popular with business travellers

phone: +221 33 869 33 33

address: Route de la Corniche

Trendy neighbourhood offering picturesque views of the Atlantic Ocean

King Fahd Palace HotelTop class hotel, and offer a free shuttle service to and from the airport.
Stay safe
Petty crime in Dakar is relatively high; crime against tourists is common, even around Place de l'Indépendance. Use common sense: women should not walk around alone after dark. Watch your pockets in crowded places, such as Sandaga, and keep a close eye on your belongings. There are many different scams to get money from tourists, so be wary. The African favourites "I work at your hotel and have run out of fuel, please can I borrow €10", etc. are common, so don't be fooled.
Crime around the airport is extremely high. Do not change money at the airport. Con artists wait inside the arrival terminal by the baggage carousel. They inform you that they work for the airport and that they do not need any money from you. They snatch your bags out your hands, and lead you to a restaurant where you are told the kitchen is closed. They will all sit around you and demand money before they let you or your bags go. Some may offer to take you to "an affordable hotel" such as Hotel Tahiti. They then lock themselves in the room with you and demand money. They do not settle for anything less than USD10-25. They do not care if you have enough money for food or to get back to the airport. They will threaten you. Be warned.
Avoid the beaches at night. Try not to wear any outwardly expensive items of clothing or jewellery. In generally the Senegalese are not violent. Some people turn to stealing so that they can drink and eat. Overall, though, the Senegalese are an incredibly friendly and hospitable people and you will meet many people who are interested in talking to you.
Senegal is one of the most politically stable countries in Africa. The police force is useless for your safety, although they all speak French, and hence are helpful with directions when asked.
You should particularly avoid walking in the evenings (or nights) along the Corniche, particularly the stretch between the International School of Dakar and the Club Olympique.

Cope
There are many
beggars
in Dakar, and so this can be an uncomfortable situation. One way to handle it is with a simple, polite "ba BEN-een yohn" ("next time" in Wolof). They may be persistent, but be firm without being rude. Another option is to give the talibes food. Also, keep in mind the Islamic tradition of giving daily - after you've given once, you can say, "sah-RAHK-sah AH-gah-nah," which means "charity has already been done."
Embassies & consulates
phone: +221 33-889-4700

address: Rue Galliéni x Amadou Cissé Dia Dakar, Senegal

phone: +221 33 869 55 44

address: Rue 1, Villa 1, Fann Residence, B.P 474

phone: +221 33 889 48 84, +221 77 638 64 41 (emergencies)

address: 20, Avenue Pasteur, Dakar B.P. 2100

Greece

phone: +221 9 571120, +221 9 571149, +221 9 572648

address: 15 Bis Rue Jules Ferry, Dakar B.P. 1810

phone: +221 33 823 7392, +221 33 823 9971

address: 20 Rue du Dr Guillet, BP 6025, Dakar
BBC World Service radio broadcasts in English and French in Dakar on 105.6 MHz.
Go next
Travelling outside of Dakar can be manic and harrowing but is definitely worth it.
Saint-Louis — The old French capital of Senegal, St. Louis is on the northern border, near Mauritania, and has fantastic colonial architecture and nightlife. Popular destination for travellers. Many bird parks are in this area.
Sine Saloum Delta — Just north of the border with Gambia, the Delta has amazing mangrove forests that you can tour by pirogue (essentially a motored canoe). Negotiate a fair price with a guide, and remember that once you get into the Delta, it's difficult and expensive to get around any way besides by pirogue.
Casamance — The southernmost region of Senegal, the Casamance, boasts some of the most spectacular beaches and friendliest people in the country. The capital is Ziguinchor—nice to visit but not much to do. Cap Skirring is the main tourist destination, and there are many hostels as well as a Club Med ("Club Merde" as the locals call it). The Casamance has been involved in a secessionist conflict for years; though the warring factions do not purposely attack tourists, there have been tourist deaths. The overnight ferry from Dakar to Ziguinchor is affordable and comfortable.
Details on the ferry: The boat leaves from Dakar on Tuesdays and Fridays at 20:00 and from Zig on Thursdays and Sundays at 15:00, arriving 15–17 hours later. Office hours in Dakar are M-F, business hours with a break for lunch. To purchase tickets, you must go to either the port in Dakar or the one in Zig. You cannot buy tickets online, or over the phone. Bring your passport to purchase. Advance purchase is advised, if possible, but not always necessary. Price for a couchette in a two person room is CFA30,500 and for a four person room is CFA28,500. Both include private bath and breakfast. Phone # for the Dakar ticket office is +221 33 821 29 00. They will be able to give you information on availability, prices and office hours.
Touba — Senegal's religious centre, Touba makes a great day trip. Unfortunately, non-Muslims are no longer allowed inside the mosque, which is enormous. Women will be asked to wear long skirts and cover their heads to tour the grounds.
Banjul - the capital of The Gambia. There is one daily bus departing at 07ː00am from Parcelles Dem Dikk terminus.
There are no options to buy the ticket either beforehand or online. Be there at 06:00 to buy a ticket and grab a seat. Ticket price is CFA10,000; for one piece of luggage they charge CFA1,000.
The trip normally takes 8 hours, but the real time depends on the border and ferry conditions.
The buses have AC, but the seats are narrow.