Dalat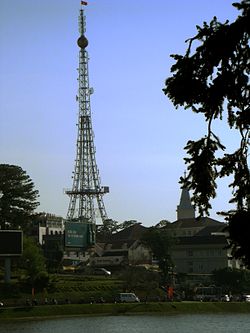 Dalat
, also
Da Lat
(Đà Lạt), in the South Central Highlands of
Vietnam
, was originally the playground of the French who built villas in the clear mountain air to escape the heat and humidity of the plains and coastal areas.
Understand
Dalat looks somewhat like a cross between Vietnam and rural France. Many of its hotels and houses are built in a European/French style. The city spreads across a series of pine-covered hills, with a small lake in the centre and surrounded by a man-made lake and higher peaks, making for some lovely scenery quite different from the rest of Vietnam. Temperatures are pleasantly warm by day, and cool at night, down to perhaps 10°C.
Dalat is surrounded by some of the best mountain biking, hiking and canyoning opportunities in Vietnam, with hills of coffee and tea plantations, which evoke images of the colonial hill stations of the north of India.
Dalat's high altitude (1,500–2,000 m) and fertile landscape make it one of Vietnam's premier agricultural areas, producing varieties of fruits, vegetables, tea, coffee, and flowers that don't grow in the lowlands. In markets as far north as Hanoi and Haiphong, vegetable and flower vendors will tout their "grown in Dalat" produce.
Dalat is a favorite destination for company-sponsored weekend outings, family getaways, and honeymooners.

Get in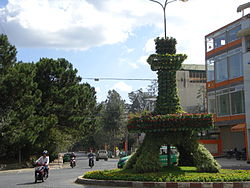 By plane
Some hotels offer special arrangements with
taxi companies
to ferry hotel guests to and from the airport for around 200,000 dong. Hotels can try to rip you off by asking for anything between 300,000 to 400,000 dong for an airport transfer. Be adamant on 200,000 dong. Taxi service with tel. +84 6 3383 5583 have a fixed price of 250,000 dong. Malinh taxi charges 300,000 dong to the airport. If going by meter, it comes to around 577,000 dong (distance around 35 km).
Or catch the
airport shuttle
for 40,000 dong per person. They will ask what hotel you're staying in, and the airport shuttle bus will take you there.
By bus
Most local and foreign travellers arrive in Dalat by bus, including those travelling on the famous Sinh Cafe Hanoi-HCMC open-tour buses.
Phuong Trang Busline runs several daily services to Dalat from
Nha Trang
and
Ho Chi Minh City
. From
Nha Trang
the bus ride is about 5 hours, with the obligatory stop at a dilapidated Cham temple/tourist site. Within the last year or so, a new road from Nha Trang has cut the travel time to 3–4 hours, including a 30-minute breakfast/WC stop about one hour out of Nha Trang. From
Ho Chi Minh City
the bus ride is about 7 hours (9 hours if there is bad traffic leaving Saigon). If coming from
Mui Ne
, be careful as the road is rough most of the way, so try to book a large bus or at least a seat towards the front.
From
Mui Ne
:
An Phu TravelThe company serves 2 buses a day. It's not too comfortable seater bus but still ok. Tickets can be booked in most hotels and guest houses. They have free pick up. Journey takes 4-5 hours and includes some great views. Drop off in Dalat: Nguyen Chi Thanh street, close to the city center.
.
The Sinh TouristThe bus tickets are available online on baolau
.
From
Danang
- Danang Central Bus Station, sleeper bus from Danang to Dalat with air-cond, toilet on bus, departs from Danang at 17:00 and arrives Dalat at 08:00 - 09:00 (15 hours), it costs 265,000 dong/ticket, you may come directly to the Bus Station or online booking via email
danangdalatbus@gmail.com.
For Western visitors it may be best to book a ticket on a bus without a television. The entertainment offered could be loud and unappealing if you prefer sleeping before arriving at their next destination.
Alternatively, catch a local bus at
Ho Chi Minh City
,
Bien Hoa
,
Phan Rang
,
Nha Trang
or
Buon Ma Thuot
.
Get around
Depending on where you stay, you can walk to most parts around town. You can catch a xe om (motorbike taxi) from most corners, so if you're going somewhere farther out of town, you have a fast way to get there. You can also book via app using Grab Bike. Taxi cars are also abundant and reasonable in price, yet watch the meter, as meter fixing is a common practice from north to south. As of July 2018 meter fixing is a much diminished problem and almost all taxi meters click into life after the vehicle has traveled a few metres. The occasional taxi may take you on a circuitous route to get to your destination but opening Google maps and pointing out that you know the way reduces incidents of this kind. Taxis are cheap and an ideal way to get round Dalat.
There is a local bus which passes near most of the main tourist sites. Heading south you can catch it at the bus shelter by the lake. Otherwise, the bus hub can be found on Hoa Binh Square (Khu Hoa Binh - behind Hoa Binh theater), just up from the market. The last bus each day is at 17:30.
There are many places around town to rent a bicycle, tandem, or motorbike. Please consider carefully before you rent a motorbike, as according to the Vietnamese law you must be in the possession of a valid Vietnamese driver's licence to be able to drive a motor vehicle in the country. Failure to have one cancels any insurance that the bike might come with and makes you liable for any damages. In Southeast Asia, you are always liable, as you are always guilty, as you are presumed to have more money than the other party. Hence you will have to pay for damages to the bike and its full value, damages to other people and their property, as well as ruining your holiday.

See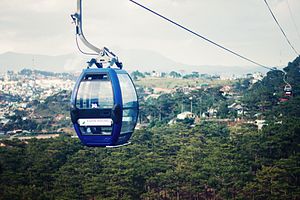 Colonial PalacesThe three palaces and summer home of the colonial era, last emperor of Vietnam Bao Dai, which is of great interest once you visit these three heritage sites, named Palace I, II and III, the Dalat Palace Hotel being one of them, with its adjacent Dalat Du Park Hotel, all from the 1920s, together with the Dalat Palace Golf Club, which was built in 1922, to give his majesty the opportunity to practice his golf skills picked up during his years of study in France. The golf course is an awesome site, whether you enjoy the swinging and putting or not, as the coffee shop at the golf course has some wholesome meals of Asian and European food, with great view of the deep green fairways and classy environment. The Palace I is located on the same street when you walk to the Crazy House. It is about a 15-30 minute walk depending on your pace (1.1 km from Tran Phu, 47 m elevation gain). Palace II is located on Tran Hung Dao, not far from the Xuan Huong Lake (next to Yersin Park).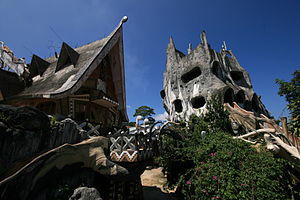 address: Huỳnh Thúc Kháng, Phường 4

A striking, not-quite-finished Gaudi-esque fantasy house designed by the daughter of an independence war hero. Well worth a visit, even if you are not too interested in architecture.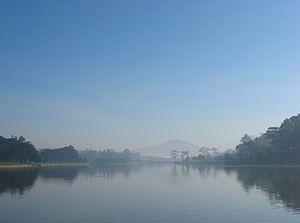 Dalat MarketFilled with local specialities: strawberry jam, fruit conserves, avocado, artichokes.

Dalat Train StationTake the steam train through the 7-km historical line to Trai Mat district. From there you can visit the Linh Phuoc pagoda.

Flower GardenA set of flower gardens centred around a reconstructed traditional Vietnamese teak wood house. If you go for a stroll around the lake, it can be visited as a stop.

Golden Spring LakeUnspoiled scenery.

Truc Lam Zen MonasteryBest to reach it via a cable car ride over the pine forest.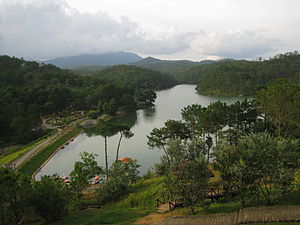 Lake of SorrowThe Lake of Sorrow is a common destination in Dalat. The Lake of Sorrow is so-named because of a tale of two lovers, one who committed suicide after the other was called up to serve in the army.

Langbiang MountainThere are 2 peaks: 1915 m and 2167 m. First one is reachable by a steep paved path, you can ride in a Jeep (360,000 dong for 1 Jeep). The second one is 2-3 hours great hike. You don't need to enter the main gate and pay the fee if going to 2167 m peak, trail start on the right of the gate. Also visit the ethnic village at the foot of the mountain.

Linh Phuoc Pagoda

address: Trai Mat, Da Lat

This kitschy temple is one of a kind in Vietnam. Broken porcelain is used to compose beautiful mosaics that adorn the whole of this 7-level pagoda, and it is still expanding.

Nha Tho Domaine de Marie

address: Ngo Quyen

A pink church on top of a hill, with a store selling various dried fruits and snacks from the local orchards run by the nuns of the monastery.

Pongour FallsIt's one of the largest and widest waterfalls in Vietnam and during the wet season is a magnificent sight. A dam built nearby has reduced the water flow recently. Toilets are pit latrines with no water/soap/tissue, so bring your own.

Prenn FallsA very common stop on a typical Dalat tour, Prenn Falls is quite beautiful, but is a lot more fun when you're hiking it than just taking pictures of it.

Thien Vien Truc Lam MonasteryThe monastery has a magnificent view over the dams below and its gardens are full of landscaped shrubs in animal form. Extremely peaceful. A great place to relax and soak in the tranquility. People who do not want to complete the round trip could opt for a 4.1-km walk back to Tran Phu. Be sure to bring a map. On the walk back you can go down to Tuyen Lam Lake, visit nearby Dalanta waterfall, and take the bus back to town.

Tuyen Lam LakeIts clean green waters flow from the beautiful Tia Spring and from the Da Tam River, which flows down from Voi mountain. Its waters stretch over an immense 350 ha and because of its various sources, Tuyen Lam is known as the lake where rivers, springs, and forests meet. The lake was built in the 1980s. It is one of the largest and most beautiful lakes in town. The other side of the lake is Voi Mountain which is a good place for hiking.

Valley of Love

address: Phu Dong Thien Vuong St

The Valley of Love is common stop on Dalat tours and is very popular with honeymooners. The Valley of Love is also a great spot for canyoning.

Xuan Huong LakePublic lake in the centre. Approximately 5 km in length, this lake was made after two dams on the Camly River were destroyed during a storm in the 1930s. Now, Xuan Huong Lake is one of the main draws of Da Lat, and you can see honeymooners and locals strolling its banks. Many nice hotels have a view of the lake. The lake was drained in 2010, but is now filled again. Boats can be rented on both sides of the lake. The lake was recently adorned with a blindingly bright advertising sign, aimed directly at the lakeside hotels and coffee shops.
Do
Lak LakeStop on a bike-tour in the central highlands. It's a beautiful ride down to the elephant waterfall through coffee plantations and then up to Lak Lake over a mountain and then through sunny highlands with rice fields. The road is partly very bad, but doable.

University of Dalat

address: 1 Phu Dong Thien Vuong St

Students from the Hand-in-Hand Club are eager to serve as free guides.
Tours
Buy
Most visitors to Dalat are Vietnamese, and most of them leave loaded with stuff. What they like to take home is dried and candied fruits, strawberry preserves, coffee, green and artichoke tea, local wine, dried venison, orchids, strawberries, avocados, and other fresh produce. If you take any sort of organized tour, chances are you will be off-loaded for a half hour at a shop selling these items. Local treats are also for sale in abundance in the large central market located in the area around Nguyen Thi Minh Khai and Le Dai Hanh. Partly covered and partly outdoors, the market has dozens of small stalls selling fruits and vegetables, clothing, and a variety of other goods. There is a supermarket on the top floor selling necessities for travellers. Strolling around the market is a favourite evening activity, and every night it buzzes with thousands of visitors.
Dalat does not offer lot of high-end handicrafts of the sort favoured by overseas tourists. Dalat is famous, however, for its beautifully crafted silk embroidered pictures, which can be purchased at a massive mark up from the many galleries around Dalat or at a fraction of the price from the central Dalat market.
address: 36 Truong Cong Dinh, Ward 1

Clothing and accessories.
Dalat also has an abundance of fruit, vegetables, and flowers available for purchase if you plan to stay for a few days and want to liven up your hotel room or cook your own meals.
Eat
Art Cafe

phone: +84 6 3355 5299

address: 76 Truong Cong Dinh St

Vietnamese and international dishes prepared with local ingredients.

Âu Lạc

address: Bui Thi Xuan St

Good vegetarian food.

Backpackers Tourist Cafe

phone: +84 9 0364 0643

address: 61-3 Thang 2 St, F1

Good food and cheap prices with nice decor. Staff speaks good English.
Cafe de la Poste

phone: +84 6 382 5777

address: 12 Tran Phu St

Part of the Dalat Du Parc and Dalat Palace Compound. French and Western country-style cuisine, large wine list. English speaking friendly staff, great service.

Dalat (Central) MarketDalat's Central Market place is the best place in town to eat fresh fruits and vegetables. Near the entrance, there is a lively and always busy vegetable restaurant that serves excellent soups. A tiny vegetarian food stall is in a corner of the second level.

Dã Quỳ

address: 49 Truong Cong Dinh

French and Vietnamese food.

Dalat Palace Golf Club

phone: +84 6 3382 1201

address: 1 Phu Dong Thien Vuong St

Cafe, pro shop and clubhouse, offering Mexican and Western food.

Nam Giao Cafe

phone: +84 6 3382 2875

address: 4C Chu Van An St

Vietnamese kitchen serving traditional noodle breakfasts.

Nhat Lien

phone: +84 6 3382 1126

address: 17 Huynh Thuc Khang, P4

One of three vegetarian restaurants in Dalat. Primarily Vietnamese food, but also some English dishes. The staff does not speak much English, but the owner does and he is happy to help you out. Sometimes live music.

Peace CaféOffers some of the cheapest food in Dalat.

phone: +84 6 382 5444

address: 12 Tran Phu St

Recipient of numerous international prizes and accolades. Elegant and distinctly old fashioned with its 1920s atmosphere, food, and service.

phone: +84 6 3352 0215

address: 1/1 Bui Thi Xuan

Popular place for Western travellers. Diverse menu of international dishes and live music every evening.

Việt Mỹ CaFé

address: 9A Le Dai Hanh

Local and Western food. Small, neat atmosphere, overlooking the city gardens.
Drink
Cafe Noi

address: 74 Phan Dinh Phung St

Lovely cafe with relaxed music and great coffee with chocolate flavour. Lots of young locals playing cards and board games here. Not yet spoiled by masses of tourists.

Cafe Tung'Really nice cafe. The delicious Vietnamese coffee costs 8,000 dong and is served with tea.

address: 71 Truong Cong Dinh St

Classic backpacker bar. Free pool table, board games, and darts. Guests can choose their music. Good place to meet other travellers and expats.

Larry's Bar

address: 12 Tran Phu

Library-style decorations with dark wood paneling, pool table, and darts.

Saigon Nite

address: 11 Hai Bà Trưng

Cheap beer, pool, and friendly staff. Lots of tourists and expats.

phone: +84 63 3578 888

address: 18 Phan Bội Châu, tp. Đà Lạt, Phường 1, Vietnam

Live music every night, cosy and friendly bar.

100 Roofs Cafe

address: 26 Phan Bội Châu, 1, Tp. Đà Lạt, Lâm Đồng, Vietnam

The main attraction here is the building itself, which is a themed maze of indoor caves, tunnels, staircases, alcoves, ladders, a rooftop garden and everything in between, while built-in bar tables and chairs are plentifully scattered all around. Definitely not the place to get drunk (unless you sit at the 1st or 2nd floor). Definitely a unique, must-see experience in the city.
Sleep
Budget
Bon Mua Guesthouse

phone: +84 9 1720 9530

address: 1B1 Bui Thi Xuan St

Clean, basic guesthouse.

phone: +84 6 3383 3748

address: 151 Phan Dinh Phung St

Clean rooms, friendly staff and big breakfast. They also have sauna, steam, and hot tub free of charge for guests (16:00-19:00).

Hang Nga Guest House

phone: +84 9 0310 0132

address: Bui Thi Xuan St

Friendly staff, clean rooms, good English spoken.

Lucky D's Hostel

phone: +84-931282450

address: 66/6 Nguyen Van Troi street

Mr. Peace backpacker's house

phone: +84 977 089 159, +84 633 828456

address: 3/8 Hai ba Trung St

Friendly, cosy, clean, good atmosphere, centrally located, excellent English speaking, crazy, may have family dinner with you. Good price.

Hoa Binh 1 Hotel

phone: +84 6 3382 2787

It is anything but peaceful, and fills to capacity on weekends, but staff are friendly. There is a cafe next door.

Mai Tam Guesthouse

phone: +84 6 382 5363

address: 2B Le Thanh Ton St

Clean family-run guesthouse a little outside city centre in a Vietnamese residential area (about 1½-km, 20-min walk). The family rents out scooters for USD5/day. They also have a convenience shop downstairs.

phone: +84 9 1856 4472

address: 213A Phan Đình Phùng

Nam Ky Hotel

phone: +84 6 3382 4493 or +84 9 1378 9449

address: 11 Nam Ky Khoi Nghia

Nice view from the rooms.

Ngoc My Hotel

address: 01 Le Thi Hong Gam St

Nice location with Xuan Huong Lake view and clean rooms, balconies facing the lake.

Peace HotelFree Wi-Fi, breakfast extra for USD1.

Sakura Hotel

address: Bui Thi Xuan St

Cheap hotel near the student centre.

Les Sapins 60 Hotel

phone: +84 6 3383 0839

address: 60 Truong Cong Dinh St

Renovated, clean rooms, free Wi-Fi and Internet in the lobby, breakfast for USD1 available.

phone: +84 6 3382 7699

address: 02 Bui Thi Xuan St

Includes cable TV, Wi-Fi and fridge. Some rooms have balconies.

Van Anh Hotel

address: Bui Thi Xuan St

The staff speak good English, rooms are clean with cable TV, free Wi-Fi. Very motorcycle-friendly.

phone: +84 939 500 236

address: Ngo Thi Sy, Ward 4, Dalat

This is a brand new villa, with breathtaking views from all rooms, fabulous food, great coffee, tours, transportation options, live music and personal service.

Pine Hill Homestay DalatHome on top of the hill overlooking the city. 3 mins from King's summer palace, 10 mins walk from crazy house. With kitchen.

N.T hostel

phone: +84772072605

address: 8/13 Pham Ngoc Thach Street P6

in the heart of the city, Price: 5$-8$. Super comfortable beds, friendly staff, in the city center, very convenience to visit.
Splurge
Ana Mandara Villas

address: Le Lai St

65 rooms within 17 refurbished French colonial villas. A bit far from the city centre and only recommended to those who like to walk, what with large distances between the accommodations and the other services of the resort. Charming and for the adventurous. Must like sharing living rooms and other services, as each villa houses several rooms, hence the sharing issue.

Dalat Du Parc Heritage Boutique Hotel

phone: +84 63 3825 777

address: 7 Trần Phú, 3

Hotel built in 1922, part of the original Dalat Palace compound, with 143 rooms and one ambassador suite. Style and glory of yesteryear, a very old fashioned lift and great views from the rooms at the back of the hotel.

Dalat Edensee Lake Resort & Spa

phone: +84 6 3383 1515

address: Tuyen Lam Lake - Zone VII.2

Mountain and garden view, Eden suite, all equipped with 32-inch LCD TV, king bed and minibar. Free Wi-Fi. Nam Xuan, Eden Lake Café, and Riesling restaurants within the compound.

address: 12 Tran Phu St

43 luxury rooms and suites, one presidential suite. Built in the art deco-style of the 1920s with imperial dining rooms and facilities. It has beautiful gardens. It was conceived as the very centre of the city and dominates with great views onto the Xuan Huong Lake. It also has an 18-hole golf course, tennis courts, and spa.

Empress Hotel Dalat

address: 5 Nguyen Thai Hoc St

Hoang Anh Dalat ResortThe resort covers five hectares, is comprised of six villas with 75 rooms in total.

phone: +84 63 3800 999

Good place to sleep, great view, but far from the city
Go next
Buses leave regularly from the Phurong Trang (FuTa) Bus Terminal in the south of the city.