Dalkey
Dalkey
(
Irish
:
Deilginis
, meaning "thorn island") is a small town in historic
County Dublin
, though nowadays it's within Dún Laoghaire-Rathdown County. It's pronounced
daw-kee
and the town is named for the nearby uninhabited island, not vice versa. The town is a picturesque and upmarket, with a couple of Norman castles; celebrity residents have included Maeve Binchy, Bono, Enya and George Bernard Shaw.
Get in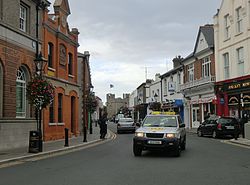 And see
Dublin
for long distance options.
By train:
Dart trains run every 10 mins or less from
Malahide
and
Howth
through central
Dublin
(Connolly, Tara St & Pearse stations), the southern suburbs and Dún Laoghaire to . The trains continue south to
Bray
and Greystones. All these stations are within the Dublin "short hop zone" so the standard flat fare is €3.30 adult single, €6.25 day return, €2.40 single with LEAP card.
A further 3-5 mainline trains per day pass through without stopping on the way between Dublin Connolly, Wexford and Rosslare (for ferries to Wales): change at
Bray
for these.
From Belfast, Newry, Drogheda or Sligo, change at Connolly for the Dart train. From other cities (eg Galway, Limerick or Cork) trains run to Dublin Heuston, take the tram to reach Connolly.
By bus:
Aircoach 703
runs hourly from Dublin Airport via
Dún Laoghaire
to Dalkey, continuing to Killiney. It's scheduled to take little over an hour but is often snarled in Southside traffic. Aircoach 702 between the airport and Greystones & Bray runs further inland via
Cabinteely
and Loughlinstown.
The 59 bus runs hourly between
Dun Laoghaire
, Dalkey, Glenageary and Killiney. It's operated by
Go Ahead Ireland
and isn't listed on the Dublin Bus website.
Get around

The town is very small and you can walk to Coliemore harbour in about 20 minutes from the town centre.

See
address: Castle Street

14th-century fortified town house. May-Oct there are "living history tours" with medieval characters, and guided historical / literary walks M W F at 11:00. Archbold's Castle across the street is a fortified warehouse of similar date, nowadays a private residence. Dalkey's other five similar castles have been lost.
Mediterranean Dalkey: Coliemore Road (along the coast) and Sorrento Road (inland) are where Ireland dreams it borders the Med, with white villas and palm trees. They're glorious on a sunny day, though on a grey cold wet day they look forlorn. Both roads are too narrow to enjoy while driving, but there's a sidewalk (or should that be marciapiede?) throughout. They're both about a mile long so a gentle stroll down one and back up the other might take an hour. Along Coliemore Road, has views over Dalkey Island and boats to take you there.
is the hill at the intersections of Coliemore, Sorrento and Vico Roads. A short scramble brings you to the top.
, 300 m offshore, is now uninhabited but was long settled and a centre for pilgrimage. There are remains of old field systems, St Begnet's church, a 'cairn' burial, a gun battery and a prominent Martello Tower. There are two Holy Wells, one being reputed to cure scurvy, and its waters were laden with swamp vegetation so the claim may not be far-fetched. Look for seals, black rabbits, wild goats and Roseate Terns. The rocks out to the east are the hazardous "Muglins", with a lighthouse. In fine weather boat trips run daily from Coliemore Harbour, adult €10. Trips may also run from Bulloch Harbour near Dun Laoghaire.
Manderley Castle (aka Victoria or Ayesha Castle) is a Victorian mock-castellated mansion in Killiney. It's owned by the singer Enya, who because of repeated security breaches has had to raise the fencing, so nowadays you can't see much.
Do
The Slaves of Dalkey Island
There was slavery in Ireland long before the Vikings, the most famous example being St Patrick, abducted from Roman Britain circa 5th century. But the Vikings took the exercise to new heights, raiding and trading wherever their power reached, especially in 8th-11th C Ireland. Numbers are hard to gauge, but maybe 40% of the population of Iceland at that time were Irish slaves. Remains on Dalkey Island suggest it had a slave market, and its position was ideal, a secure edge-of-town supermarket for buying and selling. In an economy lacking the Euro, one unit of exchange was the
cumhall
, the price of a female slave. She was worth less than a horse.
In the 11 / 12th C the Normans crushed the Vikings and the trade. Probably there were many other slave markets in and around Dublin of which, 1000 years later, all traces are gone - not least because of the construction of all those fine mansions from the profits of the 18th C African-Atlantic slave trade.
Walk: instead of turning back at the south end of Coliemore & Sorrento Roads, continue southwest along the shore by Vico Road. This parallels the railway tracks and eventually brings you to Killiney DART Station, with trains back to Dalkey every ten mins.
Sea kayaking offshore, but note there can be strong currents and tidal overfalls around Dalkey Island.
Dalkey Book Festival is held over three days in mid-June with readings and similar events in various locations around town. Dates for 2020 are not yet announced.
Buy
There are a number of shops along Castle Street.
address: 34 Castle Street

Deli grocery with sandwiches, breads, cakes and other tasty things.

address: 1 Railway Rd

Deli / health food store with café, fruit, vegetables, wholefoods.

address: 20 Railway Road

Small bookshop but good selection, knowledgeable staff.
Eat
phone: +353 1 235 4501

address: 20 St Patrick Rd, Dalkey

Charming café in a leafy courtyard with great breakfast and lunch, coffee and smoothies. Try to spot the local celebs.

phone: +353 1 202 3909

address: 115/116 Coliemore Road

Pub with food and beers.

Mugs Café

address: 61A Castle St

Friendly place, cash only.
Others along main drag are Guinea Pig for seafood, Thai House (not Mon), Kathmandu Nepalese (daily), Ouzos (daily) and Benito's.
Drink
Along main drag are The Dalkey Duck, Queens Bar with good steaks, and The Club Bar.

Sleep
Most visitors day-trip and Dalkey itself is short of accommodation: stay in
Dun Laoghaire
or elsewhere around County Dublin.
Splurge at

address: Killiney Hill Rd, Scalpwilliam, Killiney

Upmarket hotel on the hill above Killiney. With PJs and Mapas restaurant and small pool.
Sea View Villa is self-catering accommodation with an elegant terrace looking out to sea from the hillside. It's let by the week, 5 bedrooms, sleeps nine.
Connect
Good coverage throughout Greater Dublin.

Go next
Most onward routes mean travelling into
Dublin
. But a little way south by Dart train is
Bray
, with connections across
County Wicklow
and south towards
Wexford
.