Daman (India)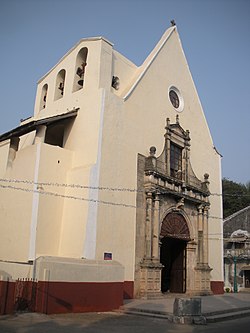 Daman
is a part of one of the union territories of India formally known as
Daman and Diu
. It is on the west coast of India, next to the state of Gujarat, which is perhaps a more well-known tourist destination. It was under the control of Portugal from 1539 to 1961 - and as a result of this, Portuguese influence is still palpable today, particularly in the architectural and cultural spheres.
It may not have all the facilities that a tourist destination should have but it does have peace, relaxation, friendly locals and beautiful places to see. Local resorts and hotels are easily available and can be easily booked from Gujarat.
Understand

Daman has a beautiful landscape and, partly due to being relatively close to Mumbai and some of the other majors cities of Gujarat and Maharashtra, it experiences a lot of tourist traffic every year.

Get in
By plane
Flights are easily available for Daman from the nearby cities of Mumbai (170km) and Baroda (300 km). Daily flights of Gujarat State Airlines connect the place to these cities. The local airport of Daman is in the Nani Daman (Little Daman) area and has all the amenities for tourists traveling to the city. The nearest international airport is in Mumbai.

By rail
The nearest railhead for getting to Daman is at Vapi, located around 12 km away. It lies on the Mumbai-Ahmedabad route of the Western railway and is about 170 km from Mumbai and 90 km from Surat. Major Delhi-Mumbai and Mumbai-Ahmedabad bound trains halt at this station. People traveling to Daman by train can get down at the Vapi and then reach Daman by local buses, taxis or tongas.

By road
Daman is easily accessible by road, and is connected to some of the major cities nearby, with a well-maintained system of roadways. Vapi at a distance of 12 km, lies on the Bombay-Ahmedabad National Highway No. 8 and is easily connected to Daman by road. The town is 170 km from Mumbai, 360 km from Ahmedabad and 768 km from Diu, 110 km from Surat and 300 km from Baroda.

Get around

There are taxis and auto-rickshaws available to roam around in Daman. However, it may be better to hire a taxi for a day if you wish to explore; the reception desk at your hotel can arrange one.

See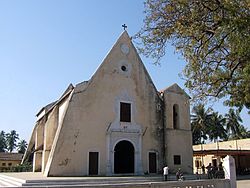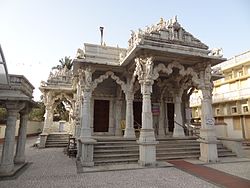 The Chapel of our Lady of Rosary

Church of Bom JesusThis church has decorated ceilings and carved gateways. It is part of the historical and architectural heritage of Daman.

Damon Lighthouse

Devka Beach

Fort JeromeSite of Our Lady of the Sea Church, Portuguese Cemetery and its architecture.

Fort of Moti Daman

Freedom Memorial

Jain Temple

Jampore Beach

Mirasol Lake

address: Kadaiya Village

Our Lady of the Sea

Pargola Garden
Do
phone: +91 7666664535

address: Somnath Plaza, next to G-Cinema Multiplex, Somnath Junction

Gaming lounge and cafe with international attractions like laser paintball, Sumo wrestling, professional shooting and archery aange. Also, there is a hut-themed restaurant serving vegan, Italian, Mexican and oriental cuisine.
Eat
You get a lot of non-vegetarian and sea food in Daman. Chicken Bullet is one of the recipes that is unique to Daman. You can get a really good Chicken Bullet at Hotel Miramaar
Daman Delite

phone: +91 92277 59263

address: Seaface Rd, Dhamatne

Huge range of seafood including lobster, crab, octopus, squid, shrimp and prawns along with other typical Indian non-veg dishes.
Drink

Being next to Gujarat a dry state Daman attracts lot of local tourist who want to enjoy alcohol. Daman is one of the few places in India where there is not much tax on alcohol nor there is any restriction on drinking. You might find beer being sold even at the beach by hawker. It is better to purchase your liquor from the shop to avoid adulterated liquor.

Sleep
There are lot of budget and premium hotels at Devka. The only five star hotel in Daman is 'The Deltin'. The most preferred hotels here are those on the beach with beach facing rooms.
Miramar
Cidade De Daman

address: Devka

Not a beach side hotel, but the beach is just across the road.

address: Devka

Beach side hotel

phone: +91 260 3988444

address: National Highway No. 8, Vapi

Only branded chain hotel in the region. Part of ITC group of hotels. Also on premises is Restaurant Orchid, which serves elaborate buffet breakfast, lunch & dinner & multi-cuisine menu with numerous dishes to choose from.