Dana Nature Reserve
Dana Nature Reserve
is in
Jordan
, 88 km south of
Kerak
.
Understand
Dana Biosphere Reserve (note that "Dana" is pronounced in Arabic as "thana" with the "th" as in "the") is the largest nature reserve in Jordan, covering over 300 km² and all four different bio-geographical zones of the Kingdom. In the east, elevations reach 1,500 m before descending through canyons and gorges to the low elevations of Wadi Araba (Wadi Dana).
The reserve has been managed by the
Royal Society for the Conservation of Nature
(RSCN) since 1989.
The village of Dana lies on the eastern edge of the reserve at a height of 1400 m, making it cold and foggy in winter sometimes. It is perched spectacularly on a cliff overlooking the reserve. The village is partly in ruin and is being rebuilt in part with USAID funds. There are several small hotels and the big government (RSCN) run Dana Hotel in town, and a few options inside the reserve.
Built in Ottoman times, the village has been abandoned until relatively recently. Two families remain nowadays and the rest has been converted to housing for tourists. Also many police men live in Dana Village, making it very safe.
Fees and permits
Access to the hiking trail of Wadi Araba and the village is free of charge. Some visitors have paid a conservation fee of 8.50 JD for trips into Dana Nature Reserve, but this cannot be verified from the associated website.
The nature reserve track down to Feynan Ecolodge can be done without a guide, but for anything else it is required to use one. Your hotel and host will most likely be very happy to organise a trek for you.
Stay safe
Care should be taken on walks. Ask the locals for advice or acquire a guide.
Also, dogs can be a problem in this area. If they get too close, (pretend to) pick up a stone. They will remember this gesture from the last painful "experience".
Get in
If driving, is well-signposted from the Kings Highway just north of Al-Qadisiyah. It is down a short, steep road and there is parking at various points around the village.
The village is about 3 km from the highway junction in Qadisiyyeh and can be difficult to get to by public transport. However, either you just walk, hope for someone to pick you up on the way down/up, or you could contact the hotels to see if you can get a pick up.
Hitchhiking to Dana is easy when the weather is fine.

Get around
You can walk to a few places from Dana Village - down the main track for a bit (but then you have to get back up), or over to the springs and some rocks with good vantage points. Hotels can drive you to the start of other hikes, and provide guides.

See
Dana Village
Feynan Ecolodge (see below)
Do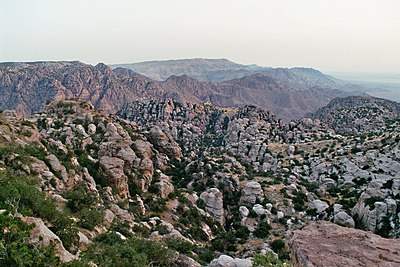 Hiking is the best thing to do in the reserve. There are half day to even two day treks. Some treks involve the use of 4x4 to get there or away. Most of the treks can only be done with a guide.
A good description can be found here: http://www.wildjordan.com/eco-tourism-section/dana-biosphere-reserve
If you want skip the guide but still want a challenging track, try
Dana Village to Feynan Ecolodge
. You either walk back from there or continue on to the highway. Allow 3-5 hr to the lodge and 2-3 hr to the villages and 1 hr more to the highway – double check with other websites. Make sure to have a good map and even GPS with you, and also know how to get on from the highway - hitchhiking can be an option.
Buy
Since not many of the original inhabitants are left, most of the things for sale are not from the village, even though it is communicated that it does support Jordanian handicraft.

Eat
Each of the hotels offer meals and you can visit other hotels. There is also the Feynan Ecolodge restaurant offering similar fare. In low season, restaurants may often be closed in the middle of the day and should be prepared with snacks (hotels can do lunch packs). However, if the owner is around, he might just open his restaurant for you, so ask.
It is a good idea to eat and stay at different places, to spread what you spend more fairly in the village. You might not want to stay with a hotel of a lower comfort, but that doesn't prevent you to enjoy their food, which is similar in most places in Dana Village. This way you can support everyone in the village and not just the bigger hotels.
Dinner is about 5-8 JD and includes vegetarian and mutton options.

Drink
The supply of tea is unlimited, and you do not need to go looking for it, as it will be offered frequently by anyone you're doing business with. Alcohol is prohibited in the reserve.

Sleep
In the village
Try Dana Moon Hotel or Dana Tower Hotel, which are not run by RSCN, and thus supposedly do more to the local people than the other hotels claim.
Nearby
phone: +962 7 9639 2079, +962 77 7240378, +962 2270413

Located 3 km from town with views into the canyon.
In the reserve
Rummana CampsiteThe location of the campsite used to be a favored Bedouin camping area, occupied every summer season for goat grazing. The campsite has 20 large tents that can house up to 60 people, bathrooms, and barbecue grills for visitor use. Each tent comes equipped with mattresses, blankets and pillows. Traditional Arabic meals are also provided upon request. Open from 15 March to 31 October. However, there have been complaints about the management, price and authenticity of this site.

phone: +962 6 464 5580
Go next
From north to south:
Madaba — known as the 'City of Mosaics' for its Byzantine and Umayyad mosaics, especially a large Byzantine-era mosaic map of Palestine and the Nile delta at St. George Church.
— great nature reserve famous for its impressive canyons. Read more here. Limited access in winter.
Kerak — site of a once-mighty Crusader castle.
— a village on the way to Dana Reserve or Petra, respective, might be worth a visit for its authenticity.

Shoubak CastleIt is on a hill with spectacular views and a great for a stop when going south to Petra. Most of the castle is a pile of rubble but there are underground rooms to explore, including the staircase (through a metal door that should be open) that goes down 375 steps to the old wells. Take a torch; at the bottom, you can climb up metal rungs to a hatch next to the road below the castle, then walk back up the road. Along a side road to the castle, you can also find with a steep price of 25 JD, but maybe it can be get down to 15 JD, considering there is only space for one. Nearby, the owner of it has regular rooms with dinner and breakfast.

Petra — The most famous site in Jordan.