Danyang
Danyang
(단양, 丹陽), (Formally romanized as
Tanyang
), is a resort town in
North Chungcheong
,
South Korea
.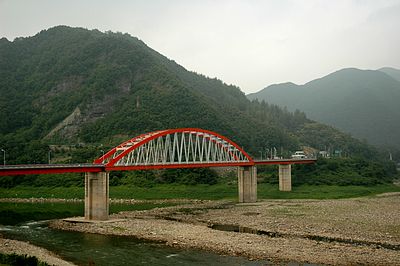 Understand
Perched by the lake, surrounded by three national parks and dotted with caves and temples, Danyang is considered North Chungcheong's top attraction.
The modern town of Danyang dates only to 1986, as most of the old city was submerged beneath the waters of the artificial Chungju Lake. Throughout town, you'll see statues, pictures and even lampposts of a guy with huge eyebrows, holding hands with a lady. This is Ondal, a jester in the imperial court, who managed to break through Korea's strict caste system to marry the princess Pyeonggang and become a respected general.

Tourist office
The tourist information office is rather inconveniently located on the far side of the red bridge from the bus terminal. Some English is spoken, and you can pick up a handy town map from here.

Get in
By plane
The sizeable international airport at
Cheongju
is about 30km away by road.
By train
Danyang is on the eastern Jungang line from
Seoul
's Cheongnyangni station through
Wonju
to
Andong
. There are
mugunghwa
services every hour or two (3:15, ₩10,000), and two
saemaeul
expresses daily (2:45, ₩14,000). The train station is 3 km outside Danyang, but you can take a bus from the stop just outside the station (₩1,000) or a taxi (around ₩5,000).
By bus
Danyang's clean and modern bus station, on the northern side of town, has hourly express services to
Seoul
's Express Bus Terminal (2:30, ₩14,000) and intercity services to Dong-Seoul terminal (over 3 hours). Most buses from Seoul continue onward to
Guinsa
(30 minutes, ₩2,600). There are also hourly services to
Chungju
(1:30, ₩6,200) and
Jecheon
(1 hour), and a few departures daily to
Busan
and
Daejeon
.
By boat
In season, you can take a very scenic cruise across Chungju Lake to
Chungju
(2 hours, ₩18,000). The ferry terminal is on the riverside, a few blocks south of the bus terminal.
Get around
Central Danyang can be covered on foot, but taxis are plentiful (starting fare ₩1,500).

See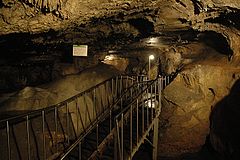 Gosu CaveOne of Korea's most famous caves, 1.7km of twisting, turning limestone caverns have been outfitted with metal walkways and subdued lighting. It's quite a remarkable sight, but claustrophobes and people in need of a diet might want to skip it as some tunnels are quite narrow.

Cheondong CaveThis cave has many ups and downs along with twisty narrow passages. It is perfect for nimble athletic folk. There are some excellent stalactites, stalagmites, fins, and soda straws to be seen.

Ondal FortressThis complex houses the reconstruction of an old fortress and a limestone cave. The admission ticket gets you into both areas. The fortress has dozens of buildings to walk around and through. For an extra fee, you can dress up in traditional formal clothing and have your picture taken. The cave takes about thirty minutes to tour.

Stone Gate of DanyangThis scenic arch is located near the river. There is a large tourist parking and rest area nearby, with plenty of shops for food and drink.
Do
There are plenty of
hiking
opportunities around Danyang, especially in the nearby Sobaeksan National Park and Woraksan National Parks. The easiest option, though, is to head to
Mount Daesong
(
Daesongsan
, 380m), located right behind the city and covered with easy, well-signposted (in Korean) hiking trails, the main one doing a loop around the base of the hill. There are several trailheads; to reach the most convenient one, walk up the hill from the bus terminal, then turn left after the police station. The "summit" is about one kilometer away.
phone: +82 43-423-4123

Paragliding is what this place does, and they do it well. If you look east from town, you can see an observatory on the hilltop. This shop will take you up there and do tandem jump, so it's perfect for people who want to try paragliding but have never done so before. Little English is spoken, but the people leading the jumps all know the important expressions for safely getting you off the ground and landing at the end.
Buy
Pay a visit to the Danyang Market in the centre of town, where you will have the opportunity to see (and smell) more garlic than you have ever seen in your life.

Eat
YeongyangilbeongaThe speciality here is yeongyangtang dog soup, but the chueotang minced fish soup with potatoes, mushrooms and rice cake is also quite tasty. No English menu.

Jeonwon HwagwanKorean barbeque, offering the full range of beef and pork cuts and some pretty tasty cold noodles (naengmyon) to go with them. Some English and Russian spoken.

Onnuri

phone: +82 43-423-3311

This restaurant serves mostly vegetarian and spice fare. The set menus include a great variety of vegetable dishes, tons of garlic cooked in various ways, and a few meat dishes. Some staff members speak excellent English and can explain details of the food, though no English menu is available.
Drink
The local speciality is Sobaeksan dongdongju, a fermented, milky, peach-colored rice wine sold in big white containers in shops and by the cupful at tourist sites. The look and smell are unappetizing but the taste, while unusual (think of an alcoholic Sprite mixed with milk), is refreshing when served cold.

Sleep
The riverside strip along the bus and ferry terminals is pretty much all motels, all offering rooms for ₩30,000-₩50,000.
Sky MotelDon't be put off by the dark hallways, the rooms are some of the nicest and cleanest around. The "family" part means that there's no porn on the TV, but you get a small, fully-equipped kitchen instead. Located in the tall, modern-looking building a block south from the bus terminal, with the entrance on the third floor.

Napoli MotelRun by the owners of Sky Motel.

phone: +82 43-421-9911

Recent and clean Motel with fun room design. Enter through the parking, there are rooms with view on the river and the bridge.

phone: +82 43-421-5600

This is marketed as a hostel, but it should also be thought of as a clean, fairly new, no-frills hotel. Rooms are sparsely furnished, but on the other hand everything is in working order. The staff are friendly, and there's a nice view of the bridge from room windows.
Go next