Dapoli
Dapoli
is popular beach destination in the
Kokan
region of
Maharashtra
. It is located at northern part of
Ratnagiri
district.
Dapoli is famous for its Agricultural College.
Natural beauty of Konkan has lured many people from the literary world. Dapoli served as backdrop of famous Marathi novel
Garambicha Bappu
by Shri Na. Pendse.
Shyamchi aai
by Sane Guruji too describes Dapoli.
With pristine beaches, historical temples, caves and forts scattered around, Dapoli has something to offer everyone. Popularity of Dapoli is increasing these days with many tourists from Mumbai and Pune visiting it as weekend destination.
Get in
By road
The simplest way to get in is by road. Dapoli is 240 km from Mumbai along NH-17 (Mumbai-Goa) & 180 km from Pune.
Maharashtra State Transport buses ply to Dapoli daily from major cities in Konkan and Western Maharashtra such as Mumbai, Pune and Kolhapur. A lot of private transport companies have started their private luxury bus service from Mumbai and Pune.

By train
The nearest train station is Khed, 40 km away from Dapoli.

By plane
Nearest airport is Ratnagiri, around 100 km away.

Get around
ST Buses are omnipresent but may not be convenient. Most preferable way to get around is by your private vehicle.

See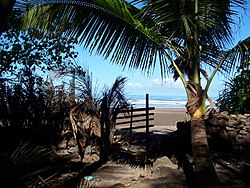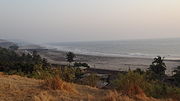 AdeVisit the ancient temple of Shree Parshuram. You can also take a stroll on the clean and calm beach.

AnjarleA few kilometres away from Dapoli is the beach of Anjarle. Ganapati of Hill (Kadyawarcha) In Aanjarle village on the seashore the temple built on huge mountain is known as 'Ganapati of Kadyawar'. After crossing the Jog river creek, there is Aanjarle village. In earlier times there were two temples in the sea, one Temple of Aanjarleshwar & other of Ganapati. They got drowned in the sea, later on Ganapati temple was built on a high mountain. The temple must be of Madhavrao Peshve period. There are 250 steps to it. There is a lake in front of it. It has a big hall & a stone staircase. There is water fountain in the hall, There is a dome, are & many pillars in the temple. The place is cool & pleasant in Dapoli Taluka with seashore & forest.

AsudAncient Keshavraj and Vyaghreshwar temples in the midst of scenic hills.

Harnai BeachSouth of old Harnai fort, the palm-fringed beach of Murud is famous for its clean white sands and crystal clear safe waters. Visit the Goa Killa or Harnai fort which is built in different levels. Don't miss the fish auction in the evenings.

KardeHas a pristine beach and few resorts

KelshiFurther north from Anjarle, near the border of Raigad district, is another small town known as Kelshi. This village is frequented by pilgrims who come to the Mahalaxmi Temple here, built during the rule of the Peshwa dynasty. Other than the Mahalaxmi Temple, there are other temples here dedicated to Rasha Krishna, Beleshwar and Ganesha, to name a few. Just outside of the village is a lovely beach, which stretches for 2½ km and the sunset is said to be spectacular from this beach.

Khem Padmavati

address: Satere Tarf Haweli,Post agar Vaigani, Dapoli

Khem Padmavati Devi Temple famous in Dabhol Panchkrochi. From Dapoli Satere Tarf Haweli S.T. facility is available.

LadgharThe beach here called Tamas Teertha is has religious background and many people come here to bathe in the sea water. The sunset here is unforgettable.

MurudDhondo Keshav karve who started the movement for the women came from this village. There is an ancient temple of Goddess Durgadevi which is on a wooden pillar. There are 28 carved wooden pillars in it. In front of the temple there is 'Appasaheb Smarak'. Also, these is a statue of Maharshi Karve. The Ganapati in lake is also a peculiar feature of Murud. During the summer, when there is less water in the lake, the devotees can visit the Ganapati idol. Accommodation facilities are available in the hotels.

PanhalekajiAncient, rock cut caves believed to be more than a thousand years old are a treat to architecture lovers. Hindu and Buddhist sculptures cover the walls. There are around 29 caves here which are located on the banks of the "Kotjai" river.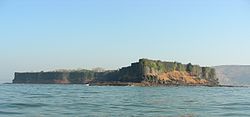 SuvarnadurgSuvarnadurg the island fortress off the coast of Harnai was a fort built by Shivaji to counter the Siddi. Ths fort was later used by Shivaji to counter the Europeans and was a base for the Maratha navy's ship building facility. The town of Harishareshwar, known for its tranquil and picturesque beach is also landmarked by the Kalbhairav Shiva Temple. If you are adventurous enough take a small boat to the North side of the bay, you can see where the Peshwas or Prime Ministers of the Maratha Kingdom resided. Also see the Peshwa Smarak and visit the Bankot Fort at Bagmandala, approximately 4 km away.

UnhavareSituated amidst a picturesque valley, you can bathe in these natural hot springs. The water has medicinal value and can cure some skin diseases.
Do
Boating through backwaters

Cave exploring

Dolphin watch

Sunset especially at Tamasteertha beach at Ladghar

Swimming in the Arabian Sea

Trek in the nearby jungles

Visit local home and be a part of their daily life
Buy
Amba, Phanas Poli (Sundried Mango, Jackfruit Delicacy)
Kokam Syrup (Agal)
Kuleeth Peeth
Talalele Gare (Jackfruit chips)
Eat
Seafood — fish, prawns, oysters, crabs
Snacks — Kanda Bhaji, Wada Pav, Misal
Veg — Solkadhi-Rice, Modak, Kulith Pithale, local vegetables
A few restaurants specialized in serving non-vegetarian preparations are as below:
Jagdish Lunch Home

Sonali Lunch Home
Drink
Kokam, Awala, Mango, Karvand Sarbat
Tender Coconut Water

asach
Sleep
General
phone: +91 2358 283088

address: Brahmanwadi – 415 712

Independent bungalows from 2 bedrooms to 6 bedrooms, well maintained, clean and have all basic amenities. Their package includes all meals of the day (vegetarian, but they will provide non-veg on demand). Very good quality food.

Captain HouseRestaurant & lodge.

Kisan BhavanGuest house of Konkan Krishi Vidyapeet.

phone: +91 2358 280780

address: At Post Gimhavane, Next to BP petrol pump

14 air-conditioned rooms categorized as Deluxe, Executive & Maharaja suite. Banquet hall for hosting conferences & events.

Hotel Jayant PadmajaVeg restaurant & lodge.

Hotel Pathik

Hotel Top in Town

Hotel VrundawanRestaurant & lodge.

phone: +91 2358 234 501

address: Karve Pakhadi, Post Murud, District Ratnagiri

Surabhi Sea Resort
Murud
Beach Resort Silver Sand

Garambi Resort

Kamat Beach Resort

Kshitij

phone: +91-9158997980

address: Khalchi Pakhadi, Opp. Lakshminarayan Temple

12 cottages 8 m from the beach.

Sagarika Resort

Saniya Sea Resort

address: Khalchi Pakhadi
Karde
phone: +91 91463 00099

address: Zamaat Vadi

Sea Face Beach ResortA sea facing resort right next to the beach on the way to Karde from Murud.

Whistling Palms Beach Resort
Harnai
Ladghar
Hotel Sagar SawaliServes very tasty seafood.

Gaaj

address: Ladghar

Run by the family of Mr. Bal.

Saagar SaadClean resort right in front of the beach.

Vishranti
Dabhol
Hotel Mayuresh and Suyash LodgeServes very good seafood.
Go next