Darkhan
Darkhan
is the capital of Darkhan-Uul, a city state surrounded by
Selenge province
.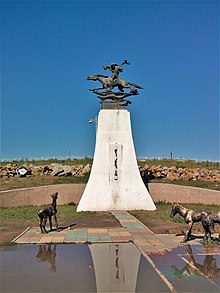 Understand
Darkhan is the 3rd largest city in Mongolia with a population of 74,000. The city, which name means "Blacksmith" in Mongolian, was built as a manufacturing base by the Soviets in 1961 on the Trans-Mongolian Railroad. Much of the industrial base collapsed in the early 1990s, and most of its once large Russian population left. Today it is home to a large steel mill, textile industry, and many universities. It has an expansive layout with open steppe and roaming cattle right into the center of the city. The city is divided into a 'new' and 'old' sections separated by some small hills and ger districts spreading out beyond the developed areas. The railroad station, main Buddhist temple, and the black market are in the Old Darkhan, while most of the nicer hotels, restaurants, and shopping centers, along with the universities and cultural centers are in New Darkhan.

Get in
By train
There is a station on the Trans-Mongolian line of the
Trans-Siberian Railway
with regular service to
Ulaanbaatar
,
Irkutsk
, and
Erdenet
. Several passenger trains a day pass through Darkhan, including 3 domestic trains that arrive running between UB and either Erdenet or
Suhbaatar
on the
Russian
border. You want to buy tickets for Darkhan-1. Darkhan-2 is near an industrial plant several miles south of the city.
to Darkhan
Ulaanbaatar to Darkhan- The trains leave Ulaanbaatar at 10:30, 20:20, and 21:10, and arrive at 17:38, 02:00 (next day), and 03:10 (next day) respectively for a travel time of 4 to 7 hours depending on number of stops.
Erdenet to Darkhan- Train leaves Erdenet at 19:40 and arrives in Darkhan at 00:35 the next day.
'Suhbaatar to Darkhan- Train leaves Suhbaatar at 06:35 and 21:05 and arrives 2 hours later at 08:37 and 23:12 respectively.
from Darkhan
Darkhan to Ulaanbaatar- Trains leave Darkhan at 01:45, 08:52, and 23:40 and arrive in UB at 07:40, 16:20, and 06:10 (next day) respectively. Travel time ranges from 6 to 8 hours depending on number of stops.
Darkhan to Erdenet- The train leave Darkhan at 02:52 and arrives in Erdenet at 07:45 for a travel time of 5 hours.
Darkhan to Suhbaatar-Trains leave at 03:25 and 17:55 and arrive in Suhbaatar at 05:30 and 20:00 respectively for a travel time of 2 hours.
By bus
Buses are usually much faster and more convenient than the train that tends to leave or arrive in the middle of the night. There are buses leaving hourly from the Dragon Center in Ulaanbaatar and the Russian border at
Suhbaatar
. The first bus leaves UB at 09:00, and the last bus leaves around 19:30. Travel time is usually a little less than 4 hours. There are also microbuses and vans leaving from the Dragon Center throughout the day. Buses from
Erdenet
and
Suhbaatar
are also available.
Get around
Darkhan is divided into New and Old Darkhan, separated by about 2 km. Most of the city is stretched along a couple of parallel roads, with taxis and vans racing back and forth. You can either hail your own taxi or jump in one and go to the other side of town. The cost of a shared taxi is 500 ₮, and it leaves when it gets 4 passengers, which doesn't take long.

See
Museum of Darkhan-Uulcollection of archaeological findings, traditional clothing, religious artifacts, and taxidermy.

Morin Khuur Monument and Seated BuddhaLocated on 2 hills separating New and Old Darkhan, and connected by a suspension bridge.

Kharagiin monasteryLocated in a log cabin built in the early 1990s in the Old Darkhan.

Darkhan 50The main park in town where everyone enjoys hanging out around the fountains at dusk.

Darkhan City Theme Park
Buy
Black MarketA huge confusing market that can take several hours to explore. Everything from live goats to clothes to car parks are sold either in one of the may buildings or outdoor kiosks.

Nomin SupermarketLarge selection of domestic and foreign products. Expect to spend more than anywhere else.

International Market
Eat
цагаан хоол

address: New Darkhan

The best food and deal in town!

BBQ Chicken

address: New Darkhan

Best place for chicken in town. Choose a few options when looking at the menu, just in case they do not have your first option in stock.

The Empire Restaurant & Pub

phone: +976 7037-7720

address: New Darkhan

Good selection of Mongolian & American dishes.

phone: +976 70374008

address: Texas restaurant & Bar, A corpus, 380 ail, New Darkhan.

Texas Restaurant & Bar serves a variety of Mongolian, European and American food, cocktails, coffee, and teas.

Bulgogi Family Restaurant

phone: +976 7037 7300

address: New Darkhan

Good Korean food. 3,500-15,000 ₮ a plate.
Avoid Korean and Chinese restaurants, because these types of restaurants prepare their foods out of very low and bad quality raw food materials. Instead going to other local restaurants and local canteens called Tsainii gazar (Цайны газар) are a safer choice.
Drink
DD Night Club

Queens Night ClubLocals bust out their moves at the Queens Night Club in the center of the New Darkhan.
Sleep
Comfort Hotel

phone: +976 137229091

One of the most comfortable and cleanest hotels in town. It has wifi and TV in all rooms. There is a bar and restaurant in the hotel. Karaoke and laundry service also offered.

Kharaa Hotel

phone: +976 9937 2828

address: New Darkhan, south of cultural center

All rooms have bathrooms, TV, and WiFi internet. Breakfast included.
Cope
Consulates
Russia

phone: +976 1372 23996

address: Zaluuchuudyn gudamzh, 13
Go next
From Darkhan, it is easy to go east to the large copper-mining city of
Erdenet
, North to the mid-sized Aimag capital of Sukhbaatar, or the beautiful
Amarbayasgalant Monastery
. Erdenet can be reached by train or bus, Suhkbaatar can be reached by train (~2,800 ₮) or taxi (8,000-10,000 ₮) on paved road, while visiting the monastery will require hiring a taxi for the 2- or 3-hour journey, part of which is unpaved.