Darwin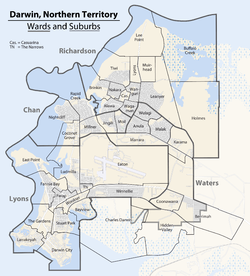 Darwin
, a small yet cosmopolitan city, is the tropical capital city of the
Northern Territory
. People from more than 50 nations make up its population of 110,000. It is located on the Northern Territory coast (in north-central
Australia
), with the Timor Sea (a branch of the Indian Ocean) to the west, and the Arafura Sea to the north in Indonesian waters.
Understand
Darwin has a relaxed lifestyle and unique multiculturalism, where people from over 50 different cultures live and work side by side. The regular Asian-style markets form an intrinsic part of the everyday Darwin landscape, for local residents see food, music, language, and culture from just about every Asian nation, alongside "crocodile hunters", local Aboriginal artists, musicians of every genre, sports fishing operators, sunset sails, and families with children playing on the beach. Darwin's unique cosmopolitan makeup has been recognised as an "multicultural icon of national significance" by the Australian National Trust.
Darwin's tropical climate has two major seasons: the 'dry', from about May to October, and the 'wet', from November to April. There is also the 'build up', the time from the end of the dry, leading into the wet when the humidity rises, but the rain doesn't fall. The arrival of the wet is always a welcome break from the buildup.
Major cyclones have occurred approximately once every three decades. Much of the city was destroyed by Cyclone Tracy in 1974. More recent cyclones have not been as dangerous, and building codes and emergency procedures have improved since then.
Darwin is also the only Australian capital city to have come under substantial attack during a war. On 19 February 1942, Japanese planes made two major air raids on Darwin from the aircraft carrier fleet that had attacked Pearl Harbor less than 3 months earlier. These were the first of 64 air attacks sustained by the city during World War II, the last being on 12 November 1943. (Other areas in northern
Queensland
and northern
Western Australia
were also bombed by Japanese aircraft.)
History
Darwin was first named in 1839 by John Lort Stokes during the third voyage of the Beagle. It was named after his former shipmate and famous naturalist Charles Darwin. Darwin's development was accelerated by the discovery of gold at Pine Creek, about 200 km south of the city in 1871. After the gold rush Darwin's growth slowed mainly due to the harsh, tropical climate, distance and poor communications with other Australian cities. The
Second World War
put Darwin back on the map when the town became an important base for Allied action against the Japanese in the Pacific. The road south to the railhead at Alice Springs was surfaced, putting the city in direct contact with the rest of the country. Modern Darwin is one of Australia's most cosmopolitan cities, more open to
Asia
than perhaps any other Australian city. It plays an important role as the door to Australia's northern region. Natural wonders such as Kakadu, Katherine Gorge, and Litchfield are all within driving distance from the city and still contain near pre-colonial populations of crocodiles, goannas, snakes and wallabies.
Today Darwin is a fast growing regional centre that has unique history, culture and adventure.
Darwin's Climate
The following chart outlines Darwin's monthly climate averages as an indicator for the whole northern region.
Jan - Feb
Min average temperature - 24°C (75°F)
Max average temperature - 31C° (88°F)
Mar - Apr
Min average temperature - 24°C (75°F)
Max average temperature - 32°C (90°F)
May - Sept
Min average temperature - 21°C (69°F)
Max average temperature - 31°C (88°F)
Oct - Dec
Min average temperature - 25°C (77°F)
Max average temperature - 32°C (91°F)
Climate
The Top End, which includes Darwin,
Katherine
,
Kakadu National Park
and
Arnhem Land
, has a tropical climate. Darwin has an average temperature of 32°C (90°F) all year, with varying humidity.
Darwin is climatically perfect to visit from May to October. There is no need to check the weather forecast as it is nearly always 31°C (89°F) and sunny during the day, with cooler nights.
November and December is the time the build up, or pre-monsoon season, begins and humidity levels start to rise. The summer rains bring the natural landscape to life and deliver the picturesque storms and sunsets the Northern Territory is renowned for. Some people enjoy this aspect of the wet, with the rivers and waterfalls in full glory, and the landscape greener.
Get in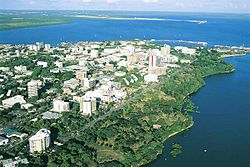 By plane
Darwin International AirportThere are direct flights to most Australian state capitals, Northern Territory destinations, and destinations in northern Western Australia, plus direct international flights to Bali, Singapore and elsewhere.
There is an airport shuttle bus, which meets all flights 24 hours, and taxis are available.
There are limited public transport services to the airport. Bus 3 has two deviations (c) and (d) which service Charles Eaton Drive and Henry Wrigley Drive. Bus 3(c) services run at three times between 6:25 and 8:05AM, one at 12:30PM Mon-Fri. Bus 3(d) services run at three times between 3:55 and 5:20PM Mon-Fri. If you are travelling outside these times, it is still possible to catch bus 3, get off just after stop C (Jingili shops) just before the bus turns down Scales St, and walk the 2 km down Henry Wrigley Drive to the Airport. Allow 30mins to walk there. Once you check in at the airport and go through security, there are free (hot) showers upstairs (turn right at the top of the escalators) to freshen up after your walk. Bus 3 is a circuit service starting and finishing at Casuarina Interchange (so you could also use this service to get from the airport to town). If you are travelling from the Darwin city centre, bus 10 operates from Darwin Interchange to Casuarina Interchange where you can then catch bus 3 to the airport. For detailed timetable information and fares, refer to the
Darwin public transport website
.
Darwin is easily accessible from most major Australian cities by several domestic carriers.
Jetstar offer direct flights to Darwin to and from Singapore, and flying from Asia or Europe to the eastern Australian capitals via Darwin is practical, and will often cost no more than flying direct. Darwin also has international flights to Bali, Saigon, and East Timor. The following airlines also fly into Darwin. Air Asia (From Bali), Qantas and Virgin Blue (Anywhere in Australia), Tiger Airlines (Brisbane), Malaysia Airlines (Kuala Lumpur), Air North (Northern Australia and East Timor) Silk Airlines (Singapore) and Philippines Airlines (Manila)
Chartair offer specialised travel services to suit your needs. They have bases in Darwin, Katherine, Borroloola, Tennant Creek and Alice Springs. Prices range from $500 to $20,000. Check their website for more details or call +61 8 8952-6666
Regional Link is a newly formed division of the NT aviation services company Capiteq Limited, whose other airline subsidiary is Airnorth. Regional Link offers numerous flights into Darwin from regional areas including Broome, Kununurra, Gove, Groote Eylandt, Granites, Maningrida and McArthur River. Regional Link also operates one flight a week from Perth via Kununurra.
By road
The Stuart Highway is the only highway into Darwin; heading directly into the city centre and extending southwards all the way to
Alice Springs
(about 1,500 km) and
Adelaide
(3,042 km or 1,886 mi). You can access Darwin from all the Australian capital cities staying on regularly trafficked sealed (bitumen) roads with regular services. The drive from
Sydney
or
Perth
is about 4000–4500 km (2485 mi-2800 mi) depending on the route you choose, plan your trip and your stops carefully. Don't assume you can get fuel at night.
By train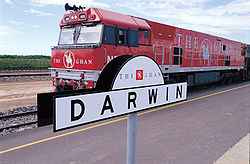 The Ghan
is a
tourist train
that crosses the continent from Adelaide to Darwin twice a week. It's invariably more expensive than flying, and usually slower than driving yourself, but it is a journey for those who enjoy train travel, or who want to bring their car without the hassle of driving. There are transfers in Adelaide from Sydney, Melbourne and Perth. You can bring your car from either Adelaide or Perth. The train line to Darwin was built relatively recently, and was designed primarily for freight. The terminus for the train is near the deep water port at East Arm, approximately 7 km (4.5 mi) from the city centre; on the other side of Frances Bay, take a taxi, or get your accommodation to arrange a pickup for you.
Buslink
provide a complimentary service for guests travelling in Gold class. Tickets are purchased from the driver and no booking is necessary. Return services run from the Transit Centre on Mitchel St. There is no public transport to the train station.
By ship
Cruising has increased in popularity in the Northern Territory and the schedules for several international cruises include a day stopover in Darwin. Expedition cruise ships touring the northern coast of Australia are becoming a popular way to visit remote Aboriginal art communities in Arnhem Land and Groote Eylandt.
Cruise ships dock at Fort Hill Wharf, which is quite close the Stokes Hill Wharf by water, but it is a 2 km or so by road. It is around 1 km (0.6 mi) to the Esplanade, and 2 km (1.2 mi) to downtown.
Get around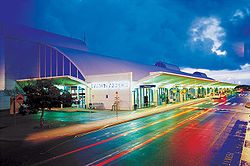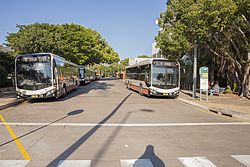 Driving is the best way to comprehensively see Darwin. Many of the sights are spread out, parking is easy and traffic is usually free flowing.
There is a public bus service
Darwinbus
, which is useful for accessing areas close to the city. The services are more frequent closer to the central area where the routes overlap, but you will need to plan according to the timetable to get anywhere else - some services only run a couple of times a day. The buses are air-conditioned. $3 per 3 hour transfer or $20 for a weekly pass. Buses can be an opportunity to meet some of the locals.
Walking between attractions or from a bus stop to attractions, even in the inner-city, can be very hot work for those not used to the Darwin climate. Dress to stay cool, and carry water.
Tours are available, and tour coaches are available to some attractions.
phone: +61 8 8947 0577

address: 113 Pruen Rd Berrimah

Buslink are one of the major private providers of public transport, operating half of the Darwin Bus Network. Buslink also have charters.

phone: +61 8 8981 2222

address: 59 May St, Parap

Darwin Private Hire Cars specialise in corporate and leisure transportation, and airport transfers, with fully trained drivers.
See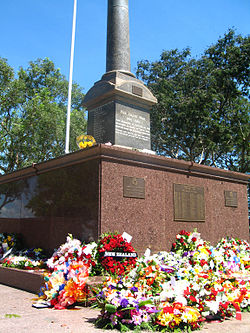 Historical
Darwin Wharf Precinct

phone: +61 8 8981 4268

address: Darwin Wharf, Darwin

At 9:58AM on 19 February 1942, the wharf was a target for Japanese bombs, which claimed the lives of many service personnel and waterside workers. Many of the historical landmarks remain and can be explored today. See also Pacific War.

Fannie Bay Gaol

address: East Point Rd, Fannie Bay

Fannie Bay Gaol operated as Darwin's major prison for almost 100 years from 1883. Two maximum security wings were added during the 1950s and the gallows were used for executions until 1952. The building's grim and oppressive history can be felt as you walk through.

phone: +61 8 8981 0165

address: Myilly Point

Architect B.C.G. Burnett designed homes adapted to the climatic conditions of the Top End, which included the use of lightweight materials and natural ventilation. It is worth leaving your visit to Myilly Point until Sunday afternoon, when you can take High Tea in the shady tropical gardens at Burnett House.

phone: +61 8 8981 5522

Browns Mart is a stone building that was opened in 1885 as the store 'Solomon's Emporium'. It played many roles over the years, but today has become a cultural and historic icon of the city that is regularly used for theatre and performances.

Adelaide River War CemeteryDuring World War II, Adelaide River township was the site of a large military base. The war cemetery created there is now the final resting place for 434 military personnel and civilians involved in the war effort. The cemetery is set in lush surrounds alongside the Adelaide River with beautifully tended gardens providing a peaceful backdrop for remembering the fallen.

Lyons Cottage

phone: +61 8 8999 8201

Lyons Cottage, overlooking Darwin Harbour on The Esplanade, was built in 1925 to house staff working on the submarine cable that connected Australia with Britain. Also known as British Australia Telegraph (BAT) House, Lyons Cottage survived the Japanese bombing raids of 1942 and 1943 and escaped structural damage from Cyclone Tracy in 1974. The Cottage today houses the local indigenous tourism booking service.

The Old Court House and PoliceBuilt in 1884 for the South Australian Government, these colonial style buildings made from local stone have housed criminals, the Navy and today the NT Administrator's Offices. Restored after damage by Cyclone Tracy, these buildings are a stark reminder of the Darwin of yesteryear.

phone: +61 8 8947 2145

The Aviation Heritage Centre has an impressive collection of aircraft and displays depicting the Territory's involvement in aviation from the early pioneers to the jet age. The prize exhibit is a B-52 bomber on permanent loan from the United States Air Force, one of only two on public display outside the US. The centre is 8 km from Darwin city and is on the site of fierce air combat that took place overhead during World War II.

Oil Storage Tunnels

address: Kitchener Dr

Long tunnels bored into the cliff to store oil during WW2. Now they contain historic photos and an eerie atmosphere.
Natural
Bicentennial Park

address: Esplanade

This scenic stretch of parkland along The Esplanade overlooks Darwin Harbour. It's a great place to kick a footy, soak up some rays or have a picnic while watching the sun set.

George Brown Darwin Botanic Gardens

address: Gardens Road

A stone's throw from the city centre are 42 hectares of gardens that showcase local flora and that of other tropical habitats around the world. Explore monsoon forests, coastal foredunes and open woodlands on a stroll through the botanic gardens.

Lake Alexander

address: Alec Fong Lim Drive

An ideal spot for swimming all year round, Lake Alexander is popular for picnics and barbecues. Spend the day by the water, have a game of volleyball and tire the kids out on the playground.

Casuarina Coastal Reserve

address: Trower Road

The Reserve encompasses 1500 hectares, including 8 km (5 mi) of sandy beaches bordered by dramatic cliffs. Stretch your legs on one of the walking paths or grab a table and settle in for a barbecue under a shady casuarina tree.

Charles Darwin National Park

address: Tiger Brennan Drive

Shell middens in the area indicate that it has been used by Aboriginal people for thousands of years. The Larrakia people are the traditional owners of the land. During World War II, this area was part of a network of military sites that formed Australia's front line of defence, and as a result there are many bunkers and storage facilities remaining.
Cultural
Museum and Art Gallery of the Northern Territory

phone: +61 8 8999 6573

- set on a tropical garden on Darwin Harbour is this, the Northern Territory's premier cultural institution. The MAGNT collections place the region's art, history and culture, and natural history in an Australian and international context through research, interpretation and collection development. These collections encompass Aboriginal art and material culture, visual arts, craft, Southeast Asian and Oceanic art and material culture, maritime archaeology, Northern Territory history and natural sciences. The MAGNT complex consists of five major permanent galleries, a touring gallery, educational facilities for school groups, a theatre, the Museum Shop and the Cornucopia Museum Cafe. All contribute to providing an entertaining, diverse and educational experience for the local community and visitors to Darwin. Marvel at the 18 foot saltwater crocodile known as "Sweetheart", who was responsible for attacking multiple boats in the 1970s and is now on display in the museum.

Northern Territory Parliament House

phone: +61 8 8947 2145

address: State Sq

Northern Territory Parliament House is Australia's newest. Opened in 1994, it was built on the site of the old Darwin Post and Telegraphic Office, which included the Post Office, the telegraph office, the telephone exchange, cable company offices, stores, staff residences and staff messes. Public tours are conducted regularly at no charge, although booking is essential.
Darwin Beer Can Regatta - exactly what it says on the tin (oh wait, can)! Wacky races which happened in the water at Mindil Beach annually in July, if you drink enough VB you could always enter yourself!
Do
Historical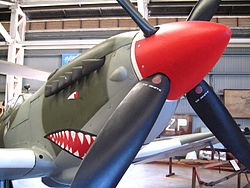 East Point ReserveEast Point Reserve, just north of the city, is filled with walking trails and cycling paths. The area is also home to Darwin's East Point Military Museum. Here you can check out WWII relics and watch footage of the Darwin bombing. Go near dawn or dusk to see Agile Wallabies.
Natural
Berry Springs Nature Park is a popular and picturesque area for picnics and is a great swimming spot. Use goggles to spot native fish and other aquatic life that live in the clear pools. The picnic area is a good base from which to take a walk through the monsoon forest and woodlands. Bring your binoculars if you're keen on bird watching. Around 50 km south of Darwin, reachable in 45 min by car. It has a kiosk. It can be closed for swimming during the wet season.

phone: +61 8 8981 7837

address: 28 Doctors Gully Rd

You feed the fish by hand and they're not little fishies, so luckily they don't bite hard! Feeding is dependent on the tide, so check the website or call for the schedule.

Crocodylus ParkOnly 5 minutes from the airport, the park is home to more than a thousand crocodiles. It also houses exotic birds, primates, big cats and lizards. Children under 4 years have free entry.

Adelaide River Jumping Crocodile Cruise to get up close and personal to the crocs. Stop at the Humpty Doo hotel on the way to the Adelaide River and sample the cold beer on offer.

Batchelor Butterfly and Petting Farm

phone: +61 8 8976 0199

address: 8 Meneling Rd, Batchelor

The Northern Territory's only butterfly farm is in the heart of Batchelor, gateway to the Litchfield National Park. You can view rare and beautiful butterflies and a diverse range of birds, and there is also a petting farm with lots of rabbits, guinea pigs, turtles, fish, peacocks and native galah birds. A secure play area for children is provided. There is also a cafe and licensed restaurant on premises.

phone: +61 8 8988 7200

The Territory Wildlife Park is a popular attraction, home to monsoon and paperbark forests and a wetlands walk. You can stand nose-to-nose with a 3.7 metre saltwater crocodile on a walk through the aquarium tunnel. Twice-daily birds of prey show or animal encounters presentation.

address: Mitchell St

Crocodiles in the middle of the city.

Casuarina Coastal ReserveJust a 20 min drive from the city, the Casuarina Coastal Reserve comprises sandy beaches fringed by casuarina trees and sandstone cliffs. The Reserve protects areas of cultural significance, including Old Man Rock, a registered Aboriginal sacred site. The Reserve also features a large grassy area with barbeques and tables.
Cultural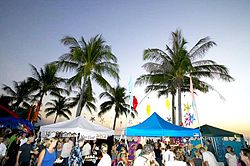 phone: +61 8 89810700

address: Jervois Rd off Kitchener Dr, Wharf Precinct

Relax outdoors in the deckchairs on Darwin Harbour and enjoy a movie under the stars. Deckchair Cinema screens quality Australian, family, foreign and popular films every night of the dry season. There is also a licenced kiosk.

Darwin FestivalThe Darwin Festival program provides a feast of local, national and international performances to excite, inspire and entertain. The festival includes everything from free outdoor events to theatre, dance, music, cabaret, films, workshops and comedy, not to mention the sensational cuisine. Running for 18 nights, the Darwin Festival reflects the indigenous, Asian and Pacific cultures of the region. August.

Aboriginal Art AwardsThe Telstra National Aboriginal and Torres Strait Islander Art Award is the premier national indigenous event on the arts calendar. The Award attracts a broad range of artistic talent and showcases up-to-date developments in contemporary Aboriginal and Torres Strait Islander art. Aug–Oct.

Heineken Hottest 7's in the worldThis Rugby 7's competition is held over two days with local teams competing against the best from overseas, interstate and intrastate. It ranks as the leading prize money 7's event in Australia with $60,000 up for grabs.

BASSINTHEGRASSEvery year, thousands of Darwin locals and visitors flock to the Darwin Amphitheatre to rock to their favourite Australian and International bands. Previous line-ups include Powderfinger, Hilltop Hoods, Wolfmother, Gyroscope, Jet and Eskimo Joe. This is a sell out event every year, so make sure you get your tickets early. The event is normally held in May.

Darwin Cup CarnivalShare in the excitement of Darwin's premier horse racing calendar. The Darwin Cup Carnival features Ladies Day, where the ladies can show off their finery and enjoy a sumptuous luncheon and a glass of bubbly and culminates in the Darwin Cup race. The picturesque Fannie Bay Racecourse track is one of only a few dirt tracks in operation on the circuit, and the Darwin Cup Day witnesses 19,000 people bursting the rails. 4 Jul–3 Aug (2009).

Arafura GamesThe Arafura Games, held in Darwin, is a sporting event for developing athletes across the Asia Pacific region and beyond. It provides the experience necessary to succeed in competition of the highest level. This biennial event is a major highlight on the sporting calendar and is recognised throughout the Asia Pacific region as a week-long celebration of sporting competition, cultural diversity and friendship.

phone: +61 8 8980 3333

address: 93 Mitchell Street

The Darwin Entertainment Centre has an unmistakable presence on Mitchell Street. Complete with playhouse, studio theatre and exhibition gallery, the centre hosts concerts, dances and performances from Australia and overseas.

NightlifeDarwin's youthful population adds energy and zest to the city's vibrant night life. After dark there's plenty of culture, music and entertainment to keep you busy.
Learn
Study options in the Northern Territory include VET courses and apprenticeships, as well as undergraduate and post graduate tertiary qualifications. Charles Darwin University is the main tertiary education institution in the Territory, and delivers university and vocational education from several campuses in Darwin and the main towns. See the
Territory Government's website
for information about studying and working in the Northern Territory.
Work
Working holiday
A working holiday in the Northern Territory gives you the opportunity to experience a lifestyle and culture that's completely different from the rest of Australia. From outback stations and horticultural farms to hospitality and nursing, there are many ways to fund your holiday in the Northern Territory.

Buy
Automatic Teller Machines are available extensively. Foreign exchange is available at most banks.
Markets
Visiting the
local markets
is a must-do Darwin experience.
Mindil Beach Sunset MarketsImmensely popular, are by far the largest in the NT and runs from May to October on Thursday and Sunday. They cause the largest traffic snarls and most parking hassle you are likely to encounter in Darwin. Bring a bottle of wine and blanket, find a spot on the sand and watch a famous Darwin sunset. For a sweet fix, try chocolate-filled churros, or a flame-grilled Malaysian satay stick for something savoury. Vegetarians should try the Lucky Cow's felafel wrap. There are many stalls, heaps of food choices, and even avid market haters will like these markets.

Enjoy exotic cuisine, local art, craft and live music. No visit to the Saturday morning Parap Village Markets is complete without a bowl of Mary's famous laksa, a curry-filled roti wrap or freshly blended fruit juice.
On Sunday visit the Nightcliff Markets, start with a visit to the crepe stand for a strawberry and nutella breakfast, while listening to the beat of live music. There are some interesting stalls offering eco-friendly soaps, hemp products and locally designed clothing.
Rapid Creek Sunday Market is great for locally grown fruit and vegetables, particularly Asian herbs. Here you can get a Thai massage, or pick up homemade mango chutney and jams. It operates all year round on Sunday morning.

Big Flea Market Rapid Creek

phone: +61 8 8948-4866

address: Rapid Creek Shopping Centre, Trower Rd, Rapid Creek

Relax and enjoy a stress-relieving massage or cool tropical juice. Darwin's oldest market is situated only 20min from Darwin city, in the Rapid Creek Business Village.Good location for a relaxing Sunday brunch or browsing the stalls for fresh organic produce. Asian fruits, vegetables, herbs and spices, exotic plants, flowers and seafood are available. You'll also find a range of local handmade crafts.
Shopping
Start at Smith Street Mall in the city centre then branch out into the surrounding streets. Travellers will find a range of shopping experiences including local galleries specialising in Aboriginal art or speciality shops selling world-class pearls and crocodile-skin products.
Top End Gold Honey - local honey from around the Northern Territory. The flavours vary according to the seasons with a unique taste at every time of year.

phone: +61 8 8920 2345

address: 247 Trower Rd, Casuarina

Casuarina Square is the largest shopping complex in Darwin, offering a wide range of specialty stores, a food court and a seven screen cinema complex. Browse the stores, treat yourself to a movie or sit down and relax with a coffee. There is a public bus station at the centre, which also runs its own free shuttle from leading hotels between April and September. Casuarina Square is a popular spot for locals and travellers looking to enjoy retail and entertainment.

Kunwinjku Aboriginal ArtLeslie is a traditional owner of Mand-dedj-ka-djang outstation on the Liverpool River. He paints in the way of his ancestors whose original work is the rock art of Western Arnhem Land. Leslie has perfected the technique called rarrk, or fine-line cross-hatching, to present the traditional "x-ray" style of painting. You can find him at the markets at Mindil Beach, on Thursdays, and Parap with his original paintings and prints.
Eat
Darwin's downtown dining hub encompasses Mitchell and Knuckey Streets and is brimming with restaurants, cafes and pubs. Dinner in Darwin can be classy or casual, but always relaxed. For breakfast, Café Uno serves a tasty toasted avocado, tomato and cheese croissant, and coffee lovers should head to Café 21 in the mall. For something a little different, try the coconut loaf with lemon curd at Roma Bar or French toast with maple syrup and bacon at Ducks Nuts Bar and Grill.
Darwin CBD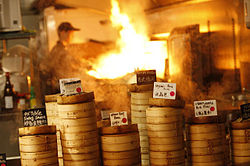 Lunch options in the Central Business District are endless. Jump on the sushi train at Go Sushi, people-watch over a Caesar salad at Wisdom Bar & Café or try the crispy roast duck at Roast and Noodle. Enjoy Yum Cha at Tasty House, sample the variety of Tapas at Moorish Café or create your own stir-fry at Magic Wok. There is an array of pubs that serve up fish and chips, burgers and parmas, try Kitty O'Shea's, Shennanigans or the Fox Ale House. For a juicy steak and fine wine visit Char Restaurant @ Admiralty, head to Hanuman for consistently great curry, get your Italian from Giuseppe's or try mod oz fare matched with a colourful cocktail at Monsoons.
Budget
address: Shop 8 Vic Arcade, 27 Smith Street Mall

fantastic Sri Lankan food

Hanuman Restaurant

phone: +61 8 8941 3500

address: 93 Mitchell St

Thai, Indian and Malaysian dishes with local ingredients.

phone: +61 8 942 1000

address: 22 Smith Street

Shennanigans

phone: +61 8 981 2100

address: 69 Mitchell Street

At Mitchell St and Peel St, for pub-style food and live music

phone: +61 8 8981 1024

address: 10 Litchfield Street

Has good value meals.

phone: +61 8 8981 5521

address: 58 Mitchell Street

In the middle of Mitchell St. Sit down and relax and watch the world walk by.

phone: +61 8 8941 4866

address: 48 Mitchell Street
Mid-range
East West Restaurant

phone: +61 8 8941 6911

address: 43 Knuckey St

The menu is influenced both by the exotic, aromatic spices of Asia infused with salty, bitter and sweet flavours, whilst western influences are seen in variations of grills, pastas, salad mixes and gourmet sauces. Extensive wine and cocktail list and your choice of al fresco or airconditioned dining.

phone: +61 8 8981 4544

address: 70 The Esplanade

Local produce, international and local wines with innovative cuisine and good service.
Splurge
Stokes Hill Wharf
Stokes Hill Wharf
Watch the barges, sail boats and tinnies out on the harbour or peer over the edge to see moon fish getting their feed from chips dropped by diners. Most of the food served here is picnic style take away. Stir-fried noodles, beer battered barramundi, crumbed calamariand other choices are presented on plastic plates. Make sure you visit the ice cream shop and refresh your palate with a scoop of butterscotch or mint choc chip. There is also a more upmarket seafood restaurant on site.
Parap
Well known for its markets, but also has a diversity of lesser-known restaurants. Try sizzling Mongolian beef at The Happy Garden Chinese Restaurant or steaming hot tamales from Prickles then move on to coffee and cake at The Cyclone Café or Paraparazzi. If you want to stock up on gourmet goodies, head to Parap Fine Foods, they've got a great deli and stock French home-style bread.
Budget
phone: +61 8 8942 0805

address: Parap Shopping Village, Parap Place, Parap

A mixture of Asian cuisine and the aroma of fresh coffee. Great place to shop and a favourite among locals and visitors. Browse the markets, winding through stalls of local produce, local arts and crafts, entertainment and delicious cuisine from around the world. This Saturday morning market has become an institution and ritual among locals who just couldn't survive a weekend without their Saturday morning laksa, satay prawns or fresh tropical smoothie.
Mid-range
phone: +61 8 8981 2383

address: Shop 14, 34 Parap Rd, Parap

A self-serve, fully licensed restaurant with relaxed, casual dining in a tropical atmosphere. Indian cuisine including traditional Tandoori, North and South Indian dishes.
Splurge
Fannie Bay
Best known for its views and pricey real estate, the assortment of dining in Fannie Bay is considerably less expensive than the housing. You can drink a glass of sparkling with breakfast at Cornucopia Museum Café, but be sure to book, as it is always busy. Across the road is the Darwin Ski Club, where the food is pub-style with harbour views. Try The Cool Spot Cafe, a trendy hangout that offers great light meals and snacks. The seafood dishes are a highlight at Pee Wee's at The Point, especially the soft shell mud crab.
Budget
Mid-range
phone: +61 8 8981 1002

address: Conacher St, Fannie Bay

Fully licensed cafe is located adjacent to the Museum and Art Gallery of the Northern Territory in Fannie Bay, harbour side overlooking the tropical museum gardens and the Timor Sea.
Splurge
phone: +61 8 8981 6868

address: Alec Fong Lim Dr, East Point Reserve, Fannie Bay

Amongst tropical palms with a quiet natural ambiance. Fresh local produce and ingredients including local saltwater barramundi, tiger prawns, tropical fruit and locally grown Asian vegetables. Dine al fresco on the patio and take in the sunset views across Fannie Bay or inside in the fully licensed restaurant.
Cullen Bay
Offers an abundance of seafood choices and expansive harbour views, but you'll also find Italian, Thai, Greek and French cuisine. Freshly shucked oysters are a specialty at Yots Greek Taverna, try the barramundi at La Beach, succulent battered bug tails from the takeaway fish and chip shop or settle with a glass of sparkling at Buzz Café. There is a large variety of restaurants along the boardwalk overlooking the marina, so you won't be starved for choice.
Budget
Mid-range
Buzz Cafe

phone: +61 8 8941 1141

address: 48 Marina Blvd, Cullen Bay

Fully licensed and located at Cullen Bay, offers al fresco dining with modern Australian cuisine. Individually hand painted tables are shaped to ensure waterfront views for everyone. Restaurant has some eclectic design features.
Splurge
Drink
Consumption of alcohol in public places
Please note, within certain areas of the Northern Territory, there are restrictions on the consumption of alcohol in public places. Pay attention to local notices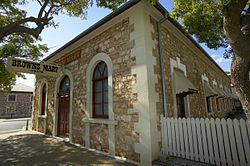 Darwin has numerous clubs and bars. Also you can check out some local music at Brown's Mart.
Humpty Doo Tavern

phone: +61 8 8988 2550

address: Humpty Doo Shopping Centre

On the edge of the agricultural area surrounding Darwin, 47 km and approximately a 30-min drive from the city. The township of Humpty Doo has attracted people who want to live beyond the city limits, but within easy commuting distance. A favourite stop for both locals and travellers on their way to Kakadu or visiting Fogg Dam, popular for bird watching. Mangrove Jack's Bar provides airconditioned comfort, or you can enjoy a light ale in the tropical outdoor beer garden. There's live entertainment, and lunch and dinner is served daily.

phone: +61 8 8980 0800

address: 116 The Esplanade

Relax and enjoy a pre-dinner drink or refreshing cocktail at the fully licensed restaurant and bar, a tranquil spot overlooking an azure blue pool.
Top End Hotel, Mitchell St.

Turtles Bar and Bistro

phone: +61 8 8985 3000

address: 342 Casuarina Dr, Rapid Creek

Live entertainment including local bands and entertainers. Savour one of the cold tap beers as the sun sets, relaxing at the bar inside or kick back on the deck.
Victoria Hotel, In the Smith Street Mall
Sleep
Warning! book ahead in dry season as accommodation gets VERY full.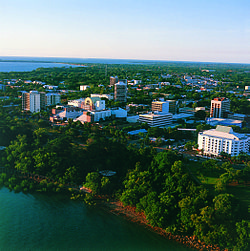 Budget
address: 12 Cavenagh St

Located in the heart of Darwin city.

Frogshollow Backpackers

phone: +61 8 8941 2600

address: 27 Lindsay St

Dorm-1 Person, $24, or $140 weekly. Room only-2 persons $55-68.

Gecko Lodge

phone: +61 8 8981 5569

address: 146 Mitchell St

Globetrotters Lodge YHA

phone: +61 8 8981 5385, +61 8 8981 3353

address: 97 Mitchell St

phone: +61 8 8941 7800, 1300 723 437 (local rate)

address: 52 Mitchell St

Stella Maris Seafarers Centre

phone: +61 4 0059 0279

address: 1 McMinn St

phone: +61 8 8981 4733

address: 50 Mitchell St

YMCA of Darwin

phone: +61 8 8981 8377

address: Doctors Gully

phone: +61 8 8923 9790

address: 69 Mitchell St

One of Darwin's newest backpacker accommodations and is situated in the heart of the city. Chill out and relax in the light and airy dormitory rooms, unwind with a book on the sun-deck. Facilities include a large outdoor kitchen area, BBQ, office and business services, camp kitchen. courtesy transfers, communal kitchen, communal refrigerator, TV lounge, games/recreation room, pay/satellite TV, outdoor swimming pool, public telephone, and a tour desk. 24-hr check-in.

The Wilderness Lodge

address: 88 Mitchel St
Mid-range
Accommodation on Eden

phone: +61 8 8947 4440

address: 36 Eden St, Stuart Park

phone: +61 8 8946 0300

address: 17 Geranium St

Quality accommodation centrally located in tranquil surroundings on Gardens Hill with views over the Botanic Gardens to the Arafura Sea. 2 or 3 bedroom fully self contained apartments, as well as motel rooms, also have four three bedroom, self contained townhouses, situated opposite the main complex. A stroll through the George Brown Darwin Botanic Gardens leads to the Skycity Casino, Mindil Beach, restaurants, golf course, tennis courts and the Museum and Art Gallery of the Northern Territory.

Crab Claw Island Fishermans Village

phone: +61 8 8978 2313

address: Lot 180, Crab Claw Island, Bynoe Harbour

Nestled on the waters edge in a Balinese style reflecting a fishing village with elevated A/C cabins connected by walkways through the trees and palm gardens. Swimming pools a restaurant and fully licensed bar with harbour views. A limited number of powered and unpowered caravan and camping sites are situated 75 m from the waters edge and boat ramp.

Crowne Plaza Darwin

address: 32 Mitchell St

phone: +61 8 8985 2144

address: 49A Freshwater Rd, Jingili

Bed and breakfast style accommodation, set on two acres of landscaped grounds in the heart of Darwin, just minutes from the Darwin airport. The bird collection at Feathers Sanctuary is diverse. Both native and exotic birds live in two large aviaries. Guests are able to enter the Waterfall Aviary and view the birds at close range. Feathers Sanctuary is secluded and secure.

phone: +61 8 8935 0888

address: 901 Stuart Hwy, Berrimah

Set on 28 acres of lush tropical gardens and located just 15 min from Darwin city on the Stuart Highway. An independent member of BIG 4 Holiday Parks. 1 and 2 bedroom villas and cabins Powered and unpowered sites for caravans, recreational vehicles, motorhomes and campers. Facilities include; swimming pools, a poolside bistro and bar, internet cafe and a giant jumping pillow for children.

Grungle Downs Tropical Bed and Breakfast

phone: +61 8 8947 4440

address: 945 McMillans Rd, Knuckey Lagoon

Set in an idyllic location, only minutes from all Darwin's attractions and is perfect for a family . The Lodge has 4 queen beds. Bed and breakfast rooms and the completely self contained Family and Pet Friendly Cottage, pets are welcomed by arrangement.

Holiday Inn Esplanade Darwin

phone: +61 8 8980 0800, 1300 666 747 (local rate)

address: The Esplanade

phone: +61 8 8978 2077

address: Litchfield Tourism Precinct, Litchfield Park Rd, Batchelor

One of Litchfield's premier safari camps, close to all major attractions of the Litchfield National Park. Good base from which to explore the region. Has a range of permanent safari tents and tented cabins equipped with comfortable beds. Includes dinner and breakfast at Litchfield Cafe.

phone: +61 8 8942 3012

address: House 4, 78 Esplanade

Self contained house with 3 bedrooms available. Quality artwork and luxurious furnishings. Offers privacy and comfort for up to six people sharing the fully equipped kitchen, views of Darwin Harbour from the balconies and swimming pool.

phone: +61 8 8943 4333

address: 88 The Esplanade

Overlooks Darwin Harbour to the Arafura Sea and the city skyline. 4 star hotel offers 140 one, two and three bedroom suites, 64 hotel rooms. Restaurant, bar, outdoor swimming pool and spa. Apartments have large private balconies. The hotel is adjacent to the Mitchell Street restaurant hub and within walking distance to the central business district.

phone: +61 8 8981 8850

address: 6 Gardens Hill Crescent, The Gardens

Tropical garden estate of five luxurious self-contained residential villas in a tranquil. Easy access to the city centre and Mindil Beach Sunset markets.

phone: +61 8 8976 7009

address: 315 Haynes Rd, Adelaide River (Stuart Hwy)

Bed and breakfast rooms in the homestead, budget rooms in the Stockmen Quarters, group facilities in the Billabong House, self contained Cooks Cottage, shady caravan/camping sites and a swimming pool. Situated on the banks of the Adelaide River and set high on a hill overlooking the station. The homestead is comfortable and homely with fantastic views and is a quiet rural experience, enjoy your visit with personal interaction with the owners and their family life.

phone: +61 7 3246 1616

address: 31 Woods St

This property offers 1 and 2 bedroom apartments, with restaurant facilities, an outdoor lap pool, gymnasium and onsite restaurant (O.A.K)
Splurge
phone: +61 2 9571 6399

address: Swim Creek Station, Harold Knowles Rd, Point Stuart

An exclusive wildlife experience at Swim Creek Station on the Mary River floodplains, Safari-style camp is surrounded by savannah woodland teeming with wildlife, reptiles and birds. Spacious free-standing rooms expose guests to the sounds of the floodplains. The dining area has good views across the vast wetlands. 10 m wet edge pool and a library. Wide variety of activities are available including trips on the Sampan River, animal viewing, crocodile cruises, airboat trips and four wheel drive safaris. Helicopter flights are available at an additional cost.

phone: +61 8 8985 6322

address: 164 Dick Ward Dr, Coconut Grove

Modern self-contained apartment is ideal for families, groups or individuals. The house is serviced weekly and is perfect for families attending weddings and family gatherings. The indicative rate shown is a weekly basis, however longer stay rates are available. Public buses passing by location on a regular basis

phone: +61 8 8943 8888

address: Gilruth Ave, The Gardens

Set amongst tropical beachside gardens, this is a 5 star boutique hotel located moments from the CBD.
Stay safe
In an
Emergency
dial
000
for ambulance, fire or police.
#Dial 000 and request the service that you need
#Remember to remain as calm as you can and give a clear description of your location
#Speak clearly and give the details as requested
Take care at night. While the tourist areas around the waterfront are pretty friendly, there are some rough areas in the city proper.
Royal Darwin Hospital is one of five public hospitals located within the Northern Territory. The hospital is on Rocklands Drive, Tiwi, on the northern side of Darwin. As you approach Casuarina, blue signs give directions to the hospital, but it is better to familiarise yourself with the Hospital's location before you may need to find it. Darwin Private hospital is situated across the road. Extensive delays may occur for treatment of anything other than very serious illness or trauma injuries at the Accident and emergency section of Royal Darwin Hospital. Be prepared for a long wait, especially on weekends.
Drink plenty of water; at least 1 litre of water for every hour of walking in very warm weather. Ensure you have an adequate fitness level for the bushwalk you plan to undertake.
Avoid walking in the hottest part of the day or walking alone, register with the overnight bushwalking register if you plan an extended walk. Carry a map of the area you're walking/camping in and know how to read it, tell someone your plan and when you expect to return. Carry a mobile telephone if in a potential coverage area but do not expect coverage anywhere other than very built up areas with good line of sight to a transponder tower. Under no circumstances should you rely on mobile telephony for essential communications unless within the city area. Ensure you are using a mobile telephone service that provides usable coverage in the Northern Territory. Not all of the service providers give even faintly adequate coverage throughout the Darwin area and much less so outside the immediate city and suburban area. Please
see
the
Driving in Australia
article for some useful tips that apply to travelling by road in the Northern Territory. Even locations very nearby to the city can present serious challenges and concerns unless properly skilled and prepared for the conditions. The effects of hot weather and exhaustion can set in quickly if you encounter difficulties. Even if you are successful in raising an alarm for assistance it may still be a long wait before it can arrive.
Malaria
does not exist in or around Darwin and during the peak of the dry season (the preferred travelling season) Mosquitoes are still present though in areas where there is water. Bring a DEET based repellent, as this will also work on sandflys. Risks arising from
Dengue fever
should be considered.
The dreaded Box Jellyfish is a potentially deadly beach hazard between the months of October and May, but less so during the peak travel season. When swimming at local beaches, even in the 'safe' season of June to September, bring vinegar and pour it over the wound if stung. Transport to hospital is a must as the venom of the Box Jellyfish can be deadly - remember CPR.
Crocodiles are very common in waterways, but are only occasionally found on public beaches. The local newspaper loves a good crocodile story. If a crocodile is nearby to a public place it will often feature in the local media.
Never camp near the water's edge.
There are safe swimming areas in and around Darwin, but caution should always be practiced- if you are even the slightest bit unsure about an area
do not swim
. A 6 m crocodile can lie completely invisible for more than 2h in less than 1 m (3 ft) of water, so unless an area has been deemed safe by the local wildlife management, you'd be best to leave it alone. A check with the NT Parks and Wildlife Service will reveal which parks are open, and which are open with swimming prohibited.
Snakes inhabit most areas of the Territory, so be cautious when walking through long grass
Connect
Internet
Many hotels, motels and backpacker lodges have Internet access with special deals for guests. Some accommodation providers have free internet for guests.
Local roadhouses increasingly offer internet kiosks. Darwin libraries offer Internet access terminals for $3 per half hour for visitors, and there are variety of Internet cafes around the city.
Free Wi-Fi is available at Darwin Airport, Smith Street Mall, CBD library, Casuarina Shopping Centre as well as McDonalds restaurants (in the CBD, Stuart Park, and Bagot Road near the Airport).

Go next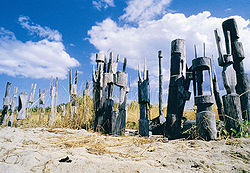 Darwin is the gateway to the rest of the
Northern Territory
. It provides a base for day trips to explore the 'Top End' of
Australia
.