Davanagere (district)
Davanagere
is a district in
Karnataka State
.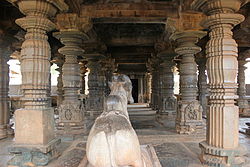 Understand
Geographically, it's a big place with hot climate during summer, medium rain in rainy season followed by very less winter more hot in winter season.
The Bhadra river is a main source of water for people of this region.
Davanagere is a city known for its business. Crop business is a most common source of income here.

Get in
Davangere is at the heart of Karnataka. It is connected to Bangalore and Poona via NH-4.
Davanagere is situated at a distance of 260 km from
Bangalore
by road. There are many buses both KSRTC (government-owned) and private buses which fly regular services to Davangere from many cities. Go to either of
these
sites
to book bus tickets on-line. By rail, it is situated at a distance of 327 km. Most of the major trains stop here.
See
Harihar is located very near to Davangere - 14 km. Famous Harihareshwar Temple is in Harihar on the banks of Tungabhadra river. This is an old temple worth the visit.
Another Eshwara temple at the village - Bagali - 6 km from Harapanahalli - A town in the Davangere district.
Buy
Blues... the shades of fashion

phone: +91 90198 06440

(Blues.). Men's Apparels and Accessories. Address: Below Savidine, Near Anjaneya Temple, Anjaneya Extension, Davanagere. Hours: 1000 Hrs. to 2200 Hrs. Price: Moderate
Eat
Davanagere is known for benne dosa, kara mandakki and mirchi, the special local dish famous all over the state. The kara-mandakki-mirchi shops are all around the town. ¤famous benne dosa hotel is kotraiah B.m's kottureshwara benne dosa hotel opposite dental college.
Manjanna's shop at Jayadeva Circle.
Shetty's shop near clock tower and one in Ram&Co cricle.
Sleep
The name of the hotel is kottureshwara benne dosa hotel in front me dental college. The owner of this was kotraiah b m. There are many hotels specially dedicated to benne dosa only.

Go next