Davao
Davao
is the largest city on the
Philippines
' second-largest island,
Mindanao
. It has a huge land area, and the inhabitants like to think of it as one of the most crime-free large cities in the Philippines.
Understand
As in most of
Mindanao
,
Cebuano
(known locally as Davao Bisaya) is the main local language. English and
Tagalog
are also widely used and understood.
The elected officials have been accused of encouraging vigilantism and death squads. Whatever the truth of these accusations, it's certainly true that, as a visitor, you're certainly less likely to be the victim of robbery or petty larceny than most similar size cities in the Americas with the exception of Canada.
Department of Tourism

address: 5F, Landco Corporate Center, JP Laurel Ave

tourist info for all of southern Mindanao.

Davao City Tourist Officeit has a list of places to stay and info for places to see in and around Davao city.

Davao City Library and Information center

phone: +63 82 225-3137

address: 3rd floor new city hall, San Pedro St
Get in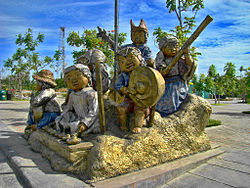 By plane
Davao is the third most important Philippines city after Manila and Cebu. Three domestic airlines fly several times a day between Davao and
Manila
:
Air Asia
,
Cebu Pacific
,
Philippines Airlines
. There are also direct flights from other Philippine cities:
Cebu City
,
Cagayan de Oro
,
Iloilo
,
Zamboanga
,
Bacolod
,
Angeles
,
Puerto Princesa
,
Boracay
,
Dumaguete
,
Tacloban
,
Tagbilaran
.
Cebu Pacific
has two non-stop return flights per week from Davao to
Singapore
. They depart Davao on Thursdays, and Sundays at 17:25 and your get to Singapore at 21:10. They depart Singapore also on Thursdays and Sundays at 21:55 and you get to Davao at 01:40 the next day. Their fares are as a rule a lot better than Silk Air.
Getting there:
A taxi from the Davao Airport to down town Davao costs about , as of 2018. It's also possible to catch a
jeepney
to town center by walking to the highway (5-10 min walk).
By ferry
There are passenger ferries coming to/from
Samal Island
and
Talikud Island
. Another good way to get from Davao city to Samal Island is by the
Island City Express
buses that use the 24/7 car ferry from Sasa over to Babak on Samal island. The ticket price for the bus and ferry combined is . If you just use the Car Ferry the ticket costs per person. Island city Express buses go all the way to Kaputian on Samal island. From (Santa Ana wharf) near Magsaysay park boats also leave for Samal island for .
The nearest port with long distance passenger ferries to Manila, Cebu, Iloilo, Bacolod and Bohol Island are now at
Cagayan de Oro
port or Nasipit port 27 km from
Butuan
city.
By bus
Most buses depart and arrival at the
Davao City Overland Transport Terminal
(DCOTT) located at Maya, Ecoland.
Getting there
: It costs by taxi or by jeepney to go the 2 km from the bus terminal to downtown Davao.
Get around
By taxi
The simplest way to get around is by hopping into a taxi. A typical trip can cost about or approximately US$2. Drivers in Davao do not normally bargain if they notice that you are a tourist, hence the cost of the trip is the same in price as a regular. Davao taxi drivers are regarded as the most honest taxi drivers in the Philippines. Taxi drivers in Davao City do not charge tourists extra fare unlike their counterparts in Cebu and Manila. You can also call or send an SMS to the cab company directly to have a cab driver pick you up.
Taxis start their fare at and will add per few hundred meters. Please do say "thank you" or "
salamat
" once you have arrived at your destination. Davao Taxis issue fare receipts that list the name of the taxi company, the plate number, and the taxi number which could come in handy if one leaves valuable items or documents inside a cab. Just tell your taxi driver if you want to get a receipt.
By jeepney
If you are up for more adventure, then do as the locals and catch a colorful
jeepney
. Ask around for which route to take to avoid getting lost. They are usually available 24 hours and cover most of the nooks and crannies of the city. This is the cheapest option for getting around. The usual cost for a jeepney ride is for every 4 km ride, and about a increase per km when going beyond the 4 km (for regular passengers).
A jeepney from downtown Davao to the Davao airport cost and takes 45 min.
To pay, pass your fare to the person next to you, all the way to the driver or the conductor, by saying "
bayad po
". Paying the exact amount is highly recommended. To stop at a certain destination, say "
lugar lang
", "
para
", or knock your coins hard on the steel handle.
By car
Another alternative is to rent a car. There are many cars for rent. If you don't know the routes you can hire drivers by asking the attendant of the rental company. Local companies tend to be cheaper than the national ones.
Avis Car Rental. Airport view hotel. J Camus street. Tel 63-82-2216430.
By bus
Buses are also available, but these tend to ply exclusively along the north-south route and going out and in the city area. Air conditioned buses to Calinan go from Bankeroham Public Market. Island City Buses go to Kaputian Samal Island via the car ferry at Sasa; these buses go past Magsaysay park .
By water taxi
Another mode of transportation around Davao Gulf is through a water taxi. Water taxis serve the daily commuters and visitors of Davao City, Samal Island, and neighbouring coastal municipalities around Davao Gulf. It will get you to the island, waterfront restaurant, or beach resort you wanted with comfort and ease. The pioneer water taxi service in the Philippines is found in Davao City and has the swift, safe and secure water transport, the best and most professional skippers and has a customer friendly and positive attitude, all incorporated to make your transfer easy and pleasurable.
See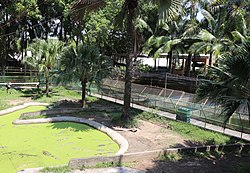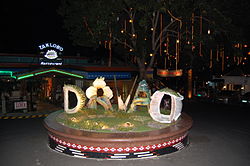 Mt. ApoThe highest mountain in the Philippines.

phone: +63 82 2868883

address: Riverfront Corporate City, Carlos P. Garcia Highway, Davao City

The park serves as a breeding center of crocodiles and houses also a small zoo, with daily animal shows on the central stage. Possibilities to feed crocodiles, tigers and some other animals for a fee. Ticket includes an entrance to Butterfly Park (8AM-5PM) and K'Mindanawan Village (not a real village, but one for tourists, fire show on F-Su 5:45PM-6:30PM).

Eden Nature ParkAbout 50 km from Davao, Eden Nature Park is close to the town of Toril. It's in the mountains so it's cooler than Davao City. It has nice walks, restaurants, horse riding and a Sky-Rider thing and lots more. It's a pretty good day out and well worth the trip from Davao.

phone: +63 82 2978830

address: Shrine Hills Road, Matina

This was a hangout for Japanese Forces during World War II. It is now a tourist spot in Davao City, where you can have a scenic view of Davao City (especially during the night). There is a restaurant, a pool, bars, cottages, and a trail up and down the ridge, where you can enjoy your stay.

Philippine Eagle CenterSee the Philippine eagle, one of the largest eagles in the world, and one of the most endangered. The center is home to about 30 Philippine eagles. Aside from eagles, it is also home to other birds and animals as well as raptors in a simulated forest environment.

People's Park

address: Legazpi Street, Davao City

A public park located along Legazpi Street. A park where people people gather around, enjoy the stroll crossing bridges,exercising around the walkway which circles the park, seeing man-made waterfalls, beautiful plants, etc. It is more enjoyable as the sun goes down and at the night.

San Pedro Cathedral

phone: +63 82 2210191

address: San Pedro Street, Davao City

This cathedral, built in the 19th century, is the city's main cathedral. It is across from City Hall.

Shrine of the Holy Infant of Jesus

phone: +63 82 2972911

address: Shrine Hills Road, Matina

A shrine that is up a hill with views across Davao in which you can unwind, relax, and reflect. There are mass celebrations once in a while per day. A lot of people visit this place during Sundays.

Lonwa Buddhist temple

address: University Avenue (temporary address)

No photos except on few recent paintings and a separated room.

Forest Hill Resort

address: Talomo District

One of the most visited inland resorts in Davao city. Has a very nice big swimming pool and is very clean.

Camp Holiday Resort and Recreatiom Area

phone: +63 82 3033294

address: beside Samal Ferry Wharf Samal Island

For the day fee you get the use of swimming pools, nipa huts, open cottages and a seaside veranda. Very clean.

Davao Museum

address: 113 Agusan Circle, within Insular Village

Local history and culture of indigenous peoples.

Wake Board Park

address: near Tacunan

One of Asia's largest wakeboard parks. Great place for day trips, or rent locally to extend your stay
Buy
Davao City has many malls where almost all of them have cinemas.
Banks & ATMs
Most ATMs in Davao city have a fee for overseas bank cards and a limit of per withdrawal.
an exception is the ATM at
HSBC Bank (UK). Ground floor Luisa Avenue Square Jacinto extension.
The two ATMs at HSBC charge no fee for overseas bank cards and allows up to per withdrawal.
Aldevinco center. has many money exchanges. C M Recto street (over the street from the Marco Polo hotel). The exchange rates for cash is extremely good.
Nellie Stephanie Money changer. Aldevinco shopping center. +63 82 224-1448.
X Changer money changer. 2nd floor Abreeza mall.
Book store & shoe shop
address: Nccc mall and both SM malls in Davao.

Second-hand books from the USA and UK.

Shoe Walker Enterpries

phone: +63 82-2271216

address: 254 San Pedro Street

Low cost shoe shop.
Shopping
Gaisano Mall of Davao

phone: +63 82 221-6168

address: J.P. Laurel Ave

This is the largest Gaisano mall in the Philippines. Cinema tickets from per person.

phone: +63 82 224-0811

address: Illustre St

Has a Gaisano department store & large supermarket.

SM City & SM Lanang & Savemore Supermarkets & Watsons

phone: +63 82 297-6403

address: Quimpo Blvd, Ecoland & J P Laurel Ave

Victoria Plaza

phone: +63 82 221-4990

address: J.P. Laurel Ave

Has a large supermarket and department store.

phone: +63 82 321-9332

address: J.P. Laurel Ave

Generika Duugstore is part of the Ayala Group.

Felcris Centrale Mall & Felcris Supermarkets

phone: +63 82 225-0207

address: San Pedro Street
Eat
Davao is renowned for its
durian
and
pomelo
. Durian is definitely an acquired taste, but those who do end up liking it will swear that the bad smell is worth it. Pomelo is a citrus fruit that most closely resembles a grapefruit and s quite common in South East Asia. Beware of bringing durian inside airplanes, hotels and other establishments. They may have strict regulations on allowing durian inside and some do not allow durian to be brought in at all.
Mid-range & splurge
Na Trang (Jekoy's Grill), Jacinto Extension, beside Central Bank. Authentic Vietnamese cuisine. Try their tofu and mushrooms, Vietnamese pancake, wet lumpia and fried spring rolls. Coffee is great here also.
Jack's Ridge, Just across the Santo Nino Shrine. Delicious Filipino cuisine, a variety of burgers and American food,with a breathtaking view of the city. Arrive half an hour before sunset, the viewing telescope gives great views,and after sunset, the lights show the extent of the city. Great place to watch a thunder storm from.
Dencia's, Ilustre Street. Classic Davao-Chinese cuisine. Best orders are tokwa't baboy, congee, and pancit canton.
De Bonte Koe, Rizal Street. Dutch Cuisine. Try their herring with onions. Never miss the apple pie.
Tadakuma

phone: +63 82 2348813

address: Damosa Business Center, Mamay Road

Serves delicious Japanese dishes at reasonable prices.

De Boerderij

phone: +63 82 303-1255

address: #6 DBC Bldg-H, McArthur Hway, Matina

Cozy international bar with Dutch roots. Burger, steak, pizza & pasta, kroket, bread.
Budget
Davao Green Buffet Haus

phone: +63 82 2251860

address: Corner Legaspi and Gen Luna streets

All you can eat buffet.

Taco Boy

phone: +63 9212029499

address: JS Gaisano,Gaisano mall of Davao, SM city. Abreeza Mall

Mexican food. There are also Taco Boys in Gaisano Mall in Tagum, Matina Centerpoint, Ateneo de Davao University and Nccc Mall.

phone: +63 82 321-5065

address: Bolton Street

Garden express pizza. Also does breakfasts. Free delivery with no minimum order required.

Jenny Fried Chicken JFC

phone: +63 9228882283

address: San Pedro street

You find Jenny fried Chicken fast foods all over Davao city. They also sell grilled chicken for , pork chop , cassava cake .

Barbecue Boss

phone: +63 9223796748

address: E Quirino Aneune.

Five pork barbecue with all the rice you can eat. Cold beers from . Has a garden where you can drink beer at night.

Bankerohan Public Market

address: Magallanes Street

Low cost fruits and vegetables.

Kuya Ed Buffet

phone: +63 82-2242162

address: Magallanes Street

An all you can eat buffet. Sells drinks.

Tita Dz Kainan

phone: +63 82 222-2647

address: F. Inigo street

All you can eat buffet with ice tea.

Twins Restaurant

phone: +63 82 227-6686

address: F.Inigo street

All you can eat buffet with ice tea.

Grub Resto cafe

phone: +63 82 301-8069

address: Duterte street

All you can eat pasta.

Fortune Bread Bakeshoppe

address: R Magsaysay avenue.

There are 3 Fortune Bread bake shops in downtown Davao.

City Triangle Food Court

address: Claveria Street

Carlos Food House

phone: +63 9177056898

address: F Inigo Street

City foods

phone: +63 82 221-7777

address: Ramon Magsaysay Avenue

B Delight Bakeshoppe

address: San Pedro street.

There are B Delight bake shops all over Davao
Drink
There is the local Tanduay Rum, billed around town as "the Number One Rhum".
Mindanao has a large Seventh Day Adventist population. Adventists do not drink and any stores they own will typically not sell alcohol.
Kangaroo Coffee Co

phone: +63 82 222-2766, +63 932-724-2309

address: Tionko cor. V. Mapa St.

Kangaroo is a place dedicated to fresh Mindanao coffee, home-style food, and inspirational literature, in a classical-modern atmosphere. Specialties include Kangabrew (brewed coffee),Durian Mocha Heaven Ice-blended, Mangosteen-Passion Ice-blended,Tsokolatte (native hot chocolate with espresso, KangaYo (fruit & yogurt drinks), Smoked Fish Pasta, Chicken Curry Rice Meal, Creme Brulee, New York Cheesecake, Kanga Nuggets, Kanga Mint Cookies.

phone: +63 82 2286304

address: Rizal Street

A great place to hang out. Ask for their Shisha Fries.

phone: +63 82 234-3408

address: Guadalupe Village, Lanang, Davao

Knights Cafe offers a choice of local and Western dishes at its pool side bar and restaurant. WiFi and swimming is free if you buy food/drinks. Feast of Fish&Chips to Kinilaw and from traditional English breakfast to pizza. Good place to meet and get lots of local knowledge.

Ellen's Tuna Queen

phone: +63 9228147063, +63 9102261849

address: South Street Dbp Village, Matina, Davao City

Serves the original pritong paksiw buntot ng tuna formerly at Petron Bajada, sinigang silik ng malasugui, beef calderetta, laing, kinilaw (tuna), lechon kawali and tuna sisig. Grilled steaks (lamb chops, beef prime ribs, burger steak) are also served. Try the latest Tuna Sisig na Pizza and the creamy halo-halo at its best.

Basti's Coffee

address: Victoria Plaza

Basti's is a cafe in Victoria Plaza, with an entrance outside as well as through the food court. They brew great coffee, and they ask you to pick between 'mild' and 'strong'. They also have pastries including an interesting durian cheesecake. Davao is a no-smoking-in-public-places city so smokers might find it useful to know that there is an enclosed and air-conditioned smoking section in Basti's.

British Bar & Deli

phone: +63 82-3056471

address: 39 Pili Street Nova Tierra Village Lanang

The only British pub in Davao.
Sleep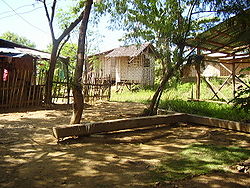 There is no shortage of accommodations in Davao, ranging from the four-star accommodations of the Marco Polo Davao on Claveria, the Royal Mandaya Hotel and the Apo View Hotel, where Casino Filipino 2 is located, to lodges and inns, pension houses, backpacker hostels all around the city. You can find townhouses or apartments for rent, all for negotiable rates.
There are many places to stay in Davao for under a night.
Budget
Sampaguita Tourist Inn (the old one)

phone: +63-823004110

address: Mt Mayon Street.

Single with fan private bathroom and cable TV . Single with A/C private bathroom and cable TV . Add for hot water. Add for a double. Free wifi only on ground floor.

phone: +63 82 300 4040, +63 82 222 2021

address: San Pedro St

It offers free Wi-Fi access in every room, free Sun-to-Sun cell phone call, free calls to the US and Canada, hot and cold shower, Air-conditioned rooms with cable TV, telephone are . The My Hotel has security cameras. There are also Single fan rooms with outside bathrooms. Free breakfast.

Sampaguita Tourist Inn (the new one)

phone: +63 82-305-8680

address: Quirino Avenue

Very basic single for , double , triple , family . Add about for A/C. Add another to 200 for hot water. Add another to 300 for coffee table and sofa. Other phone +63 82 302-7645. Free wifi only at ground floor.

phone: +63 82 3019997, +63 9179049032,+63 917 8230514

address: 3rd Floor, SPMC Cooperative Building, Southern Philippines Medical Center (aka Davao Medical Center) Compound, Bajada

Airconditioned rooms, quiet location, short walk to all modes of public transport, owners and staff are helpful and very friendly. The dormitel occupies the whole third flood of the building (you can ask permission to go up the rooftop for a breath of fresh air). Each no-frills room have four double-decker beds, with common tables and a (very) small cabinet for your more important stuff. Toilets/shower-stalls are clean and well lighted. Separate facilities for men and women. The ground floor of the building is occupied by various establishments: laundry shop (/kg), food center, vendors and a popular Chinese fast food chain. The second floor is occupied by an internet cafe and spa/parlor. Tip: call for reservations well ahead of time as they opten fill-up pretty quickly with various traveller groups.

phone: +63 912 806-6372

address: Barangay Katagman, Purok 5, Peñaplata District, Island Garden City of Samal

If you want real peace and quiet, go here. No videokes, guaranteed. You could set up a tent, if you like or get a room in a Bahay Kubo (hut). The owner's wife is a mean cook, specializing in Thai and Indian dishes. There is no in-suite toilet, but the "outhouse" is very clean and has running water. The site is several minutes away on foot from two tourist spots: Moncado's Camp 23 and Balay ni Moncado (Moncado's Whitehouse). You can arrange for a pickup at the Peñaplata Warehouse Club bus stop then take City Island Express Bus from Davao City to Samal Island. Or, you can arrange a pickup from Davao City.

Green Windows Dormital Backpackers hostel

phone: +63 82-3003893

address: 5th floor fct Tower 1034 mt Apo Street

A/C dorm beds.

phone: +63 82-2821111

address: Cm Retro Street

Fan single/double rooms with outside bathrooms. A/C rooms own bathroom and cable TV. New and clean hotel. Has elevator and restaurant.

D Morvie Suites

phone: +63 82 221-0075

address: CM Recto Street and San Pedro Street

Two new D Morvie Suites in Davao city to add to the three in Cagayan de Oro and one in Iligan city. A/C rooms with own bathrooms and cable TV 12/24 hours. New and clean, but small rooms. Free Wi-Fi.

Day Light Inn

phone: +63 9433807611

address: San Pedro Street

Clean A/C and fan rooms with outside bathroom.

Evergreen hotel

phone: +63 82-2213860

address: R Magsaysay Aveune

Clean fan rooms with own bathrooms. Free Wi-Fi.

phone: +63 82-3210628

address: Magallanes Street, corner of Legaspi Street.

7 a/c single rooms with own bathrooms and cable TV. 17 a/c twin rooms with own bathroom and cable TV. 6 a/c Matrimonial rooms with own bathroom and cable TV. The GV Hotel Davao has 95 rooms.

El gusto family lodge.

phone: +63 82 2273662

address: Magallanes street

Fan rooms with own bathroom.

Residencia vhila Dormitel

phone: +63 82 295-3033

address: 83 cm recto street.

A/C dorm.

Ayrelios Pensione

phone: +63 82 227-8146

address: Bolton street.

Fan single/double, a/c single/double.

Megiko Dormitel.

phone: +63 9328697988

address: J Rizal street.

A/C double rooms with own bathrooms, cable TV, and free Wi-Fi. 12/24 hours.

Alta Pension House

phone: +63 82 221-1843

address: J P Lurel avenue.

Single fan with common bathroom, twin fan with common bathroom, a/c twin with common bathroom.

Larous Pension House

phone: +63 82 305-7438

address: V liustre street

Fan double, a/c double.

House or Tubo Travellers Inn

phone: +63 9214673312

address: 100 Fatima street Kawayan drive

A/C double rooms with own hot water bathroom and cable TV. Free Wi-Fi in rooms. Can use the Kitchen to cook.

Littie Pink House Bed and Breakfast

address: 17 Jacinto Extension

A/C single/double rooms with own bathroom and cable TV, free breakfast. Also has 12-hour rate.

Homitori Dormitory Backpackers Hostel

phone: +63 29552969

address: Sta Ana Avenue.

Over 100 four-bed A/C dorms with common bathrooms. Has lockers. Has free Wi-Fi.

VBH Inn

phone: +63 822277369

address: W Aquino street Agdao

Single/double rooms with own bathroom and cable tv. phone in room.

RGH Tourist Inn Hotel

phone: +63 84-3710561

address: Magsaysay Street Kapalong

Economy single/double, deluxe single/double.

Berlay Backpackers and Tourist Inn

phone: +63 9278656970

address: Awhag Village Bacaca Road Poblacion district.

Six-bed dorms, and small a.c. rooms with cable TV. Free breakfast. Locker .

phone: +63 82-2858274

address: Pisces Street Dona Luisa Village Ecoland

A/C room with own bathroom and cable TV.
Mid-range
Splurge
Stay safe
Visiting Mindanao has its risks. Foreigners have been kidnapped, murdered and held for ransom. For this reason, many governments advise against all but necessary travel to Mindanao, Davao included. Terrorists have attacked the city many times in the past few years, including the September 2013 bombings in malls. In most cases this means your travel insurance will not pay out if you make a claim. Contact your embassy and insurer before travelling to Davao.
Because of the work of the local government on strengthening security during the past decade Davao is generally a safe city even for travellers and violent crime is rare except few parts of downtown Davao are unsafe at night. Armed guards and security forces can be seen everywhere, guarding malls, hotels and public events. Your biggest concern should be
pickpockets
, who are active in downtown Davao and on jeepneys. If you leave Davao proper, please ensure you do your research as to the safety of the area, as the chances of something happening to you, e.g. being kidnapped, rapidly increases if you are a foreigner.
Cope
Consulates
Indonesia Consulate General. Melati Street Ecoland. phone 2992931.
Malaysia Consulate General. Bonifacio Street. Phone 2214050.
Japan Consular office. R Magsaysay avenue. phone 2213100.
Immigration
Bureau of Immigration Davao office. JP Laurel Avenue Bajada, over the street from the Victoria Plaza Mall.
Visa extensions done in one hour or less.
Laundry
Laundry shop

address: General Luna Street

Wash-dry-fold done within 24 hours.
Internet cafe
Netxpress Duterte Street open 24 hours a day per hour.
Stay healthy
Southern Philippines Medical Center. JP Laurel Avenue. phone 82-2272731. This is a DOH hospital. For you can see a doctor or a dentist.
Davao Social Hygiene Clinic. RHWC. Emilio Jacinto Street. (Jacinto Health Center) Phone +63 82 222-4187. Free STD and HIV testing and treatment. M-F 8AM-5PM.
Amesco Drug is a low-cost pharmacy store. There is one on San Pedro Street and one on Quirino Avenue.
Zenit Dental Centre, 4th floor Gaisano Mall Jp Laurel Avenue, is a clean and has good prices for dental work.
Respect
Negative criticism of Rodrigo Duterte's policies as mayor of the city or the city itself is not tolerated by many locals. Tread carefully when bringing anything about Rodrigo Duterte, especially if negative, such as his involvement in the Davao Death Squad. Davaoeños generally take pride of their former mayor and his family, and will take offense on any undue remarks. There are chances some famous people being declared persona non grata by the city for criticizing Duterte and his local policies.

Go next