David Gareja Monastery Complex
David Gareja
(Georgian: დავითგარეჯის სამონასტრო კომპლექსი,
Davit'garejis samonastro komplek'si
, sometimes spelled
Davit Gareja
) is a rock-hewn Georgian Orthodox monastery complex in the
Kakheti
region of
Georgia
.
Understand
The monastery lies on the half-desert slopes of Mount Gareja, 60–70 km southeast of Georgia's capital
Tbilisi
, and is even partially in
Azerbaijan
.
Although most of the complex is in Georgia, part of the site is in Azerbaijan, and the exact border is still the subject of a dispute between these countries.
Get in
By bus
The itinerary of the shuttle bus as of Sep 2018:
11:00 Departure from Pushkin Square (better be there 10:45)
Stop in the way at a little shop with a bakery
14:00 Arrival at David Gareja
16:30 Departure from David Gareja
17:00 Dinner break at the Black Horse Restaurant in Udabno
18:00 Departure from Udabno
19:30 - 20:00 Arrival in Tbilisi
If you want to continue to
Sighnaghi
after visiting David Gareja, ask the driver to drop you in Sagarejo. You'll probably be dropped at the intersection of Highway 5 and Street 172 (the one coming south from Udabno). There you could ask around for a taxi. The owner of the little bar next to the "restaurant in a bus" drove us to
Sighnaghi
for 70 lari (70 km, 50 min).
Gareji Tour busShuttle bus going daily forth and back with stop in Udabno for lunch. Start at 11:00 from Avlabari square in Tbilisi.
By car
There are two options to get there: either via Sagarejo (with a road in an acceptable state), or via
Rustavi
, which offers an amazing view on the industrial desert of this former factory city, but at the price of a road in a very bad state (4-wheel drive only). In both cases, make sure you have a good GPS software, as the road signs are almost non-existent (slightly better via Sagarejo).
By taxi
Three options:
Chartering a taxi from Tbilisi; this may cost at least 100 lari, including the 2 or 3-hour waiting time in the monastery.
Going by marshrutka (e.g., the one heading to Sighnaghi) until the crossroad of Sagarejo; from there, charter a taxi, which may cost 50-60 lari. This option will for sure work during the high season, but can be more challenging in winter time.
Also, many travel agencies (in Tbilisi) can organize one-day or half-day tours to the monastery. But it may be much more expensive than chartering a taxi yourself.
Fees and permits
No entrance fees.

Get around
Walking is the only option on the site of the monastery.

See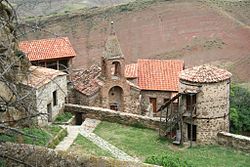 The main monastery is right behind the small parking lot. You can visit most of it; the rooms not allowed to tourists are clearly marked with "no entrance" signs, in both English and Georgian.
See the tomb of the first monk to have lived there (St. David Garejeli).
Then, you can follow the path starting right behind the church shop, that goes on the top of the small mountain. There, you have a wonderful view towards both Georgia and Azerbaijan. And you will see many troglodyte churches, some of them with paintings from the 11th and 12th centuries. Total time: about 1hr 30min, using a sometimes steep path.
Do
Wandering around is the activity of choice.

Buy
The church shop at the entrance of the site sells some religious objects.

Eat and drink
There are numerous places to eat and drink in Udabno, the town just before the monastery. Or you can just bring your own food.
phone: +995 551979694

address: Udabno

Traditional Georgian cuisine based mostly on fresh local products and a wide selection of drinks in the bar. Comfortable place to relax with great views.
Sleep
phone: +995 574805563

address: Udabno village

This places offers a hostel, food and drinks in the middle of a Georgian desert. Polish owners, traditional Georgian food. Check out the website for more details.
Stay safe
The monastery is partly inside of
Azerbaijan
. Generally, the entry is possible without any problems, but sometimes Azeri soldiers might block the way due to current or recent differences between the two countries. This might be troublesome, but it does not pose any danger to tourists.
Travelling further is not possible. Travel into Azerbaijan requires a visa and a proper border control.
Cope
It's often windy; so during winter be sure to wear warm clothes.
Toilets are available in the building next to the parking lot for 0.50 lari.

Connect
Probably the Oasis Club also has WiFi. Out of all mobile carriers Magti has the best reception and 4G internet is available along most of the way and at David Gareja. You can buy a simcard package in Sagarejo or Rustavi.

Go next
Also, see
Kakheti
region for more details.