Davos
Davos
is a winter and summer resort village located in the heart of the Graubünden in the east of
Switzerland
. In the early 1990s, Davos became famous for hosting the World Economic Forum, an annual winter gathering of international politicians and financiers who represented a transnational elite. Together with the nearby town of
Klosters
, Davos offers a wide variety of winter sports activities, and summer hiking trails, set amid stunning Alpine scenery.
Understand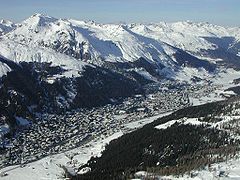 Get in
Davos is accessible by train, bus or car.
By plane
The nearest commercial airport with scheduled airline service is
Zürich
.
By train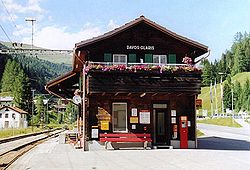 It takes nearly 3 hours to reach Davos by train from Zürich. There are train connections
from Zürich's Hauptbahnhof (main station) to Davos every hour between 06:00 and 23:00. You can check
timetables and other information on the official Swiss Federal Railways website .
Fares to Klosters (one stop nearer to Zürich) are cheaper at Fr. 96 return in second class. The train journey between Klosters Dorf and Davos Platz, stopping at Klosters Platz and Davos Dorf on the way, takes just under half an hour. It is free for tourists with the inclusive Davos/Klosters visitor card (Gästekarte).
Air travellers may also take advantage of the Fly & Rail baggage service where baggage may be deposited, after clearing customs in Zürich, at the railway counter in the station for direct transfer to Klosters and Davos. Using this service saves the passenger the trouble of carrying luggage when changing trains at Zürich's Main Station and Landquart. The Fly & Rail rate for luggage is Fr. 20 (US$15) per item.
By bus
Buses from Chur to Davos run daily. Travel time is approximately 2 hours.
During the ski season, buses travel from Zürich airport to Davos Dorf or Davos Platz every Saturday and return from Davos Dorf or Platz to the airport every Saturday in December through April. The trip takes approximately 2 hours, with a pickup at the train stations three times daily.
By car
It will take about 2 hours (160 kilometres/103 miles) to get to Davos by car from Zürich.
From Zürich-Kloten Airport: take A51 to Zürich and look for the road signs to Chur
(Expressway A), take Exit "Landquart-Davos" and follow road signs to Davos.
Get around

The municipal bus system is very convenient, traversing from one end of the Promenade to the other. Davos is only around 3 or 4 km long and about 1 km wide, so it is easy to get anywhere by bus or a short walk. Cabs are also available, but run about Fr. 12-15 during the day and double that at night. You should ask Gästekarte from your hotel or from the tourist office. With the Gästekarte almost all local buses, local trains and lifts are free!

See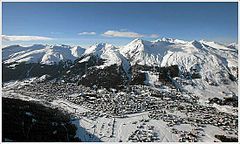 phone: +41 81 410 63 00

address: Ernst Ludwig Kirchner Platz

Established in honour of Ernst Ludwig Kirchner, the German Expressionist painter. Opened in 1992, it is home to the world's largest collection of the artist's work. The museum building was designed by the Zürich architects Annette Gigon and Mike Guyer. It attracts great attention in architectural circles.

phone: +41 81 413 24 84

address: Promenade 43

While in the winter wonderland of Davos, visit the Winter Sport Museum. This museum holds a large collection of winter sport equipment and documents donated by the Jürg Kaufmann family. The well-preserved exhibits (sleds, bobsleds, skis, skates, curling material, etc.) document the history of winter sports.

ZügenschluchtGaze upon a romantic gorge that has a spectacular railway line and a mining museum at the Schmelzboden at 1340 m. While you're there, explore the Geology Trail between Davos-Monstein and Wiesen.

Lose yourself in the Schatzalp (1861m), an alpine botanical garden that has such stunning scenery, it inspired German author Thomas Mann to write his novel "The Magic Mountain", published in 1924. It contains around 800 different species of plants from all over the world and is truly impressive in June and July, when flowers are in bloom.

SertigtalIts unique natural beauty and mountain scenery make for an unforgettable alpine experience. Unleash your romantic side and go for a ride by horse-drawn carriage or sledge.
Do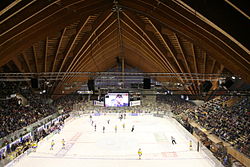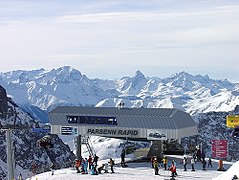 phone: +41 81 420 3060

Have a drink atop the highest brewery in Europe. Take a class and learn about the finer points of beer making. Guided tours are available and tastings are worthwhile. Every Friday from 16:00–19:00, you can purchase beer directly from the brewery.
Vaillant Arena in Davos is one of the most beautiful hockey arenas in the world. It can hold up to 7,700 people. Every year a number of exciting events take place there. Some of the most important ones are the Spengler Cup and the Ice Gala. It is also a good idea to visit the Vaillant Arena, enjoy a dinner there and watch the famous Hockey Club HCD play.
O'Neill SB-JAM Davos— This freestyle snowboarding event takes place every year in Davos, with the qualifying rounds open to everyone (December/January).
Young Artists in Concert— Occurring in July and August, this concert is where young musicians from all over the world perform as soloists or in chamber groups at the Davos Conference Centre, in the Kirchner Museum and in various churches.
International Hiking Rally— Occurring annually in September, this hiking rally covers four routes in the mountains around Davos, with stamps for the number of kilometres walked and coveted medals.

Playgrounds and adventure parksFor families with small children, there are several fun playgrounds in and around Davos. For youth, adults, and families with older children, there are a number of different climbing adventure parks.
Davos is internationally recognised as the largest resort in the Alps for mountain holidays and a top travel destination. Ski and snow activities are a must do in the winter, and at altitudes between 1124 and 2844 m, guests will find 54 ski lifts, 320 km of slopes, 75 km of cross-country ski tracks, two artificial ice-skating rinks and Europe's largest natural ice rink for people to skate or to curl. And no fewer than five sledging runs to have fun on! For skiing fanatics, the mecca is the Parsenn and Weissfluhjoch area which connects up with the neighbouring resort of Klosters. The Jakobshorn, on the other hand, is the in place for snowboarders, with its half-pipe and monster pipe. For a quieter time, take a ride by horse-drawn sledge into the snowy side valleys, or experience the Davos mountains from 84 km of beautifully prepared winter footpaths and snow-shoe trails.
In the summer, the cable-cars on the Jakobshorn (2590 m), Parsenn including the Weissfluhjoch und -gipfel (2844 m), Pischa (2483 m), Rinerhorn (2490 m) and Schatzalp/Strela provide access to four hiking areas with a total of 450 km of marked footpaths. Anyone seeking rest and relaxation amid unspoilt nature should head off on foot, by bike or by horse-drawn carriage up the romantic side valleys of Sertig, Dischma or Flüela. For a change of scene, visit the Davos Lake with its swimming area and a sailing and surfing centre. In addition, there are opportunities for hang-gliding and paragliding and mountain bike and inline skating routes. Davos is also the starting point for excursions on the famous Glacier Express, and the Heidi and Bernina Express trains.
Nearby Klosters offers access to the Madrisa and Gotschna peaks in summer and winter, and a similar variety of walking trails and pistes, depending on the season.
Buy
You will be surprised by the huge variety of shops located along the main thoroughfare. There you will find trendy sports shops, fashion boutiques, antique and book shops, gift and souvenir shops, gourmet shops with Graubünden specialities.
A big department store (Migros) is located at each end of Davos (Davos Platz and Davos Dorf). There is a Denner near the station.
Trauffer Souvenirs

phone: +41 81 413 5578

address: 7270 Davos Platz

If you are determined not to leave Davos with out a souvenir or a gift for the folks at home, Traufer's a must. It is one of the few, if not the only, place to find souvenirs in Davos.
Eat
Arabella Sheraton Hotel Waldhuus

phone: +41 81 417 93 33

address: Dagmar Weber, Dir, Mattastr. 58, 7270 Davos Platz

Indulge in some high-class Swiss cuisine made with fresh local products. The Matta-Bar inside the restaurant is a bar with a fireplace where you can relax to the sounds of piano music.

ArtHausRestaurant

phone: +41 81 410 05 10

address: Diegodo Clavadetscher, Platzstrsse 5, 7220 Davos Platz

French meets Asian cuisine in a delightful pairing. Choose from a creative menu and dine in a cosy and charming ambiance.

Bauernstube Sunstar Parkhotel

phone: +41 81 413 1414

address: Parkstrasse 1, 7270, Davos

Famed for their fondues, they serve meat and cheese fondues and a selection of local specialities à la carte for dinner every day.

Bruhin's Weissfluhgipfel

phone: +41 81 417 66 44

address: Matthias Bruhin, Parsenn, 7260 Davos Dorf

Chef Sebastian Schallen treats his guests to simple, market fresh food, served 2864 m above sea level. Special attention has been made to the wine list, featuring a variety of good choices. Dine to views of Graubunden's mountain world.

Buffalo-Grill-Restaurant

phone: +41 81 420 09 09

address: Uschi Biäsch und Heinz Hübscher, Berglistutz 2, 7270 Davos Platz

Meat lovers can get their fix here, with this being Davos's favourite steakhouse. Rustic wooden setting.

Coop-Restaurant Grischuna

phone: +41 81 410 01 82

address: Bahnhofstrasse 1, CH-7270 Davos Platz

Great food, though limited in variety. Staff all speak English and food is served in a convivial atmosphere.

phone: +41 81 416 42 44

address: Bahnhofstrasse 6, Davos Dorf

Understated and good value pizzeria and pasta restaurant sited next to the end of the platform at Davos Dorf station. "Der Pate" means "the Godfather", so don't be surprised by the Marlon Brando film posters.

Fluela-Stubli, Hotel Fluela

phone: +41 81 410 17 17

address: Bahnhofstrasse 5, 7260 Davos Dorf

Enjoy the haute cuisine of the Flüela Stübli, known for its excellent meat dishes and worthy meat and cheese fondues. Children are welcomed at this fine dining restaurant.

Restaurant/Bistro Gentiana

phone: +41 81 413-5649

address: Promenade 53

Small restaurant on the main thoroughfare of Davos. Short walk from many of the hotels. Specializes in local cuisine (fondues and regional dishes). Food is interesting and well presented. The ambience is that of a small cafe with attentive staff. Thoroughly enjoyable and moderately priced (approximately Fr. 160 for dinner for two with wine).

phone: +41 81 414 97 97

address: Hotel Grischa Talstrasse 3 7270 Davos Platz

Chinese dishes are freshly prepared for you as and when they are ordered.

Kairali

phone: +41 81 416 57 10

address: Scalettastrasse 21, 7270 Davos Platz

Only Indian restaurant in Davos. It offers freshly-prepared Indian specialities and delightful décors. Enjoy the cosy atmosphere at 1560 m above sea level.
Mann & Co, Waldhotel Davos, Buolstrasse 3. It's a culinary experience dining at Mann & Co, already been recognized by the "Gault-Millau" guide and serves exquisite 5 course meals every day. The 5 course meals includes Graubünden classics and more exotic dishes served in a fresh, modern way. The cuisine is accompanied by a sensational wine menu with a selection of 350 wines.

Meierhof Restaurant

phone: +41 81 416 82 85

address: Gastgeber: K. und R. Frey, Promenade 135, 7260 Davos

First class Grison cuisine that is accompanied by a wine list of over 200 wines. The Davos mountain lamb is exquisite.

Restaurant Mühle Sertig

phone: +41 81 413 25 85

address: Sertigerstrasse, 7272 Davos Clavadel

Grison specialities are highly recommended here and are well accompanied by wines from Graubünden and Veltelin. Waiters serve fondue from carriage arrangements and do table service.
Restaurant Ochsen, Hotel Ochsen, Talstrasse 10 7270 Davos Platz Tel. +41 81 415 44 44. Attentive staff abound at this atmospheric restaurant, tempting diners with an impressive wine selection and a large fine cheese fondue menu.

Restaurant Panorama

phone: +41 81 423 34 35

address: Silvretta Parkhotel, Landstrasse 190, 7250 Klosters

Restaurant Panorama lives up to its name with stunning views from its terrace. Portions are sizeable and seafood is favoured.

Restaurant Pöstli

phone: +41 81 413-74-74

address: In the Morosani Posthotel, at Postplatz, Davos-Platz

Serving tasty platters of fresh seafood and well prepared meat, or choose from a fine selection of menu choices such as venison, beef or lamb. In winter, they usually offers live music from 17:00 to 17:30 and from 20:30 until closing time. In summer, live music begins at 18:00 and lasts until closing.

Restaurant 'La Terrasse' Turmhotel Victoria

phone: +41 81 417 5300

address: Alte Fluelastrasse 2, Graubunden, Davos Dorf

Dine in a winter garden delight with fantastic views of the Davos scenery. The food is enjoyable, with a fine selection of meats and fondues and the atmosphere is amiable.

Restaurant Walserhuus Sertig

phone: +41 81 410 6030

address: 7272 Davos Sertig

Reservations are needed at this popular restaurant in the heart of Sertig Valley, reachable by a 15-minute scenic bus ride. Hearty and comforting food such as venison and pasta dishes.
Wintergartenrestaurant Larix, Hotel Larix, Obere Albertistrasse 9, 7270 Davos Platz. Enjoy classic French cuisine in a stunning outside but covered restaurant. Careful attention to detail is observed here, with fine dining china, linen napkins and warm muted tones decorating the restaurant.
Drink
The après-ski scene is relatively good- there are lots of bars, discos and nightclubs, and a large casino at the Hotel Europe. However, the nature of the clientele at Davos itself means that the guests are often quieter, the drinks more sophisticated, expensive and sometimes less exciting.
Piano Bar

phone: +41 81 413 59 21

address: Promenade 63 7270 Davos Platz

The party moves away from the slopes and on to the Piano Bar at the Hotel Europe, for fine cigars, an expansive array of whiskeys and sing along piano music. The default after party spot during the World Economic Forum, where traditional raucous boozing gives way to midnight singing sessions alongside the pianist.

Cabanna Club

phone: +41 81 4154141

address: Promenade 63, Davos-Platz, Davos

Great place to have a drink and dance to the beat of thumping techno music. The crowd is mainly scenesters and those who like to people watch.

phone: +41 81 4154141

address: Promenade 63, Davos-Platz

Crowded with those wanting a vibey place to listen to live music. The decor is eclectic and kitsch, with a chandelier on the ceiling and a huge stuffed toy reindeer hanging over the door. It frequently stays open later than the official closing time.

Postli Club

phone: +41 81 4154500

address: Promenade 42, Davos-Dorf, Davos

The Pöstli Club is the place to be and to be seen. Ski bunnies and their admirers head to the high energy dance floor to warm up after hitting the slopes.

Chami Bar

address: Promenande 83

One of the liveliest bars and popular with locals, you won't be able to miss it with a white bicycle hanging incongruously from the ceiling.

Carigiet Bar

address: Steigenberger Hotel Belvedere Davos, Promenade 89 Davos Platz CH-7270

The fun continues off the snow at the Carigiet Bar, in the Steigenberger Hotel Belvedere. Replenish your energy from the slopes with delicious cocktails and listen to the musical entertainment that plays each evening.

Fluela

address: Fluela Swiss Quality Hotel Davos, Bahnhofstrasse 5 Davos-Dorf CH-7260

The bar, complete with live piano music in the evenings, is the perfect place for a cocktail or after dinner drinks.
Klosters
Ski up to
Serneuser Schwendi Hütte
on the end of red piste 21 and enjoy a lively après-ski scene, no visit to Klosters is complete without at least one drink here. It's easy to spot among the piles of falling snow by its aeronautical theme and the little Pilatus plane (Swiss designed and built for flying in the mountains) on its terrace.
Gotschnabar

phone: +41 81 410 23 35

address: Gotschnastrasse 21, 7250 Klosters

Renovated, this inviting bar by the base of the gondola station offers a vibey party scene at the downstairs bar, and a cosy lounge feel on the top floor. The lounge has a large plate-glass chimney-surround through which you can see the downstairs bar.
As the movement on the slopes slows down, the action moves to the hotel bars.
Chesa Grischuna, Bahnhofstrasse 12, 7250 Klosters. Renowned as the most charming and authentic bar in all of Klosters, the Chesa impresses with its rich, cosy chalet interior and drinks accompanied by the twinkling ivories of the piano. Located a few minutes walk from the Gotschabahn cable car and railway station in the centre of Klosters.
Cresta Bar, Hotel Cresta, Landstrasse 170, 7250 Klosters. Made entirely out of wood, the Cresta Bar keeps the party going in the winter until dawn, serving hot drinks and tasty cocktails.
Casa Antica, Landstrasse 176, tel +41 81 422 1621. The place to be when the disco kicks in, the Casa Antica has a fun, relaxed atmosphere and is a stylish multi storey converted barn housing a nightclub, a classy piano bar and cocktail bar/restaurant.
Sleep
In Davos there are more than 40 different hotels and other sleeping possibilities. You can find anything from the two five star hotels (the Flüela and the Steigenberger Belvedere) over several holiday homes to a camping place. The prices range from Fr. 26 for the camping up to well over Fr. 500 per night and per person in one of the five star hotels.
The camping place is about half a kilometre away from the train station Davos Frauenkirch.
Budget
Camping & Caravan Davos Dorf

address: Flüelastrasse, 7260 Davos Dorf

phone: +41 81 410 19 20

address: Horlaubenstrasse 27

A high standard for a youth hostel, Youthpalace Davos is located only a few minutes on foot from the Parsennbahn funicular (accessing vast skiing and hiking areas), and also directly in front of the ski runs and high-altitude hiking trail. All the rooms are equipped with a shower and most of them have a large balcony.

Hotel Edelweiss

address: Rossweidstrasse 9 7270 Davos Platz

Spacious family-hotel in a peaceful and sunny location. The better rooms in this one-time sanatorium have generous, south-facing balconies.
Mid-range
Club Hotel

phone: +41 81 414-9100

address: Promenade 23, 7270 Davos Platz

This comfortable three star hotel is situated at the calm and sunny end of Davos-Platz, close to centre of the city of Davos and also to the well-known mountain railway Jakobshorn. There is a bus stop directly in front of the hotel. The hotel amenities include an indoor swimming pool, sauna, massage, squash courts, table tennis and an internet corner (free of charge) as well as WLAN in the reception area.

Hotel Bahnhof Terminus

phone: +41 81 414 97 97

address: Talstrasse 3, Davos Platz, CH-7270

Close to the Congree Center, the Best Western Hotel Bahnhof Terminus is a family orientated hotel that provides guests with stunning alpine views and a close proximity to a variety of outdoor activities including skiing, ice hockey, hiking and golfing. Each room offers cable satellite TV, an iron/ironing board, coffee/tea maker and hairdryer. The hotel has a sauna and steam room and three on-site restaurants.

Hotel Casanna

phone: +41 81 417 0404

address: Alteinstrasse 6, Davos Platz, Davos 7270

With the owner Mr Phillippe Rusche involved in every aspect from the front desk to the kitchen, there is attention to every detail in this hotel. The breakfast buffet is convenient and provides plenty of options, while the rooms are small, but comfortable, with fresh, clean linens.
Hotel Cresta, Talstrasse 57, Davos 7270, tel +41 81 41 1616. 12-minute walk to the railway station, and within a few minutes to the Congress Center and the "Promenade", Davos' popular street for shopping and entertainment. All double standard rooms have mountain views and are equipped with cable TV, radios, wifi access, a mini bar and a safe. Staff are multilingual in this family run hotel.

Hotel Ochsen

phone: +41 81 417 67 77

address: Talstrasse 10, 7270 Davos Platz

This three star hotel offers a total of 98 rooms, each containing between one and four beds. All rooms come with shower/WC, TV, telephone and minibar and the hotel is in the centre of Davos-Platz.

Hotel Sonnenberg

phone: +41 81 417 5900

address: Horlaubenstrasse 13, 7260 Davos

Great place for some quiet and relaxation, the Hotel Sonnenberg has family sized apartments and a lounging lawn. All rooms come with radios, telephones, TV, mini bar and separate bathrooms.

Hotel Schatzalp

phone: +41 81 415-5151

address: Schatzalp, 7270 Davos Platz

Was named the Historic Hotel of the Year for 2008 by Icomos (the International Council on Monuments and Sites). The Schatzalp is built in an Art Nouveau style and the novelist Thomas Mann describes it in The Magic Mountain. While the "superior" rooms have a newer décor, many rooms have fittings more than 50 years old; some have original bathrooms, with plumbing from 1900. No rooms have television. Prices for double rooms half-board, with large south-facing balcony, from £146.

Kongress Hotel

phone: +41 81 417-1122

address: Promenade 94, CH 7270 Davos Platz

Moderately priced hotel 3 minutes to the Congress Center. Wireless internet available for approx Fr. 50 per week. There is a bar and restaurant with breakfast included in the price, and the restaurant has a small but outstanding vegetarian selection. Hotel staff will pick you up at train station without charge.
Sunstar Hotel, Parkstrasse 1,ch-platz, 7270, Davos. Ideally located only a few minutes' walk away from the well-known Davos Promenade, which is a renowned picnic spot, the Davos Platz station and the Jakobshorn railway. The rooms are clean and comfortable, and feature private bathrooms which are fitted with showers and a balcony that offers an excellent view of the outside landscape.

Hotel Esplanade

phone: +41 81 415 50 50

address: Strelastrasse 2, 7270 Davos Platz

Enjoy a quiet and relaxed setting among lush, Alpine meadows at the Hotel Esplanade. Built in an Art Nouveau style, the hotel combines modern amenities with a classical decor. The wellness centre onsite includes a sauna, jacuzzi, steam bath, adventure shower and relaxation room and the hotel offers free car parking or shuttle service from the train station.

Central Sporthotel

address: Tobelmühlestrasse 1

Four-star sportshotel with great fitness and wellness area. 500m from the railway station away.
Splurge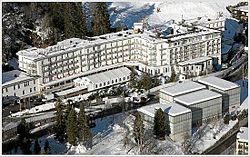 Flüela

phone: +41 81 410-1717

address: Bahnhofstrasse 5, 7260 Davos Dorf

This superior 5-star hotel is set in a convenient location and enhanced with service oriented amenities and first class features. It has an intimacy and personal touch that sets it apart from other outstanding hotels, with never more than 130 guests and never less than 90 employees to look after guests. Enjoy a 5-course dinner in the main restaurant; the hotel also has two à la carte restaurants - the rustical "Fluela Stuebli" and the "Zur Fluela Post" - and a bar. The bar, complete with live piano music in the evenings, is the perfect place for a cocktail or after dinner drinks.

Steigenberger Belevedere

phone: +41 81 415-6000

address: Promenade 89, 7270 Davos Dorf

The old seamlessly blends in with the new in this hotel which dates back from 1875 and showcases a Belle Epoque style. The service by attentive staff is to be commended, with reports of the manager personally greeting each guest. The hotel excels with unobtrusive elegance, attentive service and perfect hospitality.

phone: +41 81 415-1515

address: Buolstrasse 3, 7270 Davos Platz

Luxury renovated 4-star superior hotel with 50 rooms located at a unique and sunny viewpoint overlooking Davos and its mountains and valleys. Quality, a personal and peaceful atmosphere, the story of 'The Magic Mountain' and excellent cuisine all serve to recommend the hotel. SPA area with Davos' only saltwater pool, a steam grotto, sauna, Turkish steam bath and massage.
Go next
If you need a break for perfect skiing locations, or want a change of scenery, hop aboard the
Glacier Express
"The Slowest Fast Train in the World" and take a ride through Swiss mountains. See the real Matterhorn and enjoy amazing views of the Alps. Tickets start at Fr. 73. Alternatively you can take the
Bernina Express
to
Tirano
in
Italy
. This train route have been declared as UNESCO World Heritage site and shows you beautiful landscapes, visits the highest point of Swiss railways and drives trough spiral viaducts. The Davos to Stelios pass (as featured on the
Top Gear UK
TV show) is a stunning way to exit Davos too.