DeLeon Springs
DeLeon Springs
is an unincorporated, census-designated place (CDP) in
Volusia County
,
Florida
.
The population was 2,358 at the 2000 census. One of Florida's state parks, DeLeon Springs State Park, is located in DeLeon Springs, as is the Strawn Historic Citrus Packing House District.
Understand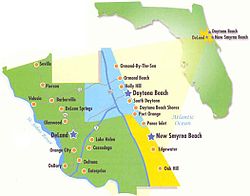 This idyllic spot, 603 acres in all, has been occupied periodically since 8,000 B.C.
John J. Audubon visited Colonel Orlando Rees here at Spring Garden Plantation in 1832. Audubon wrote that the sight of the spring afforded him pleasure sufficient to counterbalance the tediousness of his daylong journey in a carriage drawn by Indian horses from the Bulow plantation.
History
DeLeon Springs was first settled as early as 8000 BCE by local Native American tribes. In the 1500s, Spanish forces passed through. Land was granted near the springs to settlers to establish a plantation called "Spring Garden" where corn, cotton, and sugar cane were grown. Around this time, the Seminole Indians began to settle in the area.
The area came under American ownership after Florida became a territory in 1821; Colonel Orlando Rees built a mill to grind the corn and sugar. Many facilities were destroyed by Union troops during the American Civil War; however, the waterwheel and building remain on the site to this day, now housing a pancake restaurant called "The Old Spanish Sugar Mill", owned and operated by local residents.
The Seminole tribe regained the land during the Second Seminole War and sacked the plantation; General Zachary Taylor led the U.S. Army forces to gain control of it in 1838.
The area drew tourists in the 1880s, when it was touted as a fountain of youth and winter resort for the springs' alleged rejuvenating powers.
In 1982 the State of Florida acquired the land for use as a recreational area.
Flora and fauna
Ancient cypress and oak trees dominate the landscape in this part of Florida. Smaller plants in the area include the leatherleaf fern.
Park wildlife you might see includes alligators, white-tailed deer, turtles and otters. Among the birds that can be seen are anhingas, egrets, hawks, limpkins, ospreys, vultures, American Bald Eagles, American White Ibis, Belted Kingfishers and Great Blue Herons.
Seasonal sightings may include Florida black bears en route from the
Ocala National Forest
to the Tiger Bay Wildlife Management Area, manatee seeking relief from the cold during winter and migratory birds such as the swallow-tailed kite, the sandhill crane and teal.
Get in
By car
The best way to get into DeLeon Springs is by car. Take Route US-17 north from DeLand for about 6 miles and you will be in the general area of DeLeon Springs. Turn left onto Ponce DeLeon Blvd. and you will travel approximately one mile to the entrance to DeLeon Springs State Park.
By bus
VOTRAN
bus Route 24 passes by the DeLeon Springs area about every two hours. The bus only travels along Route US-17, connecting with
DeLand
to the south and Pierson to the north. However, you will be short of DeLeon Springs State Park by about 1 mile. You can bring a bicycle along on the VOTRAN bus to complete the journey if you wish to reach the Park.
See
DeLeon Springs State Park
DeLeon Springs State Park
is the main attraction in DeLeon Springs. DeLeon Springs State Park is comprised of 603 acres, and swimming is popular here as the water remains at 72°F year-round. The Park is built around a natural sulphur spring, flowing at a rate of about 20 million gallons a day, that remains 72 degrees Fahrenheit year-round and reaches a depth of 30 feet at the spring boil.
Admission is $6 per car of eight passengers.
Pedestrians, Bicyclists, Extra Passengers, Passengers In Vehicles With Holder of Annual Individual Entrance Permit - Admission Fee $2
Pavilion fees are $45.00, plus tax, for a small pavilion, and $75.00, plus tax, for a large pavilion.
There is a five-mile hiking trail popular for birdwatching (the park is part of the Great Florida Birding Trail). One dead end of the trail leads to Monkey Island, named after monkeys who had escaped from the circus and settled there.
The
visitor center
provides historical, cultural and natural history information is operated by the Friends of DeLeon Springs State Park.
Do
Canoeing, kayaking, and fishing are permitted in the spring run; swimming is permitted only in designated areas.
Anglers will find bass and bream in abundance in the Spring Run. A Florida freshwater fishing license is required for persons 16 years of age or older.
At the park boat launch you can rent a boat or launch your own.
Picnic pavilions may be reserved October through March. Pavilions are on a first come first served basis April through September.
Scuba diving is limited to open-water instructors and six students. A certification check and Instructor Permit are required.
Volleyball, horseshoes and a playground area are also available.
Eat
The Old Spanish Sugar Mill

phone: +1 386 985-5644

address: 601 Ponce DeLeon Blvd

Restaurant features griddle cakes and sandwiches. Open 9am to 5pm daily.
Sleep
Spring Waters Inn

phone: +1 386 985-5455

address: 4851 N. Hwy. 17

Located just a few miles from DeLeon Springs State Park and Lake Woodruff National Wildlife Refuge, this family run Inn has 5 distinctively decorated rooms. Rates slightly higher during area special events.

Victorian Lace Bed & Breakfast

phone: +1 386 985-5223

address: 5444 U.S. Hwy. 17 N
Connect
DeLeon Springs State Park Ranger Station, 601 Ponce DeLeon Blvd. +1 386 985-4212.
Seven digit dialing is in effect for local calls within DeLeon Springs and West Volusia County. "1" and the Area Code must be used when phoning into a different area. The local area code is (386).
Stay safe
Florida has a high occurrence of
hurricanes
. You might want to check the
Hurricane safety
page if you are visiting Florida. Beware of lightning in the central part of the state. Also, there is a high occurrence of tornadoes in Florida, so check the
Tornado safety
page.
Go next