Dead Horse Point State Park
Dead Horse Point State Park
is in
Utah
, near the city of
Moab
. It offers a panoramic view of the Colorado River far below as it makes its way toward the
Grand Canyon
.
Understand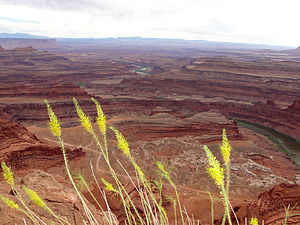 History
Dead Horse point is a narrow peninsula that stretches out a little while. The legend of Dead horse point is that cowboys used to drive wild horses to the edge of the peninsula and fence them off to keep them, and one time they forgot and the horses died of thirst in full sight of the Colorado River.
Landscape
You will see majestic views and cliffs and the Colorado river snaking around. You will see a couple of blue pools that are potash fields.
Flora and fauna
Typical for the desert.
Climate
Hot in summer. Come during Spring or fall to best enjoy it.
Get in
There is a ranch along the road. Another driving note- there are cows! They will cross the road and just stay right next to it. Beware! This place uses the same entrance to Bryce Canyon.
==Fees and permits==
It costs around $10 to get into the park. This is an inexpensive fee for what you get to experience; the views are beyond belief!

Get around
You must know that when you park there will be a little slope with a path at the end and a little barrier and a cliff on the edge. And if you can, rent an auto with Utah plates. Law enforcement loves to give tickets to out-of-state visitors.

See

There is a visitor center where the panoramic view is accessible to the casual visitor.

Do
There is a little place on the peninsula with a great view and fun play area.

Drink
Unlike Arches, Dead Horse has flushing toilets and water fountains in the visitor center.

Sleep
Lodging
Nearby
Moab
has a wide range of lodging options.
Camping
The park includes a campground with 21 sites.
Backcountry
Stay safe
The biggest danger in Dead Horse Point State Park, as well as in other parks in the area, is the weather. High temperatures can easily exceed before noon. Visitors should pack at least 1 gallon (3.5 L) of water for every person in their party because it is very easy to become dehydrated.
It is easy to get lost if trying to get into the canyons, so if you are hiking, pack more food and water than you think you will need. Tell someone where you are going and have a buddy.
Some of the cliffs in the state park exceed , so do not go near the edge if there is no barrier to keep you from falling off the top of the cliff, and if there is a barrier, you still need to use extreme caution while looking into the canyons.
Finally, if a thunderstorm is near or over you, try to get to a shelter; if none is around, get close to the ground, and if you are in a canyon, get to higher land immediately because flash floods start easily.
Go next