Dead Sea (Israel and the West Bank)

The
Dead Sea
(Hebrew: ים המלח, Hebrew transliteration:
Yam HaMelach
; Arabic: البحر الميت, Arabic transliteration:
al-Bahir al-Mayyit
) has its western coast in
Israel
and the
West Bank
. It is the
lowest point in the world
at 394.6 m (1269 ft) below sea level. 25 km of Dead Sea coastline lie within Palestinian Authority territory, including
Qumran
and
Ein Feshka
.
Cities and villages
Ein Bokek – a "city" of hotels located on the shores of the artificial, southern Dead Sea
– a Kibbutz and Nature Reserve, great for hiking and exploring the green oasis
Ein Tamar / Neot Hakikar – a village at the very south of the Dead Sea with camping options
Kalya – an Israeli settlement that manages the nearby beach at the Dead Sea
Mitzpe Shalem
Neve Zohar – a town next to Ein Bokek with some hotels
Ovnat
Understand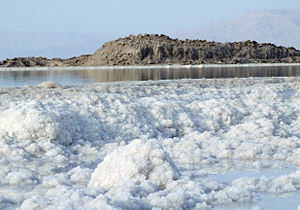 The water in the Dead Sea is extremely salty, and has been estimated to be the second saltiest major body of water in the world. Its name is derived from the fact that it is far too saline for marine life to exist in its waters.
The Dead Sea is naturally endorheic (no outlet streams) with the Jordan River being its only major source. The northern part of the Dead Sea receives scarcely 100 mm (4 inches) of rain a year; the southern section receives barely 50 mm (2 inches). Due to the man-made reduction of the Jordan River (the river waters are 70-90% used for human purposes) and the high evaporation rate of the Dead Sea, the sea is shrinking.
Although the Dead Sea will never entirely disappear (because evaporation slows down as surface area decreases and saltiness increases), measures are being proposed to siphon water from the Red Sea through a series of tunnels or canals in order to replenish the rapidly shrinking waters and provide water and electrical solutions to the surrounding countries.
North and South Sea
All the shallow waters of the southern end of the sea have been drained and are now salt flats. Which means that the southern part is actually just artificial and not the real Dead Sea. A couple of years ago there was a real lake here. Thus, Ein Bokek and Neve Zohar are not really places where you want to go for a swim in the real Dead Sea.
By the way, water from the northern part is drained through a channel south. This channel allows for a swim and the same experience, if you have waterproof sandals and water to wash the salt off. For example, from the highway right next to
Masada
it is just 100-200 m to this channel. The water in the channel is not moving, but it might if they decide to open the block at the south end.
Facts
Due to the hypersalination of the water, you can float with ease in the Dead Sea; in fact, it's nearly impossible to sink! It is popular for visitors to have their picture taken while reading a newspaper and floating on the surface of the water.
The mud along the shore of the Dead Sea contains many minerals and is believe to have medicinal and therapeutic benefits. It is not uncommon for visitors to cover their bodies with the dark mud.
There are many salt deposits and crystals scattered along the shoreline. Many visitors walk the beach in search of large pieces as souvenirs.
The water of the Dead Sea has a greasy feel to it.
Tip if in a resort: wash the salt off in the beach showers before you use your towel. Otherwise the towel will get salty and leave salt on your skin when you use it after your shower (the salt can cause an itch).
Climate
The
climate
at the Dead Sea varies depending on the season. Temperatures during the tourist season can become extremely warm, ranging from 30°C (86°F) in the spring to upwards of 40°C (104°F) in the summer. The area receives an average of 330 days of sunshine per year, with rainy days occurring only during winter (if at all).
Although the Dead Sea is very sunny the low altitude and extra atmosphere makes the sunlight weaker. It is therefore said that sunbathing here carries a lower risk of sunburn, but it is still advisable to take normal precautions using sunblock and adapt gradually. This quality of the Dead Sea sunlight is the real secret behind its mythological curing ability for several diseases, especially skin diseases. This is, in fact, natural photo therapy.
Talk
On the Israeli part of the sea, Hebrew and English are the most widely spoken languages. All resort and tourism staff will be able to speak both. In Ein Bokek, there are many Russian speakers in the plaza/mini mall by the sea. Arabic might also be spoken by some staff, whilst French will be spoken by a sizeable minority. In the West Bank, Arabic and Hebrew are widely spoken.
Get in
By car
The Israeli side of the Dead Sea is a possible day trip from
Jerusalem
(39 km from Northern Dead Sea via the West Bank),
Eilat
(220 km from Southern Dead Sea), or
Tel Aviv
(98km from Northern Dead Sea). There are four main road entry routes into the Dead Sea area. The first is via Highway 1 and Highway 90, through the West Bank, from the Jerusalem area. Or, you could access the area from Eilat via Highway 90 from the south, or from
Be'er Sheva
, either on route 31 via
Arad
to Zohar junction, or on route 25 via
Dimona
to the Arava junction.
By bus
By bus, the easiest way to get into the area is from Jerusalem, from where buses are the most frequent. However, even from Jerusalem there aren't plenty of buses, so always check
schedules
in advance.
All bus lines to the Dead Sea get to the Ein Bokek hotel complex, and most of them also have a stop at
Ein Gedi
. Below are all bus lines that get to the Dead Sea (all are from main cities in Israel):
Taxi services can also serve the Dead Sea.
By bicycle
The descent on Route 1 from Jerusalem (Hebrew University area) to the Dead Sea is almost all downhill, descending ~1,200 m over a distance of 25 km. Only a few km in two spots need pedaling, so the ride is almost like a motorcycle cruise, taking two to three hours. There are some scenic overlooks and monuments on the way. The highway is modern and has a good paved breakdown lane unless there is construction (mostly in summer). A turn south/right at the Dead Sea leads to most of the hotels and tourist areas. An inexpensive ride back up by bus no longer requires a second ticket for your bicycle, which must be placed in the under-bus baggage area. Bring several liters of water - if you can bring a few frozen bottles all the better, it can be a very hot ride in summer. Find refuge from the sun at gas stations or bus stops.
By plane
(Hebrew מנחת בר־יהודה, minḥat bar-yehuda; sometimes known as Masada Airfield) (
MTZ
)
There is a small airstrip called Bar Yehuda Airfield or Masada airport. If you are a foreign licensed pilot or student you can hire local aircraft with a certified instructor to ride along and count towards hours in your log book, though apparently you can fly in with your own airplane entering Israel and passing customs through Ben Gurion Airport. Airplanes can be chartered or an air-taxi can be hired at airports and heliports around Israel to fly passengers to the air strip. Taxi service can be called for ground transportation or many of the Dead Sea resorts are within a half hour bicycle ride. There is an airport manager operating out of a tent and shipping container FBO with radio communications, food, some services, and a VOR beacon but no fuel on site without special ordering a fuel truck. This is the lowest runway in the world and you will have the unique experience of seeing your altimeter read negative 1200 ft.

Get around
Mostly accessed by car, there are also many buses going south to
Eilat
, Neve Zohar and
Arad
or north to Jerusalem, at least hourly, all along the many roads besides the lake.
Also hitchhiking is possible, but not many other tourists will be willing to pick someone up, due to the fragile security situation.
See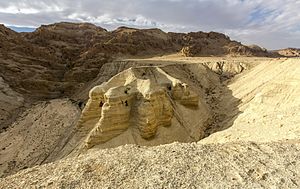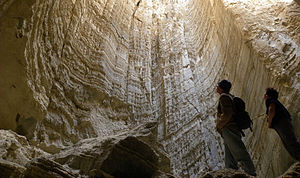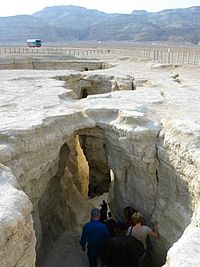 The hypersalinated water of the Dead Sea is its own attraction. Nevertheless, there are several nearby attractions that are worth the attention (north to south):
phone: +972-2-994-2235

Qumran was home to a monastic Jewish sect 2000 years ago. They stored many of their documents in nearby caves, which when found in the 20th century became known as the Dead Sea Scrolls. While the scrolls themselves are now displayed in Jerusalem's Israel Museum, the cave complex and ruins are open to visitors.

Einot TzukimThe world's lowest oasis, with pools, trees, wildlife, and archaeological remains just northwest of the Dead Sea. You can swim in the pools (season dependent).

Ein GediEin Gedi is a Kibbutz and nearby oasis (and official Nature Reserve) set in stunning desert canyons, which are great for hiking and experiencing nature. Also features the remains of a synagogue in the Old City Eye - Capricorn, from the Byzantine period, including a mosaic floor well preserved. The close-by public beach at the Dead Sea is closed now due to sink holes, but there is another one a few kilometres south.

phone: +972-8-658-4207

Masada is a mountaintop fortress which King Herod transformed in 35 BC into a 3-tiered winter home. Easily accessible via a quick cable car ride or by hiking up the serpentine path. Located only 18 km north of the Ein Bokek hotel area. The site is a UNESCO World Heritage Site. Also, a spectacular light show in the evening recounts the dramatic history of Masada with special pyrotechnic effects. Spectators sit in a natural amphitheater on the west side of the mountain, reachable only via Arad, 20 km away.

Nahal Zohar and Metsad Zohar (fortress)Behind Neve Zohar you can find interesting canyons and further up the archaeological site and fortress Metsad Zohar.

Mount SodomA low mountain next to the Dead Sea which is 80 % made of salt. It includes fascinating landscapes, the Flour cave where the eroded rock has a texture similar to flour, and an impressive 200 m salt cave. The Biblical towns of Sodom and Gomorrah may have been nearby (though other opinions place them elsewhere around the Dead Sea), and tour guides will point out to you a rock formation which they say is
(Eshet Lot), turned into a pillar of salt.
The is only accessible with ropes (for a 70-m climb/rappel down) from the top and a knowledgeable guide. Be careful when walking around the opening, so you don't slip into it. There is actually a at the bottom of the mount near the road. If you are keen and cave-experienced, you can enter crawling in here (without any bag). After 10 m you will be able to stand up and walk further another 100-200 m – inside never climb up, only ever down due to the potential unstable layers. Due to rock slides, it is unclear whether the salt cave still exists, but if, then it is this one.
The is far more easy accessible, but not just more than a cave that gets lower and lower at the end – bring a flashlight.
For the as part of Wadi Perazim with its impressive canyon, either walk or by 4WD in from route 90 along a into the . From the it takes 15 min to climb down the wadi into the cave. The drive from the north is only possible with a 4WD. Round-trip hike 3 hr; drive 1 hr.
Do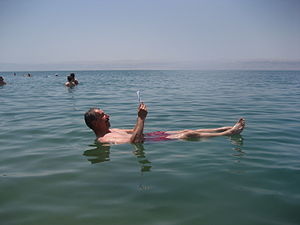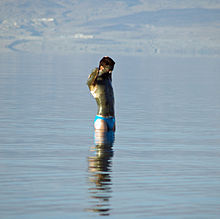 The following beaches are available:
Kalia beach and water park

phone: +972-2-9942391

address: near Kalia

Also has a water park with hot water pools and slides. There are three beaches near Kalia, all of which are closed off and charge a fee to get in.

Ein Gedi Spa Beach

phone: +972-8-6594413

The signature element of the Dead Sea - black mud - has both cosmetic and therapeutic benefits known to cleanse and stimulate the skin, relieve muscle and emotional tension, improve blood circulation and ease rheumatic pain.

Ein Bokek Public Beach

phone: +972-8-6594433

Hamei Zohar Public Beach

phone: +972-8-6594433

Alternative to Ein Bokek and Ein Gedi beaches with separate bathing for men and women.
Buy
Ahava visitors centerHome to the world-famous Ahava Dead Sea Products. There are windows into the factory area so you can see the products being produced, and a gift shop where you can purchase a wide variety of cosmetic products.
Eat & drink
The restaurant options near the Dead Sea are sparse.
The town of Ein Bokek has two small shopping malls with a McDonald's, falafal bars, a liquor store, and a few other stores selling everyday items and souvenirs. The shopping center has a large McDonald's sign on the roof. From the outside, it looks very out of place (and funny in a way) against the majestic background of desert mountains. Many people working there and in nearby hotels can speak Russian. There are also restaurants in each of the resort hotels on the Israeli side.

Sleep
Camping
Camping is allowed for free on the Ein Gedi coast (approx. 500 m south of the kibbutz), toilets and showers are on site for a small fee. The ground is a bit stony so any kind of mattress is useful.
phone: +972 52-8991147, +972 52-2456651

address: Neot Hakikar

They do not rent tents, but have three large "desert igloos" available, with mattresses if required. Otherwise you can just set up your private tent.

Metzoke DragotOpen camping area with parking and fireplaces among the desert hills. No facilities or shade, come prepared.
Budget
Also
Arad
, about 25 km to the west, has a few budget options worth the short trip there, e.g.
Arad Tandem
(₪95).
phone: +972 52-2317371

address: South of the Dead Sea in Neot Hakikar, Sodom area, 20 minutes from the Dead Sea shoreline

A beautiful hostel with uniquely built large bungalows and wooden cabins, all shaded by acacia trees, a bonfire inside a geodesic dome and a desert bar. Member of ILH.

The Ein Gedi Beit Sarah Guest House

phone: +972 8-6584165

address: Near the Dead Sea road (# 90) at the entrance to the Nahal David reservation

A guest house in the oasis of Ein Gedi with 51 rooms, some of which have balconies.

phone: +972 8-9953222

address: South of the Massada site

A guest house on the slopes of Massada with 88 rooms and a private swimming pool.
Splurge
Northern Dead Sea
Ein Gedi
phone: +972 8-6594222

Kibbutz hotel.
Ein Bokek
phone: +972 8-6591234

phone: +972 8-6688555

address: Ein Bokek-Dead Sea

At the lowest spot on earth on the shores of the Dead Sea located the Royal Hotel Dead Sea. The hotel offers 400 guest rooms and exclusive suites which all offer an enchanting view of the Dead Sea, the Judaean Desert and the Moab Mountains. Additional hotel facilities: a fenced beach for hotel's guests, Solarium, outdoor fresh water pool, children's pool and private parking.

phone: +972 8-6688666

address: Ein Bokek-Dead Sea

Our Oasis Dead Sea Resort – nestled between the Judaean hills and the shore of the Dead Sea – offers a new grand entrance pavilion and reception, contemporary accommodations and beautiful spacious grounds.

phone: +972 8-6689444

phone: +972 8-6591919

phone: +972 8-6684666

phone: +972 8-6689666

phone: +972-8-9553333

Sheraton Moriah Dead Sea

phone: +972 3-6213333

Hod Hamidbar Resort and Spa

phone: +972 8-6688222

phone: +972 8-6689090

phone: +972 8-6689200

address: Dead Sea Road #90, Ein Bokek

One of the oldest hotels in the area, with 199 rooms. Freshwater pool, heated Dead Sea pool (36°), 2 sulfur pools, Jacuzzi, sauna, large fitness room and treatment rooms.

phone: +972 8-6688111

3 stars

phone: +972 8-6688000

address: Ein Bokek-Dead sea

The Spa Club hotel is the first spa hotel of its kind in the entire Dead Sea region. On the shores of the Dead Sea, the hotel is the first choice for business guests wishing to relax and unwind in an unbelievably calm and soothing atmosphere

phone: +972 8-6689999

address: Ein Bokek, Dead Sea Mobile Post

The hotel has swimming pools, a conference center and a health club where a gym, sauna, whirlpool and steam room all await you. And all of this with a stunning desert view across the waters of the Dead Sea.
Stay safe
The Dead Sea area is unique and magnificent, but it can also be dangerous. Follow these rules when visiting:
In the Dead Sea
Wear waterproof sandals. The salt is very jagged and can easily cut your feet.
Beware, the salty water can be extremely painful in open wounds or scratches. Women using tampons should be careful as the water absorbed by them can cause irritation and severe discomfort.
Beware! Several people drown every year in the Dead Sea because they do not obey the rule: only float on your back. Accidents happen when someone tries to swim normally (stomach first) in the water - the legs will float better than usual and the head will be submerged. Note that this applies to weaker swimmers, and specifically to attempts to swim breaststroke. Breaststroke is also made difficult by the fact that the legs are raised too high in the water to provide normal forward motion when kicking. Moreover, the salt in the water stings cuts and causes great pain if it comes in contact with the eyes, adding to the panic if one's head is under water. A strong swimmer can easily swim freestyle; if you plan to try this, goggles are essential and should be tightly fitted. Although safe for a strong swimmer, and an unusual sensation because of the buoyancy of the water, it is not an undertaking most people are likely to sustain for long. Even with the eyes protected by goggles, water will get into the nose and sting, and onto the lips and inevitably into the mouth. It tastes disgusting.
Short of actual drowning, inhalation of the water can cause specific, sometimes life-threatening medical problems not seen with other bodies of water, because of the water's very high electrolyte content, so be sure of your swimming abilities and confidence in the water before deciding to swim on your front.
Heat
Due to the Dead Sea's desert location and sub-zero elevation, temperatures are high here. In summer it is
extremely
hot, and even in winter, you will be surprised how hot it can get in direct sun at midday. Always bring an appropriate amount of water when hiking (one liter per hour hiking is recommended), and on very hot days, avoid hiking altogether.
Flash floods
During winter and spring there is a danger of floods on rainy days. The Dead Sea basin receives rainwater from relatively far-off, wetter areas like the Jerusalem Mountains. This means that sometimes during a sunny day a flood will suddenly and unexpectedly occur. Therefore, be careful when hiking to distant narrow places during these seasons and stay tuned to the weather news. The weather forecast
always
gives warnings if there is a possibility of flooding.
Always
do as national reserves staff order - they know the terrain very well. In 2007, several Israelis who had been "snappling" (rappelling) were killed by a flood because they did not obey national reserve staff orders.
Terrain
The Dead Sea is bordered by a massive (400m-high) cliff, with the Judaean Desert atop the cliff. There are numerous hiking trails winding up the cliff or through the canyons that penetrate it. These trails provide magnificent views, but give the terrain the respect it deserves.
Never
hike off-trail if you are anywhere near cliffs. It is unfortunately common for people to fall to their deaths in this area, sometimes even if they were on a marked trail.
Go next
Jericho – Close to the northern edge of the Dead Sea and the oldest town in the middle east.
Jerusalem – Besides the Dead Sea, a central focus for most people coming to Israel.