Deadwood
Deadwood
is a town in the
Black Hills
of
South Dakota
. It is rivaled only by
Tombstone
,
Arizona
as America's most storied town from the wild frontier days.
Understand
Dead man's hand
In 1876 "Wild Bill" Hickok, a legendary gunfighter, was shot in the back of his head while he was playing poker. Legend has it that Hickok was unable to find a seat in the parlor where his back would be against a wall, thus preventing any sneak attacks from behind. As a result he sat with his back to the door and was later killed by Jack McCall. Legend has it that Wild Bill's hand when he was murdered was a pair of aces and eights, a hand that has become known as the
Dead man's hand
due to Hickok's unfortunate luck. The fifth card is a matter of debate, with some people claiming that it had not been dealt or that it was possibly a five or nine of diamonds.
In 1874, famed Army commander George Custer led an expedition into the area and announced that he and his men had discovered gold nearby, in what is today
Custer
,
South Dakota
. Two years later brothers Charlie and Steve Utter led a wagon train into Deadwood containing essential business supplies - prostitutes and cards - which led to a boost in industries such as booze, gambling parlors, and brothels. During this time notorious gunfighter "Wild Bill" Hickok helped the Utter brothers by scouting out any troubles the train might encounter. That same year "Wild Bill" was shot in the head while playing poker at the Saloon No. 10. His killer, "the coward Jack McCall", was captured, tried by a group of miners, freed, re-captured, re-tried by a court, and hanged. Legal proceedings have, thankfully, grown somewhat more standardized in the years since that famous crime.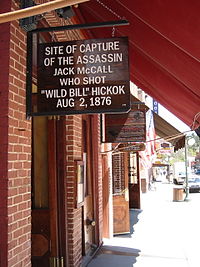 Another legendary event was the Horsemeat March of 1876, in which General Cook led an expedition pursuing a band of Sioux natives fleeing the site of Custer's last stand, the
Battle of Little Big Horn
. General Cook and his men set off in pursuit with reduced rations in order to give a quicker chase, but they did not predict that the Sioux would burn the grass behind them. As a result, both the horses and the men had no food and the men eventually were forced to shoot their own horses for food.
Two major fires struck the town in the late 19th century. In 1879, nearly the entire town burned to the ground, including the popular brothel known as the Gem Theater. The owner, Al Swearengen, rebuilt the Gem bigger and more extravagantly than its predecessor. The town lost many of its residents, itinerant miners whose only possessions were destroyed in the fire, but Deadwood eventually recovered. Swearengen's command of vice led him into conflict with Sheriff Seth Bullock, a stern Western lawman and another of the town's earliest residents. The town began to flourish again, but was devastated once more by fire in 1894. Sheriff Bullock and some of the other residents stayed and rebuilt even stronger than before, but this time, Swearengen left town. He was last seen as a penniless drunk, killed while trying to catch a train to Colorado.
The town's storied history was the inspiration for the HBO hit TV series
Deadwood
, which centered around Bullock, Swearengen, and the struggles of Deadwood to rise from a lawless miners' camp to a community and a civilization. The show incorporates many of the town's early residents and events including the depiction of a man who survived for half-an-hour after being shot in the head by a prostitute.
In 1989, Deadwood legalized gambling, making it the third place in the United States to legalize gambling after
Atlantic City
and the state of
Nevada
, albeit at more limited stakes than its predecessors.
Keep in mind that despite its high aspirations, Deadwood is still a very small town (fewer than 2,000 people) in a sparsely populated area.
Get in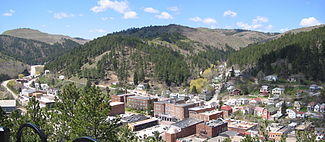 Deadwood lies 42 miles northwest of
Rapid City
on US Route 14A. If you're driving from Rapid City you'll need to follow I-90 to
Sturgis
and merge onto US Route 14A West and drive for 12 miles before arriving in Deadwood.
If you're coming from Wyoming on I-90, take exit 17 towards Deadwood and drive for 8 miles to get into town.
Deadwood and the Black Hills area are best traveled by car (or horse), but Airport Express (605-399-9999), Discovery Tours (1-888-524-5655) and Dakota Taxi (605-920-2020) can provide transportation from the Rapid City airport.
Prairie Hills TransitOffers 1 way and round trip transportation to and from Rapid City for $15 1 way and $22 R/T
Get around

Most of the restaurants, hotels, shops and sights are located on Main Street, within easy reach of each other on foot (save for snowstorms). Free parking is available in the lot on Sherman Street which is a few blocks from main street, but there is metered parking scattered throughout most of the town as well. There is also a parking garage near main street. A trolley service runs Sunday-Thursday 7AM to 1:30AM and Friday & Saturday 7AM to 3AM for most of the year, but Sunday-Thursday hours are reduced to 8AM to 12:00 midnight during the winter. The cost is very cheap at $1 per ride.
The Visitors Bureau (767 Main Street, +1-800-999-1876) has maps and the usual array of tour brochures. They're also available at the History and Information Center on Sherman Street.
Driving in Deadwood is fairly easy, as the streets are lightly trafficked and all of the sights are either on Main Street or clearly marked. Deadwood winters can be very severe, however, so if you want to rent a car in the winter months (Late September-Late April, with snow still being possible as late as May and even June) be sure it can get around.
Recently, a company called Rushmore Segway has been offering guided, 90-minute Segway tours of the town. The tour office is located at the Days of '76 Rodeo grounds.

See
phone: +1 605 584-5678

address: Highway 85

Tatanka explores the history of the North American buffalo, which at one time had a population in excess of 30 million, but by the close of the 19th century the bison population was estimated at only 1,000.

phone: +1-605-578-1657

address: 18 Seventy Six Drive

The museum honors Deadwood`s pioneers and the "Days of '76" rodeo and parade held in Deadwood since 1924.

phone: +1 605-578-1876

address: Upper Main Street
Do
Historic Ghost Tour

address: 633 Main St

Participate in this famous historic Ghost Tour hosted by costumed reenactors portraying Sheriff Seth Bullock or his wife, Martha.

Madam Henrico Fortune Telling

address: 649 Main St

Experience an historical reenactment of Madam Henrico Livingstone, Deadwood Gulch's first female clairvoyant, card reader and fortune teller.

Deadwood Recreation and Aquatic Center

phone: +1 605-578-3729

address: 105 Sherman St.
Gambling
Many of the hotels, bars and restaurants also offer gambling, although that may range from a row of slot machines to private poker and blackjack rooms, depending on the quality of the establishment. Most casinos also offer free food and drinks so long as you're gambling (Or at least looking like you are)
Buy
phone: +1 605 722-4975

address: 666 Main St

Sells clothing, jewelry, souveniors and other goods made in South Dakota.

Chubby Chipmunk Hand Dipped Chocolates

phone: +1 605 722-2447

address: 420 Cliff St

Handmade chocolates by Mary "Chip" Tautkus who has been inventing and making truffles for years.

phone: +1 605 722-1510

address: Basement of 828 Main

A good selection of high quality tobacco products and a well stocked bar. The cigar humidor is the largest in South Dakota, with many hard to find cigars. They have live music most weekends and are the only bar in town without any gambling.
Eat
Miners Den Steakhouse

phone: +1 605 578-3430

address: 681 Main St

The Miners Den Steakhouse offers great food, a relaxing atmosphere and a friendly and helpful staff. The menus items range from appetizers and salads to seafood and steak. There is a great childrens menu for kids,a 10% senior discount for people 55 and over, and cheap beer. The domestic bottles are 1.75, 12 oz drafts 1.50 and 22 oz drafts 2.50.

phone: +1 605 578-1611

address: 137 Charles St

The Hickhok house offers amazing food. They have breakfast, lunch and dinner. They do however specialize in breakfast. They have an awesome country fried steak that comes with hashbrowns, toast and eggs for only $8.99! The staff is friendly and the place seems very clean.

Chic-a-Doodles

phone: +1 605 722-4686

address: 68 Main St

Deadwood Gulch Gaming Resort - Creekside Restaurant

phone: +1 605 578-7740

address: Highway 85 South

Creek-side resort, restaurant, casinos, and convention center, with plenty of parking

phone: +1 605 578-1544

address: 657 Main St

Deadwood's finest Italian Steakhouse specializing in handcrafted Mediterranean cuisine.

Diamond Lil's

address: 677 Main St

phone: +1 605 578-3656

address: 677 Main St

Main Street Deli & Coffees

phone: +1 605-717-3354

address: 594 Main St

phone: +1 605 578-2828

address: 649 Main St

Mexican specialties and great American dishes, too! Call to carry out.

Consuelos

address: 649 Main St

Mustang Sally's

phone: +1 605 578-2025

address: 634 Main St

Open Late! Outdoor Main Street dining. Sports bar and grill. Best burgers in town.

Oyster Bay Restaurant

phone: +1 605 578-2205

address: 626 Main St

As seen on HBO, the History Channel Discovery Channel and Travel Channel- the world famous Oyster Bay Bar. Italian seafood restaurant and casino, not Featuring a Japanese Sushi Kiosk

phone: +1 605 578-3670

address: 709 Main St

Stay, play and dine at Deadwood's best! Live poker, blackjack and large variety of slot machines. Prime and Crab on Friday and Saturday nights.

Taco Johns

phone: +1 605 578-3975

address: 90 Charles St

Tin Lizzie Casino and Restaurant

address: 555 Main St

Enjoy the 1/2 pound Angus Lizzie Burger or any of the other menu items priced at $7.99 or below!

Oggies Sports Bar and Emporium

address: 100 Pine Crest Ln

Oggies was designed for service and fun. They offer competitve spirits with pool tables and darts. For the sports nuts they have 10 large high-definition flat screen televisions always tuned in for non stop sports.

address: 100 Pine Crest Ln

Contemporary casual with a chef-inspired Northern Black Hills cuisine, The Grille is open for breakfast and dinner, 7 days a week. More than just a restaurant, the Deadwood Grille is a celebration of intriguing food, thoughtful wine and cocktails, in inviting, yet elegant surroundings. Menu selections, daily features and private label wines available. Serving Breakfast and Dinner daily.

phone: +1 605 578-1186

address: 21559 US HWY 385

Vintage diner, automobiles, rides, costumed photos, Studebaker museum all circa 1950s! 9 miles south of Deadwood on highway 385

phone: +1 605-571-1263

address: 360 Main St

Many delectable menu items for breakfast, lunch and dinner. Try a flyt of small plate creations.

phone: +1 605 578-9993

address: 658 Main St

phone: +1 605 578-1745

address: 649 Main St

Intimate fireside dining with steak, seafood, and pasta specials. Breakfast, lunch, and dinner.

address: 1906 Deadwood Mountain Dr

Serving breakfast, lunch, and dinner with creek side dining available.

address: 601 Main St

Specializing in hand-cut Angus Steak. Full service lounge. Open daily fr breakfast, lunch and dinner.

address: 688 Historic Main St

Lunch and dinner buffet every day, homemade salads and desserts. "Prime and Crab" Friday and Saturday nights.

phone: +1 605 578-1952

address: 9 Lee St

The "best" breakfast and great lunches in Deadwood provided by Tami! Hamburgers, sandwiches, homemade soups and daily specials. Family and local favorite! Open daily from 7 to 2PM.

The Pub N Grub

phone: +1 605 578-1260

address: 21399 US HWY

Open breakfast, lunch and supper. Great food and great price.
Drink
address: 658 Main St

Bodega often features crowd drawing activities such as karaoke.
Every Casino in Deadwood serves alcohol, as well as many of the restaurants. The following are the places primarily frequented for their nightlife.
phone: +1 605 578-3346

address: 657 Main St

The Saloon number ten features a 40-foot long Brunswick bar. The walls are adorned with historical artifacts and oddities, and there is always fresh sawdust on the floor.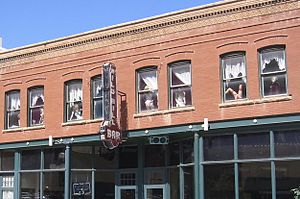 Oggies Sports Bar and Emporium

address: 100 Pine Crest Ln

Oggies was designed for service and fun. They offer competitve spirits with pool tables and darts. For the sports nuts they have 10 large high-definition flat screen televisions always tuned in for non stop sports.
Sleep
Budget
phone: +1 605 578-7791

address: 206 Mountain Shadow Ln

phone: +1 605 578-9777

address: 270 Main St

phone: +1 605 578-3330

address: 22 Lee St

Located right in the middle of Main Street, within easy walking distance of all the other locations on Main.
Mid-range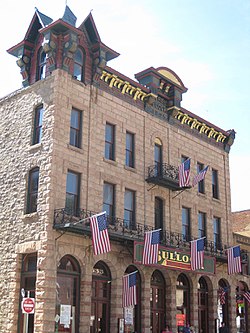 Splurge
Connect
phone: +1 605-578-2821

address: 435 Williams St.

Free Internet access and WiFi.
Cope
phone: +1 605-642-2761

The local newspaper.

Lead-Deadwood Regional Hospital

phone: +1 605 717-6000

address: 61 Charles St.

An 18-bed critical access hospital with emergency, inpatient and outpatient care.
Go next