Debarca
Debarca
is a municipality located in
western North Macedonia
, north of
Ohrid
and south of
Kičevo
. The rural municipality has over 5,000 residents spread across 30 villages.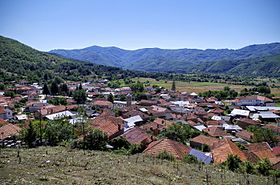 Understand
Debarca Municipality roughly corresponds to the historical region of Debarca which was very involved in the past struggles for independence, both during Ottoman rule and later during the World Wars. Today, the region is quite depopulated; nearly 13,000 people lived in Debarca in the 1950s.
The ethnic affiliation of the residents is now and has historically been ethnic Macedonian and Orthodox Christian.

Get in
By plane
Ohrid's international airport is located in the village of Orovnik in Debarca Municipality.

See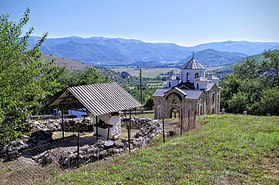 The main sights of interest in Debarca are churches and monasteries.
Church of St NicholasThe main church of Velmej was mostly built in the 18th century, with portions dating from the 13th century. The entrance to the church yard, also containing the village cemetery, is through its bell tower. Most of the interior is covered in frescoes.

Church of St GeorgeThis church sits above Velmej on a spot providing panoramic views of the village and surroundings.

Church of the Holy Mother of GodA small one-nave medieval church, most likely built in the 14th century. Its frescoes date from the later 16th century.

Church of St GeorgeThe Church of St George is Zlesti's main village church, containing its cemetery. It was built in the 1890s mainly of stone, perched on a short steep hill above Zlesti.

Zlesti MonasteryA monastery was established in the early 2000s around the site of the ruins of an early Christian church which today mostly consists of walls and foundations. The monastery's main church, dedicated to the Nativity of the Virgin Mary, was completed in 2009.

Church of St AthanasiusA newer church on a hill above the village with a large cross built next to it, visible throughout Lešani.

Lešani MonasteryThis medieval monastery consists of a small church built in 1452, a 1911-built extension church right beside it, and a newer church. It is the only monastery in North Macedonia dedicated to "All Saints" (Сите Светители). The original church was built of stone and limestone and is surrounded by older walls and foundations.
Go next
Ohrid, the major city of the area and North Macedonia's best attraction