Deeg
Deeg
is a town in Bharatpur district in the state of
Rajasthan
in
India
, famous for its palaces built by the Jat rulers of Bharatpur. It was their capital.
Get in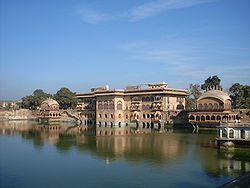 Buses frequently run from
Alwar
(₹36, 2 1/2 hours) and
Bharatpur
(₹19, one hour).
One can also reach Deeg by train from Mathura (₹8, one hour) or from Alwar (₹17, 2½ hour).
Get around
One can visit Kaman town known for Vimal Kund and Cheel Mahal by half an hour bus travel (₹10).

See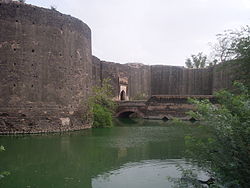 Deeg fort

Jal-Mahal palace
Do
Nowadays Deeg is famous for the three-day fair held in the month of September, when the forts of Deeg are brought to liveliness. Deeg has various kinds of palaces, the most famous among them is "Sawan-Bhadon". The palace has a hollow ceiling with rolling iron spheres in it; when water is made to flow into the ceiling, these spheres collide with each other and produce a sound like raining clouds.

Eat
Try traditional fast foods like kachori and aaloo bhalla.

Sleep
Deeg is small and there are only a couple of places to stay, neither very exciting. Most visitors to Deeg stay at
Bharatpur
or
Agra
.
Go next