Del Rio
Del Rio
is a city in the
Big Bend Country
, across the Rio Grande from
Ciudad Acuña
in
Mexico
.
Get in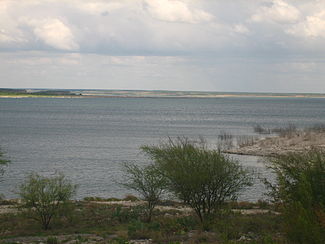 By rail
Amtrak
serves Del Rio, by the tri-weekly
Sunset Limited
, between
Los Angeles
and
New Orleans
, and
Texas Eagle
from
Chicago
. station is located at 100 North Main Street and also functions as an hub for the local bus network.
By bus
address: (bus stop) Stripes @ 1602 Veterans Blvd

Travels primarily on US Hwy 90 (Del Rio, Uvalde, D Hanis, Hondo, Castroville & San Antonio) and another branch on US Hwy 277 to Eagle Pass. Passengers transfer in San Antonio to get to additional destinations.
By car
US 277 from Sonora on I-10 (about 80 miles north) or US 90 from
San Antonio
(about 200 miles east).
By plane
The next nearest major airport for additional scheduled commercial flights is in
San Antonio
(
SAT
) located 161 mi (258 km) or 2.5 - 3 hrs east along US Hwy 90.

Get around
The best way is by personal car. There is at least one taxi company.
By bus
Del Rio bus
runs hourly between 8AM and 5PM, Monday through Saturday. The fare is: $2 for adults, $1 for seniors 55 and older and disabled, children under three are free. The phone number is: +1 830 703-5324
See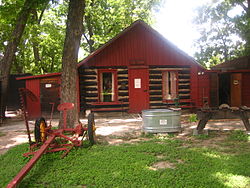 Laughlin Air Force Base is located just outside Del Rio.
address: 1308 S Main St

The FirehouseDel Rio's art center offers changing exhibits in the city's former fire station.
Do
Amistad National Recreation AreaThis recreation area is the major attraction in the Del Rio area, where camping, boating, and fishing are available (the Bassmasters Elite tournament was held here for four years in a row until 2008). At Lake Amistad, visitors can also find 4,000-year-old Indian pictographs, which are accessible only by boat at Panther Cave and at Parida Cave.

Val Verde WineryIn the downtown area offers a wine-tasting of about a dozen of their wines for about $5 per person or a free tasting of only three. Their wines are excellent and range from sweet (notably the San Felipe del Rio red, their Texas Rose, and their Muscat Cannelli) to exceptionally dry (Cabernet Sauvignon), but their port has won awards. Most of their wines are blends with grapes from other vineyards, but one is made of only grapes grown at the winery.
Buy
Del Rio has one, relatively small, indoor mall with typical mall stores: Beall's, Penney's, etc. and the town cinema with several screens.
The downtown area has numerous shops, including several antique shops and a few selling rustic furniture.
Eat
Standard fast food (Wendy's, Whataburger, etc.) and chains (Chili's, Luby's, etc.) are available.
La HaciendaA Mexican restaurant downtown that offers an excellent buffet of Mexican food for a very reasonable price. One item not on the menu is "cabrito" (goat), which you have to ask for and it is excellent, succulent meat, beautifully roasted. Each day the restaurant roasts one goat in the morning and sells it until it runs out. Get there early! Their coffee is great and compares well to Starbuck's.

Lorina's CantinaOutside of town on US 90 toward the Lake, has steak night on Wednesdays from 6:00 to 8:00. Call ahead to reserve a steak. The steaks are about 3/4 to 1 lb in size, thick cut, wonderful, beautifully seasoned, succulent, and come with a baked potato and salad (only lettuce and dressings) bar for only $13 per person. This is a real meal for meat-and-potato-kind-of-guys. They also have karaoke on Saturday nights.

T&B (Todd and Bullet's) Bar and GrillNext to the Day's Inn on US 90 has good food and a good bar. Anthony Bourdain of the Travel Channel once came here for their Corona Chicken, which is succulent pieces of chicken about the size of the neck of a Corona bottle filled with cheese and wrapped in bacon.

Chinto's

address: Sixth street

Has excellent Mexican food and generous portions in a comfortable atmosphere for very reasonable prices. Hours about 6AM to 2:30PM (per many traditional Mexican restaurants).

JitraThere is one Thai restaurant, Jitra's, in town with mediocre Thai food.
Drink
Lorina's Cantina and TB's are excellent places for relaxing evenings with a beer and friends. TB's also offers excellent food seven nights a week, while Lorina's offers steaks on Wednesday nights from 6 to 8.
Casa de VinoFor a glass of wine in a quiet, comfortable atmosphere, Casa de Vino on US 90 near Lake Amistad (not far from Lorina's) is the place to go. It offers about 300 different wines and a small appetizer menu in a comfortable, very clean setting. Casa de Vino also offers a small patio for watching the sun set on warm evenings.

The Herald Martini BarProbably the classiest place in town and a good place to go for a nice dinner and drinks.
Sleep
phone: +1 830 775-7511

address: 810 Veterans Blvd

phone: +1 830 774-2115

address: 2115 Veterans Blvd

phone: +1 830 775-1511

address: 2101 Veterans Blvd

Free high-speed wireless, heated outdoor pool, indoor fitness center.

La Quinta Inn

phone: +1 830 775-7591

address: 2005 Veterans Blvd

phone: +1 830 488-6270

address: 1300 Veterans Blvd
Cope
Consulates
Mexico

phone: +1 830 775-2352

address: Edificio South Park Plaza 2398, Spur 239
Go next