Delhi/Central Delhi
Central Delhi
is a district in
Delhi
. The district contains (in its southern part) the historic core of Delhi, also known as
Old Delhi
. The northern parts of the district were developed mainly during the days of British rule, and are known for their Raj era buildings and institutions. The most important attractions here are the
Red Fort
and the
Jama Masjid
.
Get in
By metro
Yellow Line - Chandni Chowk Station.
Violet Line - Jama Masjid Station
By bus
Kashmere Gate is the major bus terminal in Delhi. There are buses to/from Kashmere that go to much of Northern India and
Nepal
.
See
Red Fort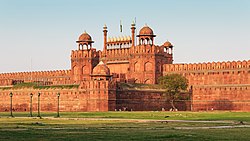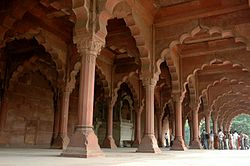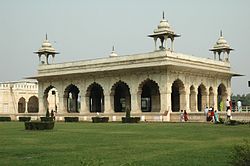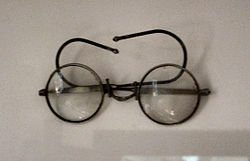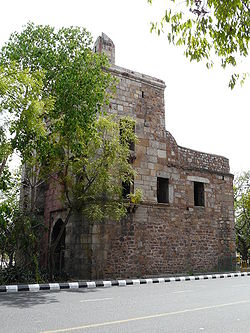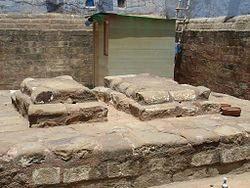 Red Fortis one of Delhi's top tourist sights and listed as a UNESCO World Heritage Site. A brilliant red sandstone fort built by the Mughal Emperor Shah Jahan (who also built Agra's Taj Mahal) as his ruling palace. Completed in 1648, the years since have not treated the buildings kindly: the rooms have long since been stripped of all objects, the marble inlays are long gone and quite a few buildings are off limits. Still, the scale remains imposing and the gardens are kept lush and green even in midwinter. The Red Fort buildings within include
Chatta ChowkTrue to the name, this is a covered bazaar between the gate and the fort itself, now filled with souvenir hawkers.

Diwan-i-AmThis building separates the outer court from the inner court, and has a marble platform for the emperor's throne.

Hayat Bakhsh BaghOnce a grand garden of full of fountains and streams, now sadly all dry — only dry channels and acres of green grass remain. Near here will you find the Sawan Pavilion

Diwan-i-KhasBuilt completely of marble, this is where the emperor received special visitors.

Khas MahalThe Emperor's main residence. The octagonal Mussaman Burj tower looks out toward the Yamuna River, and is where the Emperor used to appear before the public for each morning.

Rang MahalThe residence of the Sultan's main wife.

Mumtaz MahalContained six apartments for the Sultan's harem. Now used as a museum of court textiles, carpets, weapons, etc.

Daawat KhanaA minor palace, this was originally the residence of a prince, but it was converted into a tea house by the British, a function it continues today. Basic meals cost around ₹ 60, drinks ₹ 10-20, and it also has the cleanest toilets around.

Swatantra Sangrama SangrahalayaTo the left after the Chatta Chowk, this is a reasonably well-presented museum on the history of independence activism in India, starting from the Mutiny of 1857 all the way to Gandhi.
The only open entrance is
Lahore Gate
, on the west side. Security in and around the Fort is very heavy, as it was the scene of a terrorist attack in 2000 that killed three people. Bags are allowed, but they'll be X-rayed and you'll be patted down. Tickets cost ₹ 30/500 for Indians/foreigners, photography free, video cameras ₹ 25 extra. Open sunrise to sunset daily except Monday. Allow for 3-4 hr in your schedule in case of long weekends and national holidays as lot of tourists flock around then. The most scenic way of reaching the fort is to take the Metro to Chawri Bazaar and then a cycle-rickshaw through the incredibly packed bazaar to the Fort (price negotiable, aim for ₹ 20).
The fort has a
light and sound show
(₹ 50) in the evenings from 19:30-21:00, depending on the season.
Be careful buying tickets at the booth, as the ticket sellers will attempt to shortchange you. Try to have a small bill. Due to enhanced security the parking can be a bit tricky as the walk from the now distanced away parking at nearby alternative slots is quite a bit. The congested traffic makes crossing the road even trickier.
Feroz Shah Kotla
Feroz Shah Kotla is the Delhi's cricket stadium. It also houses the ruins of the fifth city of Delhi Feroz Shah Kotla or Ferozabad. It was founded by Feroz Shah Tughlaq. The are also houses the notorious Khooni Darwaza.
Feroz Shah Kotla

Khuni Darwaza

address: Bahadur Shah Zafar Road

It is here in this gate that Major William Hodson beheaded last Mughal ruler Bahadur Shah Zafar's sons Mirza Mughal and Mirza Khizr Sultan as well as grandson Mirza Abu Bakr after the defeat in Revolt of 1857 forcing him to go to Yangoon. It is also believed that the beheaded heads of criminals were put on display in this gate. Here Jahangir ordered the killing of two sons of Rahim Khan-I-Khana who was a Navaratna in Akbar's court.
Mahatma Gandhi sites
These three sites are located in close proximity, 5 minutes walk east of Delhi Gate metro station (Violet Line).
Raj Ghat

address: Satyagraha Marg, Gandhi Smriti

Memorial to Mahatma Gandhi at the site of his cremation. Check for closure dates/security checks around national holidays/Gandhi's death anniversary.

Gandhi Smriti

phone: +91 11 2301 2843

This estate is the site of Mahatma Gandhi's martyrdom. Includes a museum celebrating his life and the room he lived in during his final days.

National Gandhi Museum

address: Vikram Nagar
Kamal Nehru Ridge (Delhi North Ridge)
Mutiny Memorial

Ashokan Pillar

Pir Ghaib

Hindu Rao Hospital Baoli

Chauburja Mosque

Southern Gurad House

Flagstaff Tower

address: Kamla Nehru Ridge, Civil Lines New Delhi

It was built in 1828 as a signal tower. This one storey tower was used to take shelter for European people during Revolt of 1857. - The Sankatmochan Hanuman Mandir is 100 m to the west.
Monuments and museums
National Handicrafts and Handlooms Museum

address: Pragati Maidan, Gate #5, Bhairon Road, New Delhi-110001

Also sells handicrafts.

phone: +91 11 2337 1945

address: Near Gate No.1, Bhairon Road, Pragati Maidan

Although the name is sounds very grand, the museum is definitely a must see for science enthusiasts, especially those who are young. Has a recently built section on DNA Science and also a section on Dinosaurs. A section on ancient Indian Science and Technology, including Vedic Mathematics & Ayurveda. The "Energy Ball" display near the entrance is interesting and perhaps the most captivating of all.

Razia Sultana's Tomb

address: Sitaram Bazar

This is the tomb of only woman ruler of Delhi Raziya Sultana. It consists of a two tombs, one of Raziya's and another of Sajiya's without any roof.

Roshanara Tomb

address: Dronacharya Guru Hanuman Marg, Roshanara Garden

Tomb of Aurangzeb's sister Begum Roshanara.

Turkman Gate

address: Asaf Ali Rd (Jawaharlal Nehru Marg), Katra Chobey Lal, Old Delhi

This gate is named after Sufi saint Hazrat Shah Turkman Bayabani, located in southern edge of Shahjahanabad (Old Delhi). Include the tomb of Hazrat Shah Turkman Bayabani

phone: +91 11 2331 6970

address: 4, Bahadur Shah Zafar Marg, Nehru House, New Delh

A museum of dolls from all over the country. You get to see the costumes and art from all over India, as well as some nice crafts.
Religious buildings
Churches
St James' ChurchIt is an Anglican church, built in 1836 by Colonel James Skinner. It is one of the oldest churches in the city.

St Stephen's Church

address: Church Mission Road

Built in 1862, by Anglican missionaries and Department of Public Works Engineers in the style of Italian Gothic architecture, highly influenced by the Romanesque style. Apart from its ornate walls and ceilings the Church has a unique feature which is the stained glass rose window which is exclusive in Delhi. The baroque styled church has arched windows which allow the sunlight to brighten the interiors. the interiors are well maintained with motifs, pictures, carvings and beautiful furniture. A series of fine plasters form arcade on either side lined with beautiful carvings columns made of sandstone.
Gurudwaras
address: Mata Sundri road

The temple is a tribute to Mata Sundri, the wife of the 10th Guru – Guru Gobind Singh (1666–1708). The Guru was a Warrior, Poet and Philosopher. The Gurdwara built in brick and lime mortar, on the farther end of the hall is a marble-paved gallery. The carved weed beam of the gallery bears an inscription in Gurmukhi script in bold letters. There is a marble slab in the center which surrounded by the inscribed sacred emblem of the Sikhs. It has a standard square-domed sanctums, arched copings and a traditional styled entrance.

address: Rana Pratap Road (also known as Grand Trunk Road or GT Road)

Built at the site, in the garden where Guru Nanak Dev camped when he visited Delhi in 1505 during the reign of Sultan Sikandar Lodi.

address: Chandni Chowk (Old Delhi)

An important Sikh place of worship. Built on the spot where their ninth guru, Guru Tegh Bahadur, was beheaded on the orders of the mughal emperor Aurangzeb, it is an oasis of calm in the chaos of Old Delhi's Chandni Chowk. You will need to cover your head (scarves provided for free) and stash your shoes in the shoe storage run by volunteers (also free).
Hindu temples
Nili Chhatri Temple

address: Yamuna Bazar, Kashmere Gate

A Hindu temple is the tomb of Naubat Khan. Naubat Khan was a mansabdar (state official) during the time of Akbar. He built it during his lifetime in 1565. The tomb stands almost midway between Purana Qila and the tomb of Nizamuddin Auliya. It is built in an enclosure of several acres. Though the walls of the tomb are not extant in its entirety, some portions of it can still be seen in the surrounding area. But the gateway is relatively in good shape. At the entrance of the tomb is written the inscription, the letters of the inscription are of black marble inlaid on sandstone.
Mosques
Fatehpuri Masjid

Jama Masjid– The largest mosque in India and a must-see while in Delhi. Entry is officially free, although if you have a camera with you (even if deep in your bag) the aggressive "guards" will not let you go in without paying the ₹ 300 fee, and this includes camera phones. If you just walk in they will grab you and "carry" you out. Beware of dishonest guides who will try and convince you that a tour guide is mandatory and is included in the ₹ 200 camera fee; they will give you an extremely hurried 'tour' of the mosque and then demand a further payment of ₹ 200-300 for the tour. You can climb to the top of the minaret for ₹ 100 (locals maybe ₹ 20). The climb is steep, dark and somewhat claustrophobic, but you'll get great views over the complex and the city. You'll need to cover up your shoulders and legs (scarves and lungis available for rental - about ₹ 10), and take off your shoes (expect to tip the shoe minder, ₹ 5 is plenty, or carry your shoes with you in your own bag). - Pictures should not be taken during prayer hours. If you're going to sit down don't look too comfortable. Certainly don't eat or become too engrossed in any reading material you may be carrying, the rule is that non-Muslims must make their visits brief and guards will usher along visitors who linger.
Other
address: Outer Ring road

One of the more accessible Tibetan resettlement areas in India. A nice piece of variety for Delhi, and a popular backpacker hangout. To get there head north along Ring Road just past Majnu ka Tilla Gurudwara, or take the Metro to Vidhan Sabha station, and a cycle-rickshaw is ₹ 15 from there.
Buy
Bazaars
Chandni Chowk

address: Chandni Chowk Rd, Chatta Pratap, Chandni Chow

Karol Bagh

address: Saraswati Marg, Beadonpura

known for traditional Indian Wear, sarees and shawls. Huge area and big brand showrooms. - Reputed to be the largest shopping area in Asia with 20,000 shops and traders. There are many tailors experienced in western styles (suits etc.). Also a growing number of hotels .

address: Arya Nagar

Oriented toward backpackers, this strip of shops sells items such as Indian perfumes, shawls, tablas, rugs, jewellery, etc.

Cycle Market

address: Block E 4, Jhandewalan Extension, Jhandewalan

Deals not just in bicycles, but in cameras as well.

address: Kamla Nagar, Shakti Nagar

Popular with college students and known for its spicy street food.

Khari Baoli

phone: +91 98 73736846,

address: Khari Baoli

walking away from the Red Fort through Chandni Chowk will lead you here, which is the main spice market in Old Delhi where most restaurants shop from. Great place to buy individual spices (especially cardamom in bulk), masala chai mix, and various masala mixes for vegetables, meat, fish, meat, chicken, and rice. Afghan Store (lot# 6553). - Reputed to be the largest outdoor, pedestrianized shopping area in Delhi. Huge bargains on all sorts of western and Indian wear. If you are lucky, you can also get many reputed western brands as export surplus. It is also a great market for fresh fruits, vegetables and household goods.

Meena Bazar

address: Meena Bazaar

a popular flea market with antiques (and not-so-antiques) — it's also known as Chor Bazar or "Thieves' Market," so hold onto your wallet and don't believe every claim you hear.
Handi Crafts
Handicrafts and Natural Products Emporium

address: Main Bazar, Pahar Ganj, Pahar Ganj, Ratan Lal Market, Kaseru Walan, Paharganj

One of the largest and oldest emporiums of handicrafts and herbal products in Delhi. It was founded in 1932, and offers a large variety of gift items from different parts of India. Textiles, handmade crafts and furniture made by artists and craftsman are sold at affordable prices. Ayurvedic and plant remedies, herbal soap, shampoos, oils and natural fragrances are also manufactured. This complex of two four-storied buildings is welcoming and a popular place for foreign visitors to Delhi.

Nirula Bazar

address: Gole Market, Doctors Lane, Panchkuian Rd, Aram Bagh, Sidarth Basti, Aram Bagh, Paharganj,

Be sure to try a number of the shops in this area as all are selling similar goods. They will try to sell you is a hand-made Kashmiri rug.

address: Paharganj
Books
Nai Sarak Bookshop AreaNarrow alleys where most publishers are based. This is very popular with students, particularly college students as course books are available here. They carry books in nearly all major languages spoken in India. Don't expect bargaining to work here as shopkeepers are too busy to argue. The shopkeepers do more business than any proper branded shop, selling at least 5,000 books daily. There are also many wholesalers. Very few books will be on display and you need to ask for a particular type of book as the variety of books sold is huge. Most books are original and the shopkeepers get very irritated if you question the book's genuineness. You can either take a rickshaw or walk. One of Delhi's oldest shopping complexes, you can find any book there after a day of searching. Also good areas for sightseeing.

Daryaganj and Asaf Ali RoadSimilar to Nai Sarak, but a little better organised. Hindi Book Centre on Asaf Ali Rd is well known, stocks many Hindi books, and has a good website.

Kamla Nagar Bookshops

address: F-Block

This shop provides a range of books and stationery.
Tea
phone: +91 11 23260373

address: Sterling House, 15 Netaji Subhash Marg, Daryaganj

Tea Shop, A great place to sample Indian chai and the exotic Darjeeling and Assam teas and buy tea in handcrafted fabric bags. Located in an old colonial era building, its teas have been savored by Bill Clinton, Gorbachov, Koizumi and are taken as official state gifts of India.
Eat
Mid-range
phone: +91 11 2326 9880

Jama Masjid, Gali Kababian. As you'd expect from a restaurant on Kebab Lane, the main dish is Mughal-style meat (mutton and chicken), served up since 1913. Is down a little alley just South of the Jama Masjid southern entrance (past the auto supplies market). Favourites include badam pasanda (boneless mutton cooked with yogurt, almonds and spices) and chicken noor jahan, but if you're really hungry, try Tandoori Bakra; an entire stuffed goat for ₹4,500, 24 hr notice and down payment is required. Some of the dishes have huge puddles of oil on top, which you're supposed to drain off before eating.
Sleep
Budget
Paharganj is an area directly west of the New Delhi Railway Station, bordered by Panchkuian Road in the south, Igdah Road in the north, and Deshraj Bhatia Marg/Chitragupta Road in the west. The neighborhood is noisy, filthy, and full of touts, but it's also centrally-located and has many cheap hotels and thus very popular with budget travellers. Paharganj is considered a safe area.
phone: +91 98 9942 3411

address: 8715, D.B. Gupta Rd

Basic hotel.

Hare Rama Guest House

phone: +91 11 2743 3017

address: 298 Main Bazaar

Popular hotel and place to book sleeper buses if you're heading to Dharamsala or Pushkar. They're very laid back staff which makes a nice change. 24 hour hot water and check in, and 24 hours stay from when you arrived. ₹400 single, ₹500 double for an OK non-air-con room. Extra 50% for air-con.

phone: +91 11 2351 8074

address: 1634 Bazaar Hand

More expensive than the average Paharaganj hotel. It also has a good restaurant.

phone: +91 11 2358 3456, +91 11 6526 3010 , +91 11 2358 2233

address: 917 Chandiwalan, Main Bazaar, Paharganj

Only 5 min from the train station. Be prepared for a somewhat gloomy hotel, with possibly roaches in the rooms. No sheets or towels. Primary school right next to the hotel makes sleeping past 09:00 nearly impossible.

Navrang

phone: +91 11 2356-1922

Cheap and cheerful.

Sai Palace

address: 22, Main Market Road, Pahar Ganj

phone: +91 11 2397 6660, +91 11 2392 3925

address: 12, Sham Nath Marg, Civil Lines

phone: +91 11 23584076, +91 11 2358 9107

address: 916, Chandiwalan,Main Bazaar, Paharganj

Breakfast and internet access included in price.

Tashkent HotelHotel with clean rooms and fast Wifi. Can arrange airport transportation.

phone: +91 11 2351-2900

address: 1534-50 Main Bazaar, Paharganj

This has a pleasant rooftop restaurant, but rather bland food .

Ginger Delhi (Rail Yatri Nivas)

address: IRCTC- Rail Yatri Niwas, New Delhi Railway Station, Bhav Bhutti Marg

Run by Tata group, known for clean and cost effective no-frills budget hotels

Maidens HotelA Raj era hotel.

phone: +91 11 23620925, +91 11 23620926, +91 11 23620927

address: Main Bazaar, Paharganj

Decent restaurant and nice atmosphere on rooftop bar, although rooftop seems like a construction site. The staff are often rude and may try to offer overpriced tour package bookings as often as they can. The rooms are small and many do not have windows. Bath/shower facilities are archaic. The hotel does not offer a luggage storage service.

phone: +91 11 4154 1226, +91 11 2358 3125

address: 5084-A, Main Bazaar, Paharganj

Has a good restaurant and German Brown Bread Bakery.

phone: +91 11 2362 7617

address: 50 Ara Kashan Rd, Ram Nagar

Rail yathri Niwas

phone: +91 11 2323-3484

address: New Delhi Railway Station

Bloomrooms @ New Delhi Railway Station

phone: +91 11 412 25666

address: 8591 Arakashan Road

Extremely modern and comfortable rooms. Rooms are noisy due to the location near the station.

Chanchal Deluxe

phone: +91 99106 09222

address: 8524 Arakashan Road, Paharganj

54 rooms.

phone: +91 11 2358 7706

address: 5415-16, Ladoo Ghati, Nehru Bazaar, Paharganj

Rooms with double bed, flat screen TV (with HBO, VH1, CNN, lots of Hindi channels), clean bathroom with Western toilets. Each bathroom has its own hot water heater. Room service, computers in the lobby for ₹30/hr. Very friendly staff. Located just around the corner from Hotel Relax and the vegetable market.

address: C23 Greater Kailash 2

Boutique hotel with affordable, neat, clean & hygienic rooms.

phone: +91 8130591111

address: Main Bazaar

Facilities of meditation, spider web, Burma Bridge, cliff jump, nature walk, rappelling, trust fall, and more.

phone: +91 11 25744106

address: 14A/27 WEA, Channa Market, Karol Bagh

phone: +919625784154

address: B-4/120 Safdarjung Enclave - 110029

In a quiet corner of Safdarjung Enclave in South Delhi.
East of New Delhi Railway Station
phone: +91 11 4366 3600

address: 4/15A, Asaf Ali Road

India's first hotel to get ISO 9002 certification.
Chandni Chowk
Chandni Chowk is located in Old Delhi and is close to historical sights such as the Red Fort and Jameh Mosque. It is served by the Chandi Chowk metro station.
phone: +91 11 2327 6465

address: 419 Old Cycle Market, Chandni Chowk

Friendly budget hotel, free breakfast and free airport pickup.
Majnu ka Tilla
Majnu ka Tilla is a compact Tibetan settlement and the place of departure and arrival for buses to/from
Dharamsala
, the home of the Tibetan Government in Exile and the Dalai Lama. Stay here if you have an interest in Tibetan culture, politics and religion, or if you need something quieter (and just slightly more expensive) than Paharganj. Rooms are mostly doubles averaging ₹700, but some ₹400 singles can be had (2015). An auto-rickshaw from New Delhi train station should cost around ₹ 50 (use the prepaid stand). The Vidhan Sabha metro station is also nearby and popular. From there cycle-rickshaws charge ₹ 15 and take about five minutes.
phone: +91 11 23816977, +91 11 23812284

address: House No 47, New Aruna Nagar

A surprisingly large and modern hotel, hidden down a dark alleyway next to Dolma House restaurant. Friendly staff appear to be constantly cleaning. The attached restaurant, on the other hand, is of low quality.