Delhi/New Delhi
New Delhi
, the central part of the National Capital Territory of
Delhi
, is the British-built capital of India. Characterized by its wide boulevards, many roundabouts (traffic circles), colonial mansions, and government buildings dotted with monuments from various parts of India's history, this is the heart of the capital. Connaught Place (now called Rajiv Chowk) and Khan Market are popular shopping centres and the nearby Paharganj area has many inexpensive hotels. New Delhi Railway Station and Nizamuddin Railway Stations for trains to the south and east are in New Delhi. Delhi Metro lines radiate out from the city centre so the area is well connected.
This article covers the government district of New Delhi. In addition to most of the historic New Delhi, this district also includes a large area to the southwest, as far as the airport. However, the southeast edge of historic New Delhi is included in a different district -
South East Delhi
.
Get in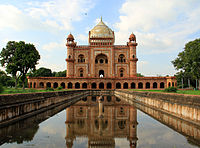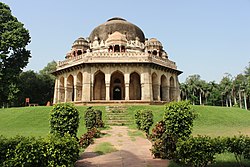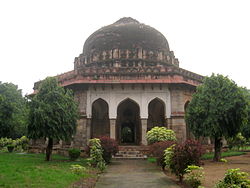 New Delhi is a 20 to 30 minute ride by road from the airport.
The trip from the airport station to New Delhi station via the orange airport metro line costs ₹60.00 and takes 23 minutes with trains running every 15 minutes.
See
The staff at the Delhi
tourist office
is very helpful, and the office has a lot of free information:
Safdarjung Area
Safdarjung's Tomb

address: Lodi Road, Delhi

It is a tomb with onion shaped dome. It houses the tomb of Safdarjung, the Prime Minister during Mughal ruler Ahmad Shah Bahadur's rule.
Lodi Garden Area
Lodi GardensA huge urban open space with an interesting mix of nature and history. The park contains several historic monuments like Muhammad Shah's Tomb, Bada Gumbad, Sesha Gumbad, Sikandar Lodi's Tomb and Athpula.
Muhammad Shah's Tomb

address: South eastern corner of Lodi Gardens

The huge tomb crowned with a massive dome has an octagonal plan with a octagonal chamber. Each of the eight sides have triple arched entrance and the eight corners are occupied by slopping buttresses. The chamber has doors on seven sides, the lone exception is the western side. The interior of the western wall contains a mihrab, so the tomb can also function as a Mosque. The massive dome stands on a sixteen sided drum and is crowned with a sprawling lotus. The dome is flanked by eight chatris, each of which occupy the mid point of the eight sides. The interior contains seven graves, the central one is believed to be of Muhammad Shah. The interior of the dome has a colourful fresco. The mihrab contains decorative stucco work so does the other seven arched gates. Short tapering minarates on the two back corners and jhakoraha (oriel) windows on the north and south ends are some special architectural features of the Bada Gumbad Mosque. Opposite the mosque is an elongated hall, which served as a sarai or guest house. Ir is devoid of any ornamentation and is a striking contrast with the mosque.

Lodi Period MosqueLodi Period Mosque is a small red mosque with a triple arched entrance. Although small in size it has an elegant appearance. It was once housed within a walled complex but majority of the boundary wall have long disappeared. The mosque is crowned with a vaulted roof, with stucco ornamentation.

Bada GumbadBada Gumbad or large dome is probably the most imposing structure of Lodi Gardens. The structure stands on a square base topped with a huge dome. Although the structure looks two storied from the outside it is actually a single storied structure. It is built of grey sandstone with traces of black and red stones. On the north west corner is a mosque and on the north east corner is a sarai (guest house). Some historians believe that the Bada Gumbad served as a gate way to the mosque, while other believe it was a tomb. Sadly the occupant of this magnificent tomb can no longer be traced, but he was quiet likely to be an high official of Sikandar Lodi's court. The three domed mosque is approached from the east by five arched gateway. The central arch is the largest and the arches diminish in size as one moves away from the centre. The mosque is built in 1494 and is richly ornamented with stuccoes and frescoes. The stuccoes consists of elaborate geometrical designs and inscriptions from the Koran.

Sheesh GumbadSheesh Gumbad, was a similar structure to Bada Gumbad and is located just south of it. It literally meaning glazed dome, and the structure was once covered with glazed tiles, but majority of it has gone missing. The interior of the Sheesh Gumbad houses several graves but the occupants can lo longer be traced. The western wall of Sheesh Gumbad has a mihrab, so the tombed doubled up as a mosque.

Lodi Period Turret

address: South East of Bada Gumbad and next to eastern wall of Lodi Gardens

The 8.5 meter Lodi Period Turret probably served as a corner tower of a walled enclosure, but the walls have long vanished. The two leveled tower is crowned with a ribbed dome. The lower level contains the doorway and stairs lead to the second level containing a decorated Jharokha (Oriel) styled balcony.

Mughal Period Mosque and GatewayThe small mosque and a small gateway stands on the north east of Sheesha Gumbad. Both the structure date back to the Mughaal Period. The gateway probably served as an entrance to walled garden, sadly the walls no longer exist. The double storied arched gateway is topped with a Bengal type sloped roof. Next to the gateway is a small mosque with arched entrance and crowned with three domes. The mosque is devoid of ornamentation, and has a platform on its eastern side.

Sikandar Lodi's TombThe Tomb of Sikandar Lodi is similar in structure to the Muhammad Shah's Tomb, but is housed in side a walled complex. The tomb is octagonal with triple arched entrance on all sides and sloping buttress at the corners, however there are no chatris round the giant dome.

AthpulaThe Athpul literally meaning eight bridge consists of seven arches supported by eight pillars. The bridge spans over a water body and is still in use. Visitors entering the Lodi Gardens from the north east gate uses the bridge.
The Government of India Tourist Office

phone: +91 11 2332 0005, +91 11 2332 0008, +91 11 2332 0109, +91 11 2332 0266

address: 88 Janpath, Connaught Place

The Government of India Tourist Office offers daily tours, coverings all of the major Delhi sites. If you should choose to go with the government-sanctioned day tour, be aware that due to the heavy agenda, you will need to have a quick foot, only 20-40 min are given for each sight, which is next to no time. Consider this day tour as a sampler. If there is a sight of particular interest, bookmark it and return at a later date.
Monuments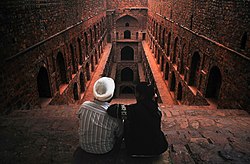 Agrasen ki Baoli

phone: +91 1124647005

address: Vakil lane. Hailey Road, Connaught Place

A historical steep well believed to be built during to time of Maharaja Agrasen of the Mahabharata era and reconstructed in the 14th century. Also here is the Baoli Mosque.

Chausath Khamba

address: Hazrat Nizamuddin Basti

Built by Mirza Aziz Kota, a foster brother of Akbar and an important noble during the time of Jahangir, this building has the tomb of Aziz Kota. The meaning of it is 64 pillars that support the structure. It also has other unidentified tombs.

Guru Tegh Bahadur Smarak

address: GT Karnal Road, Singhu Border, NH1

This monument has a unique concept. Guru Tegh Bahadur has been depicted by a central pylon but his three disciples by three semi arches.

India Gate

address: Rajpath

This monument has been built as a memorial for the Indian soldiers who died in World War I. There is also an eternal flame for all fallen Indian soldiers.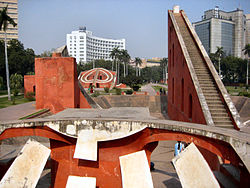 Jantar Mantar

address: Sansad Marg, Hanuman Road Area, Connaught Place

One of five astronomical observatories commissioned by Sawai Jai Singh II of Jaipur during the 18th century. The odd structures inside are enormous scientific instruments for measuring the movement of celestial bodies

RajpathThis is a main parade route that leads from Rashtrapati Bhavan (the President's residence) to India Gate, with many grassy lawns along the way. Especially nice in the evenings and at night when the buildings are lit and the vendors come out to supply the many picnicking families. Every year, on Republic Day (January 26), there is a massive parade here which showcases India's culture and military - highly recommended.

Sultan Ghari's Tomb

address: Garhi's Tomb Rd, Ruchi Vihar, Vasant Kunj

This is the first tomb built in Delhi. It was built by Iltutmish in 1231AD for his son Prince Ghiyasuddin Mohammad. This was later renovated by Feroz Shah Tughlaq. It is in the form of a fortress with a courtyard like layout, not common among tombs. The octagonal grave–chamber with the crypt has an underground opening. The western prayer wall has a mihrab, decorated with marble in exquisite Turkish and Afghan design and inclde some inscriptions from the Quran. The front, marble facade, dated to Feroze Shah's rule (1351–88). The prayer chamber depicts a base slab of a Linga. - Events: # Thursday is a special (tolerance) day for worship when devotees both Hindus and Muslims. # Every year, on the 17th day of the Islamic month of between Ramadan and Eid festivals, the "Urs of Nasiruddin Shah" (death anniversary) fest is held.

Lal Bangla

address: Delhi Golf Club, Dr, Zakir Husain Marg

This contains two separate masoleums which have the tombs of Lal Kunwar and her daughter Begum Jaan. Lal Kunwar was the wife of Mughal ruler Jahander Shah and mother of another Mughal ruler Shah Alam II. Lal Kunwar is similar to Nur Jahan, who monopolised power and gave important posts to his member of his family. The adjacent areas have the tombs of unknown tombs of third last Mughal emperor Akbar Shah II.

National Gallery of Modern Art

phone: +91 11 2338 6111

address: Justice SB Marg,
Other
Lodhi Estate

address: Lodhi Colony, Lodhi Road

It is a Central Government Officers and Staff Residential Colony, built in the 1940s. Here are some 'tourist' places like the Sai Baba Temple of Lodhi Road, Khan Market, Jor Bagh, the 16th century Tomb of Sikander Lodhi, situated in Lodhi Gardens and the India Habitat Centre. There are several municipal parks including Charbagh which features the Lodhi Gardens. - The three main shopping markets in this area are Khanna Market, Khan Market one of the poshest & expensive market and Meherchand Market. Chocolate Wheel Confectionary in the Jor Bagh area is a very popular bakery.
Museums
Indian Air Force Museum

address: Palam, Subroto Park
National MuseumJanpath. The layout here is labyrinthine and the presentation won't win any awards, but the collection is unparalleled and contains some true masterpieces. The section on the Indus Valley Culture and the one on Buddhist Heritage is most informative. The museum also showcases the arts and handicrafts from different regions of India. Keep an eye out for the 4,600 year old Harappan temple dancer, the Gandhara-era standing Buddha with Greek hair and a Roman toga, the stunning miniature painting gallery, and the giant temple chariot parked outside. An informative place for all interested in knowing more about Indian culture and history.

National Philatelic Museum, New Delhi

phone: +91 11 2303 6447

address: Sansad Marg Road Area

phone: +91 11 2688 1816

Chanakyapuri. houses a collection of Indian trains from the past to the present - a worthwhile look into India's proud railway heritage. The collection includes carriages belonging to Indian potentates and British viceroys. Children can ride the small train that circumnavigates the museum. There is a small cafe on the premises. Open 09:30-19:30 (Apr-Sept) and 09:30-17:30 (Oct-Mar). Closed Mondays and national holidays.

Nehru Memorial Museum & Library

phone: +91 11 2301 7587

address: Chanakyapuri, Teen Murti Marg

Former residence of India's first prime minister, Jawaharlal Nehru. Was used by the Commander-in-chief of the Indian Army before Indian Independence. After Nehru's death in 1964, it was converted into a museum of his life, plus a library. It is one the biggest libraries of Delhi with 100,000 photographs, 18,000 microfilm rolls, and over 10,000 manuscripts. Also includes a planetarium (costs ₹50 adults, ₹25 children) where they show a movie on astronomy and the universe.

Parliament Museum

address: Gokul Nagar

in the Parliament of India Library Building. -

11 MurtiA monument representing the Salt March led by Gandhi in 1930 - a classic case of civil disobedience which played a key role in the Indian independence movement, and inspired later protesters such as Martin Luther King. The "11 sculptures" in the monument are designed to look like people of different religions and castes, all marching together.
Religious buildings
Churches
Cathedral Church of Redemption

address: Church Lane

It is the headquarters of the Church of North India, Delhi Diocese. Built by Henry Medd between 1927-1935 it is a fine example of Colonial architecture.

address: 1 Ashok Place

It is the biggest church in terms of structure and also the headquarters of the Delhi Catholic Archdiocese. A must visit to enjoy the beautiful architecture and pristine beauty.

St Peter's Cathedral

address: Bhai Veer Singh Marg

It is the headquarters of the Jacobite Syrian Orthodox church in Delhi. It is known as the Antioch of the East and is a fine example of Oriental architecture blended with modernity.
Gurudwaras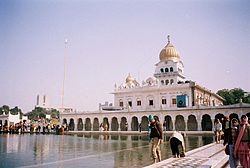 address: Ashoka Rd

- This is the main gurudwara for the many Sikhs of Delhi. You will need to cover your head (scarves provided for free) and stash your shoes in the shoe storage run by volunteers. Compared to other big tourist attractions, is free of scam or rude guards and can be enjoyed without hassle. You can sit inside and listen to the readings and prayers in Punjabi. Men should cover their head with something, although it is not mandatory, it will be seen as a sign of respect.

phone: +91 11 2371 2581

address: Pandit Pant Marg, Presidents Estate

Built in 1783. The temple built near old Raisina village near Raisina Hill, at present Pandit Pant Marg, took 12 years to build.
Hindu temples
Hanuman Temple

address: Connaught Place

The ancient Hindu temple has a self manifest idol of Hanuman Ji (who was an ardent devotee of Rama according to the Hindu legends), has an unusual feature fixed in the spire (Viman) in the form of a crescent moon (an Islamic symbol) instead of the Hindu symbol of Aum or Sun that is commonly seen in most Hindu temples.

Jhandewalan Mandir

address: Jhandewalan Devi Mandir Marg, Block E, Jhandewalan Extension, Jhandewala

One of the most popular temples of Devi Durga is Jhandewala Temple.

New Delhi Kali Bari

address: Mandir Marg, President's Estate

Founded in 1930s

Uttara Swami Malai Temple

address: Sector 7, RK Puram

The main temple within the complex, formally called Sree Swaminatha Swami Temple, houses the sanctum sanctorum of Lord Swaminatha. The temple is built entirely of granite, and is reminiscent of the Chola style of South Indian Temple Architecture.
Raghvendra Swamy Mutt - This is a place similar to temple and any devotee can visit there .This is situated on Moti Bagh Flyover, Rao Tularam Marg, R>K>Puram, Sector 12, New Delhi 110021. Timings for visit are 09.30 a.m. to 06.30 p.m. closed on Monday. This place is famous for Swamiji devotees visiting New Delhi.
Other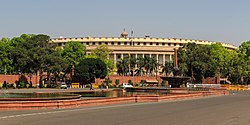 Parliament HouseThe shape is circular, which is based on the Ashoka Chakra. There are separate halls for the sessions of the Chamber of Princes, the State Council, and the Central Legislative Assembly. The building is surrounded by large gardens and fenced off by sandstone railings modelled after the Great Stupa of Sanchi.
Do
Buy
Malls
Ambience Vasant Kunjis perhaps India's most luxuriant mall. You'll find 3 floors of international designer brands, as well as a number of Indian designers. Emporio also houses one of New Delhi's most popular new restautrants, Set'z (formerly Zest), a chic dining experience with over seven different cuisines to choose from.

phone: +91 11 4611 6666

address: 4 Nelson Mandela Road, Vasant Kunj, South Delhi

It is one luxury malls. The mall has been designed by architect Mohit Gujral and Chandu Chadha in Italian marble, burnished wood, and gleaming brass detailing. DLF Emporio has four floors including Ground Floor and comprises an area of 3ha. The mall features over 170 brands including 75 International Brands. Recently the promoters also opened a 180 seater high end restaurant called setz.

phone: +91 11 4611 6666

address: 3 Nelson Mandela Road, Vasant Kunj, South Delhi

Features the only 7-screen multiplex in Delhi
Bazaars
Connaught Place aka Rajiv ChowkA unique cross between a European shopping arcade, an Indian bazaar, and an upmarket shopping mall. With all shops laid out in 2 circles, it's easy to get around and explore.

Janpath flea market

address: Connaught Lane, Janpath,

is a bargain-hunter's dream and just a two minute walk from Connaught place. Think of it as a vast flea market, where you can get all kinds of knick-knacks and clothes. Janpath is not a place for those unwilling or unable to bargain ruthlessly. Also, as in any flea market, quality will vary greatly. There are also some bookshops.

Palika Bazaar

address: Palika Bazaar Rd, Palika Bazar, Connaught Place

– This is a large underground market in the center of Connaught Place. The air here is bad and the quality of products low. One can hunt for DVDs, VCDs and audio CDs of Hindi, English and a few regional and foreign language films and PC-based games.

Sarojini Nagar Market

address: Sarojini Nagar

This market is great for export surplus garments, and green grocery.

Khan Market

address: Rabindra Nagar

This up-scale area of independent shops is where foreign diplomats go for lunch and to shop for dog supplies, groceries (great choice of vegetables), clothes (upper class Indian style, not expensive, Fabindia and Anohki for women's clothing), housewares (Good Earth), jewellery/accessories, and books (many bookshops that have a wide selection at reasonable prices).

jawala heri market

address: jawala heri paschim vihar new delhi
Handicrafts
Cottage Emporium

address: Jawahar Vyapar Bhawan, Janpath, HC Mathur Lane

is the main government-run location for selling handicrafts from all over the country. The prices are a little more than what you'd find if you went bargain hunting, but you can shop in air-conditioned comfort and all of the sales people speak English. The quality of items is quite good. You can pay with credit cards.

Crafts Museumalso sells some handicrafts.

Sarojini Nagar Market

address: Sarojini Nagar

One of the biggest and famous market of South Delhi.

The State Emporium

address: Baba Kharak Singh Marg

is the state's equivalent of a Cottage. one of the radial streets coming off of Connaught Place, and each state specializes in certain kinds of crafts. Some are better priced than others, and you can bargain a little. Many of them will take credit cards.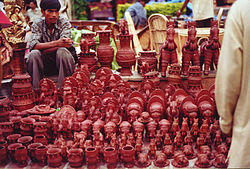 Dilli Haat

address: West Kidwai Nagar, Kidwai Nagar

Crafts fairs happen here every week. - It is a wonderful place to get crafts from all over the country. What is distinctive here is that the artists themselves come to sell their goods, so your money goes directly to them, rather than to middlemen. Some bargaining may be necessary if you want the best price. Prices are higher than elsewhere, but the modest entry fee keeps out beggars, ripoff artists, and most touts. Many visitors find the mellow atmosphere worth the extra cost of shopping here. It also has a section called Foods of India. This has a huge number of restaurants, each showcasing the food of a particular state of India. (Most of them give a mix of Chinese and Indian food, but state delicacies are also included). This section is a must-go for the foodie-cum-tourist.
Fabric
phone: +91-011-43048295,

address: A-1, Hamilton House, Connaught Place,

A popular store for high quality traditional clothing that caters to foreigners with a Western style store that is inside, with fixed prices, and no haggling.

phone: +11-2335-3094

address: Handloom Marketing Complex, Janpath,

A government initiative to showcase hand woven fabrics from around the country.
Books
phone: + 24645540

address: 16-A Khan Market

A wonderfully chaotic bookshop. Excellent selection of titles. Very helpful and knowledgeable staff.

phone: + 11-24655641-42

address: Shop No.23, Khan Market

A well known independent book store - wide range of classics and religious books. Full Circle also publishes books by US and UK publishers under license, and is home to the celebrated Turtle Cafe.

Galgotia and Sons Bookstore & The Bookworm

address: Connaught Place

Two more disorganized bookstores, but with an excellent variety of books available at excellent prices.
Eat
If you come from a Western country, it may be interesting to eat at a fast food restaurant like McDonald's or Burger King. The menus are different and, unlike in the west, very vegetarian friendly - even KFC has a veg option.
Mid-range
phone: +91 11 4303 6111

address: D-3, Radial Road 5, Block D, Connaught Place

A roomali rolls and kababs restaurant serving chicken, mutton, paneer, and rolls. Very popular with locals.

phone: +91 11 2334 7755

address: P-13/90, Connaught Circus, Block P, Connaught Place

A good South Indian joint located in Janpath very close to Connaught Place. They are a Chennai chain operating in Delhi. If you go at lunch time, prepare to wait a while. The various dosas are recommended, as well as the thalis (meals) and the sweet dishes.

Moti Mahal

phone: +91 11 2327 3011

address: 5051/21-22, Netaji Subhash Marg, Dariya Ganj

This restaurant proudly claims to be the inventor of butter chicken.
Italian
Sartoria Italian Cuisine

phone: +91 11 4168 3305

address: Basant Lok, Shiv Nagar

Italian style food, great pizzas, carpaccio, pasta and wines. Mains are about ₹ 500.

phone: +91 11 2464 0333

address: Shop No. 90, Lodhi Road, Mehar Chand Market

near Lodhi Road and various other locations in Delhi. Italian style food.
Splurge
phone: +91 11 2374 3000

address: Lobby Level, The Park, 15 Parliment Street, Connaught Place

A casual style restaurant with middling ambience but good service and great food. They serve authentic Indian cuisine made from ingredients from their own small garden or organically sourced. Seasonal but small menu with Indian curries being the highlight.

phone: +91 95994 83238

address: 14 Scindia House, KG Marg, Connaught Place

Contemporary Indian with live music.
Drink
Coffee
address: 62, Middle Lane, Khan Market

A standard chain coffee shop. Friendly and helpful staff.
Sleep
Budget
Paharganj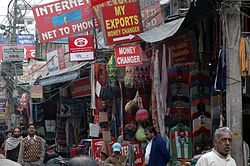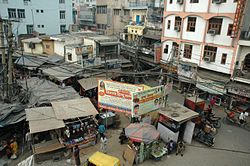 Karol Bagh
This area, west of Paharganj, is quieter, but not as centrally located. It is served by the Karol Bagh metro station.
Connaught Place / Rajiv Chowk
The centrally-located business district.
Chanakyapuri
Chanakyapuri is an affluent neighbourhood where many embassies and the Prime Minister's residence are located. Chanakyapuri was developed as official residences for both politicians and civil servants to the Union Government. As such, it has numerous parks and open spaces, and suffers few utility disruptions. It is served by the Chankyapuri railway station (not metro station).
Mahipalpur/Airport Area
Mahipalpur is a neighborhood located close to Terminal 1 and within walking distance from the Aero City metro station. There are dozens of hotels in this area at several price points.
Mid-range
Splurge