Delhi/South East Delhi
South East Delhi
is a district of
Delhi
which, like
South Delhi
, is high-income and with easy motorway access to the airport. The current district borders of South East Delhi include a number of important sites near the city center, such as
Humayun's Tomb
,
Purana Qila
, and the southeast part of planned city of
New Delhi
.
Get in
The violet and magenta metro lines crisscross South East Delhi.
The 405 bus service from Mori Gate Bus Terminal goes south across South East Delhi.

See
The region of South East Delhi can be further broken down into several sub regions like
Naizamuddin
,
Humayun's Tomb area
,
East Kailash
,
Kalkaji
and
Tughlakabad
.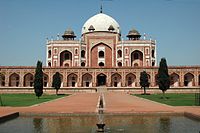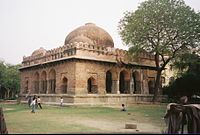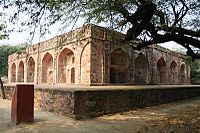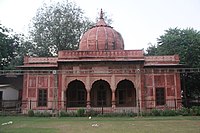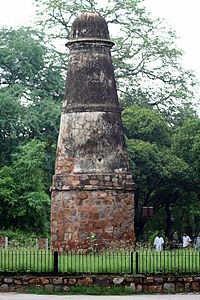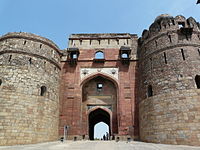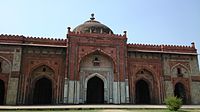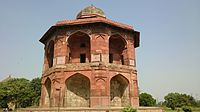 Humayun's Tomb Complex
Humayun's Tombis one of Delhi's three UNESCO World Heritage Site. - The tomb is in large, immaculately maintained gardens in the Persian Char Bagh (four corners) style that were thoroughly renovated in 2003 with the Aga Khan's help and are consequently probably the best in Delhi. As you pass through the first gate, you will glimpse the dome of the tomb and enter a floral path leading to the second (West) gate, which now acts as the entrance to the giant central garden. - The centrepiece is the eponymous tomb of Humayun, the second Mughal emperor. Built starting in 1562, it was the first major Mughal structure in the city and has been described as a predecessor or prototype of Agra's Taj Mahal. The structures are, indeed, stylistically similar, although Humayun's Tomb is built from red sandstone, not white marble, and was built by a wife grieving for her husband, not the other way around. You can climb up to the second level (the stairs on the west side are very steep, those on the south side less so), and on the south side you will find the entrance into the main crypt where Humayun is buried. Before you leave, be sure to visit the South Gate, the original royal entrance, from where you can get picture-postcard views without too many tourists in the way. The Humayun's Tomb Complex alsohouses several other tombs and structures, including Isa Khan's Tomb and Mosque, Barber's Tomb, Arab Sarai, Afsarwala Mosque and Tomb and Ba Halim's Garden and Tomb
Isa Khan's Tomb

address: Within Humayun's Tomb Complex

As you enter the Humayun's Tomb Complex, the first major structure on your right is the bulbous, octagonal tomb of Iza Khan, a court noble who built it in his own lifetime, some 20 years before Humayun's Tomb

Barber's Tomb

address: Within Humayun's Tomb Complex

In the southeast corner is the Barber's Tomb, also built in the same style. Historians do not know who is buried in this picturesque tomb made of red and grey sandstone.
Around Humayun's Tomb
Khan-I-Khana's Tomb

address: Nizamuddin East

This is a tomb built by Khan-I-Khana in 1598 after his wife's death. He was later buried here in 1627. Khan-I-Khana was a great composer during Akbar's time and also belonged to his Navaratna or his nine jems. The motif is similar to that of the Humayun's tomb.

Kos Minar

address: Inside National Zoological Park

"Kos Minar," or distance markers are pillars built by Sher Shah Suri in order to measure distance. The distance between two Kos Minar is roughly 8 km. They are massive pillars, 9 m high, built on a high platform.

Nila Gumbad

address: Located on the south - eastern corner of Humayun Tomb Complex

The octagonal tomb is crowned with a huge dome, covered with dark blue tiles.

Sundarwala MahalA rectangular rubble built tomb, with five arches on each side. The chamber below houses a grave but nothing is known about its occupant

Sunderwala BurjLocated within the Sundar Bagh Nursery the tomb stands on a square base and has sloped walls. It is crowned with a dome. It is believed to be an pre Mughal tomb but nothing is known about its occupant.

Bara Batasha

address: Bharat Scouts and Guides Marg, Nizamuddin

This structure houses the tomb of Mirza Muzaffar who was the son of Babur and Gulrukh Begum. The speciality of this structure is that it has 5 arches on each side.

Sabz Gumbad

address: Nizamuddin, Sabz Burj?

Though it literally means "green dome", its dome is nowhere green in colour. The dome is blue coloured and the tower is believed to be built between 1530 and 1535. The tower is an influence of Central Asian architecture. There are blue and yellow tiles on the drum. Moreover it was used as a police station during British rule.
Purana Qila
Purana Qila

phone: +91 11 2435 5387

address: Purana Qila, Mathura Road

Purana Qila is the walled citadel of Mughal Emperor Humayun. It later turned into an urban village before becoming a monument. Ruins of the 16th century city of Shergarh, this complex sits on top of what is believed to be the site of Indraprastha, the capital of the Pandavas in the Mahabharata epic.
Qila-i-Kuhna Masjid

address: Purana Qila

A mosque in the Purana Qila built by Sher Shah Suri

Sher Mandal

address: Purana Qila

The two storeyed library inside Purana Qila. It is in this library that Humayun fell from stairs and died

Humayun Darwaza

address: Purana Qila

A gate built by Humayun located in Purana Qila. It is the southeast gate of the fort.

Talaqi Darwaza

address: Purana Qila

The northern gate of Purana Qila. It has a marble carving of warring lions with a man in front.

Purana Qila Baoli

address: Located within the Purna Qila Complex

A small elongagted step well (baoli) located near the Qila-i-Kuhna Masjid and Sher Mandal

HammamLocated next to the Sher Mandal the ruined hammam (bath house) have remains of terracotta pipes and ribber water chutes.
Tuglaqabad
Tughlaqabad Fort

phone: +91 2604 5671

address: Mehrauli Badarpur Road, Tughlakabad

Massive fortress built by Ghiyasuddin Tughlaq in the 14th century and was the third city of Delhi. The monstrous ruins of this complex are now overrun by hordes of Langur monkeys.

Mausoleum of Ghiyasuddin Tughluq

Adilabad Fort

Nai ka Kot
Monuments
Atagh Khan's tomb

address: Nizamuddin Complex

The tomb of Atagh Khan who was a general in Mughal emperor Humayun's army. Here is also the Nizamuddin Markaz Masjid

Barakhamba Tomb

address: Lodi Estate

The name is derived from the structure's 12 pillars and 3 domes, it houses tombs of the Lodi time. A 14th century tomb during Lodi time of an unknown nobleman

Mirza Ghalib Tomb

address: Dildar Nagar, Nizamuddin West

Tomb of poet Mirza Ghalib (1797–1869) located on the Chausath Khamba margins. Also in nearby is the Makazi Masjid

Mubarak Shah's Tomb

address: Kotala Mubarakpur

This tomb was once a massive and popular structure. Built during the Sayyid rule, it was famous during the times of the Mughals and Lodis and highly vandalized during the Revolt of 1857. Only the west and south gate survive and other gates as well as Quranic inscriptions have disappeared. Located in Kotla Mubarakpur Complex (Hindi: कोटला मुबारकपुर काम्प्लेक्ष्), a medieval village. There are several other tombs of Lodi Dynasty period such as the Darya Khan's tomb, Kale Khan ka Gumbad, Bare Khan ka Gumbad, Chote Khan Ka Gumbad and Bhure Khan ka Gumbad, and also a Baoli (step well).

Najaf Khan's Tomb

address: Main Aurobindo Marg, Safdarjung, Delhi - 110003

This is the tomb of Najaf Khan. Najaf Khan was a Persian traveller who came to Delhi during the rule of Mughal ruler Muhammad Shah around 1740. He was later awarded deputy minister of Awadh. His tomb is accompanied by the tomb of his daughter. This tomb is laid in the traditional Mughal Char Bagh or Four Gardens style.

Sher Shah Suri Gate

address: Mathura Road

A gate opposite to Purana Qila built by Sher Shah Suri. Some historians believe that this marked the boundary of Sher Shah's empire, though others doubt that his empire extended till Shergarh. Nevertheless it must have marked some boundary.
Museums
Ghalib Museum

phone: +91 11 2435 1098

address: Nizamuddin, Nizamuddin West

This is a museum on the life and times of the 18th century Urdu poet Mirza Ghalib. On the third floor of the Ghalib Academy building. Also here an art gallery where paintings made by famous & eminent artists are on display.

phone: +91 11 2468 2001

address: Lodhi Rd

This center though not a museum in the strictest sense of the word, is most noted for its ever-changing art exhibits, plays and films, as well as an international selection of food items in its food court. Only members can use the Dilli-O-Dilli & the Oriental Octopus restaurant, but the American Diner and Eatopia food court are accessible to all.

Tibet House

phone: +91 11 2461 1515

address: 1 Institutional Area, Lodhi Rd

Established by HH Dalai Lama with the aim of preserving the cultural heritage of Tibet. There is a museum, exhibition space and library.
Religious buildings
Gurudwaras
Gurdwara Dam Dama Sahib

address: Bharat Scouts and Guides Marg, (Outer Ring Road cnr)

Sikh place of worship. Built by Sardar Bhagel Singh in 1783. Later a deorhi (Sikh architectural structure) was constructed, including buildings for priests and pilgrims. In 1984, a new building was constructed. Every year thousands of devotees assemble here to celebrate the festival called Hola Mohalla.
Hindu temples
address: 1, Hare Krishna Hill, Sant Nagar, East of Kailash

Temple, Centre for Krishna Consciousness, it has robotic shows and multimedia presentations, apart from the traditional temple complex. Lively atmosphere and excellent tasting sweets - and the delicious Govinda's restaurant is on site.

Kali MandirIt is a forty year old temple complex and Bengali community cultural center. The compound has three temple - that of Lord Shiva and Radha Krishna and the Main temple in the middle. Built on a small hill, it started as a Shiv temple, which still stands within the complex, the larger shrines dedicated to goddess Kali, Shiva, and Radhakrishna were added in 1984.

address: Mahant Niwas, Shiv Mandir Parisar, Kalkaji

Constructed of brick masonry, finished with marbles and is surrounded by a pyramidal tower. The Central Chamber which is 12-sided in plan with a doorway in each side is paved with marble and is surrounded by a verandah 4m wide and containing 36 arched openings.
Other religious buildings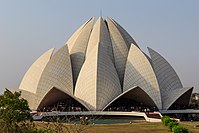 address: Lotus Temple Road, Nehru Place, Kalkaji

Shaped like a lotus bud with 27 petals, this stunning temple suspended above milky-blue ponds is surely one of the most magnificent monuments ever made from concrete, however there is very little to see inside. The lush park around is well landscaped but mostly off-limits.

address: 17,Institutional Area, Lodhi Rd

Although there are many Shirdi Sai Baba Temples in and around Delhi, the one located at Lodhi Road is the oldest.
Do
Parks and gardens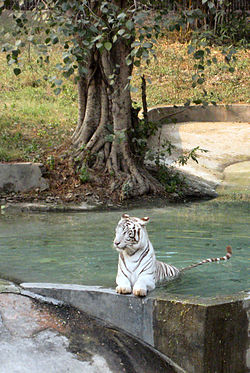 Kalindi Kunj

address: Amrapali Marg

A public garden, named after Kalindi (another name of the river and goddess Yamuna), as it is next to the Yamuna river.

National Zoological Park

phone: +91 11 2435 8500

address: Mathura Road

The Delhi Zoo is a very large and sprawling park dedicated to preserving the rich biodiversity of the country. This park may be the only chance of seeing a tiger or elephant for some travellers. Be prepared to do a lot of walking .

Waste to Wonder ParkOpened in 2019, this theme park has replicas of the some of the world's wonders including the Colosseum,Taj Mahal, Leaning Tower of Pisa, Great Pyramid of Giza, Eiffel Tower , Christ the Redeemer Statue and the Statue of Liberty. All the replicas are made of industrial waste and scrap.
Buy
Bazaars
Central Market

address: Alankar Cinema Rd

– Mostly clothes, jewellery and homewares. Middle-class Indians do their shopping here. Good prices for clothes, whether ethnic Indian or otherwise.
Clothing
Ansal PlazaThis mall is a favourite shopping haunt for the local middle/upper class. This is a great place to get bargains on international brand clothing and jeans (as these tend to be 30-50% cheaper than in the West depending on the brand and time of year). Also has many Indian and Western restaurants. International brands such as Guess, Marks & Spencer, United Colors of Benetton, Lacoste and Apple have retail outlets here.

South ExtensionShopping mecca but it is not a single mall. It is spread out over a large area and many international brands have stores here. International brands include the likes of Mango, Nautica, United Colors of Benetton, Levis, etc.

AnokhiWomen's clothing, childen's wear, men's wear, and some home goods. In Khan Market and Santushti Shopping Complex with discount store in Nizamuddin East Market (enter gate #9).
Computers
Nehru PlaceAn IT hardware market complex and a perfect place for finding gadgets at very cheap rates. It is also a huge marketplace for both pirated and original software. Any computer-related accessory can be found here, but parking is a monumental problem. Beware of congestion and pickpockets. Open Mon-Sat.
Eat
Italian
Amici Cafe

phone: +91 11 4557 2003

address: 8, Defence Colony Main Market, New Delhi, Delhi 110024

The Big Chill

phone: +91 11 2924 1040

address: 5, Khailash Colony, New Delhi, Delhi 110048

Khan Market and East of Kailash, is popular with a young crowd for great smoothies, ice creams, cheesecakes and Italian food. Expect a waiting line during lunch at Saturdays.

phone: +91 11 2921 5673

address: M-8A, M Block Market, Greater Kailash-2 New Delhi

Italian style food.
Flavours of Italy, (near the Moolchand flyover).

Little Italy

address: 28 A, Defence Colony Market New Delhi

La Piazza, Hyatt Regency. Italian style restaurant.
San Gimignano, Imperial Hotel, Italian style food.
The West View, Maurya Sheraton. Italian style food.
Sleep
Budget
Greater Kailash
Greater Kailash is an affluent residential area in South Delhi. Most of the accommodation here is a bit of a hike to the metro, but the quality of the houses and calmness makes this area an attractive place to stay.
phone: +91 11 46 06 60 54

address: R-55, 2nd floor, Greater Kailash 1

Run by two French women. A cozy and modern accommodation, safe for women. Clean and well decorated. Wifi and breakfast included. Fully-equipped kitchen.

Elina Bed & Breakfast

phone: +91 9999470502

address: A57, Block K Chittranjan Park Rd, Chittaranjan Park

Safe for women, all modern facilities. WiFi & breakfast included.

phone: +91 11 40793437

address: S-25, Greater Kailash Part 1

The most recommended hostel in Delhi. Dorms have air-con with showers and lockers (bring your own lock). There is a kitchen, washing machine, common room, water filter, wi-fi, PCs, books and guides.
Mid-range
phone: +91 98 1841 0099

address: K 102, Lajpat Nagar - II

Reasonable rooms, free internet, but bathrooms badly in need of a refurbishment. All rooms include air freshening dispenser.

BnB New Delhi Bed and Breakfast

phone: +91 98 9909 9042

address: I - 9 Maharani Bagh, adjoining Friends Colony

House with a cosy family atmosphere. Free wifi, tea & coffee making tray in room, DVD plaver with bollywood and hollywood movies, games, children movies. LCD satellite TV, refrigerator. All rooms have private bathroom and western toilet with shower. Breakfast is served in dining room. Library includes books on culture, city guide books and India guide books in lounge area.

Beaufort Inn

phone: +91 11 2437 7475

address: 14 Jangpura Main Mathura Rd

phone: +91 11 4669 0200

address: F 37 East of Kailash, South Delhi

Renovated rooms.

phone: +91 9590 777 000

address: R-53 Greater Kailash I,

Full service hotel.

phone: +91 11 4165 0101

address: 201, Okhla Industrial Estate, Phase III

phone: +91 9810808281

address: 142 Sunder Nagar, South Delhi

Maulsari is a B'n'B in the posh colony of Sunder Nagar. Conveniently located near heritage monuments, Delhi High Court, Supreme Court and major markets.

phone: +91 99 1002 4700

address: E - 512, Greater Kailash Part-2, Main Rd

Boutique hotel in South Delhi. New deluxe rooms, high speed wifi, nice surroundings. Close to Lotus temple, Opposite JMD shopping mall and Mainland China restaurant

address: G.K.1, New Delhi

Serviced apartments in South Delhi for corporates and business travelers.

phone: +91 11 45751111

address: E - 8, East of Kailash

All rooms with LCD TV with satellite channels, telephone, mini-bar, coffee/tea maker and Wi-Fi Internet connectivity.
Splurge
address: Lodhi Road

A boutique hotel opened in 2009.