Denizli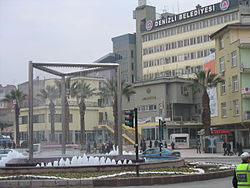 Denizli
is the commercial and transportation hub of inland region of
southeastern
Aegean Turkey
. It is nestled against the hillside at the southern side of the plains of Büyük Menderes River. It's a busy place partly because of nearby
Pamukkale
and its travertine pools but mainly because it's the main commercial hub for the agricultural produce coming from the region. It's also the place where you probably need to go if you're in need of cash.
Don't let its looks deceive you when you arrive at the
otogar
once you proceed beyond the main thorougfare and its dreary concrete façades which are repeated throughout the city, you find there's a lively market and all sorts of eateries. Since tourists don't really come here, you probably won't be harassed.
Get in
By bus
There are buses here (directly or indirectly) to and from
Nevsehir
(for
Goreme
),
Istanbul
,
Fethiye
, and
Selçuk
(for
Ephesus
). In addition to these well travelled towns, the extensive, reliable, and almost always on time Turkish bus system links Denizli with almost any major city in the country. The most notable ones are
Adana
,
İzmir
,
Istanbul
,
Diyarbakır
,
Ankara
and so on. As in the rest of the country, when you consider buying a ticket, always try to use the well-known companies. Usually they have bigger signs in the
otogar
(main coach stations). Also, always check your departure time and gate as well as the destination. The agent most probably will not know any word in English so you may need to use body language instead.
The local company
Pamukkale Turism
offers the best options with buses to many cities leaving once or even twice an hour.
Many of the bus companies (such as Pamukkale, Kamil Koç, and Metro) offer a free service shuttle from the bus station into the city which is a nice option if you want to avoid a taxi ride. Tell the driver where you would like to go and make sure they realize you're not a local, and they will help you get on the right shuttle and help you get off at the right stop.
You can take a
dolmuş
(minibus) from Denizli to
Pamukkale
at the otogar platform/
peron
76. They run every 20 minutes, 3.50 TL (Nov 2017).
There are two bus stations. The old bus station in the heart of the city is being remodelled. This area is called "eski garaj." Dolmuş buses pick up and drop off from a strip of sidewalk along the main road there. If you are staying in downtown Denizli this is a good place to pick up a dolmuş going to Pamukkale. The main bus station (where intercity buslines like Pamukkale, Kamil Koç, and Metro operate) is on the edge of town in an old shopping mall. To get to this bus station you should ask for the "otogar".
By train
There are trains only from
İzmir
to the city. The daily
Istanbul
service (
Pamukkale Express
) has been suspendeddue to track renovations. Check with Turkish State Railways' (
TCDD
) website for most up-to-date information on this.
By plane
Denizli Çardak AirportThe national carrier Turkish Airlines provides three daily flights from Istanbul Airport. The times are very early morning, morning, and evening. Çardak Airport is about one hour outside the city of Denizli. There are taxis available at the airport, but a better option is taking the havaş. The havaş is a bus that goes only between the airport and the city for every flight. It costs 15 TL. If you are going to Pamukkale, the havaş can take you from the airport to a dolmuş (minibus) that goes to Pamukkale.
İzmir
Adnan Menderes Airport (
ADB
) is another alternative to the area. Denizli is about 260 km from the airport, a drive of about 4 hours (4½-5 hours by bus) or 6–7 hours by train.

Get around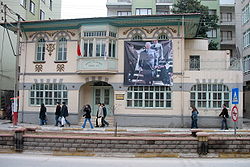 Denizli is not a very big city. You won't need to use the transportation system very often. Minibuses and buses provide service. There is neither metro nor trams running. Just rely on your foot as the center of the city is so small. If you want to go to the outskirts of the city you can take buses. Every bus has a sign on it stating where it goes and terminates. You can try to ask the driver as well.
See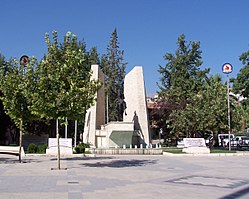 Because it is not a very popular tourist destination, Denizli does not have tons of stuff to offer.
İncilipınar Parkı and Çamlık ParkıTwo very beautiful parks in the city that are worth a look—also for some fresh air.

MuseumThere is one very famous museum which was the house used by Mustafa Kemal Atatürk—the founder of the Turkish Republic—when he visited Denizli. This museum is located across the street from "Babadağlılar İşhanı" where you can shop for Turkish towels and other linens.

LaodikeiaA bit closer to Denizli are the ruins of Laodicea. The main part of the ancient town is somewhat better preserved than that of Hierapolis, though it hasn't been reconstructed as much as the more famous sites like Ephesus. It is along the dolmuş route between Denizli and Pamukkale. The driver will stop and let you off on the side of the highway. Look for a large brown sign pointing to Laodikeia. Walk about 1 km (15 min) to reach the site. There is a small cafe, gift shop, and toilets. Laodicea is mentioned in the Bible as one of the 7 Churches of the Revelations. It is a great place to experience the Roman history without the crowds. The main road, called Syria Street, and the temple are the highlights. The temple has a glass floor so you can look down into the basement and see offerings that were uncovered there during excavations. (The temple is closed to visitors in May 2018) The theatre offers a great view of the surrounding area, including Pamukkale in the distance.
Buy
Denizli is well known for its textile in Turkey. It may offer you a wide-variety of textile products. Also, one can find some hand-made clothes and so on. The biggest place for buying traditional handmade clothes is "Babadağlılar İşhanı" located in the heart of the city. Moreover, huge shopping malls such as "Teraspark" and "Forum Çamlık" are good options for worldwide-known stores.

Eat
You can find some local tastes in Denizli to eat. The very first one that is worth a mention of these is Denizli Kebabı. Fairly good Denizli kebabi can be had at Enver Kebabçı and Kebabci Halil both of which are located at Bayramyeri district. This local type of kebab is also known as Tandır in some other regions of Turkey. Denizli Kebabı is best eaten around noon.
Also, another option would be Kaşarlı Alabalık—a kind of meal made from fish covered with some grated cheese in a very special oven.
You should also try the toasts of the buffet "Karadam" which is located in the city centre "Çınar". The Dörtlü is also something that you should not miss.
There is a local company called "Hacı Şerif" that sells all kinds of sweets from Turkish Delight (lokum) to hard candies and chocolates. They have a large shop in downtown Denizli (Çinar) and smaller shops throughout the rest of the city. They are a family business, started in 1938, and well known locally. Besides their Turkish Delight, you should try their Dondurmalı İrmik Helvası . Irmik helvası is a dessert made with semolina and pine nuts. Hacı Şerif places a scoop of vanilla ice cream in a small cup and packs warm irmik helvası in around it. The resulting dessert is a delicious mixture of warm and cold.

Sleep
While there are places to stay in the city centre, the hotels in nearby
Pamukkale
and especially Karahayıt (further north from Pamukkale) offers some better places to stay at affordable prices.
phone: +90 258 242 0428

address: Saraylar Mh., Cumhuriyet Cd No:10

Quite OK hotel near the bus station. Buffet breakfast included in price.

phone: +902582652028

address: 632 Sokak #13

Yildirim Hotel is next to the Denizli bus station and offer comfortable and affordable rooms. Also, they speak English!
Go next
Visiting Pamukkale is possibly why you are in Denizli in the first place. It offers calcium-coated cliffs and hot spring pools, and the ancient site of Hierapolis, which has a well preserved ancient theater and necropolis. The Hierapolis Museum and historic site are well worth seeing.
Nearby Aphrodisias is one of the best preserved Roman cities in Turkey, and without the usual crowds of better known sites such as Ephesus.