Denton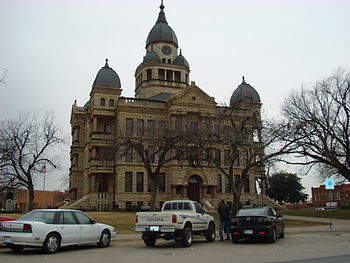 Denton
is a city in
Texas
. It is a college town which forms the northern tip of what is known as the Golden Triangle, the other two points being
Dallas
and
Fort Worth
, approximately equidistant to the southeast and southwest.
Get in
By plane
The nearest airports with commercial service are
Dallas-Fort Worth International Airport
(
DFW
) and Love Field (DAL).

By train

There are no long-distance trains to Denton, however Amtrak serves nearby Dallas/Fort Worth with its Texas Eagle service. What Denton has is good commuter rail services from Dallas via the A-Train. The train departs every second hour from Trinity Mills station in Carrollton where it's possible to connect with Dallas DART rail system (Green line) from Dallas city center. is located at 604 E Hickory St, just west of downtown and is connected to local buses.

By car
Denton is situated on I-35 at the point where it splits into 35E, heading southeast to Dallas, and 35W, heading southwest to Fort Worth. Depending on the traffic, it takes about 30 minutes from either. If you are coming from Oklahoma City it takes around 4 hours. Highway 380 also connects Denton to Decatur 30 minutes west, and U.S. 75 30 minutes east. The Denton Airport (DTO)is located within the city limits of the City of Denton, only four miles from the central business district and 15 minutes north of the Texas Motor Speedway.

By bus

Greyhound offers service to Denton, with a station in the northwest corner of town adjacent to I-35.

Get around
The Denton County Transportation authority runs several bus routes throughout the day. There is also a free shuttle service for UNT, TWU, and NCTC students. Although it is best to rent a car in Denton, you can easily use the buses. See the
Denton County Transportation Authority
.
See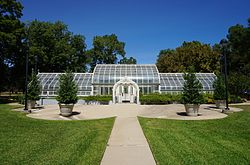 Acoustic Lawn JamOn the Hickory side of the courthouse. Every Saturday from 10AM to 1PM weather permitting, folks bring their fiddles, guitars, banjos, and mandolins for a free-for-all jam session.

phone: +1 940 349-2865

address: 317 W Mulberry St

A Victorian house from the 1880s offers a glimpse of local history.

Historic courthouse and the Courthouse–on–the-Square Museum

phone: +1 940 349-2850

address: 110 W Hickory St

Denton's courthouse, built in 1896, houses a museum collection of heirlooms, pottery, and weapons, all artifacts of local history.

One O'Clock Lab BandUniversity of North Texas' world-famous group offering jazz performances.

phone: +1 940 369-8257

address: 109 N. Elm St

An arts and meeting space devoted to presenting UNT arts programming in service to the university and to the community at large. UNT on the Square also houses the UNT Institute for the Advancement of the Arts.
Do
Buy
Denton's
historic town square
has several good antique and specialty shops.
Golden Triangle Mall

phone: +1 940 566-6024

address: 2201 S I-35E

phone: +1 940 566-5688

address: 200 N.Locust

The old opera house now houses a very large locally-owned used book store with a strangely organized but fantastic selection.
Eat
Budget
Mid-range
phone: +1 940 591-8790

address: 508 S Elm St.

Best Thai food in Denton. Just off the square.

Fera's

phone: +1 940 382-9577

address: 1407 W Oak St.

Good Italian food in a unique setting. The garlic rolls keep the locals coming back.

phone: +1 940 484-1349

address: 600 N Locust

Sandwiches, burgers, seafood, and many vegetarian options in classy atmosphere with occasional live music.

phone: +1 940 382-7769

address: 118 W Oak St.

phone: +1 940 383-1022

address: 113 W Hickory St.

Great hamburgers in a Texas music themed setting.

La Mexicana

phone: +1 940 483-8019

address: 619 S Locust St.

Very authentic Mexican and Tex-Mex, 5 blocks south of the square on Locust. The lunch specials are very popular with the local Mexican community. Try the tilapia.

phone: +1 940 591-1652

address: 628 Londonderry Ln.

A take-out joint specializing in barbecue and tradition German sausages.

phone: +1 940 382-5437

address: 1633 Scripture St.

Fantastic Chinese and Thai dishes. The sesame chicken and the almond chicken are scrumptious.

phone: +1 940 566-6018

address: 1509 Malone St.

Great Thai Food. Local restaurant with great service and affordable food. The curry & noodle dishes are fantastic.

Yummy's

phone: +1 940 383-2441

address: 210 W University Dr.

Popular Greek and Mediterranean restaurant.
Splurge
Drink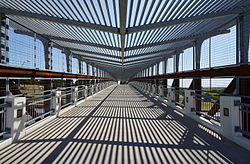 Andy's Bar & Grill

phone: +1 940 565-5400

address: 122 N. Locust

Busy bar an music venue right on the square.

phone: +1 940 320-2000

address: 103 Industrial St

One of the best live venues in the DFW area.

Rockin Rodeo

phone: +1 940 565-6611

address: 1009 Ave. C

The local honky-tonk.

Rubber Gloves Rehearsal Studio

phone: +1 940 387-7781

address: 411 E Sycamore

In the warehouse district east of downtown, this garage venue hosts a lot of great national acts that skip even Dallas.

Lone Oak Bar & Grill - Holiday Inn Hotel

phone: +1 940 383-4100

address: 1434 Centre Place Dr

Great Bar & Grill located in the Holiday Inn Hotel & Suites.
Fry Street area
These establishments are all easy to spot from the corner of Fry Street and Hickory. Note also that it is legal to drink alcohol on the street here until 2:30AM, provided that it is not in a glass container. It is illegal, however, to carry alcohol onto the UNT campus grounds across the street.
Cool Beans

phone: +1 940 382-7025

address: 1210 W Hickory St

Sports bar with many TV screens, darts, a rooftop patio, and frequent live music by mostly local acts. Try their unique hamburgers. Happy hour specials til 7.

The DrinkLive music from great local bands.

Fry Street Tavern

phone: +1 940 383-2337

address: 121 Ave. A

phone: +1 940 484-5550

address: 1207 W Hickory St

A happening college bar with pool tables inside and a large outdoor patio in front. Happy hour from 9 to 11.

Riprock'sPopular bar with a nice covered outdoor seating area
Sleep
Go next
Any destination in Dallas or Fort Worth is easily accessible as a day trip.
Go shopping at the outlet mall just north of town, or at another one 25 minutes north in Gainesville.
Lake Ray Roberts is 20 minutes north of town. Facilities are minimal however. Follow Locust street north out of town and watch for the sign pointing out the turn to the right.
Denton makes a convenient place to stay for events at Texas Motor Speedway a few miles south of town towards Fort Worth.