Deoghar
Deoghar
(also called Baidyanath Dham) is in
Jharkhand
. It is famous for the Baidyanath (Shiva) temple.
Get in
By rail - Deoghar Junction is the main railway station at Deoghar City.
Another railway station is Baidyanath Dham (Deoghar) which is a terminal station of a 7+km branch line originating at Jasidih Jn. on the Howrah-Delhi main line. Apart from local trains on the branch line trekkers (type of jeep) taking in passengers on a per person fare basis and auto rickshaws are available. Auto-Rickshaws are available frequently just outside the Jasidih railway station. They charge ₹8 per person in a shared auto and up to ₹60 in a Reserved auto. However, due to the road bridge that connects Jasidih to Deoghar collapsing, the auto rickshaws take alternative longer route thus charge about ₹15 per person and up to ₹100 in reserved. The best means to get to Deoghar is the local up-down train available every few hours at Jasidih Railway station on Platform No. 4
No need to wait for minutes or hours, all conveyance are available in this route.
Get around
Unmetered taxis or hired cars, auto rickshaws, tongas and cycle rickshaws are available. Tongas charge around ₹400, autorickshaws around ₹500 and hired cars ₹700-₹1,000 for a visit to most of the important places in the town.

See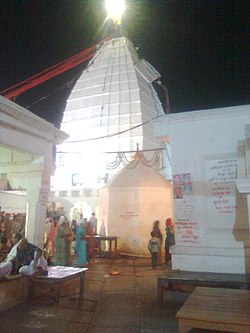 Baidyanath Temple - According to Hindu mythology, Ravana went to Mount Kailash and prayed to Lord Shiva, who gave him a Jyotirlinga to take to his land, with the promise not to place the lingam anywhere else. In case that happened, the lingam would remain fixed on that spot forever. The gods, who were unhappy at the prospect of the divine lingam being established in the enemy kingdom, which would render them powerless against their adversary, worked a trick on Ravana. He mistakenly handed over the lingam to a Brahmin, who grounded it at Deoghar. Ravana did his best to uproot it but beyond breaking the tip he was unsuccessful. In deep remorse, he used to come to this place everyday and worship the lingam by offering water from the Ganges. Historically the temple is dated to 1596. The temple has almost all god & goddesses and whole temple is built on a single rock. During the month of 'Sawan' people from across the country come to offer ganga jal to the divine Shiva ling.
For centuries, devotees, in the month of Shravan (June–July) undertake a rigorous 100-km pilgrimage on foot from Ajgaibinath (Sultanganj) in Bhgalpur district to offer holy water from the Ganges to the lingam at Deoghar. It is very crowded in Deoghar during this period as more than 5 million devotees visit every year. Hence it is not recommended for a casual traveler to visit Deoghar during these months.
Balanand Ashram Yogashala, Karnibagh - Yoga Institution.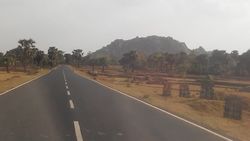 Fuljhari Pahar - 48 km from Deoghar, this is hill for those who want to start mountain climbing. It has a height of around 800 meters and it is safe for climbing.
Harila Joria - 8 km from Deoghar, famous for Shiva Temple
Nandan Pahar - A picnic spot with some basic rides atop a small hill. Vehicles come to the base but one has to walk up.
Naulakha Mandir - it is a beautiful temple of Radha-Krishna on the outskirts of Deogarh
Prabhu Jagadbandhu Ashrama - 4 km from Deoghar, on the way to Tapovan, near Charki Pahari crossing - for short stay in a cool, pristine environment with monks and other ashramiks.

Ramkrishna Mission Vidyapith

address: Tiwari Chowk

Satsang Ashram - it is a holy place for the followers of Sri Sri Thakur Anukulachandra. It also has a museum and a zoo with a sarva dharma mandir.
Tapovan - A picnic spot with some caves and lots of monkeys. 8 km from Deoghar, Balanand Brahmachari used to meditate here.
Trikut - 16 km from Deoghar, source of the River Mayurakshi - vehicles come to the base but one has to walk up. Recently a ropeway has been built to ferry people to the top.
Do
phone: +91 6432290870, +91 9304488889, +91 9430799449 (also fax)

address: Village Pania Pagaar

Rikhia peeth is the tapobhumi (place of spiritual sadhana or practice) of Swami Satyananda Saraswati, founder of the Bihar School of Yoga, Munger. Swami Satyananda came to Rikhia with the sankalpa to live in seclusion, on 23 September 1989.
Buy
Beautiful Bangles

address: mandit line

Beautiful bangles shop are available, on temple lane.
Bihar State Handloom Emporium
Santhal Parganas Gramodyog Samittee
Santhal Parganas Khadi Gramodyog Bhavan
Eat
One normally has food in the place of stay but there are numerous small eateries.
Deoghar has some food specialities:
Bel ka Morabba Another speciality of Deoghar available form September to March. One must try this.
Langra Aam- Deoghar's another speciality is its langra aam. One must never miss it.
Paratha - made of flour filled with sattu and potato and blended with pure deshi ghee, famous location 'Parathas of Luchhu Shah' in the mandir lane, any one can point you to the shop when asked for.
Peda - a type of milk-based sweet-meat is the Deoghar speciality. A visitor to Deoghar must not miss it.
Rabri - made of condensed milk, available throughout the year.
Tilkut- made of til and sugar mixed and crushed together, mostly available from the month of December to February.
Drink
Most of the places of Deoghar have groundwater as their main water source and therefore it is suggested to carry a bottle of mineral water in your journey.
Lassi

address: on the mandir lane

Try cool dahhi ki lassi, it is also famous in Deoghar.
Sleep
Hotel Anand, Telephone +91 6432 220540, Rooms ₹200-₹350.
Hotel Bharti, Very close to temple. Telephone 06432-223022, Rooms ₹200-₹400.
Hotel Samrat, Telephone +91 6432 222402, Rooms ₹250-₹400.
Hotel Yasoda International, Telephone +91kol. 033 329_53360, 2264_2051, Rooms ₹500-₹2000.
Hotel Yatrik, Telephone +91 6432 323 299, Rooms ₹300-₹400.

JotyNear to the West enrance gate of Baidyanath Temple

Nataraj Vihar (Jharkhand Tourism), Telephone +91 6432 222422, Rooms ₹200-₹500.
New Grand Hotel, Telephone +91 6432 225245, Rooms ₹250-₹350
Hotel Prova, Telephone +91 6432 224112, Rooms ₹200-₹300.

Saraswati Ashram

phone: +91-9234716393

address: Mansarowar Road, near Mandir

Saraswati Ashram is one of the budget hotels at Deoghar very near Bhaidyanath Dham Mandir, Good place to stay and good place to eat.

Sewa Dham

phone: +91 7903148155, +91 9204255482

address: opposite Nandan Pahar Baidyanathdham

Ashram-type accommodation, run by a trust, with non-AC rooms, big halls, one kitchen providing Vegan food, groups may use the kitchen upon request.
Go next
Basakinath Temple (42 km): Famous for Shiva Temple
Dumka - 65 km
Giridih - 62 km
Kali Dham, Pathrol - 53 km on bus route towards Madhupur via Sarath. Beautiful temple with nine more beautiful tamples around the Main Kali Tample which was built by Raja Digvijay Singh, 6 to 7 centuries ago.
Massanjore Dam - 98 km.