Dereham
Dereham
is a town in
Norfolk
,
England
.
Understand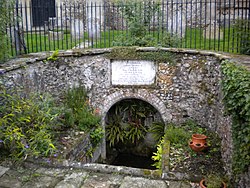 Dereham, sometimes knows as East Dereham and not to be confused with West Dereham (around 15 miles away), has a population of around 18,000. The town is situated 25 miles to the W of
Norwich
and 40 miles NNE of
Ely
.
The Town badge is from the arms of the Bishop of Ely with a deer. The three golden crowns are from the princesses and saints, Withburga, Æthelthryth and Saxburga. The town is on the site of a monastery founded by St Withburga (whose body was stolen by the monks of Ely legend being that the Holy Well in St Nicholas' Church started to flow when her body was stolen). Æthelthryth was a princess, a Fenland queen and Abbess of Ely. Saxburga was a queen then regent in Kent until her son came of age after which she moved to live at the Abbey of Ely. Dereham's name derives from a deer park that (is thought to have) existed in the area.
The town is twinned with the town of
Rüthen
in
North Rhine-Westphalia
,
Germany
. It is also twinned with
Caudebec-lès-Elbeuf
, France.
Get in
By road
The town lies on the A47
King's Lynn
, Dereham,
Norwich
,
Great Yarmouth
main road, about 27 miles E of King's Lynn and 18 miles W of
Norwich
.
By rail
The town does have a railway station but is serves only a preserved heritage
Mid-Norfolk Railway
linking the town to
Wymondham
and running between 3 and 6 trains per day (depending on the day and time of year) - so not a useful route into the town for most people.
By bicycle
On foot
Get around

The town is small enough to get around on foot.

See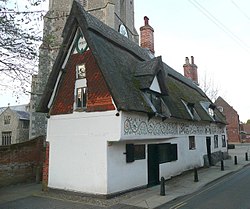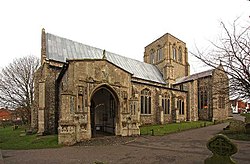 Do
Strikes

phone: +44 1362 696910

address: Station Rd, East Dereham, NR19 1DF

Also indoor children's adventure play area (Planet Zoom open daily 10:00-18:00)

phone: +44 7564 499494

address: 11 Church St, Dereham, NR19 1DP

Live escape room game. 2-6 players are shut in a themed room & must solve hidden puzzles (duration 1hr for escape).

phone: +44 1362 691133

address: Market Place, Dereham, NR19 2AW
Buy
phone: +44 1362 690555

address: Yaxham Rd, East Dereham, NR19 1HD

Lidl

address: Kingston Rd, Dereham, NR19 1WB

phone: +44 1362 691004

address: Station Rd, East Dereham, NR19 1DF

Cafe (different hours). Petrol station (different hours). ATMs.
Eat
phone: +44 1362 288775

address: 25 Wellington Rd, Dereham, NR19 2BP

Restaurant, take-away, delivery.

phone: +44 1362 692131

address: 28 Norwich St, East Dereham, NR19 1BX.

phone: +44 1362 638466

address: Main Rd, North Tuddenham, NR20 3DJ
Drink
Sleep
Stay healthy
Nearest Accident & Emergency: Norfolk & Norwich University Hospital

address: Colney Lane, Norwich, NR4 7UY

phone: +44 1362 852800

address: 27 Theatre St, East Dereham, NR19 2EN

phone: +44 1362 654955

address: 1 Gwersylt Villas, Cowper Rd , Dereham, NR19 2BY

Lloyds Pharmacy

phone: +44 1362 692080

address: Orchard Surgery, Commercial Rd, Dereham, NR19 1AE
Connect
Post Office

address: Quebec Street, Dereham NR19 2AA
Go next