Des Moines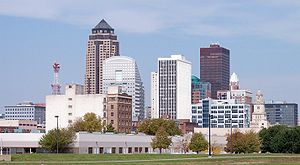 Des Moines
, capital of
Iowa
, is in the western region of the American
Midwest
.
Understand
Des Moines is the largest city in Iowa and the annual site of the Iowa State Fair. Because of Iowa's early presidential caucus date, the city is also a hotbed of political dreams and discourse every four years when presidential candidates tour the state and have multiple debates within the city.
The meaning of 'Des Moines' is not clear as local Native Americans, the Moingona, had already been using a term (which meant 'river of the mounds') due to the number of burial mounds which were popular in the area. French Trappist Monks (Moines de la Trappe) called their settlement areas at the mouth of the Des Moines River 'La Rivière des Moines' which, in English, translates to 'the river of the monks.' "De Moyn," which means "middle," may have been used on the map of explorer Jacques Marquette to help others locate the Des Moines River-area (equidistant between the larger Mississippi and Missouri rivers). "Des Moines," today pronounced "duh MOIN," is at the junction of the Des Moines River and the Raccoon River.
Fort Des Moines was settled in 1843 by a group of dragoons from the Sac and Fox Agency (Fort Sanford) led by Captain James Allen. Allen was going to name the area Fort Raccoon, but was instructed by the War Department to use the name Fort Des Moines. In 1846, the Fort was dissolved and the city was created.
In 2010, U.S. Census Bureau data estimated the
population
of Des Moines proper to be at 203,433; the metro area has more than 500,000 residents.
Climate
Due in part to the moist and rich soils that make Iowa an agricultural powerhouse, summers are filled with very humid air. Coupled with heat, this can result in a very high heat index. This can make outdoor life very uncomfortable (and sometimes dangerous) for those unaccustomed to such conditions, even visitors from hot climates, such as the
Southwest
, where the heat lacks the coupling of humidity. In the winter, it is not at all unusual to have road closures due to snowfall or ice.
Get in
By car
Most travelers to Des Moines are likely to come via interstate, on either
I-80
(from the east or west) or
I-35
(from the north or south). Travelers will not have to worry about encountering any tollways or major traffic jams. Once in the area, those wishing to enter the city will use
I-235
to get into Des Moines proper.
The majority of area residents get around by use of their automobiles, so bringing or renting one is a good idea. The roads are in good shape and most drivers would not be classified as aggressive.
The main thoroughfare, I-235, runs through the downtown area and is free of tolls. Semi-trailers passing through are advised to avoid I-235 as the traffic is usually heavier, particularly during the morning and evening rush hours (7AM-8AM and 4:30PM-6PM) as people travel to and from work. Additionally, the speed limit on I-235 is 5–10 mph less than on I-80/I-35.
The city has two interstates surrounding it, I-80 (running east/west) and I-35 (north/south). Chicago is roughly 330 mi (539 km) east of Des Moines while Omaha is about 135 mi (215 km) west of the city. Popular destinations along I-35 include Kansas City, just under 200 mi (320 km) to the south and Minneapolis/Saint Paul to the north, nearly 250 mi (500 km) away.
Safe-driving tips, road closures due to weather and construction, and other pieces of information, are available from the Iowa Department of Transportation. Wi-fi is available throughout the state at public rest areas.
By plane
Des Moines International Airport

phone: +1 515 256-5050

address: 5800 Fleur Dr

Des Moines' airport is fairly small for a major airport, consisting of only a single terminal. Although the airport has had a reputation of being expensive in the past, many flights are now more affordable and travelers have noticed, breaking usage records year-in and year-out. Most hotels offer free shuttle service and rental cars are also available. Long-term parking varies in price from $5-12/day. The following airlines have services to Des Moines: Allegiant Air, American, Delta, Frontier, Southwest, and United, all of which operate non-stop flights between Des Moines and their respective major hubs.
By bus
The is at 1501 2nd Ave.
Greyhound
doesn't serve Des Moines directly but they do offer through-ticketing with both bus lines.
phone: +1 515 283-0074

address: 1501 2nd Ave

Regional transport, primarily the Midwest but also the South, Great Plains, Rocky Mountains and parts of Canada.

phone: +1 515 243-5283

address: 1501 2nd Ave
By train
AmtrakNearest Amtrak station is 45 mi (72 km) south in Osceola at Main and E Clay Sts. In the town there are not many traveler services, although there is a casino to help pass the time, so it's best to do any extensive overnight stays in Des Moines. It is also possible to reach Des Moines from Osceola (or vice-versa) by Jefferson Lines bus which leaves from Osceola Amtrak station and arrives at Greyhound bus station in Des Moines.
Get around
By car
The colder weather months (Nov-Feb) often bring
snow and ice
to area roads. Visitors who park their cars should be prepared in case their car is "snowed in" by snow removal trucks. Also, strict attention to parking rules and snow emergencies is recommended to avoid being towed away at the car owner's expense. During the winter months, a snow brush, ice scraper, and plenty of windshield washer fluid is essential, and many natives opt to carry a shovel, some sand, and a bag of ice melt/road salt in the trunk just in case.
Gasoline is reasonably cheap in the Des Moines area, partially from subsidies afforded to
ethanol
which is widely available at most gas stations to travelers. The most popular mixture, 10% ethanol and 90% gasoline, is generally considered safe for newer autos (not to be confused with 85% ethanol/15% gasoline blend). Ethanol and its usage can stir up quite a debate even in the corn-loving state of Iowa.
The Des Moines River serves as the marker for street names having the prefix "East" or not (and occasionally "West" when on the western side). This is especially important for streets running north-south. "1st Ave" would be on the west side of the river, E 1st Ave the eastern side and are thus completely different streets. Streets running east-west and which exist on both sides of the river typically have an "East" prefix if east of the river. There are some "West" prefixes for those on the other side of the river but this is less common. Perhaps more confusing, there are streets which lie on both sides of the river, such as Grand Ave, which is "E Grand Ave" east of the river but simply "Grand Ave" west of the river. Unlike the north-south streets, it is possible to arrive at your destination by simply continuing east or west—depending on your final destination. The demarcation for "SE" and "SW" prefixes is a bit more ambiguous but would certainly refer to a street south of Grand Ave/E Grand Ave and either the western or eastern side of the river. For most part, "NW" refers to streets west of the river and "NE" east of it, but not always so. Additionally, there is no standard reference point for determining when a street gains a "NW" or "NE" prefix.
Downtown has several one-way streets to ease traffic flow during rush hours. Turning left is allowed unless otherwise designated.
By rental car
The airport is a popular place to get a rental car and has the following rental companies present next to the baggage claim area: Alamo, Avis, Budget, Enterprise, Hertz, and National. There are other locations throughout the city to rent.
By bus
Des Moines Area Regional Transit

phone: +1 515 283-8100

Routes are available throughout the day with some routes running well into the evening. Bus passes may be purchased through MTA. Most buses will accommodate users with bicycles. The bus also provides services for door-to-door pickup and para-transit services. Regular, express, commuter, and downtown shuttle routes are available. $1.75, express fare $2.
The free D-Line shuttle bus route 42 operates a downtown loop. This bus travels from Western Greenway Park to the State Capitol Building along Grand Avenue and Locus Street. The bus stops at several downtown hotels, the State Historical Society of Iowa Museum, city hall, and central public library. This bus runs Monday through Friday from 6:30AM to 6PM.
By bicycle
Drivers tend to not be overly aggressive in Des Moines, and there is ample shoulder room or sidewalks to avoid a date with a jalopy. Some corridors to downtown have bike-only lanes and all city buses allow bikes on board. (See the Do section for more information on getting to your destination on a nicely-shaded, groomed trail.)
By taxi
Budget Cab Company

phone: +1 515 223-6465

Capitol Cab Company

phone: +1 515 282-8111

Genes Transportation

phone: +1 515 249-1127

Yellow Cab Company

phone: +1 515 243-1111
See
phone: +1 515 323-6290

address: 909 Robert D. Ray Dr

Particularly popular during cold Iowa winters. Special events and learning modules all throughout the year. Connected to the parking lot is the Robert D. Ray Asian Gardens with a featured Asian pavilion, built in honor of the Asian Americans who immigrated to Iowa in the late 1970s and of former Gov. Ray.
Do
The city and surrounding area has a vast array of activities for all ages, from the annual
Iowa State Fair
, rated by
USA Today
as one of the Top 10 best things to do in the summertime in the U.S., to the
Des Moines Arts Festival
in downtown, also rated as a Top 10 member for the nation's arts festivals, indeed there are plenty of sights and sounds to make your experience a memorable one.
Des Moines Arts FestivalStarted in the late-1990s after promoters decided to replace the 40-year running "Art in the Park." Attendance of around 250,000 people each year. Over 150 artistsfrom all over the country--bring their original creations to be seen and purchased. In addition to the various forms of art you'll see, there are also stages offering entertainment and food vendors selling their own edible creations.

Iowa State FairEach year, the Fair draws around 1 million visitors through its gates. Has a variety of things to see and do, much of it based around agriculture, the arts and food. At night, the beer tents and Grandstand come alive (past performances by Bob Dylan, Johnny Cash, The Jackson Five, and Reba McEntire). Park (cheaper) near the capitol building and take an MTA bus over to the fairgrounds, or park closer in front yards of residents (more expensive).

Taste of Des MoinesThe 1½-day event is still in its infancy but is improving each year. The event typically takes place downtown but has been at the zoo in the past. More than 40 vendors--most of which are local--provide food for hungry patrons. It's a good way to try new creations from area restaurants and for not a whole lot of cash. Alcoholic drinks are also available.

Salisbury Automobile ClassicAntique and classic automobiles of a by-gone era are on display in one of the most unique car show settings in the U.S. It has been called the "Pebble Beach of the Midwest" by Old Cars Weekly (in reference to the famous Pebble Beach Auto Councour). All proceeds going to benefit the historic Salisbury House.
phone: +1 515 244-0507

address: 1501 Woodland Ave
Music
address: Water Works Park directly outside of Downtown Des Moines Iowa

DJ festival is a hit with 20-somethings and brings better acts as it matures. See more than 50 DJs boom their bass and showcase their freestyle turntable talent. You'll also get a chance to see artists do paintings or graffiti. Alcoholic drinks available.

address: Western Gateway Park, 13th & Locust

First Friday and Saturday in July. A music festival that brings over 40 nationally-known, regional, and local musicians in various genres to downtown Des Moines.

phone: +1 515 280-4000

address: 221 Walnut St

Since 1937. Concerts are held at the Civic Center of Greater Des Moines in downtown.
Professional and college sports
While the city is not host to any of the "big league" teams, events are a lot of fun and there's plenty left in your wallet after you've purchased a ticket. Home games are well-attended and oftentimes the team is tops in its own respective league in terms of attendance.
phone: +1 515 278-9857

address: 95KGGO Arena, 7201 Hickman Rd, Urbandale

United States Hockey League (USHL) Tier 1 team member. Very close to the ice no matter where one sits.

phone: +1 515 226-9890

address: Valley Stadium, 4440 Mills Civic Pkwy, West Des Moines

Semi-professional soccer team, family friendly games.

phone: +1 515 271-DOGS

address: Knapp Center, 2601 Forest Ave

Drake University sports, competing in most sports as a member of the Missouri Valley Conference and also in the Pioneer Football League for that sport only.

phone: +1 515 271-DOGS

address: Drake Stadium, 2719 Forest Ave

Arguably the nation's top outdoor track & field event. Past participants include Michael Johnson, Bruce Jenner, Gwen Torrence, Natasha Kaiser-Brown, and Jeremy Wariner.

Hy-Vee TriathlonWorld Triathlon Corporation's 5150 Series Championship and IronKids triathlons take place downtown, as does the namesake triathlon.

phone: +1 515 633-BALL

address: Wells Fargo Arena, 833 5th Ave

Arena football team in the new AFL. Tailgaiting in the adjacent parking lot is perhaps just as busy as the game. Bear the name of the team Kurt Warner played for before making it in the NFL

phone: +1 515 243-6111

address: Principal Park, One Line Dr

Member of the Triple-A Pacific Coast League (one level below the Major Leagues) and the top farm team of the Chicago Cubs. The team is consistently near the top of attendance figures each year. Great view of downtown. Usually have fireworks every Friday night.

phone: +1 515 462-2849

address: Wells Fargo Arena, 833 5th Ave

Member of the National Basketball Developmental League (NBDL). Affiliated with the NBA's Chicago Bulls and Phoenix Suns. In 2011, the Energy were D-League champions.
Get up and move
Adventureland Amusement Park and Adventure Bay Water Park

phone: +1 515 266-2121

address: 305 34th Ave NW, Altoona

Iowa's largest theme park with over 100 rides, shows, and attractions. The water park has 13 water slides, 6,000-sq ft swimming pool, and a bar where patrons can swim up and order a drink, then perhaps drift away on the longest lazy river in the state.

Big Creek State Lake and ParkA popular location for boats, swimmers, and fishing enthusiasts. The lake is much smaller than Saylorville. Trails, shooting range, and picnic facilities on-site.

Recreational TrailsFor those wanting a chance to see the area at their own pace, 300+ mi of trails available for use. The trails are expanding each year and they offer a great way for visitors to see the quieter parts of the area as well as getting a chance to enjoy the outdoors. Cross-country skiing in the winter.
Gray's LakeBusy at all times of day, urbanites of all ages come to breath in the fresh air or get in their workout before heading heading home or to their cubicle. 167-acre park with a 1.9-mi paved track encircling the lake. Paddle boats, canoes, sailboats and bikes may be rented. A small beach area for swimming. Restrooms and grills provided, while some fishing and bird watching also takes place around the edges.
Saylorville LakeOne of central Iowa's most popular places for water activities, including boating, swimming, and fishing. Also has camping facilities, hiking trails, wildlife areas, and two golf courses--Tournament Club of Iowa (designed by Arnold Palmer) and Jester Park--nearby.
phone: +1 515 262-4100

address: 4051 Dean Ave

Various sports throughout the summer and winter seasons. Summer options include batting cages, go-Karts, sand volleyball, golf, mini golf, driving range, and climbing wall. Winter sports include skiing, snowboarding, and tubing--lifts available for all. Rental equipment available.
Gambling
Further from Des Moines are two casinos of mention:
address: 1504 305th St, Tama

address: 777 Casino Dr, Osceola

Hotel and RV park available.
Host events
Many of the state athletic tournaments, for both
girls
and
boys
take place in Des Moines. For three consecutive weekends, wrestling, girls' basketball, and boys' basketball brings much activity in February and March to the Wells Fargo Arena area and downtown. The state track meet is held at Drake Stadium and boys' soccer tournaments at Cownie Park in May. The boys' baseball tournament, in July, is played at Principal Park.
The following are events not unique to Des Moines but the city will have the pleasure of being host to listed events:
address: Des Moines Golf and Country Club, 1600 Jordan Creek Pkwy, West Des Moines

August 18–20. The women's equivalent to the Ryder Cup of men's golf, featuring 12-member teams representing the USA and Europe. The Solheim Cup itself will be preceded by the Junior Solheim Cup, a USA–Europe competition involving girls between 12 and 18, to be held August 14–16 at the same club but on a different course.
Learn
Des Moines is home to a few institutions of higher learning, the largest being Drake University with enrollment around 5,000.
Other
World Food Prize. The Prize has been awarded to individuals from all over the world who contribute their talents to help sustain vital crop land, food resources and technologies, and introduce new methods to help end poverty and maintain crop development—anything to further assist the world food supply. First awarded in 1986 and is the brainchild of former Nobel Peace Prize recipient Dr. Norman E. Borlaug. The symposium is held in October.
Work
Buy
The shopping experiences in
East Village
can be described as progressive, as it's a pedestrian friendly area downtown which offers a variety of small businesses and boutiques. The streets are nicely lined and there's much to do after hours to fill a hungry traveler's stomach. In West Des Moines, the historic
Valley Junction
is also an outdoor line-up of shops and local businesses with much to offer, including live music and art and craft fairs throughout the year.
Jordan Creek Town Center
and
Valley West Mall
both lie in West Des Moines, the former being the state's largest shopping mall with a variety of stores and entertainment, including ice skating in the winter.
Merle Hay Mall
and
Southridge Mall
rest on the northwest and southeast corners of the city, respectively. Altoona, on the east side, will have an enclosed outdoor shopping experience available once The Shoppes at Prairie Crossing is completed.
address: Court District

Get a taste of rural Iowa each Saturday morning. Fresh produce, pastries, wines, cheeses, art and jewelry, and more are all available for those wishing to taste and view. Event takes place rain or shine.
Eat
What to eat in Des Moines? Iowa is a meat-and-potatoes kind of place, with generous servings, and the possibility of a piece of pie afterwards. But when you're in Des Moines, keep an eye out for the locally invented
steak de burgo
, a beef tenderloin featuring garlic, butter, and sometimes a bit of cream.
Budget
B and B Grocery, Meat and Deli

phone: +1 515 243-7607

address: 2001 SE 6th St

Family owned and operated since 1922. In 2008, the readers of The Des Moines Register voted their Dad's Killer as the "Best Deli Sandwich" in the city and many subsequent "best of" awards by locals. The Food Network's "Outrageous Food" featured the Killossal Sandwich, a combo of four sandwiches, in May 2011.

B-BopsFew sit-down restaurants can match the goodness of the most popular menu item, the 1/4-lb. hamburger. If the weather's nice, you can sit under an umbrella and listen to classics from the 1950s and 1960s. The burgers are so good they've won the "Best Burger in Des Moines" award more than 10 years running (per Cityview).
phone: +1 515 262-8825

address: 1500 E Euclid Ave

phone: +1 515 256-8908

address: 4820 SE 14th St

phone: +1 515 279-5757

address: 1105 73rd St, Windsor Heights

phone: +1 515 334-0727

address: 4565 86th St, Urbandale

phone: +1 515 967-8788

address: 3635 8th St SW, Altoona

phone: +1 515 963-1928

address: 2205 SE Delaware Ave, Ankeny
Big Tomato Pizza Co.

phone: +1 515 288-7227

address: 2613 Ingersoll Ave

Near the downtown nightlife area. Carry out or delivery only.
City Bakery

phone: +1 515 243-0044

address: 407 E 5th St

Talking serious sandwiches and tough-to-beat thin crust pizza. Salad selections include Roquefort-beet. Craft beers available.
phone: +1 515 255-1625

address: 841 42nd St

French-style bakery featuring all the goods you'd imagine, with quality omelets and coffee. High ceilings and modern setting make it a popular place to dine for all 3 meals rather than simply carry out fare. Outdoor patio on the back with a few tables. Can also find offerings at Downtown Farmer's Market.
phone: +1 515-277-1718

address: 1150 Polk Blvd.

Authentic, homey Jewish delicatessen serving up a variety of traditional kosher classics, from pastrami sandwiches to potato knishes and more. A modest selection of grocery items and dry goods are also available in the rear of the restaurant, which doubles as a miniature market. The only kosher establishment of its kind in the state.
phone: +1 515 221-2202, +1 515 964-7482

address: 6611 University Ave, Windsor Heights and 1701 N Ankeny Blvd, Ankeny

BBQ and pizza, excellent pork ribs and tenderloin sandwiches for those looking for an Iowan tradition.
Snookies Malt Shop

phone: +1 515 255-0638

address: 1810 Beaver Ave

Soft-serve ice cream joint is the cat's meow come summertime. Real fruit is used and the servings are generous. Dogs are invited, as well, as they serve up puppy-sized ice cream cones. Popular to sit outside but drive thru and indoor A/C also available.
Tasty TacosLocal fast food joint rivaling taste of some of the sit-down places.
phone: +1 515 266-4242

address: 1418 E Grand Ave

phone: +1 515 285-1946

address: 5847 SE 14th St

phone: +1 515 262-1100

address: 2900 E Euclid Ave

phone: +1 515 964-2400

address: 2401 SE Delaware Ave, Ankeny

phone: +1 515 331-2000

address: 8549 Hickman Rd, Urbandale
phone: +1 515 277-6151

address: 3018 Forest Ave

Handmade everything. Amazing breadsticks. Popular with the Drake crowd. Expect to deal with drunken customers on weekend nights. Online orders available.
Waveland Cafe

phone: +1 515 279-4341

address: 4708 University Ave

If you're expecting a fancy diner, then you better get lost. This place is for the real Saturday morning crowd and a good place to recover from a hangover. If it was legal to light up a smoke, this is where you'd get no gruff from fellow patrons.
phone: +1 515 244-9292

address: 300 E Grand Ave

A popular local burger joint with a humorous undead theme — the decor inside is rife with references to zombie flicks — and lots of creative burger and milkshake creations. The menu is full of intriguing options worth exploring but of particular note is "the Walking Ched," a beef patty atop fried mac and cheese with bacon. The fries and shakes are also excellent. A bar in the back serves draft beers and cocktails.
Mid-range
phone: +1 515 244-4104

address: 3610 6th Ave

If the number of years one's been in business is the standard way to rate, few in Des Moines could mess with Chuck's more than 50-year reign on the northside of Des Moines. Chuck's has proven if you take old classics, such as spaghetti and meatballs, meatloaf, and steak, and treat them with respect, you'll be in the neighborhood for a long time. Excellent pizza.

phone: +1 515 277-1111

address: 1111 25th St

Drake location is the original location. Favorites such as omelets, French toast, reubens, crinkle-cut fries, and bacon cheeseburgers and Drake's own "Bulldog burger" dominate the menu (all three Diner's feature the Maytag Burger, oozing with Iowa's own Maytag blue cheese). During nice weather, there's a screened-in patio available to sit. Shakes and malts are made with Des Moines's very own Anderson and Erickson Dairy Ice Cream.

phone: +1 515 255-4111

address: 4345 Hickman Rd

Began as a catering business but when their uniquely smoked Cajun and Creole creations caught on, they soon started to get a bigger loyal following. Full wine list.

address: 3100 Forest Ave, 2601 Adventureland Dr, Altoona and 9350 University Ave, Waukee

Quickly earning locals' favor. Featured on the third season of the TV series Man v. Food, where host Adam Richman tried (and failed) to conquer the Adam Emmenecker Challenge (named after the former Drake basketball star).

Miyabi 9

phone: +1 515 288-8885

address: 512 E Grand Ave

One of the more successful sushi joints in the area and perfect for those hanging out in the East Village. Don a Japanese fighter helmet should you indulge in a sake bomb.

Noah's Ark Ristorante

phone: +1 515 288-2246

address: 2400 Ingersoll Ave

A Des Moines classic specializing in Italian food. Thin crust pizza. Convenient for those visiting the airport.

Paradise Pizza Cafe

phone: +1 515 222-9959

address: 2025 Grand Ave, West Des Moines

Creative pizza toppings. The Italian Wedding soup is a great starter.

address: 12851 University Ave, Clive

Tapas-style plates that are meant for sharing. Pineapple cheesecake, large enough to share but you might want your own. Extensive wine list by the glass (mostly reds). Very trendy, big-city feel. Dim lighting. Live music each Sa 8PM-11PM.

phone: +1 515 277-0005

address: 2511 Cottage Grove Ave

You'd be a fool to miss out on barbeque while in Iowa's capital, especially pork ribs, considering Iowa vies with North Carolina for the top pork-producing state in the nation. Ribs smoked on-site. Small patio available.

phone: +1 515 277-1718

address: 1150 Polk Blvd

Central Iowa's only kosher deli offers traditional New York-style Jewish deli sandwiches, as well as kosher groceries, bread, wine, and hard-to-find favorites.
Splurge
Cook it yourself
address: 10 area locations

Quality meat department. A popular rural grocery chain with several urban locations as well.
Drink
Travelers would likely find the
Court District
district downtown enjoyable. There, one can find a variety of bars, breweries, dance clubs, live music hot spots and restaurants. It also draws a larger crowd when events downtown take place, such as games for the Iowa Cubs and Barnstormers.
East Village
rests near the capitol and has several restaurants featuring wine and mixed drinks which can be classified as upscale, but also has bars and live music venues. From the Western Gateway on westwards, bump elbows at any number of sipping places along
Ingersoll Avenue
.
Alcohol sales cease at 2AM for all locations selling alcohol (stores included) in accordance with state law.
Coffee and tea
phone: +1 515 288-4872

address: 1301 Locust St Ste D

A locally owned coffee shop that serves fair trade organic coffee and espresso as well as the only all-vegetarian menu in town and live music on weekends. The coffee is hot and the food is fresh.

Friedrichs CoffeeIf you're looking for a down-to-earth but nice atmosphere place where you can get a great cup of java or a nifty shot of espresso, pull up a chair. One of the owners' great-grandfather owned a coffee shop across from a castle in Charlottenburg, Germany and spirit has passed to the next generation. The owners, a husband and wife team, opened their first coffee shop only a few months after returning from Costa Rica.
phone: +1 515 279-2919

address: 4126 University Ave

phone: +1 515 244-3934

address: 801 Grande Ave

address: 699 Walnut St

phone: +1 515 223-5203

address: 1821 22n St #101, West Des Moines

phone: +1 515 727-4344

address: 4632 8th St, Urbandale
phone: +1 515 255-4683

address: 2709 Beaver Ave

phone: +1 515 271-5022

address: 6600 University Ave, Windsor Heights

phone: +1 515 279-6812

address: 4800 Mills Civic Pkwy in Somerfield Plaza, West Des Moines
Easy Going
Dance and live music
Aura

phone: +1 515 440-2872

address: 2700 University Ave, West Des Moines

Club Crush

address: 2249 86th St, Clive

Beats, sometimes made by live DJs. Dress code.

Drink

phone: +1 515 270-6274

address: 8410 Hickman Rd, Clive

Liars Club

phone: +1 515 237-5427

address: 216 Court Ave

phone: +1 515 255-5216

address: 216 Court Ave, 3F

Live music acts.

phone: +1 515 243-3270

address: 212 Fourth St

Live touring musical acts, but also an eclectic mix of indie everything (not just music). Lots of release parties.
Theme bars
phone: +1 515 284-1970

address: 200 SW 2nd St

List of 105 beers via tap or bottle from a lot of west coast brewers not so popular in Iowa. Mexican and BBQ fare available, as well as a working shower. Rent fishing supplies, as well.

phone: +1 515 288-2520

address: 101 4th St

If you order a pint, the whole place will look at you and ask, "What's wrong?" so it's best to get a half-liter. Although they do serve the mass-produced American standbys the reason it's popular is for the 15+ German beers they offer. Serve wine and a full array of cocktails and traditional German food, too.

The Royal Mile Bar and The Red Monk

phone: +1 515 280-3771

address: 210 4th St

This is the place to go on Court Avenue if you want a good urban setting and a multitude of imported draft and bottled beers to from which to choose--nearly 30 on tap and over 100 bottled brews. More than 85 varieties of Scotch whisky as well. On top is the Belgian themed Red Monk.
Sleep
Several major chains have rooms available in the area. The city does not have a large number of bed and breakfast establishments (although not the case with Iowa in general). Peak booking periods, especially downtown near Wells Fargo Arena, are common for three successive weeks in March when the city hosts the state athletic championships for wrestling, girls' basketball and boys' basketball.
Budget
phone: +1 515 265-5671

address: 4685 NE 14th St

Includes breakfast, wifi, pool, and in-room appliances.
Mid-range
Splurge
Stay safe
In case of an emergency requiring police, fire, or medical assistance, dial 911 for help.
The Des Moines Police is the local law enforcement agency. Each suburb also has its own police department, such as the Windsor Heights Police Department.
Des Moines is an extremely safe city during all parts of the day. One can take the evening air without feeling nervous. Just like in all other cities with a sizable number of people, there are areas and neighborhoods that may be more troublesome for some groups of people than others. Visitors are likely to avoid these small pockets, however.
Pickpockets and grand ripoff schemes that plague other cities in the U.S. and around the globe are not pervasive in the area. Still, the best thing to do is use your judgment—if you don't want attention, don't do things to draw people's attention.

Stay healthy
In any emergency which requires medical assistance, call 911.
All hospitals—not clinics—have 24-hour emergency services available.

Connect
The local area code is "515." Calling to nearby areas, such as Ames 35 mi (56 km) north, which also begins with "515," is not considered "local," however, and thus the area code must be included when dialing.
Des Moines International Airport - Offers wireless Internet access.
Iowa was one of the first states in the U.S. to provide wireless Internet access at rest areas.
Cope
Newspapers
Consulates
phone: +1 515 564-1654

address: 5550 NE 22nd St

phone: +1 515 961-2509

address: 115 S Howard St, Indianola

phone: +1 515 961-2509

address: 115 S Howard St, Indianola

MexicoIn 2011, a mobile consulate came to process requests one day in March.

phone: +1 515 283-4628

address: 666 Walnut St Ste 2000
Go next