Desaru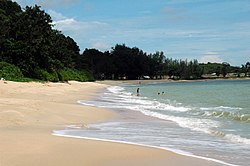 Desaru
is a coastal resort area in Kota Tinggi District,
Johor
,
Malaysia
. The small town of
Bandar Penawar
, about 2 km inland, serves as the area's transport hub.
Understand
Desaru is an area stretched along the 22 kilometers of beach with various resorts.

Climate
Like all of Malaysia's east coast, Desaru is highly seasonal, with monsoon winds and rains lashing the coast between November and February. There is still plenty of sunshine even during the rainy season, but waves are high and it rains more. The "good" season is thus from April to October, with June to August being the busiest months, when the waters are inviting and the sand fine.

Get in
By plane
The town does not have its own airport. The nearest airport is the
Senai International Airport
(
JHB
) in Senai.

By bus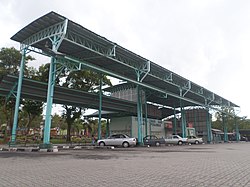 There are direct Mara Liner coach services four times a day from Johor Bahru's Larkin Bus Terminal to Bandar Penawar via Kota Tinggi at 10:30AM, 1PM, 5PM and 8PM. The one-way fare is RM8.20. Alternatively, you can take a non-express bus from Larkin Bus Terminal (Maju 227 or Causeway Link 66) or from downtown Johor Bahru's Jalan Wong Ah Fook (Transit Link 41, Maju 227, Causeway Link 6B; the bus stop is opposite City Square) to Kota Tinggi's bus terminal (duration about 1h; Maju 227 one-way fare from City Square RM4.80; average frequency of Maju 227 is 15 min), and then take another bus from Kota Tinggi to Bandar Penawar (duration max. 1hr, one-way fare RM4.50, frequency every 90 min).
From Bandar Penawar, you can either take a cab (teksi) for about RM10, or wait the minibus that will take you directly to Desaru Resort (the minibus is RM1, comes every 30 min). You can also take a cab from Kota Tinggi directly to Desaru Resort, this will cost you approximately RM35.

By car
The long-awaited opening of the Senai-Desaru Expressway and its bridge across the Johor River has shaved an hour off travel time to Desaru, which is now just 30 minutes away from Johor Bahru.

By boat
Limbongan Maju Sdn Bhd (tel. (+60 7 8278002) operates 2 services daily on weekdays and 4 services daily on weekends between Changi Ferry Terminal in Singapore and Tanjong Belungkor Ferry Terminal in Belungkor, Johor. Car ferries are no longer in operation. The present service is operated using a passenger ferry with a capacity of about 120 passengers. The ferry operator charges S$24 for one way and S$38 return.
At the Changi Ferry Terminal, visitors can still arrange for tours to the Desaru Fruit Farm as part of a tour package along with a stay at the Lotus Desaru Beach Resort. Other ground arrangements can be made via the ferry operator as well. Tickets can be purchased online.
An alternative is to take a bumboat from Changi Point Ferry Terminal in Singapore to Pengerang for S$10 per person, and then hire a taxi from the Pengerang terminal to Desaru. This should cost around RM40 one-way. The schedule is flexible - boats leave whenever they have 12 passengers - but be prepared to queue for a couple of hours at weekends.

Get around

There is no public transport in Desaru. If you find yourself stuck with no bus to take you to Bandar Penawar, try asking the staff at the restaurant to call you a taxi. They know a lot of taxi drivers and most likely will love to help both you and their driver friend. The price should be around 15 RM to Bandar Penawar or 40 RM to Kota Tinggi.

See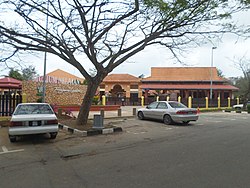 Museums
Tanjung Balau Fishermen Museum

address: Tanjung Balau

Museum.
Nature
Desaru Beach

address: Jalan Desaru

Beach.
Do
Desaru is not a well developed resort, but there are a lot of things to do while you are there. Take advantage of the nice wide beach, and of the shallow and clear water. All 22 km of it is open to all, even the stretches in front of the hotels, but most locals congregate at the public beach, which provides a carpark, a few barbeque pits and grotty toilets.
Snorkeling
is a good option, but don't expect banks of colorful fishes and wonderful sea creatures. Scuba diving here is out of the question, although some of the resorts do arrange trips out to Johor's northern islands.
One thing you can definitely try is
surfing
. If wind is good, the waves are quite OK, and especially the lack of jellyfish and sharks makes it an attractive location. During December, January and first half of February (monsoon season), the waves are almost constantly high, but do expect the water to be a little cold. There is a company that rents surf boards for 20 RM/hour and provides surf lessons for 100 RM. The same company rents jetskis.
Excursions to see the
fireflies
(
api-api
) in the Sungei Lebam river are very popular. While it's possible to arrange yourself, this would require bumping about dirt roads to find the dock and then cruising around a pitch-black jungle river, so it's much easier to join one of the hotel excursions. The best time to go is after rain on a new moon.
Other options mostly of interest to families with young kids to entertain are:
phone: +60 7-822 5886

Sungai Cemaran Desaru. 100 cultivars of fruit and a mini zoo.
Theme parks
Buy
The Tanjung Belungkor ferry terminal has no exchange facilities, but the hotels will change money in a pinch, and most shops and restaurants will accept Singapore dollars at a 1:2 ratio. You can find an ATM at the Petronas gas station at the Highway 90 turnoff to Desaru. However if you mainly stay in your hotel and only go for the hotel excursions, you can basically bill everything to your room and pay by credit card.
At the public beach, there are a couple of stores selling soft drinks, beer and the sort, but you can find a store that sells branded t-shirts, Malay batiks and souvenirs.

Eat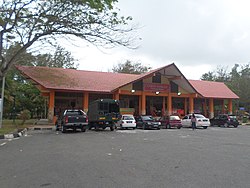 You're pretty much stuck eating at your resort restaurants, which may have limited choices and are expensive. Even if you want to try the restaurant of the next resort, it can be a long distance to walk there.
However, if you have your own wheels or join one of the hotel-arranged "excursions", the fishing village of
Sungai Rengit
, some 30 km away, has a few seafood restaurants. (Oddly, the much closer Tanjung Balau does not have any.) There are also a few basic restaurants in Bandar Penawar.
Medan Selera Desa Food CourtSimple restaurant with a few outdoor stalls (hence "food court") serving up Malay basics like fried rice and Ramly burgers. Simple, tasty and cheap.

Terminal CafeAnother simple, friendly little eatery dishing out Malay favorites, located in the ferry terminal building (look for the signs to "Canteen"). The nasi ayam (chicken rice) is excellent.
Drink
Nightlife is limited to the hotel bars and even they're quiet, since most visitors are Muslim.

Sleep
All hotel accommodation in Desaru dates from the early 1990s and looks like it. However, many hotels went through a round of long-overdue renovations to meet expected new demand after the opening of the expressway.
Budget
phone: +60 7-8221212

Opened in 1974, this is Desaru's oldest place to stay. Simple little beachfront chalets with aircon, fridge. "Standard" chalets have no hot water, while "Superior" ones do. The "Single" chalets house 2, while the "Doubles" are intended for four.

phone: +60 7-8322 833

address: Tg. Balau

North of the main resort strip in the fishing village of Tanjung Balau, the beach here isn't as nice, but at least they have a pool and a water slide. Restaurant is overpriced.
Mid-range
Respect
Desaru is a beach popular mostly with the locals. As such, especially if you go outside the resorts, you will see a lot of Malays bathing with long pants and t-shirts, a good way to both fend off the sun and to maintain modesty. For visitors, toplessness is not appropriate, but a normal bikini for girls and shorts for guys is ok.

Go next