Desert (California)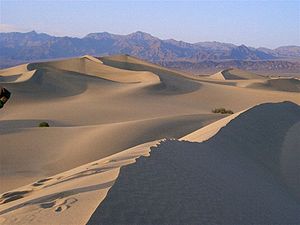 The
California Desert
is composed of
California's
entire southeast corner and offers excellent opportunities for hikers and other outdoor enthusiasts.
Counties
Cities
. Baker is the only significant town on I-15 in the remote desert stretch between Barstow and the Nevada border and, as a result, is frequented by travelers on their way to Las Vegas. It offers food, fuel and lodging, is home to the world's tallest thermometer, and is the starting point for those journeying north to Death Valley.
. Barstow is a city that lies at the junction of I-15 and I-40, with the former Route 66 also passing through town. It offers visitors several historic and natural attractions ranging from the 200,000 year old Calico early man site to the Western America Railroad museum.
. A small town on the east shore of the Salton Sea.
. A desert resort oasis that serves as a vacation getaway to guests from around the world and a playground for Los Angeles and other Southern Californians.
. A small town north of Joshua Tree National Park that caters to park visitors.
, county seat of Imperial County
Other destinations
– Mother Earth in the raw
– Many well developed campsites and great rock climbing
– 1.6 million acres of mountains, jumble rocks, desert washes, and dry lakes
– boating in the desert
Understand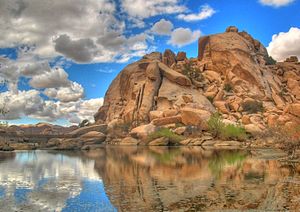 For many travelers the
California
desert is merely experienced on the other side of their car windows on their way to more popular destinations. However, for the adventurous few that take an exit and their supplies, the rewards are unforgettable.
Many extremely exotic forms of wildlife and plant life can be found in any desert. Many cacti will not grow anywhere else except for a desert, and as such, the desert is an ideal destination for seeing these plants. Many species of unique birds (certain owls and others) and arachnids (Tarantulas, scorpions, mites) call this place home. There are also, strangely, reptiles and amphibians, which usually require water to survive.
Some deserts also feature natural rock formations and sand dunes, both of which are quite beautiful. However, reaching them can be an issue if you're not properly equipped.
Get in
By plane
The
Ontario
(
ONT
) and Palm Spring (PSP) airports have a good variety of short haul flights as well as a limited number of long distance options (usually with connections through other cities en-route). There are additional flights from a greater number of places in and outside the U.S. with a wider range of airlines to Los Angeles International airport (LAX) and Las Vegas McCarran Airport (LAS) which might be more convenient at a more competitive fare.

By train
Amtrak operates trains through the California deserts from Los Angeles. The following routes stop in the desert regions on their way into and out of the Los Angeles Union Station.
MetroLink operates as a commuter train linking the cities such as Riverside, Ontario, Rancho Cucamonga and San Bernardino to Orange County and Los Angeles.

By car
The whole area is served by excellent though frequently congested roads in urban areas and empty roads in remote areas. Getting in by car is the preferred way to get in and around the remote desert regions. See the "Stay Safe" section in the below on preparing, driving through and staying safe in remote areas of the desert.

Get around
Regular bus service to and between major cities including
Barstow
,
Indio
and
Palm Springs
is available through the
Greyhound
bus service.
However, the full glory of this region is very difficult to access without
a vehicle
. Many of the parks in the region have paved roads and developed campsites. However the complete experience can not be had without a bit of exploration on the dirt roads and an inspiring piece of dirt to set up camp – see
California desert camping
. Believe it or not, even a compact car will survive valiantly on many of the well graded roads in the region although a high clearance vehicle is recommended for full access.
Stay safe
The desert can be a brutal and unforgiving place. Even if you're planning to just pass through, you should be prepared to be fully self-reliant and follow these minimum guidelines. Additional safety guidelines should be adhered to if you are planning to go
camping
.
Drink even when you do not feel thirsty.
When hiking, carry a gallon of water for each day plus extra in case of an emergency.
Store extra water in your car.
Carry water even if you are only planning to explore a short distance from your car.
Dress for Success
Wear a hat with a brim (a cowboy hat or sombrero would be a good idea) and light-colored, lightweight clothes.
Pack warm, wind-proof clothes in case the wind picks up or the weather cools.
Wear sunglasses and good sunblock.
Carry a Flare & a Spare
Ensure that your car is in good working order – service stations are few and far between.
Carry a spare, a jack, and some flares.
'Fix-a-Flat' can be a lifesaver along with jumper cables.
Do not leave your car unless you are certain that help is close by.
Watch for Flash Floods
It may seem ironic, but rain in the desert can be a real danger. Many roads in the desert southwest cross dry washes that can turn into raging torrents from rain falling over a mountain range fifty miles away. These flash floods can easily carry away you or your vehicle. If you see a sign that says "Do not cross when flooded", obey it! Flash flooding usually occurs during afternoon "monsoon" events from July through October.
Misc.
Gas: when the sign says "Next gas 50 miles," you better know you've got enough to make it before you pass the pumps! Never go lower than a quarter tank. You could also keep a completely full tank and carry some in a hand container.
First Aid Kit: Always carry a first aid kit that includes tweezers, antiseptic ointment or spray, band-aids, and aloe vera in case you meet any desert wildlife (snakes, spiders, bees, cacti) or get sunburned.
Remember: A desert area that is infrequently visited by people will have more wildlife in it; always stay on the trail and in areas designated for human use.
Go next
Southern California - Bordering the California Desert to the west, the Southern California region is home to Los Angeles, San Diego, Disneyland, and miles of famous beaches.
San Joaquin Valley - Located northwest of the Desert, this area is the breadbasket of California and home to a large percentage of America's fruit and vegetable supply. The region's largest cities are Fresno and Bakersfield, the latter of which proclaims itself "the country music capital of the West Coast."