Desert Castles
The
Desert Castles
of
Jordan
are in the kingdom's
Eastern Desert
.
Understand
The Desert Castles are a series of buildings (not all castles) built by the Umayyads in the desert, east of
Amman
. They provide a fascinating glimpse of how the Umayyads controlled the unforgiving desert.
Get in
It is hard to see much of them by public transport.

Get around

The main castles can be seen in a loop, with some near on the main road east of Amman, some near , and some on the southern road from Azraq to near Amman airport.

See
Qasr Al-HallabatA large castle that went through multiple phases of building, showing black rock additions to the original work, plus some large mosaics.

Hammam as-SarahThe baths used by the rulers of Hallabat castle, now undergoing some archaeological work. The gate will be closed but unlocked.

Qasr Ussaykhim

address: head east from Azraq - there will be a signposted turnoff, but the sealed road ends 1km before the castle

A ruined castle built from the black desert rock, a few arches standing out against the pile of rubble. This is an amazing peaceful place to look out over the rocky desert.

Qasr Al-AzraqA large ruined castle in the northern suburbs of Azraq. Good for exploring.

Qasr AmraBath complex with spectacular frescos.

Qasr KharanaA large rectangular building that was likely a meeting place. It stands out against the desert and, unfortunately, the highway and power lines. The courtyard may be cool enough for a quick picnic.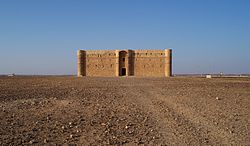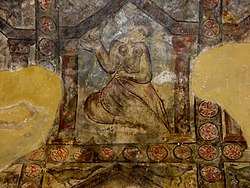 Eat & Drink
Larger towns like Zarqa, Hallabat and Azraq will have restaurants but you might want to take your own food and have a picnic.

Sleep
Azraq
may be the best place to stay overnight.