Dessau
Dessau
, now Dessau-Roßlau, has a population of approx. 90,000 and is the third largest city in the
Saxony-Anhalt
region of
Germany
. Dessau is historically the capital of the Principality (later Duchy) of Anhalt. In the 20th century it became famous for the
Junkers
aircraft factory and the
Bauhaus
school of architecture and design. Dessau boasts two
UNESCO World Heritage listings
: the "Dessau-Wörlitz Garden Realm" consisting of landscape parks and buildings in and around Dessau, built in the second half of the 18th century during the time of enlightenment by prince Franz; and the Bauhaus buildings.
Dessau stands on the river
Mulde
, which discharges into the Elbe, just north of the city. The meadows of Mulde and Elbe are a protected biosphere reservation.
Get in
By plane
Nearest Airports are
Leipzig
(
LEJ
) and Berlin (TXL,SXF). Allow 90 minutes transfer from LEJ (S-Bahn to Leipzig or Halle main station, and than on to Dessau by regional train), 2,5 to 3 hours from the other airports using public transport.

By car
The easiest way to get to Dessau is by car, using the motorway A9. It has three exits depending on where are you coming from. If you arriving from north use the exit "Dessau Ost" (faster) or "Vockerode" on a more scenic route. From the south the exit is "Dessau Süd".

By train
There is also a possibility to arrive by train. Regional trains connect from/to Wittenberg (30 minutes), Leipzig (60 minutes), Halle (50 minutes), Köthen (20 minutes) and Magdeburg (60 minutes) every hour and from Berlin (100 minutes) at two hourly intervals. Exit at (Dessau main station). There are some more suburb stations, which are usually not relevant for visitors.

By bus
see long distance bus travel in Germany

Get around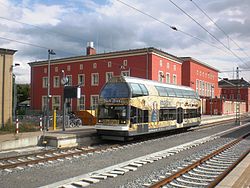 Most sites in or near the city centre, including Bauhaus building, Master houses, Georgium park, can be reached by foot.
However, if you want to visit some more parks and palaces in the suburbs or vicinity of Dessau, walking is not an option. Flat topography and a dense and reasonably maintained network of bicycle paths make touring
by bicycle
the recommended way of getting around. You can take bikes on regional trains within Saxony-Anhalt for free, from outside Saxony-Anhalt for a couple of Euro. There is a bicycle rental in front of Dessau main station in the
Mobilitätszentrale
(mobility centre), prices are 6 to 7 Euro per day.
Getting around by car is generally easy. There is not too much traffic. Finding a parking space is usually no problem, parking fees may apply in the city centre. Some fine landscape in the Mulde or Elbe meadows are not accessible by car though.
There is public transport, too. Two tramway lines start at the main station and connect with the south (Line 1) and the west (Line 3) of the city. Several bus lines serve all parts of the city. However, they have poor frequency esp. at weekends and do not serve places of tourist interest easily. In many cases you will reach your destination by walking even before some bus even came by, by cycling anyway. Tickets for a single journey are 1,50 Euro at the
Mobilitätszentrale
or vending machines (also in the trams), 2 Euro at the bus driver.
Dessau-Wörlitzer Eisenbahn
's (DWE) double-deck railbuses with panorama windows connect Dessau main station with the suburbs of Waldersee and Adria (lido) as well as the nearby towns of Oranienbaum (palace and garden) and Wörlitz ("garden realm"). Trains run at two-hourly intervals daily from late-March to late-October and on certain holidays. A one-way ticket to Oranienbaum or Wörlitz costs €5 (reduced €3.50), a family of two adults and up to three children pays €20 for a whole day. Combined tickets including a guided tour of Oranienbaum or Wörlitz are available for €12 and €15, respectively. Tickets can be bought at the
Mobilitätszentrale
or from the conductor.
See
Bauhaus sites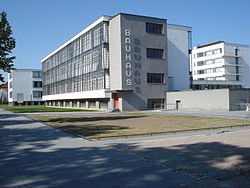 address: Gropiusallee 38

The "Bauhaus building" (1925–26 by Walter Gropius) is a trendsetting building for modern architecture and thus listed as a UNESCO World Heritage site. It is 5 minutes walk from the main station (use west exit, not the main exit). It houses a postgradual college ("Bauhauskolleg") and exhibition rooms. It is possible to walk about parts of the building freely. There are guided tours (in German) daily at 11:00 and 14:00, additional tours on weekends (€4). Ticket counter is on the first floor. €8.50 for adult.
Garden realm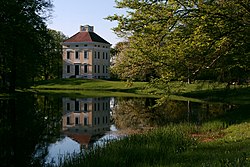 address: Puschkinallee

The Georgium park, part of the world cultural heritage, is a landscape park with baroque and English elements of late 18th century, which stretches almost from the station north up to the Elbe river. There is unlimited access to the park (beware of boars in the nighttime though). Georgium palace houses a painting gallery (Tu-Su 10:00-17:00, €3).

Mausoleum

address: Querallee 8

Burial place of the Dukes of Anhalt, built 1894–1898 in a Neoclassical and Renaissance Revival style. The dome is 43 metres high. The park surrounding the mausoleum is used as Dessau's zoo.

address: Waldersee

The Luisium is an English landscape park, which continues into the meadows of Mulde and Elbe. Small palace (rather a villa). Admission to the park is free (beware of boars), to the palace: May to Sept: Tu-Su: 10:00-17:00, admission €4,50; with a guided tour only.
Other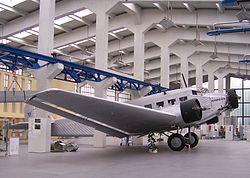 address: Kühnauer Straße 161a

The exhibition allows to discover the amazing engineering work of the aircraft pioneer Hugo Junkers. It is possible to see some real airplanes like a legendary JU52 and get more information on the different working areas of Hugo Junkers.

Palais Minckwitz

address: Albrechtsplatz 2

Aristocratic town house from the mid-18th century.

Marienkirche

address: Schloßstraße 3

The city's main church, built 1506–1523 in a Gothic style. A statue of Prince Leopold I of Anhalt ("the Old Dessauer"; 1676–1747), Generalfeldmarschall (field marshal) of Prussia, stands in front of the church.
Do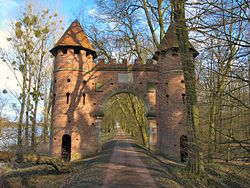 address: Friedensplatz 1A

Given that Anhalt was once a separate state, its capital of course has its own theatre, staging dramas, operas, musicals, concerts of the philharmonic orchestra and puppet theatre. It has one of the largest revolving stages in Germany and accommodates an audience of 1100. The building, completed in 1938, is an impressive example of Nazi-era stripped classicism.
Cyclealong the Elbe or Mulde rivers and explore hidden beaches. The Elbe was named by the Romans albis fluvius (white river) for its bright sandy beaches.
Kurt-Weill-Fest, annual culture festival honouring the German-American composer Kurt Weill (1900–1950), a native of Dessau, in late-February to mid-March of each year.
Buy
In the city centre there is the standard shopping choice. Two shopping malls in the city centre,
Rathaus-Center
(between Kavalierstraße and Zerbster Straße) and
Dessau-Center
on Franzstraße/Askanische Straße offer the same indoor.
Worth having a look at are:
Bookshop in the Bauhaus

address: Gropiusallee 38

offer a variety of books on arts and architecture, also in English.

Galerie Bauart

address: Gropiusallee 81

offer design articles and Bauhaus-style furniture.
Eat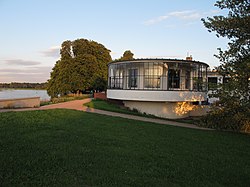 There are several restaurants and bars in the city centre and on Zerbster Straße. There is a food court inside the centrally located shopping mall
Rathauscenter
.
Worth noting for their special flair are:
phone: +49 340 2205909

address: Lange Gasse 16

Located in an old brewery building, this restaurant serves traditional local food. They brew their own beer.

Bauhaus Mensa

address: Gropiusallee 38

Breakfast and Lunch. Self service, meals up to 5 Euro

Bauhaus Klub

address: Gropiusallee 38

Mixed crowd of locals, Bauhaus staff and visitors. They offer snacks and light meals.

address: Kornhausstraße 146

This restaurant, built 1929 by Bauhaus architect Carl Fieger, sits directly on the south bank of the Elbe river. Terrace out to the river, splendid views. Traditional and experimental food using fresh local produce, main dishes around 10 Euro.
Sleep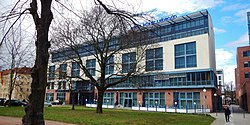 There are plenty of hotels and private B&B in and around Dessau. Enquire with
Tourist Information
.
Budget
address: Ebertallee 151

20 minutes walk from the main station.
Mid-range
address: Gropiusallee 38

Ever stayed in a world cultural site? You can at the Bauhaus dormitory. Simple standard, shared bathrooms.

address: Zerbster Straße 29

Simple business hotel, Prices start at 80 Euro single B&B, 100 Euro double B&B.
Splurge
address: Friedensplatz 1

4-star business hotel.
Nearby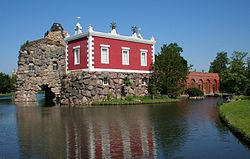 address: 06847 Dessau-Roßlau, Knobelsdorffallee 3

Rococo château, built 1752–1757 for Princess Anna Wilhelmine of Anhalt-Dessau. The complex includes Baroque gardens and an orangery. It hosts a picture gallery and serves as a concert venue.

address: 06785 Oranienbaum-Wörlitz, Schloßstraße 9A

Baroque ensemble of palace, park and town. Built for a Dutch princess who married to Dessau, some roots of the Dutch royal family (House of Orange) are here.

Wörlitz Gardensmake a tour to the largest english landscaped park on the continent. Created in the 1770s, it shows finest garden architecture, animated by parks in England like Kew, Stourhead, Stowe. Vistas within the park and to surrounding landscape. The access to the park is free, some manually operated passenger ferries which shortcut the ponds cost €0.60 to €1. Wörlitz Palace, Gothic House, Stein (with artificial volcano) have exhibitions, admission €3 to €5. From Dessau to Wörlitz, it is a good hour of cycling along the "Fürst Franz" bike trail, or take the Dessau-Wörlitzer Eisenbahn from Dessau main station (35 minutes; 10 Euro return).
address: 06773 Gräfenhainichen, Ferropolisstraße 1

"The city of iron". A unique ensemble of five of open cast mining giants placed around an open air arena seating 20,000. Staging festivals, like the annually Melt festival in July, and concerts. Metallica liked the setting, so check out the programme.
Go next