Detroit Metropolitan Wayne County Airport
Detroit Metropolitan Wayne County Airport
(
DTW
) is in the Southeast Michigan area of the United States of America and mainly serves Detroit.

Understand
Detroit Metro Airport, the second-largest hub for Delta Air Lines is one of the busiest airports in the USA. Detroit, historically being a major center for the automotive industry, has good domestic connections to other US destinations and is well connected to major airports in Europe and Asia.

Flights
Airlines
McNamara Terminal: Delta, Air France, SkyTeam partners.
Concourse A: Delta, SkyTeam partners.
Concourses B and C: Delta Connection
North Terminal:
Concourse D: Air Canada, American Airlines, Frontier Airlines, Lufthansa, Royal Jordanian, Southwest, Spirit, United.
Ground transportation
Public transport connections to Detroit are not great. There are no trains, and buses are not very regular. Taxis into town cost about $45. Bus connections to
Ann Arbor
are slightly better, with buses every 1-2 hours - $15 one way. Lyft started to serve DTW on March 21, 2017.
By car
On the southeast quadrant of the I-94/I-275 interchange.
By rental car
All the major rental companies are on Lucas Drive, a 10-minute free shuttle bus ride from the terminals (you must to go up and down a couple of floors to get to the bridge between the terminal and the pick-up/drop-off point).
For refueling hire car returns there is a gas station near the companies corner of Middlebelt Road and Wick Road, however is often difficult to get to a pump at busy times. Alternatives off the I-94: from the east- Telegraph Road (north of exit) and from the west- Wayne Road (south of exit); from I-275 (south) on Eureka Road.
By bus
To/from Detroit and suburbs
The public transit service to Metro Airport is, to be frank, lousy, and should only be considered as a last resort.
SMART
is the transit operator for suburban Detroit. Route
125 Fort St-Eureka Rd
alternates between serving the McNamara and North Terminals, but no single trip will serve both terminals; each terminal is served roughly once an hour during weekdays (give or take a few minutes), one to two hours on Saturdays, and a pitiful two to three hours on Sundays. The route continues through Southgate, Wyandotte, Lincoln Park, Ecorse, and River Rouge; only during weekday rush hours does the bus continue into downtown Detroit. At all other times, downtown-bound passengers should exit the bus at Fort Street and Outer Drive (please note this is not at the terminus of Route 125, but a little before it) and transfer to a
DDOT
bus (DDOT is the transit operator in Detroit city proper), specifically Route
19 Fort
. There is one other SMART route serving the airport, and that is the
280 Middlebelt South
, which only serves the North Terminal and travels mostly along Middlebelt Road through Romulus, Inkster, and Garden City; the service operates hourly on weekdays and Saturdays, and about once every 70 minutes on Sundays.
AirRide
, a joint operation between Michigan Flyer (see below) and Ann Arbor's public transit authority, provides coach service to Ann Arbor, serving both terminals. Service operates about once every 1-2 hours daily, with more limited schedules on holidays. Fares reserved in advance are $12 one-way and $22 round trip. Walk-on fares are $15 one-way, cash only and exact change required. Advance reservations will receive seating priority.
To/from East Lansing
Michigan Flyer
provides coach service to
East Lansing
via Ann Arbor, serving both terminals. Service operates about once every two hours daily, with more limited schedules on holidays. Fares reserved in advance are $30 one-way and $50 round trip for a single passenger, or $50 one-way and $80 round trip for two passengers. Walk-on fares are $35 one-way for a single passenger or $60 one-way for two passengers, cash only and exact change required.
By train
There is no rail connection to Metro Airport.
Get around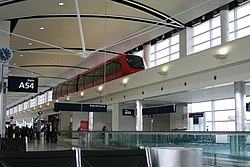 For convenience, the McNamara Terminal and North Terminals have domestic and international gates in the same terminal. An enclosed people mover system shuttles travelers in the McNamara Terminal. There is a free shuttle between the terminals: look for blue and white vans that say "Westin - Terminal."
Wait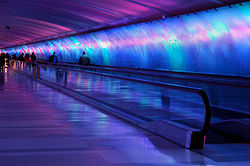 address: McNamara Terminal, Concourse A

address: McNamara Terminal, connecting concourses A and B/C
Eat and drink
There is a good choice of eating establishments air-side of both terminals.

Connect
Metro Airport offers unlimited free Wi-Fi in both terminals. The free service requires users to view a 30-second advertisement every 45 minutes. Premium access with extra bandwidth allowances and no ads is available for a fee.

Cope
Between Concourses A and B/C is a pedestrian tunnel with a light and sound show. If you are bothered by flashing lights or loud music, there is a button to the right of the entrance at the bottom of the escalators which will turn the display off for five minutes.

Sleep
address: 2501 Worldgateway Place
There are also many hotels in suburbs surrounding the airport such as
Romulus
,
Wayne
and
Allen Park
.