Deux-Sèvres
Deux-Sèvres
is a département in the
Nouvelle-Aquitaine
region of western
France
.
A delightful and peaceful little department of France, Deux-Sevres has still has much to offer in the way of history, culture, culinary delights and pleasant pastoral surroundings.
Cities
, the main city, is a good-looking market town with a defensive keep and twin-steepled church.
, a small city which was gave its name to the Toarcian age due to its palaeontologic sites. Already inhabited 5000 years ago, it became the strongest city in the whole Aquitaine region during the 8th century. It features many medieval artifacts such the city walls and Roman churches. The Château des Ducs de La Trémoille, built in 1638, has a 110-m-high facade dominating the Thouet river and Pont des Chouans, where a decisive battle took place during the French Revolution. A must-see is the street market, every Tuesday and Friday morning, in the historic "Halles" building.
Other destinations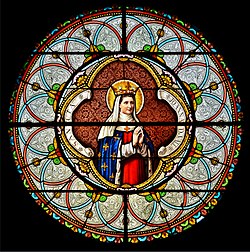 Argenton Chateau - in the new canton of Argenton Les Vallees is a pretty town perched on a rocky outcrop around which 2 rivers snake. The town centre has a small market every Thursday, and a ruined chateau and chapel. The views from the town square over the surrounding countryside are lovely on a clear day and the town retains a pleasant pace of life. There is an Art School run from a beautifully refurbished building in the town centre with courses offered throughout the year.
Get in
Fly:
To
Poitiers
with RyanAir - best for those visiting the south of the region.
To
Angers
with Flybe (flights only in operation March - October) - ideal for those coming to the north of Deux-Sevres
Sleep
Holiday gites in the Deux-Sevres
- 2 holiday homes available to rent with access to a heated outdoor pool, sleeping groups of 4 - 10. Both houses are adapted for wheelchair users and are also available for corporate bookings.
Holiday Gite near Melles in Deux-Sevres
- The gite at Logis de Canteau is a short distance from Melle in Deux-Sevres, (part of Poitou-Charentes), south east of Niort. The nearest airports are Poitiers and La Rochelle, both of which receive frequent flights by Ryanair. The gite can sleep 8 people as standard, but could easily accommodate 10 if required.
Les Cygnes Vacation Rentals
- 3 beautiful carbon-neutral, eco-friendly, self-catering gites with pool in the peaceful Poitou-Charentes countryside.