Devils Postpile National Monument
Devils Postpile National Monument
is a
United States National Monument
located in
Madera County
in the
Sierra Nevada
region of the state of
California
. Established in 1911 by presidential proclamation, Devils Postpile National Monument protects and preserves the Devils Postpile formation, the 101-foot high Rainbow Falls, and pristine mountain scenery. The Devils Postpile formation is a rare sight in the geologic world and ranks as one of the world's finest examples of columnar basalt. Its columns tower 60 feet high and display an unusual symmetry.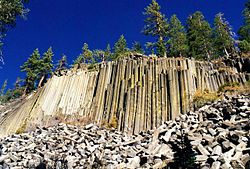 Understand
History
Landscape
Flora and fauna
Climate
Get in
Due to winter conditions in the mountains the monument is open only during the summer season. Opening dates vary depending on snowfall, but in 2017 the monument opened to visitors on July 21. It is typically open well into October. Outside of that time access by car is not possible, although visitors traveling by ski or on foot may still be able to enter the park.
By air
The closest commercial airport is in
Reno
. From Reno, drive south on U.S. Highway 395 for approximately 3 hours (170 miles) to State Route 203.
By car
From U.S. Highway 395, drive 10 miles west on S.R. 203 to Minaret Vista and then another 8 miles on a paved, steep mountain road. This road is single-lane for approximately 3 miles.
During peak visiting time, there is a mandatory shuttle bus. You cannot enter the park by car when the shuttle is running. It runs for a fee from season opening to early September. It may also run thereafter; for example, in 2019, it ran on a complimentary basis for shortened hours until mid-October, but not for the remainder of the season. (Unfortunately, the National Park Service's websites can have contradictory information, hotels may have outdated information, and the Monument's phone number does not always connect, e.g., on weekends and off season. Prepare for all possibilities and to inquire at entry.)
To use the shuttle, park at the Mammoth Mountain Ski Area. In addition to those who visit when the shuttle is not running, visitors who meet any of the following criteria do not need to use the shuttle:
Visitors driving into the Valley before 7AM or after 7:30PM (hours differ when shuttle hours change).
Visitors who are overnight guests of Reds Meadow Resort.
Visitors who are camping within the Reds Meadow Valley.
Visitors who are hauling stock trailers
Visitors whose vehicles are carrying small watercraft for use in the lakes.
Visitors who can provide proof of physical handicap (shuttle buses are not ADA compliant).
Shuttle bus tickets can be purchased at the Forest Service Adventure Center located in the Mammoth Mountain Ski Area Gondola Building adjacent to the Mammoth Mountain Inn at the top of Highway 203. Buses run every 20 or 30 minutes.
By bicycle
For those visitors keen to bike down to the Postpile, bicycles are allowed down the road free of charge. If, however, visitors choose not to ride back out of the Valley and opt to use the shuttle instead, they must pay the transportation fee. The shuttle buses are equipped to transport bicycles.
By foot
The
Pacific Crest Trail
(PCT) is a well known trail that extends along the West coast of the United States, from Mexico to Canada. It passes through California, Oregon, and Washington State.
Fees and permits
All visitors to the Reds Meadow Valley area, whether they take the mandatory shuttle bus or drive their personal vehicle, must pay a transportation fee. The fees are as follows (2017):
$7 for adults using the shuttle.
$4 for children (3 to 15 years of age) using the shuttle.
$20 for visitors in cars.
Season passes are available for $35. Because the fees charged are transportation fees (and not park entry fees) that
Golden Passports and National Park Passes are not valid
for this transportation fee under the Federal Lands Recreation Enhancement Act. Fees are valid for the duration of the visit.
See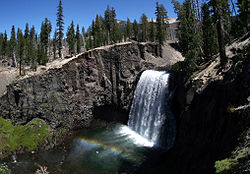 Do
Bath HouseSearch around the Red's Meadow Campground for a bath house fed by a local hot spring. Bring your own towel. Sandals are recommended. Free.
Eat
Mule House Cafe

phone: +1 760 934-2345

Breakfast, lunch, and dinner are served during the Summer.
Sleep
Lodging
Camping
Reds Meadow CampgroundThe park's lone campground is first-come, first-served and reservations are not available.
Backcountry
The park is a popular entry point for treks into the Ansel Adams and John Muir wilderness areas. Wilderness permits are required for all overnight stays in the backcountry. Backpackers are encouraged to acquire their wilderness permits from the Inyo National Forest, although the staff at Devils Postpile can issue first-come, first-served permits for trips originating out of trailheads within Reds Meadow Valley. These walk-in permits are free of charge.
Permits can be issued for the day of entry or the day before (starting at 11AM). Reservations are not available through the Devils Postpile Ranger Station. Backcountry users interested in obtaining a reservation must contact the Inyo National Forest's Wilderness Permit Office at +1 760 873-2485.
Bear canisters are required for most destinations. Devils Postpile has a limited number of these available for rent for $3/day.
Go next
Yosemite National Park. One of America's first and most famous national parks, Yosemite is located north of Devils Postpile on highway 395. The park features amazing landscapes, excellent hiking, and an abundance of wildlife.