Devon
Devon
(also known, far less commonly, as "Devonshire") is a large county in
England's
West Country
, bordered to the west by
Cornwall
and to the east by
Dorset
and
Somerset
. Uniquely amongst English counties, Devon has two separate coastlines: to the south, on the English Channel and to the north, on the Celtic Sea and Bristol Channel. These are studded with resort towns, harbours and (more recently) surfing beaches. Devon is also home to two national parks -
Dartmoor
and
Exmoor
and includes the island of
Lundy
in the Bristol Channel/Celtic Sea.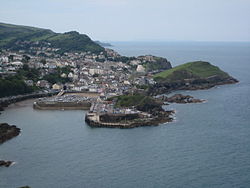 Cities, towns and villages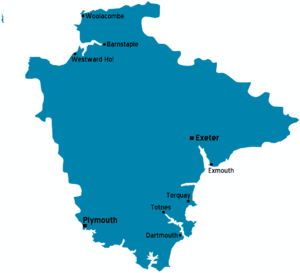 Cities
Exeter – cathedral and university city, county town of Devon
– largest city in Devon
Towns
Ilfracombe – ferry to Lundy
– part of the English Riviera, birthplace and residence of renowned author Agatha Christie
– conservation regency town by the sea
– the nexus of the Riviera, immortalised in Fawlty Towers, this harbour-side town contrasts brilliantly white buildings with sparkling blue sea
Totnes – has a lively arts scene.
Villages
Other destinations
The island of .
, a huge area of moorland occupying much of the centre of the county.
, whereas two thirds of this is in Somerset. The part in Devon contains some great scenery.
Understand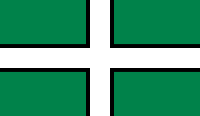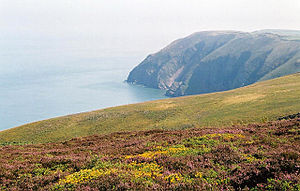 The name "Devon" derives from the Celtic people who inhabited the southwest of Britain at the time of the Roman invasion, the
Dumnonii
. Devon's flag is green, with a black and white cross.
Devon has produced tin, copper and other metals throughout its history. Tin was found in the granite of Dartmoor, and copper in the areas around the moor. In the eighteenth century, Devon Great Consols mine (near
Tavistock
) was believed to be the largest copper mine in the world.
Devon has the highest coastline in southern England and
Wales
on its Exmoor
seaboard. The "hob-backed" hills of the Exmoor National Park tumble down to
the coast on Devon's Bristol Channel coast, culminating at the awesome
"Great Hangman", a 318 m (1043 ft) hill with a cliff-face of 250 m (820 ft), while the
"Little Hangman" has a cliff-face of 218 m (716 ft). The best way to see these
cliffs is from a boat trip from
Ilfracombe
or (occasionally)
Lynmouth
or
Swansea
; the ferry service from Penarth in
South Wales
to Ilfracombe also
passes by this massive coastline (see below).
Devon's Hartland point is the south-west limit of the Bristol Channel; in other
words where the Bristol Channel meets the Atlantic ocean. The northern
limit is St Anne's Head in
Pembrokeshire
, forty-eight miles from Hartland Point.
Many of the rocks that make up Devon are exceptional geological specimens consisting of the geological period between 416 million years ago and 360 million years ago. It was in homage to this that the period was called the Devonian.
Devon's Geological Sites include:
The western Jurassic Coast, fossil-rich chalk, clay, and limestone, Great Britain's only natural UNESCO World Heritage site.
Dawlish Sea Wall, fine examples of wind blown 'Young Red Sandstone' deposits with Langstone rock, a 250 million year old Conglomerate rock
Exeter Castle is situated on an old volcano; volcanic rocks were used in the construction of the Roman buildings. There are some very fine exposures of limestone in Torquay.
Along with its nearby neighbours of North Cornwall and the Gower Peninsula, North Devon's magnificently curved Bideford Bay is one the top surfing attractions in the UK, mainly because just like Cornwall and Gower, Bideford Bay faces westward into the vast Atlantic Ocean. The main surf areas are the white-sand beaches of Woolacombe, Putsborough, Croyde, Staunton and Westward Ho!, one of few place names in the world to contain an exclamation mark. Croyde in particular is rated as one of the best breaks in the West Country, as at low tide it boasts fast, hollow waves - just like Fistral or Langland's Bay Crab Island. Be warned however - in the summer Croyde gets extremely congested (both beach and village) and the car parking prices can seem unreasonable in the extreme. Fortunately, nearby Woolacombe and Staunton offer plenty of parking spaces and beach space.
The larger towns and cities in Devon have small but developing lesbian and gay communities, notably in Plymouth, Torquay and Exeter. Plymouth and Exeter have annual Pride events. In the more rural areas of Devon homophobia can be common and discretion is advised.
The
Devon County Council Site
has more information on Devon's geology and visiting its geological sites.
Get in
By train
Exeter has two main train stations serving the city centre, St. Davids (where most long-distance services call,) and Central. Central, unsurprisingly, is closer to the centre, but the two are within a short walk of one another.
If visiting from
Cornwall
, the railway will take you across the Royal Albert Bridge from
Saltash
(in Cornwall) into Devon. When crossing this bridge, you will enjoy marvelous views of the River Tamar, which it crosses.
If visiting from the south, the railway line between
London
(Waterloo) and
Exeter
via
Salisbury
will transport you into east Devon, with connections with other parts of Devon at Exeter (St Davids station).
If visiting from Somerset and places north of London and
Bristol
, the Great Western Main Line will take you to Tiverton Parkway station (a short drive from
Tiverton
itself) and then to Exeter. It will then carry on to
Newton Abbot
(where the line to
Torquay
and
Paignton
diverges from the main line) to
Plymouth
and then to Cornwall.
There are also trains from the Scottish Lowlands and Northern England to Paignton, Plymouth and Penzance.
By road
The M5 is the only motorway to enter Devon. Coming from Bristol from the north-east, it terminates in Exeter, where it continues on as the A38 towards Plymouth and into Cornwall. It also branches off north at Exeter onto the A30 which serves North Devon via Okehampton and then carries on into Cornwall.
The M5 can get very congested during the popular holiday periods and it only takes an accident to bring the whole route to a standstill. If you are travelling to Devon by car it is recommended that you travel either early in the morning or later at night to avoid the holiday build up.
There is a once-daily Megabus service to Exeter from London Victoria (and vice versa), but this ultra-economy service can be very uncomfortable and very late. There are also National Express services from London stopping at Honiton Road Park & Ride as well as the central bus station.
A park and ride service is available, see
National Park and Ride Directory
.
By boat
It is possible to travel to
Ilfracombe
in North Devon from Penarth and
Swansea
in
South Wales
on the paddle steamers Waverly and Balmoral. The Penarth to Ilfracombe journey is particularly scenic, as you also get to see the picturesque towns of
Lynton
,
Lynmouth
, the "Valley of the Rocks" and the awesome Great Hangman (the highest cliff in Devon at 318m). Leisurely travelling to Devon on a paddle steamer is certainly superior to driving there on the often congested M5!
By plane
Exeter Airport
(
EXT
) has regular scheduled direct flights to Paris CDG, Amsterdam, Manchester, Dublin, Aberdeen, Leeds Bradford, Belfast, Jersey, Guernsey, Edinburgh, Newcastle and Glasgow as well as charter and scheduled services to Spain. There are seasonal services from Germany, Croatia, Switzerland and regional cities in France. Most services are operated by Flybe with Air France codesharing on services from France. Air Transat also operates a scheduled service to Toronto, Canada.

Get around
Latitudes and longitudes in Devon can be obtained from an interactive travel map at
Stairway to Devon
.
By bus
The Council's
Travel Devon
website has the most up-to-date information on buses serving Devon.
See
Dorset and East Devon CoastMore commonly known as the Jurassic Coast, a World Heritage site

Lundy Island, an island in the Bristol Channel, an important conservation site with England's only statutory Marine Nature Reserve

Devon's Crealy Great Adventure Park

address: Crealy Great Adventure Park, Sidmouth Road, Exeter, EX5 1DR

Great family days out at Devon's top theme park. The park also has a counterpart located in Cornwall.

phone: +44 1363 82786

The rivers around Devon have Trout, Sea Trout and Salmon. Guides can provide equipment & instruction on fly fishing for all experience levels. For Dartmoor and South Devon there is Flyfishing Devon.

North Devon Coastal Road(A39/A399/A3123: Bridgwater-Lynton-Ilfracombe/Woolacombe-Bideford-Clovelly, not all of these are in Devon but all are on the same road) A delightful driving route if touring Devon by car. Takes in the old towns and well-known hairpins at Porlock and Lynton, the golden sands at Woolacombe, and the pedestrianised village of Clovelly.

Go Cycling: Cycle the Devon Coast to Coast cycle route, 99 miles from Ilfracombe to Plymouth including the Tarka Trail and Drake's Trail. Or family cycle rides such as along the River Exe from Exeter or the Stover Trail from Newton Abbot or the Tarka Trail from Barnstaple. Or road cycle routes around Dartmoor and mountain bike routes over it!
Eat
South Devon Crab is regarded as some of the best in the world and its stocks are plentiful and sustainably fished. There are plenty of fantastic restaurants, cafes and pubs to try this local produce.
The cream tea, involving scones, jam and clotted cream, is a local speciality which is thought to have originated from Tavistock over a thousand years ago (although neighbouring counties also claim it); in many countries, however, this combination is known as Devonshire Tea. It is also popular in Cornwall with the only real difference being the order in which it is spread. In Devon the preferred method is cream first then the jam, whereas in Cornwall it is the other way around. Another variation is for the scone to be replaced by a split round, or split, a yeasted bun.

phone: +44 1237 474575

Visitors to north Devon can enjoy the region's traditional ice cream, sold from the signature cream and maroon coloured vans on Bideford Quay, Appledore Quay, Torrington Commons, Westward Ho!, Northam Burrows and Ilfracombe seafront. Traditionally only available in vanilla, more flavours are now available from a special van now just selling the flavoured ices. Don't forget the dollop of clotted cream on top!
The pasty, a filled pastry case differing from a pie in that it is made by placing the filling on a flat pastry shape, usually a circle, and folding it to wrap the filling, crimping the edge to form a seal. The result is a raised semicircular package. The traditional pasty is filled with beef, sliced potato, turnip or swede (also known as a rutabaga) and onion and then baked. The origins of the pasty are hotly contested between Devon and Cornwall with both sides claiming the fame. Either way, the pasty is a traditional West Country recipe and is worth trying if you are visiting.
Food Drink Devon
is a very useful resource for foodies visiting Devon.
Drink
Cider — Really traditional Devon scrumpy (scrumpy being the name for farm cider) looks like bright orange juice with bits of apple floating in it. It is made using Devon apples, cider mills and cider presses. Traditionally, scrumpy was made using the wind fall apples. They would be bruised, and not suitable for eating or cooking. However a windfall apple is just right for scrumpy, they would not be quite ripe, so would be sharper and drier. They would have impurities from the ground, which helped fermentation. Scrumpy tends to be quite strong in alcohol and requires a certain degree of caution if you aren't used to drinking it (it can act as a laxative).
Beer — Devon is very well served for microbreweries with 29 breweries that were active in the county. The Campaign for Real Ale (CAMRA) has details of breweries in South Devon, North Devon and Exeter and East Devon.
Gin — Plymouth Original Strength Gin is 41.2% alcohol by volume. It has a distinctively different, slightly less dry flavour than the much more commonly available London Dry Gin, as it contains a higher than usual proportion of root ingredients, which bring a more 'earthy' feel to the gin, as well as a smoother juniper hit. There is also a 'navy strength' variety available which is 57% alcohol by volume (100° English proof), being the traditional strength demanded by the British Royal Navy as this was the proof that would not prevent gunpowder from igniting, should it be compromised by spilled spirit
Sleep
address: EX137HR

Peaceful getaway in a unique secluded location. Owners were very friendly when we visited. If you're interested in farming, then they offer a free tour of different aspects of the farm (dairy, sheep, beef, arable).

Helpful HolidaysIs a family business with over 600 high quality, inspected holiday cottages in Devon, Cornwall, Somerset and Dorset.

Classic CottagesEstablished in 1977, with over 750 handpicked and personally inspected holiday cottages throughout Cornwall, Devon, Dorset and Somerset.
Stay safe
Devon is a very safe place to live and visit. Crime levels are well below the average for England in part a reflection of Devon's rural population distribution. However, there are some impoverished areas of some towns where crime is more common. Occasionally, outsiders can attract attention in local pubs, but this is no worse than in other areas of the country.

Go next