Diani Beach
Diani Beach
is a resort area on the Indian Ocean in
Kenya
, 30 km south of
Mombasa
.
It is the most tourist-oriented beach of the so-called
South Coast
. It is separated from the
Tiwi Beach
to the north by the
Kongo River
. 10 km south of Diani Beach is
Galu Beach
, 20 km south
Gazi Beach
, 30 km south the
Msambweni Beach
and 50 km the south of the
Mwazaro Beach
.
Understand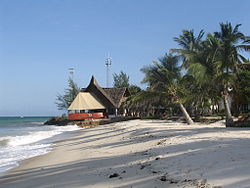 People who want to spend their holidays at the wonderful beaches of Kenya and to go on a safari tour have to decide whether to go to
South Coast
or
North Coast
, which simply means south or north of Mombasa. While the South Coast has the nicer beaches and more primordial nature the North Coast around Mombasa offers many more activities. Some of the hotels on the South Coast are quite isolated, offering tranquil holidays at the beach and pool which might become boring. Others are closer to night-life and shopping centres. In contrast, the beaches of the North Coast that are close to Mombasa are more crowded but offer a lot of action and activities, sightseeing, sports, night-life (see
Mombasa
,
Mtwapa
). The beaches further north (Kilifi, Watamu,
Malindi
) are like the South Coast, relatively undeveloped and tranquil, not as long and broad as Diani Beach but even more photogenic.
There will be many cultural differences that often lead to misunderstandings between guests and locals. It's advisable to inform yourself (see:
Kenya#Respect
).
Kenya is known for
sex tourism
too. Along the beach, in beach bars or in the huts along the beach offering massage you will get in contact with Kenyan women and men who try to attach themselves to a tourist in search of a better life. Money, not sympathy, is what they are looking for. If you choose to partake, take the usual precautions against HIV and other sexually-transmitted infections.
Climate

The climate at Diani Beach is tropical, wet and warm. The
best travel time
is from late November to mid-March. After that it gets uncomfortably hot with increased humidity. The
worst travel time
is in the main rainy season from April to June. It usually rains only briefly and then the sun shines again, but it is also possible to suffer a continuous rain for days. Also in the 2nd rainy season, October-November, you have to reckon with inconveniences. As it is never cold on rainy days you can still sit at the pool bars or even take beach walks. Aside from the several bars and the shopping malls in Ukunda, there are no other attractions that you can visit in the rain; you can only tour
Mombasa
, visiting the old town, Fort Jesus, some temples, shops and shopping malls. Rainy days can be a bit boring in Diani.
Get in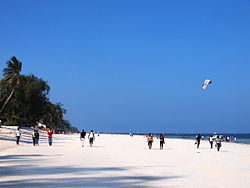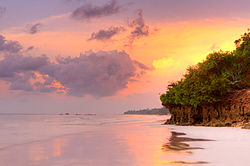 By plane
Direct flight: From the airport, guests who have booked holiday packages are usually picked up by the hotels by minibus. It takes about 2 hours from the landing in Mombasa to the arrival at the hotel. Those arriving privately can take one of the taxis, which costs about Ksh 5000. If the hotel does not offer transportation to the south coast, it is often possible to join other hotel buses that wait in front of the airport if you speak with the driver and give a tip.
Indirect flight via Nairobi: In Nairobi you have to collect your luggage, have the customs and passport control and visa formalities, if you do not have an eVisum. Then you leave the building with your luggage and go to the Domestic Airport Terminal and check in again. The terminals are arranged in a semicircle and so you can either go across the parking lot or the longer way on the sidewalk. Last has the advantage that you pass by some phone shops to buy a Kenyan SIM card for mobile internet (mostly Safaricom or Airtel), exchange offices and cafes, if you have enough time. Many young men want to earn some money by carrying bags to the other terminal. As a precaution, do not let your luggage out of your hand. Should someone be too intrusive, it helps to get really loud, so security staff become attentive and usually intervene immediately. The whole procedure can go quickly depending on how many planes arrive at the same time but sometimes take 1½ hours
There is a small airport called Ukunda/Diani in Diani Beach. The same airlines also fly from
Mombasa
Airport to
Nairobi
Silverstone Airlines fly to Wilson Nairobi.
Jambojet fly to (Jomo-kenyatta Nairobi )
Fly540 fly to Wilson Nairobi.
Safarilink fly to Wilson Nairobi.
Airkenya express fly to Wilson Nairobi.
Fly-Sax Airlines fly to Wilson Nairobi.
If you want to combine coast holiday with safari in the Massai Mara its advisable to come to Kenya via Nairobi to save the high costs for the flight from Mombasa into the Mara and back.
By taxi
Taxis from
Mombasa
city centre will be around Ksh 3500, from the Mombasa Airport a little more (Ksh 4000-5000).
Uber
or
Bolt
(formerly Taxify) will cost a lot less. A taxi can be a good choice because with public transport you have to change 3 times and it consumes a lot of time. If your hotel does not offer transport to south coast, it is often possible to join other hotel vans that wait in front of the airport if you speak with the driver and give a tip. Travel time is 1-1½ hr.
By bus
The cheapest way to get to Diani Beach is by local bus-taxis (matatus). From
Mombasa
town to Likoni Ferry is about Ksh 30. From the Likoni Ferry, take another matatu to Ukunda (30 km) for about Ksh 100. From Ukunda to Diani Beach, take another matatu about 5 km at the cost of about Ksh 50.
An alternative, from December 2019, is the
Hakuna Matatu Bus Shuttle Service
that operates on the Kenya Coast, and a ride from Mombasa costs roughly Ksh 1000 and takes 1 hr 30 min. The shared taxi is a door-to-door service, meaning you will be collected from your current accommodation in Nyali, Kilifi or Watamu and dropped directly at your next accommodation in Diani
Coming from
Tanzania
, you can get a bus going to Mombasa and ask the driver to be dropped in Ukunda.
Get around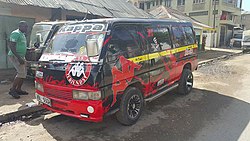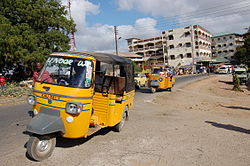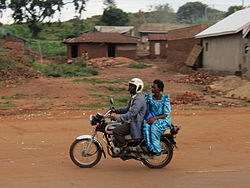 Many travelers use the insecure means of transport to save a tiny amount of money from stinginess or to feel like "locals". You should really consider whether the risk is worth the small savings. Always before the start of the ride, the fare should be negotiated!
Minivans (Matatus): run up and down Diani Beach Road from early in the morning until late in the evening. They are best suited for longer distances, e.g. to Mombasa. They are cheap, mostly overcrowded, unsafe and uncomfortable
Tricycle taxi (Tuktuk): they are approved for 3 persons and are suitable for medium to short distances. They are more expensive than the Matatus, but cheaper than taxis and quite often involved in accidents.
Motorcycle taxi (Boda-boda): They are the cheapest means of transport for short distances, but also the most dangerous. If you are not poorly off, you should avoid them.
Regular taxis: Regular taxis are the most convenient and safest means of transport. In the night it is safest to take always a taxi.
Shuttle services: A cheaper alternative to regular taxis are the shuttle services Uber, Taxify, Little, Mondo Ride, MaraMoja, Hakuna Matatu Bus . You can get fares online and thereby avoid getting overcharged, as many taxi drivers like to do to tourists.
Rent a car is not recommended if you have no experience in the chaotic left-hand traffic of Kenya, unless, you hire a driver. You can also rent motorcycles, scooters, which is even more dangerous.
Air taxi Diani Airport to Mombasa Airport: If you don't feel like waiting for hours to cross the ferry this is an alternative, especially if there are emergency medical problems.
See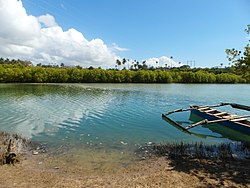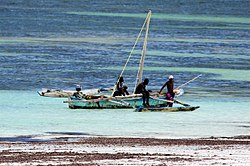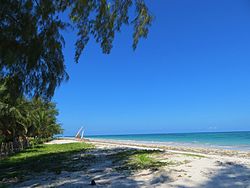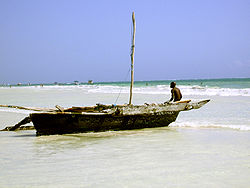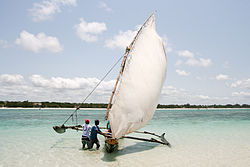 phone: +254 711 479453

address: Diani Beach Road, Diani Beach

A re-adaptation center and orphanage for Angolan colobus in the Kwale County. If you want to see one of the six primates species in South Coast Kenya visit the colobus trust for an informative walk to spot one of the many wild primates. There are opportunities for volunteering.

Kaya Kinondo Sacred ForestThis is a special forest which can only be visited with a guide. It is better to phone ahead to confirm there is one, especially if you want to go early while it is still cool. Allow 2 hours for a full tour. Better if you don't have mobility problems. It's very safe and quite different form the beach attractions. It's a place rich in cultural heritage as well as sacred ambience. One has to tie a black kanga as a sign of respect to the spirits residing in the holy forest. Through the nature trail one gets to learn of different plants and a cleared area shows the residence of the ancestors. You can make wishes while hugging a tree that's sacred. After that long walk you can enjoy a cultural dance.

Komboza CaveEntrance is directly between "Spice Bar" and "Asin's Hotel" on the beach road near Southern Palms beach resort. The cave system runs from the entrance to the sea at Leisure Lodge in one direction and to the mosque by Kongo river and possibly even to Tiwi in the other. The cave system is being developed as of 2017.

Slave CavesThe Slave Caves are in Shimoni, the start and finish point for trips to Wasini Island. In these coral rock caves slaves were captured before they were sold in Zanzibar. A sad and yet interesting place, now inhabited by bats. The caves are now run as a community project. Short guided tours are offered (Ksh 400).

Three Sister's CavesJust before reaching Shimoni, near Fikirini village, there are the three Fikirini caves or "Three Sister's Caves", one of them quite big with thousands of flying foxes and bats. These enormous underground caverns once served as a hiding spot during the time of the slave trade. Reachable by guided tours and definitely worth a visit if you like caves.

Shimba Hills National ReserveShimba Hills National Reserve is one of the largest coastal forests in East Africa. This reserve is rich in flora and fauna. Sometimes it's difficult to see the animals as they hide in the forest. Other animal species found in the area are Sable antelope, elephant shrew, bushy tailed mongoose and other small mammals like fruit bats. The forest is an important bird area and is endowed with forest birdlife. The scenic Sheldrick Falls and the dense Mwaluganje Forest are also found here along with four campsites. All hotels will help to organize the trip. The park is 40 km from Diani Beach. Entrance fee: Ksh 2200, transport by taxi about Ksh 6000 both ways from Diani Beach. Booked travel about Ksh 10,000 including lunch at park. It is worth spending few days in one of the hotels at the edge of the park. They offer a marvelous panoramic view across the Shimba Hills, the Mwaluganje Elefant Sanctuary and the river valley (Kutazama, Shimba Hills Green Safari Lodge, Mahindri Lodge).

Kisite Mpunguti Marine Park & ReserveIt lies in the coral gardens south of Wasini Island and encompasses three small coral rag forest islands, each with considerable areas of fringing reef. Kisite is one of the most rewarding snorkelling locations at the coast with special habitats of a wide range of endemic marine animals and breeding migratory birds. Tours are offered at all travel agencies at Diani Beach and Ukunda

MsambweniAlthough it is only half an hour by car from the touristic hub of Diani Beach, package tourism has not arrived in these parts yet - on the long beaches you rarely meet a white person. Msambweni consists of a cluster of ten villages; all together they have about 12,000 inhabitants, predominantly Muslims and members of the locally dominant Digo tribe. People in Msambweni make their livelihood mainly from agriculture, fishing, crafts and trade and some public service. Coconut palms, mango and neem trees, and sugar cane plantations characterize the area.
Do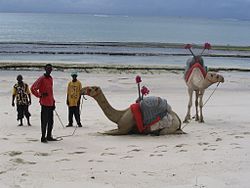 GolfLeisure Golf Club is part of the Leisure Lodge.

Quad TripsDrive with quads on a guided trips on dirt roads through small villages and beautiful scenery.

Kite surfingMwazaro Beach is also a well known spot for kite surfers.

DivingThere are two big diving schools at Diani Beach, and

SnorkellingThe best places are Kisite Marine Park and Wasini Island. In comparison to the well known snorkelling places like in Egypt, Maldives there is less to see in Kenya.

Wasini Island & Kisite Marine ParkMake a day tour by boat with snorkeling, delicious food and have a look at the coral gardens and the slave caves. Prices: €60-100 for tours with lunch, €15-20 for simple tours with beach boys. There is a strong current between May and June and the sea is very turbulent. During this time the tour is only partly recommendable.

Shimba Hills Green LodgeA day tour to or to Shimba Hills Green Lodge enables travelers to relax in impressive natural surroundings and enjoy a marvelous panoramic view across the Shimba Hills, the Mwaluganje Elephant Sanctuary and the river valley.

Mwachema River (Congo River)On a boat trip up the Congo-Tiwi-Mwachema River you get a nice impression of the river flora and see a lot of birds. The tour can be best organized by a local travel agency but also by beach boys if you go for cheap. They charge for a 1-hour trip about Ksh 1000 for 2 people.

Chale IslandIt is easiest if you book a day tour by boat. At the end of Diani Road at Chale Harbor you can take a ferry to Chale Island. There are tickets at the booth at the pier. Costs: Ksh 5000 per person including dinner at Sands Hotel. Chale is the only individual resort island in Kenya, which explains the high entrance fee.

Dolphin spottingtrips offered by the beach or on tours to Wasini Island

Funzi IslandVisit the Gazi Mangrove Boardwalk, learn something about the mangroves and watch the bird life, visit Gazi village, the Congo Mosque and the pristine beach at Gazi from where you can get boats for a tour along the river mouth. Tours are offered at local travel agencies in Ukunda and Diani

Sea anglingCalculate about €25/5 hr. Tours are offered along the beach

Glass bottom boatA trip with a glass bottom boat or a canoe on the sandbank

Bays HikingSouth of Galu Beach and Kinondo, along the peninsula that leads to Chale Island, lie a series of pristine, very photogenic lonely bays with deserted beaches. On the first 2 km are the most beautiful bays, so you do not need to go further.

School, orphanage, village visitsSome organizations offer to visit such institutions to collect donations. It is good to get informed in advance about the reputation of the institutions, so that the donations benefit the needy and not just the organizers. Especially popular with older ladies these tours have been recognized as a lucrative business among the locals.

Scenic flightsWildcoast Airline offers scenic flights along Diani Beach, past Chale Island, Msambweni, and Funzi Island.
Safaris
ArrivalMost people who come to Kenya want to combine beach fun with a safari tour. If you want to visit the Masai Mara Park, it might be financially worth travelling to Kenya via Nairobi to save the high costs of the flight from Ukunda to the Mara and back. Or if you have plenty of time and want to keep costs low book the safari tour from Diani driving to Tsavo, Amboseli, Nairobi, Naivasha, Mara and then back to the coast by flight or train from Nairobi.

BookingThere are quite a number of travel agencies at Diani Beach organizing safaris, serious companies and private people that do it illegally to avoid taxes. The illegals can be cheaper of course. For your safety the company should properly service and insure their vehicles and have a working permit. A notice of proper handling can be an own office and vehicles, which clearly show the company logo painted on the bus. For these companies, a muddle would be far more difficult because they are easy trackable. Signs on the car should be firm and not interchangeable with a handle for the next car. In general, however, everyone should inquire about the necessary regulations before booking a safari. A good organizer will be able to answer these questions with pleasure. If you book via Internet you have to ask several agents because every company works either with different hotels or gets different conditions at a special place. Its really worth comparing several offers. Prices depend strongly on the season. During animal migration prices are at top level. Not to be put with 6 others into a minivan its advisable to book the safari at a company situated at Diani Beach and to ask for the transport conditions. If you want to book a safari for several days do it also at a local company via internet from your home country. Than you don't need to book and pay your hotel at the beach for the days you are out. For good offers it is necessary to know the travel time, the number of persons, which accommodation in the respective park, how many days you want to stay in which park, Jeep or Minivan transport. To check price levels of safaris: Kenya Safari Tours & Holidays. Some well known companys at Diani Beach area are: African Bush & Beach Adventures, Bush & Beach Adventures, African Dream Safaris, Tembo Safaris ltd, D.M. Tours & Safaris, Kiwara Safaris, Lady M Safaris, Pitia Africa Tours, Wildnis Tours and Safaris.

ClothingMaasai Mara is colder than the Tsavo parks and Amboseli. In the morning it gets sometimes under 10 °C and safari vehicles are usually open. From 9AM it will be warm and a T-shirt and shorts are sufficient. Therefore, the "onion look" is recommended, e.g. Zip-off pants, T-shirt and fleece jacket, a "multi functional scarf" (as a hair band with hair blowing in open jeep, as cap in the morning for cold, as scarf for draught in the car or because of the air conditioning, as sun protection for the head) and possibly a hat and gloves for sensitive people. It is also important to carry sunscreen, sunglasses, mosquito repellents and enough batteries, because electricity is turned off often overnight in the lodges leaving no chance to charge rechargeable batteries. Light shoes or flip-flops (to step the seats) are sufficient as you will leave the car if at all only shortly during the tour. At night in the camp, a fleece jacket is comfortable and jogging suit. In Tsavo and Amboseli short clothing plus windbreaker, multi functional scarf, mosquito repellent and sunscreen sunglasses and spare batteries are enough. In the evening if you want to stay outside a little longer then a jogging suit and maybe a windbreaker
Buy
The main shopping area with boutiques and souvenirs is located along the 25 km long main road with more than a hundred local shops, 3 large shopping centers, many supermarkets, pharmacies and groceries. During the rainy season there are less shops, but in general you will find all the goods. If you visit Maasai village you may also buy unique souvenirs made of beads. The most popular souvenirs in Diani beach are paintings, wood crafts, fabrics, kikoy, kanga, statues made of soap stone, hand-made jewellery, traditional African, Arab and Indian clothes and many others.
Money
: UK pounds, US Dollar or Euro can be changed in every bank and in hotels. At the airport the courses are low and its better to change only small amount on arrival. At the ATMs which can be found at banks and big supermarkets Kenya shilling can be withdrawn with most credit cards.
When buying goods at small shops, in the streets or at the beach take care to give the exact amount as sellers often tent to betray with change.
Bahari plaza shopping centerBahari plaza is a large shopping area spread on both sides of the main road. Ushago restaurant and Chandarana foodplus supermarket. You will find here also a pharmacy, Fidelity bank, a large vegetable-fruit shop, Ushago restaurant, safari companies, jewelry shop and a few boutiques. Chandarana supermarket is a Western-style supermarket with all products for daily use. There is also an ATM (Fidelity Bank).

Choppies Shopping CentreChoppies Diani Beach is modern hypermarket with a few boutiques on the upper floor and a pharmacy and a restaurant with cafeteria on the ground floor. The shopping center is located in the central area and is easy accessible with local matatu transfer. In Java Supermarket you will find all the goods you would get in a large supermarkets in Europe. Some of the prices are very high comparing to the local shops. Right next to the shopping center is DTB bank and ATM.

Diani Shopping CentreThere is the supermarket Muthaiga, a pharmacy (Good life Pharmacy Health and Beauty), two restaurants and a sport bar, a large local shops for vegetable, fruits, spices, few boutiques, African art gallery, internet café, Italian bakery, bank and an Apple Store for computers.

The Gate MallIn Ukunda with Naivas Supermarket.

Shree Supermarketnear Baharini Shopping Center
Eat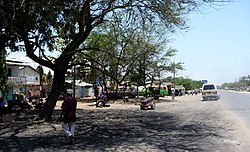 There is no reason to be afraid to go out of the resort at night for visiting clubs or restaurants. For security, take a taxi from the hotel and back, not Tuktuk or motorcycle. Every restaurant will call a reliable taxi to bring you back after dinner. All pubs and bars serve decent food (see drinking) and there are a lot of small good restaurants. About 10 percent of the invoice amount is common as a tip, but only if the food tasted good and service was good. In many restaurants it can take an hour from ordering until food is served, as everything is prepared freshly. The following restaurants are excellent, a bit more expensive and for special events.
Ali Barbour's Cave Restaurantset inside an ancient coral cave and lit by warm candlelight. The a la carte menu specializes in seafood, international & traditional cuisine and is accompanied by a great wine-list. The restaurant opens every day from 7PM. Reservation required. Courtesy transfer from hotels in Diani. Dress code: smart casual. No shorts, no children 6 and under. 6PM-midnight.
Sails Beach Bar & RestaurantSeafood, European, vegetarian. Noon-11:30PM.
Nomad RestaurantItalian, bar, pizza, seafood, sushi, European, international, gluten-free options, 7AM-10PM.
The Edge Beach RestaurantSeafood, barbecue, European, African, vegetarian. 8AM-9PM.
LymingtonDelicious seafood and meat dishes with ocean view.
Kokkos CafeDelicious cake and other tasty sweets. Also good steak and fish dishes.
Shashin-ka Japanese Restaurant
phone: +254 720 747803
Fresh fish and seafood, sushi, exquisite presentation, attentive servers, reasonable prices.
Tiki BarA good restaurant, blends African European food, quality and value for money, very good.
Colobus shadeNice place to enjoy in peace freshly prepared seafood and fish.
Simple
but typical local restaurants where there is really great food at very reasonable prices:
Swahili PotCountry style food.

African PotCountry style food.

Coast DishesCountry style food.

Qua Bruce RestaurantSimple but good restaurant for Swahili dishes, diagonally opposite to Barclay's bank.

Mvureni Beach Bar and RestaurantSimple restaurant and bar at a beautiful and quiet beach.

Sea PubA drinking hole with nicely flavoured local food (stews, greens, beans, rice, etc.) including complimentary chunks of pineapple for dessert. Look for the blue painted sign.
Drink
Night live at Diani Beach is not comparable to the North Coast at
Mombasa
or
Mtwapa
. Its more a place to relax than to party. Many hotels offer life music in the evening. Some of the most visited places are the listed ones:
Manyatta Green ClubPub at the Beach Road with cheap beer mostly visited by Kenyans.

ShakatakOnly real club, which is not attached to a hotel.

TandooriCool club outside the hotel with a mixed audience of locals and tourists. Amenities include pool table and guest house.

Bidi BaduBeach bar and restaurant with good music and other shows and entertainment in the evening. Their food is good and the pricing is fair.
Sleep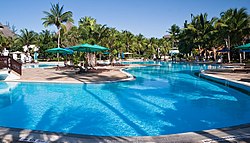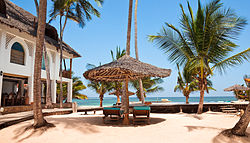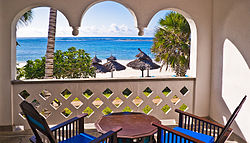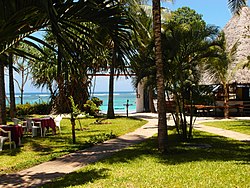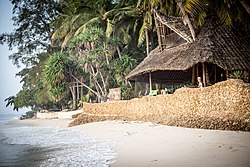 Hotel location:: Some of the hotels at South Coast are quite isolated offering tranquil holidays at beach and pool which might become boring. Others are closer to night-life and shopping centres. As there are too many hotels, cottages, guest houses at Diani Beach to describe in detail. A look at Google Earth gives a good hint which hotels are quiet and which belong to the more active areas.
All-Inclusive: Due to the tropic climate you have to drink a lot and this might sum up if you are not on all inclusive, especially with kids. Prices drinks (2019) in Ksh approx .: water (0,5l): 150-200, soft drinks: 250, beer (0,5l): 300-400, cocktails from 650. If you book half board it is good to have super markets and simple pubs close to the hotels to keeps costs lower, as drinks in the resorts are more expensive than outside. Keep in mind that the hotels that offer all inclusive might have the problem of attracting drunkards and appropriate guests.
Private accommodation: You should check the location of the accommodation well in Google Earth, as most of them are not on the beach.
Day guest in beach hotel: If you have rented a private house, but want to go in the well-kept hotel areas with sun loungers and pool, etc., must pay admission, depending on the resort can be quite high (about Ksh 2500/person including food and drinks in hotels).
Dress code in resorts: men wear long pants at dinner. At breakfast and lunch you can go with short pants and t-shirt or beach dress but never come in swimming trunks or bikini
The hotel standards are in almost all respects not comparable with European or US top destinations. Power outages are normal and a certain serenity, as far as time is concerned, you have to adjust.
Budget
Stilts BackpackersThere are nice tree houses single/double/triple Ksh 1,800/1,400/1,000 with shared bathrooms, or cottages single/double/triple/quad Ksh 3,000/1,800/1,400/1,000 with attached bathrooms per person per night. Wi-Fi available at the bar for Ksh 300 per room for your whole stay.
Diani Hostel

phone: +254-720-707777

A lower cost backpackers hotel Diani Beach Road (close to the Diani children's village)at with dorm beds from Ksh600 and single rooms from Ksh 1200 double rooms from Ksh 1500. Has a nice swimming pool.
phone: +254 0715 61 40 38

A backpacker spot with dorms from Ksh 1050 and privates from Ksh 2600. Free Wi-Fi.
Mid-range
There are many nice resorts but some don't have a good beach for swimming due to reefs or sea grass. Good resorts with nice beaches include:
Papillon Lagun ReefOn the most beautiful beach of Diani Beach, friendly staff, good food

Southern Palms Beach ResortVery large pool, lots of space at beach, good with kids. Popular with Indian families and thus the food has Indian touch.

Diani Sea ResortCentral, short distances to the supermarket Chandarana and in the evening to the pubs Tandoori and Shakatak.

Ocean VillageSmall and luxurious.

Baobab Beach ResortSimple resort but top cuisine, great animation and nice ambience.
Good hotels with less spectacular beach:
Swahili Beach ResortNice hotel, Indian building style, very large pool area, unfortunately, the beach section is not so good. But walking a few distance over the reef tops there is a great beach. The hotel is very central for shopping and restaurants.
Splurge
For those who prefer to enjoy a quiet and relaxed holiday away from the tourist centers, accommodations at
Msambweni Beach
or
Mwazaro Beach
are recommended.
Connect
Most long distance connections (bus, train, flights) to other Kenyan destinations go via
Mombasa
and are described in detail there. Busses to
Tansania
stop in Ukunda and go via Tanga to Dar es Salaam in about 10-12 hours.
Internet
: most hotels have Wi-Fi at least in the reception area. To have internet connection also at the rooms and beach area it is advisable to buy a Kenyan prepaid card at the shopping centres. Mobile internet is cheap in Kenya.
Stay healthy
Vaccinations: Every traveler should have at least the usual vaccinations against polio, tetanus, diphtheria, and possibly hepatitis A and B. Vaccinations against typhoid and cholera, diseases transmitted mainly by contaminated water and poor food hygiene, are usually not necessary during tourist stays. Yellow fever: An inoculation against yellow fever must only be done when entering a risk area. Diani Beach is not a risk area but most safari destinations are. Malaria prophylaxis (e.g., lariam, malarone) should be taken as there is a certain malaria risk in most parts of the country. Due to the risk of bilharziosis, bathing in standing fresh water should be avoided.
Mosquito repellent. It is important to protect against mosquito bites in order to avoid transmitted diseases such as malaria, yellow fever, dengue fever, West Nile fever, Chikungunya fever and more. In the tropics, DEET-containing compounds are recommended and are also available everywhere on the spot. The higher the concentration of DEET, the more effective (and harmful) the agent. Ecological agents based on essential oils help some, others not. Here everyone, according to his type, must find the right remedy. Since Diani Beach is not an area with ever-moist tropical forests, there are rather few mosquitoes. Also hotel strive to combat. So be careful, but do not panic. Bright long clothes, especially in the evening also helps something. During the rainy season, there are significantly more mosquitoes than in the dry season, so prophylaxis is even more important.
Diarrhea: Hardly anyone is spared from diarrhea during a tropical journey. Rarely it is at the foreign food, but mostly at the enjoyment of too cold beverages. Avoid any kind of salads if you have a sensitive stomach. In almost every pharmacy in Kenya "Dia Stop" or Immodium tablets is available. These tablets help immediately and reliably.
Tap water is not safe to drink buy bottled water instead. In all accommodations, things of value and cash should never be left in the room, but only in the hotel safe! Things that are left unattended on the beach are gone. Take the usual precautions against HIV infections.
STDs.: Many guests on the Kenyan coast enjoy close contact with local women or men. Sex tourism is an important source of income for poor Kenyans and whether at night in pubs or during the day at the beach walk or at the beach bar and of course at the massage booths along the beaches it comes to contacts. Individual men and women are very quickly addressed by the "beach boys" or "beach girls". The usual precautionary measures against HIV infection should never be neglected.
At the beach: Depending on the tides, the sea can sometimes have high waves. Currents and undercurrents should not be underestimated. Especially with running water you should not swim too far out. Nudism and topless bathing is prohibited in Kenya. The police is rigorous in this case. When walking on the reef simple beach shoes made of soft plastic are completely unsuitable, because on the coral reef also sea urchins live, whose long and pointed spines pierce easily the plastic soles. Old sandals with a thick, solid sole are more suitable. It is important to use sunscreen and wear a hat. The sun is strong near Equator! Sunglasses are very important because of the reflective white sand on the beach. Good mosquito repellent is important. Also in Kenya there are very good and effective repellents on sale.
Jellyfish: In January/February sometimes small (about 2-4 cm), blue jellyfish come to the south coast. They float on the water surface. The tentacles can be extended up to about 30 cm. They are not poisonous, just burning very hard. Immediate rubbing with vinegar helps! Do not wash with fresh water immediately, that's what makes it worse for the moment. If there are any remains of the tentacles on the skin, first remove them with a cloth or napkin. Do not touch with bare hands as they are still active for a while.
Health insurances: If you stay longer than 6 weeks, you may need to get insurance in Kenya, as travel insurance often allows a maximum of 6 weeks. Insurance that tourists like to use are: UAP Old Mutual, AAR, National Hospital Insurance Fund - NHIF
. A real modern hospital is available in case of emergencies, also the
Dentists: The Diani Beach Hospital has a new, modern dental area
General behaviour in public: consult the respect rules how to interact with Kenyans and the safety guidelines for general safety suggestions
Emergency number: 112
Stay safe
Valuables: Diani Beach is a relatively safe area, especially during the day. Nevertheless one should not carry valuable jewelery or watches, have the purse not in the back pocket, etc. because of pickpockets. In the evening you should always take a taxi to the pubs and restaurants. For all accommodations is that valuables and cash, never to be left in the room, but should be kept in the hotel safe (against receipt) or room safe! There are also hotel safe locks (e.g. Milockie) where you can additionally secure the room safe against thieving room staff with your own (curtains)-lock. Room safes are not really safe. Only with this type of safekeeping the baggage insurance will pay in case of theft. A theft must be reported to the police. Things that you leave unobserved on the beach are gone!
Passport: For police checks, ID is required. But also a copy is sufficient. Therefore, you should have a copy made at the hotel on the day of arrival, which you can always take with you, without fear of losing your ID. Important are the first page and the page with the visa.
Monkeys in the hotels: There are monkeys in all the hotel facilities. They can be quite troublesome if you leave a window or balcony door open. They enter the room looking for food and leave it in a chaos. Mostly these are baboons and blue (diademed) monkeys. The latter are sometimes also quite aggressive! The problem is that they are fed by many tourists. These animals are, of course, smart, and expect this from all whites. Although there are signs everywhere stating that the feeding of the monkeys is forbidden, this is seldom noticed. Also in the hotel gardens they tend to steal from the tables. They might look sweet and entertaining, but be aware and don't feed them.
Day/Night: During the daytime you never need to be afraid of raids. In the evening take a taxi if you go out to pubs and restaurants. For your best safety at night always go by taxi to restaurants or bars and back, not motorbike taxi or tuktuk. Often employees of tour operators warn to leave the hotel on their own. So one misses many country-typical impressions. That is completely reasonless. It is best to note down the phone number of a trustworthy and nice taxi driver who can then bring you to the tourist attractions, night bars or restaurants and pick you up.
Beach boys: For many tourists, however, the beachboys are very unpleasant. These are traders of all ages and sex who want to sell everything from the souvenirs, massages to a safari. Although it is understandable that the people in Kenya are very poor and every source of income is used, they become annoying when you are addressed ever few meters. Be aware of Common scams.
Photos: Before you take pictures of people, you should always ask for permission. Forbidden are photos of military and public institutions such as banks, and ferries. Here police is very rigorous, so be careful!
Sex tourism: Kenya is known for its sex tourism. Young Kenyan women and men hope for a better life overseas by marrying a tourist. Therefore, you can often see retirees in nice company of too young ladies, or mature ladies with young men. You may feel young again, but you should never forget that money counts here, not supposed love. For Kenya as well, age, social background and educational attainment should match for long-term relationships.
Power adapter: In Kenya, the English 220V three-pole plug is used. It is recommended to take an adapter with overvoltage protection from your home country. Voltage fluctuations are common in Kenya and so you secure your cell phone or computer. In the large supermarkets in Ukunda you can get the appropriate adapter, but without the voltage protection.
Go next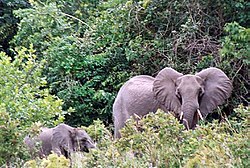 . Tsavo East is generally flat, with dry plains across which the Galana River flows with swampy marshland. The park forms the largest protected area in Kenya and is home to most of the larger mammals, vast herds of dust –red elephant, Rhino, buffalo, lion, leopard, pods of hippo, crocodile, waterbucks, lesser Kudu, gerenuk and the prolific bird life features 500 recorded species. The 300-km long Yatta Plateau is the longest lava flow in the world. The park is about 350 km from Diani Beach. A booked tour of two days is about €250.
: Tsavo West is characterized by a hilly arid landscape. This park is dotted with volcanic cones; dramatic, black lava flows; and a number of rocky outcrops.
Maasai Mara National Reserve. A safari trip to the best known Kenyan National Park is about €1000 including flight and hotel for a three-day trip from Diani Beach.
Mombasa: A must-see destination for those who want to see more of Kenya than just the beach. Good shopping for souvenirs. Those who do not dare to visit the city on their own can book day tours at the local travel agencies in Ukunda or on Diani Beach.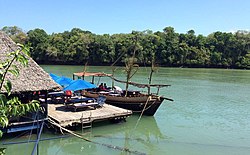 Mtwapa: the village of the Europeans 20 km north of Mombasa, known as the "village that never sleeps", 20 km north of Mombasa, the center of nightlife and prostitution on the Kenyan coast. In addition to the night-life scene, the Jumba Ruins and the Creek are well worth seeing. Some providers of day tours in Diani and Ukund offer a visit together with Mombasa.
Msambweni: Although it is only half an hour by car from the touristic hub of Diani Beach, package tourism has not arrived in these parts yet - on the long beaches you rarely meet a white person. Msambweni consists of a cluster of ten villages; all together they have about 12,000 inhabitants, predominantly Muslims and members of the locally dominant Digo tribe. People in Msambweni make their livelihood mainly from agriculture, fishing, crafts and trade and some public service. Coconut palms, mango and neem trees, and sugar cane plantations characterize the area. You can go there by either rental car (best plus driver) or book a tour at one of the local travel agencies.