Dieng Plateau
The
Dieng Plateau
is an upland volcanic plain in
Central Java
, famous for its scenery and ancient Hindu temples.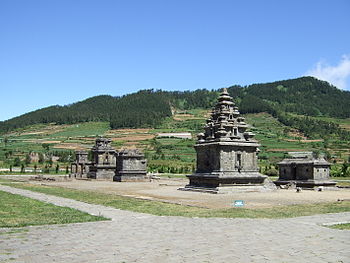 Understand
The Dieng Plateau is a caldera complex formed by the ancient eruption of Mount Prau. The caldera was once filled with water and dried up over time. Volcanic activity continues to this day, with sulphuric fumes and poisonous lakes. At an altitude of , it's much cooler than the surrounding lowlands.
History
The ancient Javanese Hindus built temples on the plateau, considering it a sacred place. The word
Dieng
is from the Sanskrit
di
(abode) and
hyang
(gods), and so means Abode of the Gods. Hundreds of temples were built between the 8th and 13th centuries by the Sanjaya dynasty, but only eight are left. They resemble those of
Prambanan
, but on a smaller scale. Local people refer to the temples according to the characters in ancient Javanese Hindu legends based on the Mahabharata and Ramayana stories.
Natural environment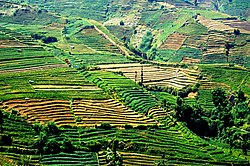 Dieng is growing rich on agriculture. Its cool climate allows carrots, cabbages and potatoes to be grown. But the demand is so strong that farming is moving up onto steeper and steeper slopes, large sheets of plastic swathe the fields to keep down weeds and water pipes snake across the landscape draining the lakes for irrigation.
Get in
The only way to get in is overland. The main gateway to the plateau,
Wonosobo
, can be reached by public bus from
Yogyakarta
, changing in
Magelang
. Yogayakarta to Magelang costs Rp15,000. In Magelang, take another bus to Wonosobo. Magelang to Wonosobo takes two hours, and costs Rp14,000. Wonosobo can also be reached from
Purwokerto
by bus. There are frequent trains from
Jakarta
to Purwokerto, as well as night buses. There is only one bus direct from Jakarta to Wonosobo, costing Rp75,000.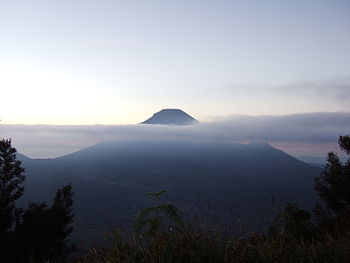 Get around
A minibus from Wonosobo to the temples costs Rp20,000 and takes an hour.

See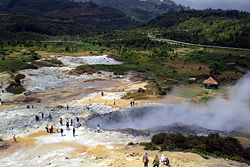 Sightseeing here includes a hot spring, a so-called multi-colored lake, and some impressive scenery from the peaks. The different sights all charge a small entrance fee upon entry. The fresh air, beautiful greenery and quiet make the plateau an enjoyable place to stay.
The
Dieng Temples
are a group of 7th-century Hindu temples that are among the oldest surviving religious structures built in Java.
Arjuna temple groupFour aligned and well-preserved Hindu temples within a well-kept scented garden. Can be very crowded on week-ends and public holidays, so visit it at sunrise when the view is eye-catching. Some hotels organise sunrise tours. The entrance fee allows you to visit a volcanic fumarole.

Gatotkaca templeA square temple situated near the Arjuna group.

Pengilon & Warna LakesTwin lakes, one green and the other emerald, offer great scenery at sunrise. Best seen from the

Sikidang craterA volcanic crater. A nearby small hill provides a good viewpoint.
Do
Motorbike trips — to geothermal sites and temples can be arranged for about Rp60,000 per person. Sunrise is beautiful from up the mountain.
Light trekking — with its hills, fields and villages offers a chance to explore it on foot. Trekking can be arranged from the nearest local accommodation or losmens. Sikunir and Gunung Perahu are two popular spots for trekking. More information for trekking trip arrangement around Dieng contact +6285876186269 or visit
Buy
Carica is a dwarf variety of papaya. Normally sold bottled in sweet syrup.

Eat
Bu Djono Losmen & RestaurantA cheap restaurant with friendly staff. Doubles as a guest house and provides excellent advice about the sightseeing in the area. It's also possible to book tours and rent vehicles.
Sleep
phone: +62 852 9324-7232

address: Dieng Plateau. Km. 01

This simple, friendly place has been hosting backpackers for years and has a certain ramshackle charm with basic, clean, economy rooms and better options with hot-water private bathrooms and TV. Good tours are offered. It's very close to the turn-off for Wonosobo.

phone: +62 858 7848-6669, +62 852 9282-3636, +62 286 330-1246, +62 812 2691-8123, +62 286 330-1430

address: Jl Telaga Warna, Dieng Wetan

Close to the temples, very clean with hot water in the rooms. TV. For a family there is a small apartment with two rooms and a beautiful view over the mountains. The family that runs this place is very friendly. No breakfast.

phone: +62 856 0006-6106

address: Jl Dieng Wonosobo

An agency specialising in cheap alternative lodging options around Wonosobo and Dieng, with pictures and reviews.
Stay safe
This is an active volcanic region and all visitors are urged to regularly check geological reports.

Go next