Digby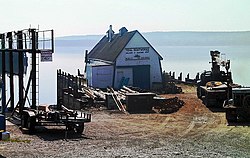 Digby
is a town of 2,000 people (2016) in
Nova Scotia
.
Understand
Digby is a blue collar town that is home to a fleet of sea scallop trawlers. It has a number of dive bars, and waterfront patio restaurants serving the fleet's famous catch. It was named after Admiral Robert Digby.

History

Digby was called Oositookun, meaning "ear of land" by the Mi'kmaq First Nations (Aboriginal) people. A small group of New England Planters settled in the area of the town in the 1760s, naming it Conway. Digby was settled and surveyed as a town in June 1783 by the United Empire Loyalists under the leadership of Sir Robert Digby.
The town developed a sizable shipping fleet in the 19th century. The town became an important regional transportation centre in the 1890s with the arrival of the Dominion Atlantic Railway. Trains connected with a series of steamships such as the City of Monticello and later the SS Princess Helene.

Get in
If you're travelling from southern New Brunswick, your best bet is to take
Bay Ferries
from
Saint John
. There are two crossings daily from mid-June to mid-October, these take 2½ hours on average. During the rest of the year there is at least one crossing daily and they usually take 2 hr 45 min. $37 per adult passenger and $119 for a car (April 2017). Book online, and check on at the terminal to get your boarding pass when you arrive. Restaurant, cafeteria and wifi on board.
It is a 220-km drive along Highway 101 from
Halifax
See
Digby Harbour

Sandy Cove

phone: +1 902 245-6322

address: 95 Montague Row

Digby's history is preserved and interpreted by this museum, whch faces the harbour in the historic Woodrow/Dakin home, one of oldest houses in the town.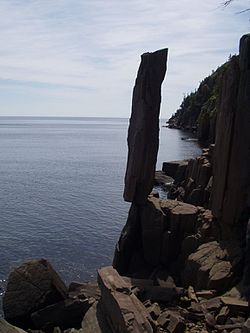 Balancing Column on Long IslandA 1.7-km hike on a well-maintained trail to a column of basalt 6.1 m high by 1.2 m wide balancing on its end over the Bay of Fundy.
Do
Events
Scallop Days FestivalHeld annually over 3 days in the first week of August, it showcases the town's history and heritage to visitors. The festival offers a variety of themed activities for all ages, including scallop-shucking contests, a parade, and an exhibition of local artists.



Buy

Many, but not all, of Digby's shops and restaurants close during the off-season. This is roughly from Canadian Thanksgiving (mid-October) to the beginning of June.

Eat
The town of Digby is well known for its sea scallops, which are celebrated in mid-August every year during the
Digby Scallop Days
Festival.
Scallops are, however, harvested year-round. Many restaurants are open only during the tourist season beginning in early May.
phone: +1 902 245-4950

address: 34 Water St.

Complex with restaurants, bars, hotel. Scallops and lobster are priced seasonally, e.g. in April 2017, psm-fried scallops were $23.50 for 6 oz (179 g) or $28 for 8 oz (225 g).

phone: +1 902-245-5497

address: 40 Water Street

House of Wong Restaurant

address: 104 Water St.

Chinese restaurant.
Sleep
There are a number of motels and B&Bs in and around the town.
Go next