Digha
Digha
is in
Southwest Bengal
in
India
.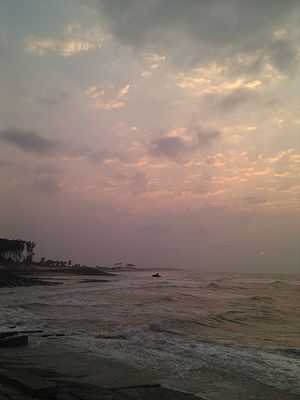 Understand
Digha is one of the most popular vacation destinations in West Bengal, particularly for people from
Kolkata
. This beach-town is located in the
West Bengal
-
Odisha
border and is around 200 km from
Kolkata
.
Get in
By bus
Digha is a 4- to 5-hour's journey by bus from Kolkata.
There are frequent bus services (A/C and mostly non A/C) to Digha from the Esplanade bus stand of
Kolkata
and many other parts of West Bengal.
There are also regular and frequent services to Digha from the Bus Terminus (Route 6) in the Garia suburb of
Kolkata
. Buses run 04:00-08:30 and there is also an afternoon bus service from the same state transport depot. Service is regular and residents from Jadavpur, Tollygunj, Rajpur, Sonarpur can easily use the good service.
There is a bus service from Kudghat Bus Stand with two buses daily at 06:00 and 08.30. There is also service from Dumdum station. The bus leaves Dumdum at 07:00. 2 buses by CSTC from the bus stand near Ruby General Hospital start at 04:30 and 04:45 daily. There is a bus service from Barrackpore at 06:00 and 07.30. There are also frequent bus services from
Howrah
with buses leaving every day.
By train
It is advisable to make reservations in advance for weekends, national holidays and sessions like Durga Puja, Dipavali, Christmas etc..
For train timings etc. check with
Indian Railways
.
Three express trains run daily from Howrah Railway Station at 06.40 (Tamralipta Express),11:15 (Duronto Express) and 14.40 (Kandari Express) daily. Sometimes special trains are announced on special occasions and holidays. Notices for such trains are to be found on widely circulated newspapers. The return times are 10.25, 13:35 and 18.20 respectively.
The Howrah- Digha Duronto express(12847) is the most luxurious train for Digha. It offers Air-conditioning, fooding, catering , comfortable seating etc at a nominal price of about ₹500/Passenger.
On Saturdays, The Paharia Express comes from new Jalpaiguri and halts at Howrah. This train is often quite empty and very comfortable to travel on.
There is a local train from Santragachi (Near Howrah) to Digha. Also there may be some special trains.
From 1 July 2011, Indian Railways launched 4 special trains from Puri (W 23:35 & Sa 23:35), Malda Town (Sa 08:10), Vishakapatnam (Th 17:50). .
By road
Travelling to Digha by road has become easier, promoting tourism in Digha and the surrounding beaches of Mandarmoni, Tajpur and Sankarpur. The roads are excellent and one can easily reach Digha from Kolkata in 4 hr of sedate driving.
Route: From Kolkata via Vidyasagar Setu and Kona Expressway take the NH-16 (old NH-6) till Kolaghat -> take a left turn on NH-116 (old NH-41) excellent roads till Nandkumar -> right turn on state highway all the way to Digha, via towns of Contai and Ramnagar.
En route decent toilet facilities and food is available at Ruk Zaraa (Kolaghat), Sher-e-Punjab (Kolaghat), Express Food Plaza (Kolaghat), Sher Bengal (Mecheda) etc.
Get around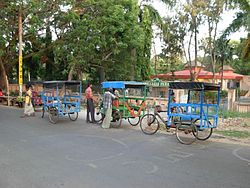 Cycle-vans (commonly known as 'vans') is one of the unique modes of transportation in Digha. These are available everywhere and can be booked for touring around Digha and nearby places .
Motor-vans are used in digha as public transport for touring far places like Mandarmoni, Shankarpur, Chandaneshwar etc.
Private cars are also available in Digha.
See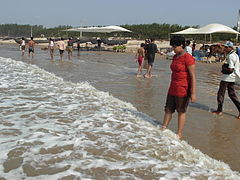 Amravati ParkAmravati Park is in New Digha. Motorcycle rickshaw vans will take you to New Digha from Old Digha for around ₹5 per person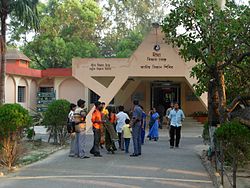 Digha Science Center Park

Marine Aquarium and Regional Centre

phone: +91 3220 266 311

address: State Highway 57

This is possibly the most well equipped marine aquarium in India, but the collection of specimens is poor. Some common local fish are kept in this huge aquarium.

Shankarpur BeachShankarpur is 14 km from Digha.

Talasari BeachTalasari Beach is in Orissa. It 8- km from Digha and 3 km from the Temple at Chandaneswar.

Temple at ChandaneswarShiva temple in Odisha. You need to cross Digha-Chandaneswar border, and it is a couple of kilometers inside. From Digha itself, you will get cab or auto rickshaw that will take you to Chandaneswar temple.
Do
Horse riding

Sunbathing

SwimmingThe best place for a dip safely is at New Digha. The beach here is flat. Nowadays old Digha is not safe and conducive for bathing. Beer is generally served at the beach by the enterprising locals who would accept payment later by coming with you to your hotel. Warning: They may ask a high price for beer

VolleyballYou can also play cricket or football on the beach
Buy
Cashew nuts: There is a cashew nut farm in Digha so varieties of cashew nuts are available.
Digha Mohana Fish Market: Buy fresh fish here
Hand woven mats made of hemp. These mats are called Madur in Bengali and the colourful Madurs of Midnapur District are famous.
Jewellery made with Hyderabadi Pearls.
Ornaments and Curios made of sea shells.
Eat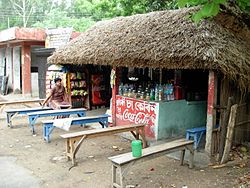 The famous 'Hing er Kochuri' is a famous breakfast of Digha. There are many stalls and sweet shops all over digha which offers this delicious breakfast.
There are many cheap "rice hotels" all over Digha, serving cheap, but good quality Bengali dishes. There are some more expensive restaurants where continental food is available. In an average restaurant, a vegetarian meal is available for ₹35-45, Bengali fish curry-rice is available for ₹25-35. A meal with egg curry-rice is available around ₹45.
Another great idea would be to just buy the staple vegetarian fare at the hotel you are staying and have it delivered to your room. You can buy fresh fishes like ilish, pomfret, parshe and prawns from Mohona, Digha fish market in the morning and have it cooked at the numerous "Dada-Boudi'r" joints around Sea Hawk. Have this fish with your standard vegetarian lunch or dinner.
In the evening look for fried fish, crabs and prawns on the sea front in Digha.
Those who are fussy about the quality of cooking, have transport at their command and are looking for tasty fish preparations should go and have lunch at
Shankarpur
, some 14 km away - they prepare the fish much better than at Digha. The quality at Shankarpur is comparable to the Kolkata 5 star but is comparatively cheaper and the fish as fresh as you can demand. The trouble of travelling would be well compensated.
Pabitra Hotel

phone: +91 96 471 66166

address: Purba Medinipur, New Digha
Drink
Alcohol — There are many bars and wine shops in Digha serving all sorts of hard drinks, but the liquor shops close around 7pm. If you want to buy a drink after the shops are closed, some guys in front of the shops will provide alcohol at higher prices (potentially black bargaining).
Green Coconut water, (commonly known as 'Daab') is very cheap here. A single green coconut costs around ₹10-20 and the water is sweet and refreshing. The green coconut vendors move with their cycles all along the Sea Beach. There are also green coconut vendors which provide seating facilities near the beach.
Sleep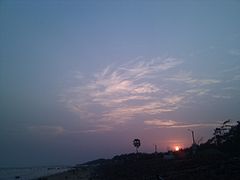 Always avoid the hotel-agents at the Digha Station as their hotels are situated very far from the beach. It is better to consult the cycle-rickshawallas for better lodging facilities (they take commissions from the hotel guys)
Digha Tourist Lodge

phone: +91 33 2243 7260

Bookings can be done from the Tourism Centre at 3/2, B.B.D. Bagh (East), Kolkata

Hotel Kamala Residency

phone: +91 32 2026 6154

A newer hotel near the New Digha beach. Double non A/C rooms ₹900. Double A/C room ₹1,500 and triple with A/C ₹1,800. Breakfast included. Restaurant in hotel.

Hotel RajmahalA less expensive yet quality hotel with restaurant near to sea beach.

Hotel Sea Bird

address: Old Digha Main Road, National Highway 116B

phone: +91 933 100 6392

address: Barrister Colony, Old Digha

Conference room, centralised A/C, bar & multi-cuisine restaurant, sea facing rooms & family rooms also available.

phone: +91 32 2026 7195, +91 933 193 6900

address: Barrister colony, Old Digha

Excellent views, good service, ask for a room in the new building.

Hotel Sea HawkOne of the few places in town that doesn't hike up their prices as demand increases. Food is moderately good and room services standard.

phone: +91 92305 17366

Located near new Digha sea beach. Pick up facility available. Good quality foods and high standard room service.

phone: +91 32 2026 6471, +91 32 2026 6271

A very homely accommodation at New Digha, close to sea beach. Tariff from ₹200. Walking distance from Railway Station and Bus Stand.

Hotel Surf Ride

phone: +91 9874559200

address: Economic Hotel Sector, Digha

address: Foreshore Road

Minakshi and TarangaA/C double bed rooms

phone: +91 943 201 5692

address: Sibalay Road, Old Digha

Spa, fitness centre, swimming pool, pool & table tennis, banquet hall, aquarium, Babylon (roof top), disco lounge: Impulse, multi-cuisine restaurant

address: Sibalaya Road, Old Digha

Swimming pool, gym, lake, lawns and villas.

Sandpiper Guest House

phone: +91 33 2475 3441

Eight rooms, all having uninterrupted sea views and each capable of sleeping 4 adults. En suite bathrooms, marble flooring, multi-cuisine restaurant, secure car parking. ₹800 upwards.

State Youth Hostel

phone: +91 33 2248 0626

New Digha. Bookings can be done at the Directorate of Youth Services, 32/1, B.B.D. Bag (South), Kolkata. Doubles with attached baths are ₹225 per day.

Tanrango LahoriTransport available from station.
Stay safe
Electric torches or emergency lamps can help in case of temporary power outages, which are frequent during the summer. However, most of the hotels in Digha have their own backup generators, so if you don't bring a torch, you'll probably be fine.
Mosquito repellent — this is a must for visitors. Most shops in Digha sell repellent.
Safety at Sea. The sea becomes rough to very rough during high tide, especially during the new and full moon. It is unsafe to swim during high tide. There is a sea wall which protects Old Digha from erosion, and it is also unsafe to cross the wall during high tide. Most of Digha has No Swim warnings which you should mind. Always obey the commands of the khaki Coast Guards if you want to swim safely.
Go next